Every year, activist organization Preservation Chicago releases "Chicago's 7," a list of the city's most endangered buildings. In doing so, they hope to raise public awareness about Chicago's architecture and the threats these urban treasures face. This year, the Englewood Masonic Temple and IIT's Main Building both made the list. Taking a closer look at these structures reveals the complex ways communities fight to preserve their architectural relics.
IIT Main Building
The Main Building, completed in 1893, was one of the first buildings on the campus of the Armour Institute of Technology, and now that the school has become the Illinois Institute of Technology, it is perhaps IIT's most historic. When Philip D. Armour, member of a prominent family of meatpacking moguls, began building in the area, he had no idea he would soon be starting a college; he had originally sought only to create a nonsectarian Sunday school. But when the school's librarian, Julia A. Beveridge, developed curricula in tile-making, wood-carving, drawing, and other skills in engineering and design, she built the foundation of the Armour Institute of Technology.
After the merger of Armour with the West Side's Lewis Institute into IIT in 1940, architect Ludwig Mies van der Rohe created a master design, envisioning fifty buildings to occupy 120 acres of land. One of the only university campuses in the United States designed by just one architect, IIT is renowned for its historic architecture, and the Main Building is officially designated as a Chicago Landmark.
The last tenants of the Main Building moved out in 2012, when the building was barred from further use. Jeanne Hartig, Vice President of Marketing and Communications at IIT, considers the building's Romanesque exterior a staple of IIT's original aesthetic. The building was once heavily used and contained classrooms, a library, a basketball court, and administrative offices, including Hartig's. Still, she could sense the building was falling behind the times.
"When I became head of marketing and communications, my office was on the fifth floor of Main Building. I logged into my laptop, went to connect via wireless, and nothing," she recalls. "That was my first inkling that this building was never again going to be used as a modern building." By 2012, students and faculty were impatient with the slow elevators and nearly nonexistent wireless Internet, not to mention that the building was hardly accessible for disabled students and faculty. For Hartig, a question emerged: "What do you do with something that is part of your history but can no longer really function in the same way?"
She says she was not surprised to see the Main Building on Preservation Chicago's list of endangered buildings. "It's not like we're abandoning it by any means," she explained. "But it's a tough dilemma! How do you spend money wisely for a university? Do you put money into a building that is historically important but can't serve the same function, or do you put it into a new computer lab?"
According to Hartig, the university is deeply invested in preserving the history of its campus, and the Facilities Department and Office of External Affairs at IIT is working with the Chicago Department of Planning and Development on upkeep to make sure the structure is stable and preserved. Still, speaking with current IIT students, opinions may vary as to how precious the school's historic architecture history really is.
"No one really cares about architectural history except the architecture students," Rachel Starr, a first-year undergraduate student in the College of Architecture, remarks. "I learned a bit through a class here called 'Introduction to Architecture,'  but the most I got was from a campus tour, when we briefly passed by Main Building and were told not to go near it because it supposedly 'wasn't safe.' "
IIT is currently looking to developers for ideas on what to do with Main. Proposals have included condominiums, a boutique hotel, and a conference center, but Hartig says the structure is far from ready in its current condition. According to her, Main Building requires an immense amount of interior work, including on the stained-glass windows made to honor the Armour family, the grand wrought-iron staircase, and a mechanical railroad model on the top floor. In any event, Hartig says, "You're not likely to see a casino, you're not likely to see a strip club—we're trying to find a developer who is experienced in historic restoration to see what the next chapter of Main Building will be."
✶ ✶ ✶ ✶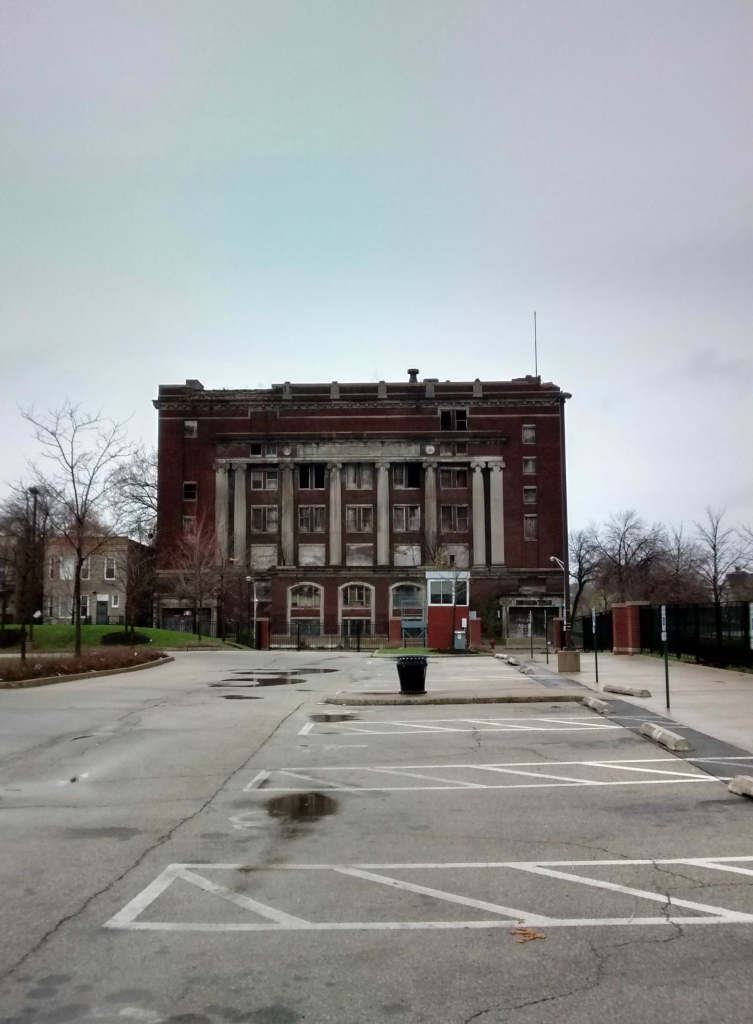 South Side Masonic Temple
The South Side Masonic Temple at 64th and Green Street in Englewood has been on and off the "Chicago's 7" list since 2004. It is currently boarded up and has not been in use or developed since the mid-1980s, but it has a rich history as a community space, and some think it could be such a space again.
The temple was originally constructed in 1921. Then just steps away from the former Englewood Shopping Center, it was central to the neighborhood's bustling commercial and entertainment districts. The Masons were an active presence in the Englewood community, hosting events and parades in the neighborhood through the 1950s. After the temple's membership dwindled, the building was transferred to municipal control and housed the Department of Human Services. It continued to serve as an important community center, offering adult education and senior services and hosting lectures in its 1000-seat auditorium. But in the 1980s, the Department of Human Services relocated, and the building fell into disuse. Many of the surrounding structures have since been demolished.
In 1997, the temple was acquired by Prologue Schools, a network of alternative high schools. Prologue had hoped to rehabilitate the temple and develop it into an Englewood outpost of their school network. There were also plans to partner with Kennedy-King College, whose campus is located across the street from the temple. The college, which at that time had not yet opened, would house some of its students on the upper floors of the redeveloped building. Administrators at Prologue hoped to develop the campus as a feeder school to the pre-professional programs at Kennedy-King.
"We knew that there was such a great need, and there were so many dropout youths surrounding that building," explains Prologue CEO Dr. Nancy Jackson. The hope was toprovide "a place where they could play safe together, they could learn together, they could get employment and training in career development skills together, and when we got them to graduation, they could matriculate right across the street to Kennedy-King."
But over the seven years during which Prologue owned the building, they were unable to cobble together the seven to nine million dollars in expected development costs. A combination of private money and TIF funding proved insufficient, and the organization was also embedded in an ongoing struggle to save the building. "We worked probably for six or seven years or more going in and out of court for every quarter of that time, trying to save the Masonic Temple from being condemned and being demolished," Jackson said.
The company they partnered with to rebuild the school left to work on a lower-cost project, and Prologue ultimately sold the building to a real-estate developer. Though there were plans to convert the temple into housing or retail space, those projects never materialized. Since then, the building has been slowly deteriorating under exposure to the elements.
"Unless you're developing housing, people just don't want to put the kind of money into it that's necessary to bring it back to life," says Jackson. Still, other developments have followed Kennedy-King's entrance into the area, including low-rise housing development New Englewood Crossings and the anticipated Greater Englewood Development Center just a few blocks south. Perhaps the temple will soon have its day as well. "Even in its horrific state, you can see that it has great bones," Jackson says. "It was such an important anchor in that community and really could be again."