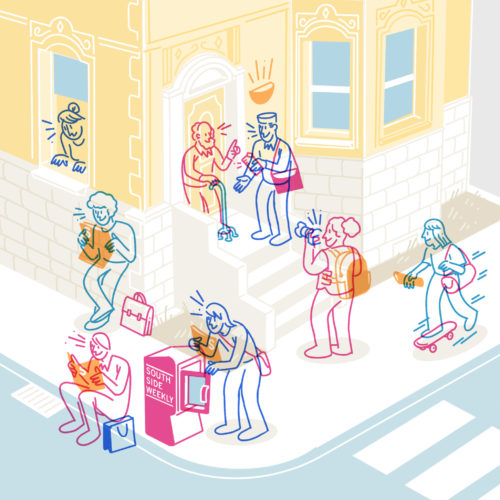 The South Side Weekly is a nonprofit newspaper dedicated to supporting cultural and civic engagement on the South Side, and to developing emerging journalists, writers, and artists.
We publish in-depth coverage of politics, the arts, and issues of public interest alongside oral histories, poetry, fiction, interviews, and artwork from local photographers and illustrators.
The Weekly is produced by a mostly volunteer editorial staff and seeks contributions from across the city. We distribute the paper bi-weekly on Wednesdays. A full map of our distribution network is available here.
If you have submissions, story ideas, comments, or questions, you can reach us by phone at (773) 234-5388, by email at editor@southsideweekly.com, or by mail at 6100 S Blackstone Ave. Chicago, IL 60637.
For information about
advertising
, check out our
media kit
 or call (773) 234-5388.
Masthead
Editor-in-Chief Jacqueline Serrato
Managing Editors Martha Bayne, Sam Stecklow
Senior Editors Julia Aizuss, Christian Belanger, Mari Cohen, Christopher Good, Rachel Kim, Jasmine Mithani, Emeline Posner, Adam Przybyl, Olivia Stovicek
Food & Land Editor Sarah Fineman
Education Editor Michelle Anderson, Ashvini Kartik-Narayan
Lit Editor Davon Clark
Nature Editor Sam Joyce
Politics Editor Jim Daley

Contributing Editors Joshua Falk, Matt Moore, Robin Vaughan, Jocelyn Vega, Michael Wasney,  Tammy Xu, Jade Yan
Staff Writer AV Benford
Data Editor Jasmine Mithani
Radio Executive Producer Erisa Apantaku
Social Media Editors Arabella Breck, Sam Stecklow
Web Editor Emeline Posner
Visuals Editor Mell Montezuma
Deputy Visuals Editor Siena Fite, Sofie Lie
Photo Editor: Keeley Parenteau
Staff Photographers milo bosh, Jason Schumer
Staff Illustrators Siena Fite, Natalie Gonzalez, Katherine Hill
Director of Fact-Checking Tammy Xu
Fact Checkers Abigail Bazin, Susan Chun, Hannah Faris, Kate Gallagher, Malvika Jolly, Sam Joyce, Maria Maynez, Matt Moore, Lucy Ritzmann, Charmaine Runes, Elizabeth Winkler
Interim Layout Editor: J. Michael Eugenio
Deputy Layout Editors: Nick Lyon, Haley Tweedell
Webmaster Pat Sier
Managing Director Jason Schumer
Board of Directors
Director Erisa Apantaku
Director Ben Austen
Director Harry Backlund
Director (Staff Liaison) Jasmine Mithani
Chair Kirsten Williams Smith
Director Rachel Wiseman
✶ ✶ ✶ ✶
Editorial Independence Policy
South Side Weekly subscribes to standards of editorial independence adopted by the Institute for Nonprofit News:
Our organization retains full authority over editorial content to protect the best journalistic and business interests of our organization. We maintain a firewall between news coverage decisions and sources of all revenue. Acceptance of financial support does not constitute implied or actual endorsement of donors or their products, services or opinions.
We accept gifts, grants and sponsorships from individuals and organizations for the general support of our activities, but our news judgments are made independently and not on the basis of donor support.
Our organization may consider donations to support the coverage of particular topics, but our organization maintains editorial control of the coverage. We will cede no right of review or influence of editorial content, nor of unauthorized distribution of editorial content.
Our organization will make public all donors who give a total of $5,000 or more per year. We will accept anonymous donations for general support only if it is clear that sufficient safeguards have been put into place that the expenditure of that donation is made independently by our organization and in compliance with INN's Membership Standards.
Donor Transparency
We are committed to transparency in every aspect of funding our organization.
Accepting financial support does not mean we endorse donors or their products, services or opinions.
We accept gifts and grants from individuals, organizations and foundations to help with our general operations, coverage of specific topics, and special projects. Our news judgments are made independently – not based on or influenced by donors. We do not give supporters the rights to assign, review or edit content.
We will make public all donors who give $5,000 or more per year. As a nonprofit, we will avoid accepting donations from anonymous sources, and we will not accept donations from government entities, political parties, elected officials or candidates actively seeking public office. We will not accept donations from sources who, deemed by our board of directors, present a conflict of interest with our work or compromise our independence.
Donors
✶ ✶ ✶ ✶