At 7am on Saturday, May 21, in the Home Depot Parking lot on 87th Street, a group of children—alongside grandparents, fathers, aunts, and uncles—boarded a bus to see their imprisoned mothers at the Logan Correctional Center. Despite the cool weather, the tone of the waiting families was decidedly warm— children jumped and laughed while grandmothers chatted.
It's the first time since December 19 that the bus service has been available after funding was cut because of the Illinois budget impasse. No other public transportation exists for the three-hour journey downstate. Saturday's trip came as the result of a $10,000 crowdfunding campaign by community organizations Chicago Legal Advocacy for Incarcerated Mothers (CLAIM), Cabrini Green Legal Aid, Moms United Against Violence and Incarceration, and Nehemiah Trinity Rising.
But the money raised only covers two trips to Logan Correctional Center and Decatur Correctional Center, making it far from a permanent solution for many families. And with Governor Rauner promising in a speech this past Sunday to veto a Democratic state budget bill if it reaches his desk, it seems unlikely a long-term answer is coming anytime soon. But despite these looming realities, last week's trip provided a chance for children to briefly reunite with their mothers, something one relative noted "helps them keep hope."
Pearl, who is taking care of her grandchildren while her daughter is in prison, was among those greeting people who were waiting to board. Pearl immediately stood out as one of the more cheerful members of the group, but she said that finding out the trips were canceled "was a crushing, horrible experience for me and [my grandchildren] because I knew there was no way I'd be able to drive all the way out here. I was crushed for her eight-year-old. Her two-year-old don't understand at the moment but he still knows that's his mom."
"When he gets out there to see his mom, he's gonna jump around her, he's gonna do a hula hoop dance around her," Pearl continued. "That's what makes it so important, as soon as he sees his mom he's like 'ahhhh!' It brings joyful tears to my eyes to know this is happening again."
Barbara, also waiting for others to arrive before boarding, recounted the difficulty of being unable to visit her daughter alongside her two grandchildren, aged fourteen and sixteen. She's been visiting for the past fourteen years through transportation provided by Lutheran Social Services of Illinois. Now, because she doesn't have a car, trip expenses are too great for her to go consistently without the bus service.
Describing the negative effects of separation for her grandchildren, she said, "The kids weren't doing too good in school, especially Melvin because he's real close to his mom. There was a big difference within the five months. In the three weeks that we've known he was gonna see his mom, he's been much better. He even brought his grade report, which is all A's and B's, and before it was like C's and D's, so he's back up."
The visits benefit her daughter as well, Barbara says. "[It] gives her something to live for, some hope."
"My daughter has been constantly in trouble, she's been in the hole [solitary confinement] about three times since December," she continued. "She knows that we're not gonna come see her, she starts thinking about fighting people who are picking on her. But when she knows we're coming, she knows it's the only way she's gonna see her kids, so don't blow it. Otherwise, it's like, 'forget it, I'm in here another twenty years anyway. I don't have nothing to live for.'"
For many families, a prison sentence isn't the end of the punishment. Maribel, who was waiting to board the bus alongside her grandchild Elijah, noted some of the consequences of separating a mother and child.
"Usually after three months of not seeing her, he starts acting up," she said. "I have him on therapy, but going to see her helps him emotionally. He needs to hug her and kiss her, and play with her, and sometimes even fight with her… They're already paying for their punishment, but I don't think the kids should be paying for it."
The trips aren't just a chance for children to see their mothers. According to Alexis Mansfield, the supervising attorney for CLAIM, maintaining a connection to family and community is one of the most important factors in preventing recidivism. She explained that because mothers are often the primary caregivers, children with mothers in prison will likely end up living with their grandmother, a friend or family member, or in the foster care system. She also noted that, for many, distance and accompanying costs make the trip impossible.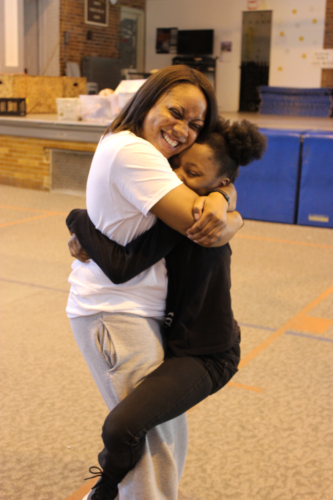 "Studies have shown that the greatest indicator of success post-incarceration is social connectedness, having connections with friends and family," Mansfield explained. "For the mothers, they need to know their children still love them, that they still think of them as a human being, that they still have that bond, and they have someone waiting for them to come home and do well."
Mansfield said that budget cuts were part of larger systemic issues with both the Illinois budget impasse and the prison industrial complex, and, given that, "the state pays a whole lot of money to keep families apart. They pay over $40,000 a year to send somebody to prison."
Though there's little end in sight to Illinois' budget crisis, Mansfield emphasized that crowdfunding trips isn't a permanent solution. The coalition of CLAIM, Cabrini Green Legal Aid, Moms United Against Violence and Incarceration, and Nehemiah Trinity Rising, alongside the Illinois Department of Corrections (IDOC), is looking to put the trips on the budgets of IDOC and the Illinois Family Preservation Services.
"It's a matter of bringing attention to this issue through things like…families going out and talking about their experiences at churches and community centers so the government realizes how important this is," Mansfield said. "I think that by working together with our coalition, the families involved, and the IDOC, we can put enough attention on this issue so that the funding families deserve comes back."