On February 2, at Kenwood Academy High School's library, Kimberly Harding announced the launch of a new parent fundraising organization, Friends of Kenwood (FOK), along with a plan for an army of committees under the organization. Harding is the president of the board of the nonprofit group, which aims to "ensure the future of Kenwood [Academic Center] & [High School] as the premier education Academic Center and Academy in Chicago and the world."
"We're going to have probably fifteen committees that we're going to establish over the next two weeks," Harding declared. "And I need talent on those committees."
Her audience of about a dozen parents was gathered for a meeting of Kenwood Academy's parent advisory council. Kenwood has seen its fair share of budget cuts over the years, including last week, when the school lost $160,514, or 1.24 percent of its budget. The district cut $46 million across CPS in response to Governor Rauner's veto of $215 million in expected funds. During the past three school years alone, Kenwood's budget has shrunk by over $1 million, from $14 million in fall 2014 to $12.7 million as of last week. One casualty of these cuts was the director of the Kenwood Academic Center, a selective program for students in grades seven to twelve, who was laid off in 2015.
Harding said she was inspired to start Friends of Kenwood when her son's classes were cancelled this past summer; a few days after it happened, she ran into a neighbor's daughter who was on her way to school at Jones College Prep downtown. The neighbor's summer program, too, had been slashed by budget cuts, Harding said, but Friends of Jones stepped in and covered the cost.
When she heard this, Harding said, "I almost passed out."
In an interview with the Weekly, Harding voiced a mistrust of the district and state's ability to provide for students. "We can't depend on CPS," she said, so parents should do whatever they can to help their kids succeed. And she's not the only one thinking this way.
With education budgets across the city remaining subject to cuts throughout the school year, a 2015 analysis by Catalyst Chicago found that the number of "Friends of" groups is on the rise, as are the amounts of money these groups are raising. Forty-one schools had groups that raised over $50,000 in 2014, double the number of schools that had such groups in 2006. In the same time, the number of schools with "Friends of" groups raising over $300,000 went from zero to eight.
The few high schools in the mix are mostly selective enrollment—groups at Whitney Young, Jones, Walter Payton, and Northside Prep are the biggest fundraisers. In wealthier communities, school fundraising efforts have been extraordinary, even extravagant—some can raise hundreds of thousands of dollars in a single day, through efforts such as an email blitz after teacher layoffs are threatened, or a high-end auction.
Harding acknowledged that many parents are averse to school fundraisers, most often because those parents don't have thousands to spare. At Kenwood, sixty percent of the students qualify as economically disadvantaged, meaning their family income is less than or equal to 185 percent of the federal poverty line. This percentage is smaller than the district average, but greater than the thirty to forty percent at Northside, Payton, Jones, and Whitney Young.
But Harding stressed that Friends of Kenwood doesn't want parents to pay up themselves.
"Honestly, we're not looking for money from the parents; we need boots on the ground from the parents," she said at the launch. "What we need from you is your talent and time. We need someone who can build and manage a website, we need liaisons."
FOK's goal for this year is to raise $50,000, Harding said in her interview with the Weekly. FOK's board wants to first lay the groundwork, focusing on getting parents and community members involved; once they've done that, Harding expects to be raising six-figure amounts within three to five years
FOK's strategy is to enlist parents in seeking out corporate sponsorships and donations from local businesses. Harding pointed to the $11,040 raised by Nando's Peri-Peri on 53rd Street, which donated its first day of sales to Kenwood Academy. Kenwood used some of the money to fund college tours.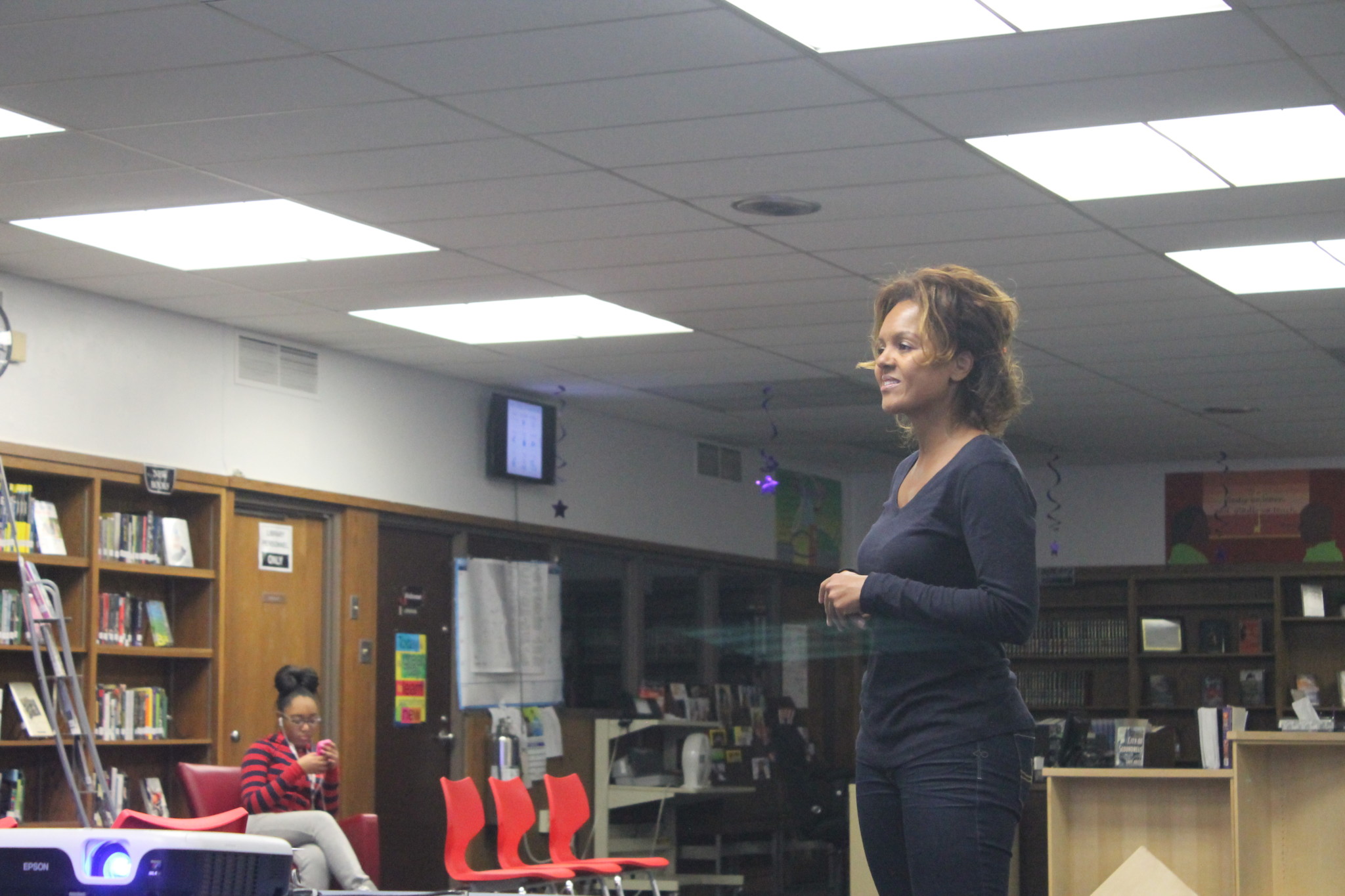 Now that Friends of Kenwood has nonprofit status, she said, it should be even easier to get companies to donate money and to receive tax benefits. Harding also encouraged parents to find out if their employers would match their personal donations to a nonprofit, doubling their impact.
"We've been leaving a lot of money on the table the past few years, not [having] a 501(c)3," Harding said.
Harding and Danielle McDaniels, fellow FOK board member and Chairperson of the Kenwood Parent Advisory Council, described Friends of Kenwood as a project for the entire neighborhood. "Believe me, companies are looking to give money away," McDaniels said at the launch. "Friends of Kenwood can be anyone, it can be the community."
According to Harding, even local parents who send their children to private schools will find that Kenwood's success is in their self-interest.
"Everyone that lives in the Kenwood–Hyde Park area—whether they send their kids to Latin or UC or Parker—they should be excited about making [Kenwood Academy] the premier school in Chicagoland and the world, because it helps what? Property values," Harding said. "It is the neighborhood school. The alderman [Sophia King], and the [candidates] that are running for the 4th Ward—this should be their number one priority."
For McDaniels, an alumna of Kenwood herself, Friends of Kenwood is an investment in the future of the school and the community.
"This is an ongoing process," McDaniels said. "This is something that we establish so that after we're gone and our kids are gone and their kids are gone, this is something that will still be in place. So those programs that were cut—the engineering program, the summer school program—that's when the school says, 'Hey, Friends of Kenwood!'"
Did you like this article? Support local journalism by donating to South Side Weekly today.