On the third Wednesday of each month, salsa dancers from all over Chicago flock to the Promontory in Hyde Park. Deep purple lights flood the dance floor, creating a sultry ambience. Drums pound and trumpets roar, setting a rhythm for the bodies spinning and swaying on the dance floor.
This South Side salsa event keeps on growing and people keep coming back; for many, what is at first seen as a complicated dance turns into a passion. Salsa Night at the Promontory celebrated its second anniversary this October, and has recently expanded to a second monthly evening at North Kenwood's Room 43. At these venues, the University of Chicago's Ballroom and Latin Dance Association (BLDA) has worked with WHPK 88.5 FM and Chicago-area salsa DJ Earl Hall (stage name El Caobo) to create a new space for this unique genre of dance by providing free dancing and lessons, free performances, and a robust music selection. As salsa finds a new home on the South Side, the new community growing around this monthly event is moved by the diasporic history of the salsa genre and a passion for dance.
✶ ✶ ✶ ✶
Mambo, salsa's most direct predecessor, originated in Cuba and became popular in the U.S. during the 1950s. In the 1960s, a mambo craze took hold of the Grand Ballroom on Cottage Grove and 63rd Street. A community of African-American dancers maintained the dance scene on the South Side for the next few decades; they played a role in organizing mambo events at Room 43.
Incorporating elements of Cuban son montuno, mambo, and cha-cha-cha with Puerto Rican bomba y plena, salsa comes from a wide and rich tradition of Latin and African music. In the 1960s and 1970s, immigrants from Puerto Rico and Cuba, based for the most part in New York, created what we now know as salsa. The origins of this genre, which derives its foundational rhythm from African beats and percussion, reflect a history of migration and diaspora. You can hear it in "Aguanile" by Hector Lavoe and Willie Colon, or Celia Cruz's "Quimbara"—the influence is undeniable. Lavoe and Cruz, alongside other legendary salsa artists such as Rubén Blades and Cheo Feliciano, propelled the genre to the mainstream of Latin music through the Fania Records label, founded in 1964. Throughout the decade, Nuyoricans—New Yorkers of Puerto Rican heritage—further added elements of jazz, funk, boogaloo, rock and roll, and R&B to the dance to match the music.
UofC's BLDA, founded in 1993, aims to provide accessible, low-cost lessons in this unique dance. The organization hosts regular dance events for the community, and trains their competitive ballroom dancing team to represent UofC in the USA Dance Collegiate Dancesport Association. Student June Wu is the current president of BLDA. Under her leadership the club's membership has expanded from fifteen to over two hundred, a growth Wu describes as closely aligned with the move to the Promontory: "We gained publicity, marketed our classes, and drew people in," she says. "The popularity of the Promontory event also started drawing in performance dance teams from around Chicago, and I think their performances really invigorate the spectators to want to learn how to dance. It's inspiring."
After a three-year residence at the Seven Ten Lanes bowling alley in Hyde Park, the monthly salsa nights started to grow quickly in the fall of 2013, prompting the event organizers to seek out a new location. Vishy Sharma, who serves as special counsel to BLDA, worked with DJ El Caobo, to secure the Promontory as the venue. The new setting prompted greater interest: 209 people RSVP'd to the Facebook event for the first Promontory Salsa night in November of 2014.
Growth has only continued since the club first arrived at the Promontory, with three hundred people routinely in attendance during the school year and about two hundred people in attendance during the summer. As the event continues to grow, the organizers now hope to incorporate live music. Wu is hoping to add even more programming: "BLDA operates completely through the volunteered work of their members, and we always need more dance instructors," she says.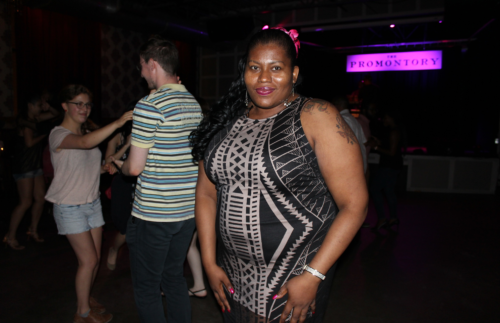 Every Salsa Night at The Promontory starts off with a beginner class followed by performances and open dancing. The free classes are popular. "I've never seen so many people at a basic salsa class—it feels great to play a role in people's first exposure to salsa," says Sharma. He has never been a UofC student, but moved to Hyde Park after meeting members of the UofC dance group on his first night out dancing in Chicago. He had just moved from Brooklyn to Lincoln Park, but upon discovering the blooming South Side salsa scene and BLDA, he broke his lease to move closer to the action.
What was once a student club has become a destination for salsa dancers of all skill levels from around Chicago, thanks in no small part to the influence of DJ El Caobo, who lends his decades of DJing experience to the monthly salsa nights.
"The driving force of the South Side [salsa] events is El Caobo," Sharma said. "I don't think the Promontory would've happened without his support. He is a key figure in the salsa scene."
El Caobo's presence gives salsa on the South Side one of the best selections of Latin dance music anywhere in the city. He leans towards jazzier, percussive salsa, playing music that continues the tradition of the 1960s and 1970s. The selection is unique from other salsa nights in the city, and he believes it's part of what keeps people coming back to the Promontory.
The only salsa DJ officially signed to Fania Records, El Caobo found salsa by way of romance and language. In college he studied Spanish and went on to become a Spanish teacher and then a courthouse interpreter. While working as an interpreter he began to dabble in marketing for a professional DJ pool in exchange for access to music, and picked up DJing as a result. For him, learning about Spanish culture was central to learning Spanish—and a major part of learning about the culture was learning about the music. Later, his then-girlfriend introduced him to salsa music and also gave him his DJ name  
Now, with fifteen years in radio, El Caobo is currently one of the format chiefs at WHPK (88.5 fm) and hosts his own show Radio Clasica/El Tornado Tropical on Thursdays from 4pm to 5:30pm. He began DJing for the UofC's BLDA in 2012.
"To attract people from the community you need a DJ, and Earl [El Caobo] is the best," says Sharma. He says the only place you'll routinely see members of Chicago's old mambo community come out and dance is at the Promontory, due to El Caobo's prominence. 
El Caobo focused his efforts on the South Side despite concerns that it would be harder to create a flourishing salsa community there than on the North Side: "There was an open market here," he says, "whereas the North Side was oversaturated." In the end, having the right venue made all the difference. El Caobo says the Promontory is a venue that has helped draw and sustain various forms of nightlife in Hyde Park. "I wanted to help create a space where people could support the area and spend money here in the neighborhood," he said. 
El Caobo's excitement and love for the South Side Salsa events can be seen in all the groundwork he has helped to lay for them; he has created many groups on Facebook dedicated to sharing salsa history and events. He has also expanded his efforts from the Promontory to more of the South Side through weekly salsa events at the 31st Street beach in the summer, individual events on the Midway and at Ping Tom Memorial Park in Chinatown, not to mention South Side Salsa's new monthly events at Room 43. And when the day of an event comes, El Caobo can be seen with a wide smiling face from the DJ booth.
El Caobo and the event organizers pride themselves on the elements of South Side Salsa that continue to bring people back: a large portion of each month's crowd are regulars. That's the goal, according to Sharma. "We want for every time you come to salsa night for you to have a good night," he says. "Every single time. Not just once."
According to Sharma, there are two types of people in the salsa scene: the casual dancers, who show up occasionally to have a drink and dance, and those who are consumed by salsa and Latin dance. Those in the second group travel around the city to attend different salsa events, take advanced lessons, and sometimes even join performance teams. Sharma is in this group: he has traveled the globe dancing, visiting Spain, London, Croatia, and India, which hosts one of the largest gatherings in the world for Salsa. In each of these places he says he has experienced a diverse and welcoming community of salseros.
"You can be a tourist or you can be a salsa dancer," he says, "[someone] who wants to get in there and be instantly part of that country's fabric, just because you dance salsa. You're no longer a stranger."
Sharma says salsa has become akin to a religion, and indeed, the salsa tradition has strong roots in religion and in community bonding: the word Mambo is said to mean Voodoo priestess in Haitian Creole as well as "conversation with the gods" in Kongo, a Bantu language that is spoken by the Kongo people of the Democratic Republic of the Congo, the Republic of the Congo, and Angola. The Afro-Caribbean religion Santería, which is based off of Yoruba beliefs and traditions, has also left its mark on the salsa genre.
"People go to church, I go dance," he says. He believes there is a spiritual subtext to dancing, a thread that links people together as they move, "otherwise why would so many people gravitate to [the music] and feel the music deeply?"
In discussing salsa's new renaissance in Hyde Park, Sharma said the importance of this new community has to do with the diasporic history of the genre.
There is something unique about it coming full circle in a philosophical sense," he said. "Salsa music and rhythms come from Africa and for us to have a big dance community here in Hyde Park, which is an African-American cultural hub in Chicago. I don't think that can be replicated anywhere. That's what makes it unique. Five or four years ago, I don't think anyone would've considered driving to the South Side to dance salsa. But it's happening all the time now."