All photography by Manuel Velasco.
The weekend before last, Ruido Fest—a three-day music festival put on by Metronome, the same Chicago-based company behind Riot Fest—took over Addams/Medill Park in Pilsen for the second year in a row. With fifty musical acts spread out across three stages over a combined timespan of twenty-seven hours, festivalgoers were treated to a continuous stream of Latin American music from all corners. Live lucha libre matches, family-friendly vibes, and a myriad of classic Mexican street foods also helped solidify Ruido Fest as of one the best outdoor musical experiences for fans of el rock en español in the United States.
But before a single churro could be sold (or, for those familiar with Spanish vernacular, smoked), Ruido Fest was in muddy waters. A day before Miami art rock outfit Minimal was set to kick things off, festival organizers announced that Chilean headliner La Ley could not make it to their Friday night set due to "unforeseen circumstances" and that another Chilean reggae band, Gondwana, would perform in their place. Without further explanation from the festival, rumors spread among the crowds as to why the band didn't show up. Most chalked it up to problems with la migra: many international artists—particularly those without a Top 100 hit and/or outstanding notoriety—often get trapped in a bureaucratic nightmare when coming into the United States. (Billboard later reported that La Ley "canceled their participation because of traveling and logistic conflicts.")
However, given that the official Ruido Fest T-shirts—which came in two similarly-colored prints, one featuring legendary Mexican wrestler El Santo, and what can only be described as a Jedi-flipping cat on the other—had Gondwana instead of La Ley on the band list on the back, it is likely that Max Wagner, owner of Metronome, and company knew before Thursday afternoon's announcement that La Ley wasn't going to show up. In other words, either Ruido Fest organizers found a way to get hundreds of T-shirts with Gondwana instead of La Ley on the back in the span of twenty-four hours, or they deliberately withheld information about La Ley's cancellation until the very last minute, in which case La Ley fans might have grounds for a refund. (At press time, Ruido Fest had not responded to requests for comment.)
Members of La Ley weren't the only ones that had trouble coming into the country: during her performance on Saturday night, Mexican pop queen and nine-time Latin Grammy-winner Natalia Lafourcade announced that her band's pianist had been denied a visa to enter the country. Another possible victim of visa trouble was Chilean singer-songwriter Mon Laferte, who was replaced without prior announcement by self-described cavernícola and notorious showman, Silverio, on Sunday. (At press time, Laferte's representatives had not responded to requests for comment.)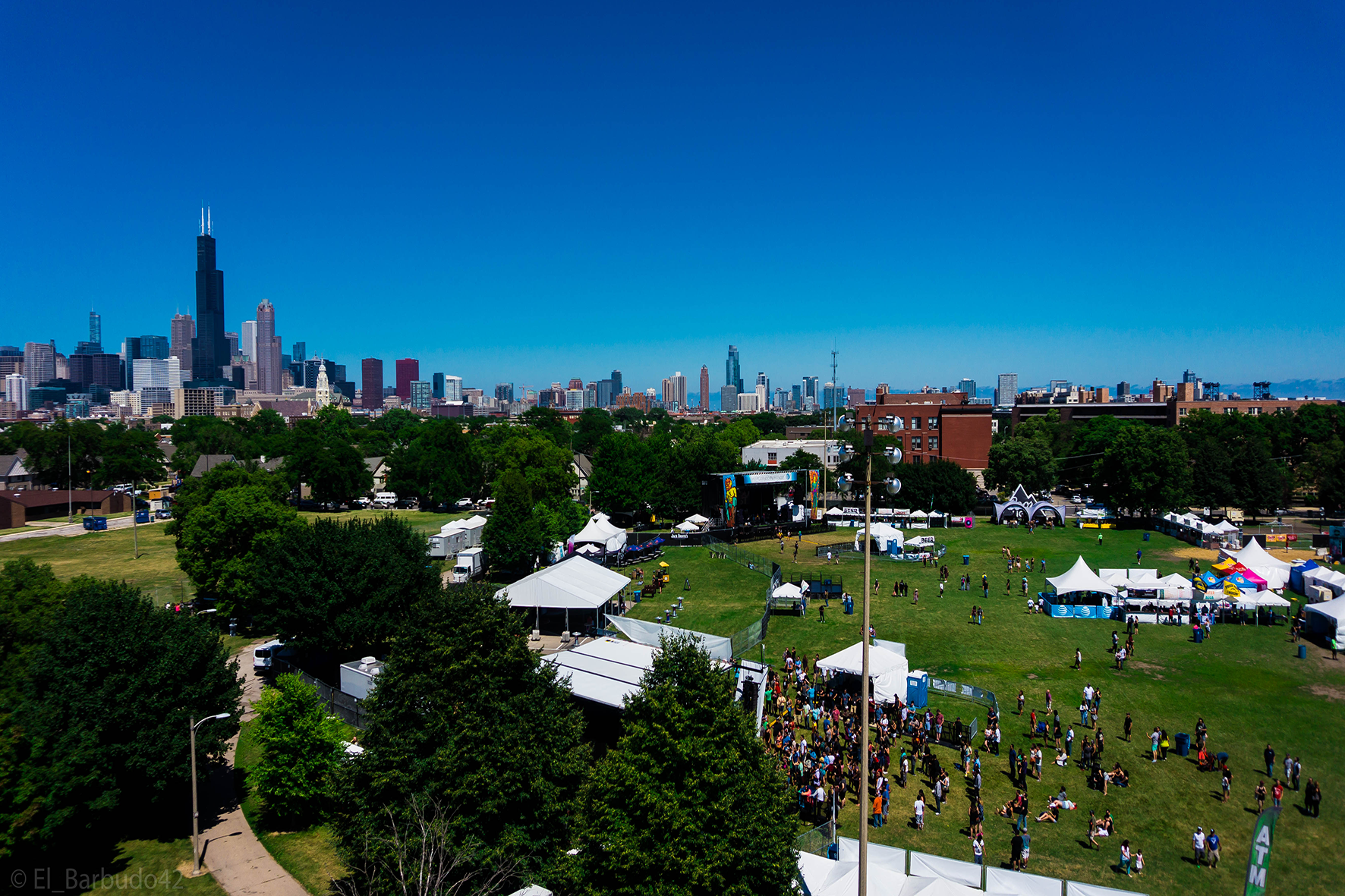 Thankfully, neither denied visas nor last-minute lineup changes could stop attendees from having a good time: even without being billed in advance, Gondwana's reggae vibes were warmly welcomed by a dancing crowd cooked by summer sunshine, while Lafourcarde seamlessly took over for her missing pianist to close out her set with "Ella Es Bonita" from 2006's Hu Hu Hu and crowd-favorite "Mi Lugar Favorito" from her most recent record, Hasta la Raíz (2015).
Silverio, however, was in a league of his own. Su Majestad Imperial (a fan nickname) closed out the festival's smaller stage on Friday in spectacular fashion. He followed it up with a set for an official Ruido Fest afterparty at Chop Shop in Wicker Park on Saturday night. But it was on Sunday, when he took over for the absent Mon Laferte at one of the festival's two main stages, that Su Alteza Serenisísima (another fan nickname) showed us—and the world—just what he's made of. Donning a black leather jacket, black faded jeans and a button-up blood-red shirt—rags he would ultimately strip, revealing his trademark red European spandex—Silverio strutted on stage to a largely surprised audience and proceeded to deliver the most exciting performance of the weekend, his third in less than forty-eight hours. His music, described by the artist himself as "EDM for cavemen," demanded the attention of passersby, including many families with young children enjoying an otherwise beautiful afternoon. It's unclear whether the crowd wanted to hurt Silverio or to amp up the show's atmosphere but, by the end of the forty-five-minute set, the self-described "Elephant Man of industrial music" had successfully dodged dozens of half-full cans of Coors Light. Security personnel next to the stage seemed like they didn't know whether to be worried, amazed, or appalled, and, to be honest, neither did I.
But while Silverio undoubtedly took the gold for showmanship, it was Mexican indie pop singer-songwriter Carla Morrison who delivered the weekend's best vocal performance. A tasteful blend of the late Amy Winehouse and Selena Quintanilla, Morrison, whose music was described by NPR's Felix Contreras as existing "in a private emotional space where she can address joys, heartbreaks and secret desires," performed a number of cuts from her gold-certified album, Déjenme Llorar (2015), late Friday afternoon as the sun set behind her.
Ruido Fest's smallest stage played host to dozens of indie rock outfits from across the continent. Local favorites You Are Here—a four-man group hailing from different parts of the South Side—kicked off the festivities on Saturday with their unique blend of upbeat indie guitar riffs and melodic choruses. The crowd, split evenly between longtime local fans and newcomers, was larger than expected given that the band was set to go on stage just five minutes after the gates to the festival opened. Adan & Xavi, a folksy indie super-group of sorts consisting of multi-instrumentalists Adán Jodorowsky (the son of storied film director Alejandro Jodorowsky) and Xavi Polycarpe, also gave a touching performance late Sunday afternoon.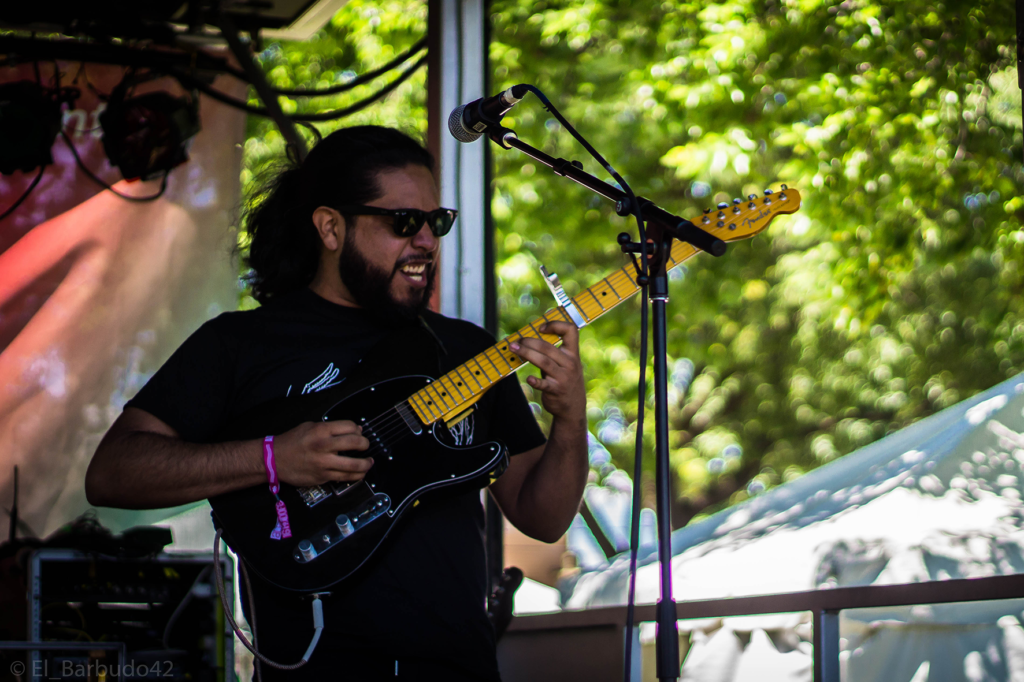 Activism was another distinct feature of Ruido Fest. A number of bands, such as La Santa Cecilia and Maldita Vecindad, demanded justice "para los maestros CNTE en Oaxaca, los 43 estudiantes desaparecidos en Ayotzinapa," ("for the CNTE teachers in Oaxaca, the 43 disappeared students in Ayotzinapa") and for black lives in the United States. Pilsen Alliance, a nonprofit social justice organization "committed to the development of grassroots leadership and the realization of social progress in Pilsen," was also present, educating festivalgoers on the hardships many residents of the historically working-class and immigrant neighborhood currently face as their blocks rapidly gentrify.
Yet despite the activist presence throughout all three days, Ruido Fest's corporate feel was unshakable. The festival's main sponsors—AT&T, Coors Light, and Toyota—each had a stage named after them, while the handful of VIP areas seemed to take up a little too much space at the still-relatively-small festival. The coldest of it all, however was the fact that no Mexican beer was available for purchase (thanks, Coors Light). So, in the end, while the crowd and the musical performers all brought their A game, a corporate attitude nevertheless bled through into the weekend.