At first glance, the sidewalk in front of Brighton Park Elementary didn't look any different than it would on a normal school day. Students were gathered on the curb, bundled in colorful coats and huddling for warmth. But on February 17, half an hour before first bell, they were joined by parents, teachers, and activists, chanting and carrying signs.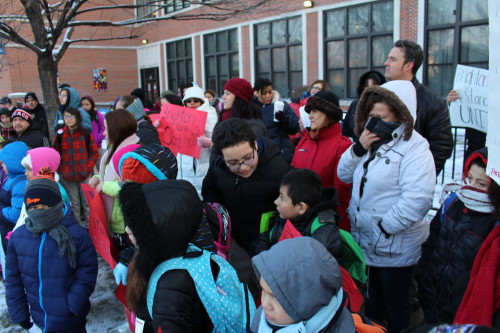 Two weeks ago, an activist group known as the Alliance to Reclaim Our Schools sponsored a national day of "walk-ins": actions where teachers and students protest by walking into, not out of, schools. Here, and at various schools around Chicago, the protests called attention to Chicago Public Schools' ongoing budget crisis—namely, the $120 million cut that the district had announced eight days earlier. At Brighton Park Elementary, a school on the Southwest Side with prekindergarten through eighth grade, close to fifty students, parents and teachers gathered to lead chants and listen to speakers before the students walked inside to start the school day.
Although it was cold enough to see your breath, the mood was light at the walk-in. At one point, when a chant leader asked her audience to call Rahm Emanuel's office on their cell phones, someone quipped that a teacher would take them away, to laughter.
Nonetheless, the walk-in, which was organized by the Brighton Park Neighborhood Council and the Chicago Teachers Union (CTU), approached a serious issue. Rolando Vazquez, a CTU member who teaches seventh and eighth grade at Brighton Park Elementary, says he wanted the action to bring attention to the way schools are funded in Chicago.
"[There's] no real equity in funding. The board is saying we're broke, yet there are proposals for new charter schools," Vazquez said in a phone interview.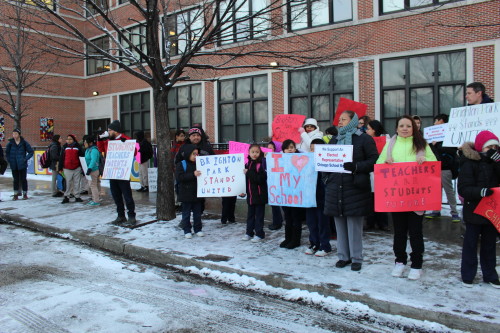 According to Vazquez, the appeals of faculty and teacher representatives often fall on deaf ears at budget meetings. In large part, Vazquez says this is a result of the board's "revolving door" membership—by the time teachers manage to connect with one administrator, that administrator is already on their way out of the board. Vazquez felt that former Board Vice President Jesse Ruiz was "willing to talk," but Ruiz was transferred to the Chicago Park District in November 2015.
Anita Caballero, the board president of the Brighton Park Neighborhood Council, shares Vazquez's sentiment on CPS's funding problems. In a press release distributed at the walk-in, Caballero states that she "[sees] no evidence of a long-term plan for the future of sustainable, high quality public education in Chicago, other than the privatization and systematic disinvestment from public education that is destabilizing communities in our city."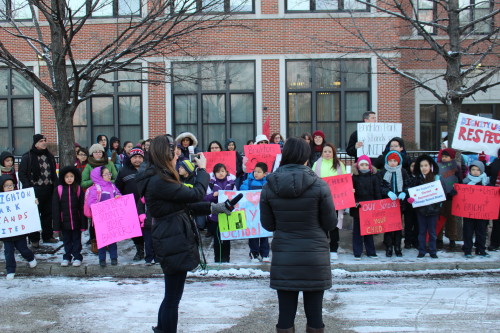 Martha Haro, who has taught preschool at Brighton Park for a year now, says she loved the idea of a walk-in as soon as she heard about it—especially since it takes no toll on the students, unlike a walk-out or a lock-in. "It shows that teachers are willing to protest and stand up for what's right, but not at the stake of not teaching our students," Haro says.
Although she acknowledges that the worst of the budget cuts have not hit Brighton Park, as compared to other schools, Haro says the impact of a funding shortfall is already being felt. As she and Vazquez observed, the school is currently without a librarian and a playground (although Vazquez was quick to comment that this is not the fault of the school's principal.)
Despite the best efforts of a determined group of student drummers, the chants had died down by the time the students walked out of the cold and into the school. But according to activists like Evelyn Solis, a senior at Thomas Kelly High School, actions like the walk-in help build awareness and involvement in the student body.
"Honestly, the Brighton Park neighborhood kids do know what's going on, and that's great since they're still young. When they get to high school, they can do even bigger things," Solis remarked.
"We all fight together because we have one basic mission," she continued. "Everyone deserves an education."
✶ ✶ ✶ ✶
Brighton Park Elementary Walk-In
Weekly reporters Jake Bittle and Christopher Good also used Twitter to cover the Walk-In at Brighton Park Elementary School on February 17, 2016. Those tweets have been curated below using Storify.
https://storify.com/SouthSideWeekly/brighton-park-elementary-walk-in