S is for South Side feels more like a children's guide to the South Side than an alphabet-teaching book. The page "E is for exciting new things to try" doesn't bold "exciting," nor is that an easy "E" word to teach. Instead, the words that are supposed to rhyme are bolded. Dr. Courtney Davis clearly put deliberate thought into focusing on the options for fun in Washington Park, for example, instead of emphasizing the letters.
While reading with my two-year-old niece, Zayna, on a page that had photos of food, she pointed at every picture and asked about it. The page with every South Side zip code had us practicing her South Loop address. S is for South Side is rich in details the reader can enjoy and the toddler can point out—I learned what Davis's Harold's order is on "C is for chicken," while my niece asked me about each of the seals on "U is for universities."
Davis, a Ph.D in special education, grew up near Roseland on 104th Street and Eberhart. She wrote her first alphabet book, A for Anacostia, while she taught pre-K and kindergarten in Washington, D.C. and wanted a book with references to their neighborhood. Her family, still living on the South Side, asked her to write a similar one for her hometown.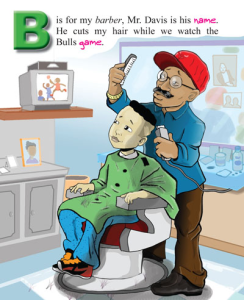 When I met Davis at the DuSable Museum, she excitedly pointed out her favorite details: the "B for Barber" page, which features her dad and his barbershop on 95th Street, and the fact that you can actually go kayaking at Rainbow Beach on 75th.
Despite my niece's technical status as a South Side resident, I was hesitant for a second to read the book to her. This book was clearly made for black Chicago: it features mostly black South Side neighborhoods and characters with a range of dark skin tones. Zayna, in her South Loop home, doesn't live that life. Would she care?
I read the "O" page: "I am so proud to see a president in the White House who looks JUST like me!" I look at her. No reaction. It doesn't matter—she's two. She points at the Secret Service cartoons flanking a baby President Obama and asks about them.
Popular children's or alphabet books about Chicago, like C Is for Chicago or Larry Gets Lost in Chicago, tend to focus on the Loop or North Side attractions. The children's book landscape sorely lacks representation of Chicago experiences south of Roosevelt, making the details of kid-friendly fun on the South Side warmly welcome.
Design matters in children's books. Enchanting illustrations can have a child cling to a book, and maybe even its topic, whether it be about a certain neighborhood or religion. Growing up, I trudged to my local mosque every Sunday morning to attend an Islamic Studies school with my classmates from the suburbs of Pittsburgh. My friends and I, daughters of the teachers and organizers, were usually less than impressed with the classroom materials. The textbooks had embarrassing typos and poor kerning. The religious rule about not idolizing prophets or God led to a dearth of creative illustrations. I envied my mostly Christian friends, who had beautifully illustrated storybooks of the Bible for every age group on their shelves.
S is for South Side declares on its first page that it was independently published through "Homeroom #104," and it does feel distinctly homemade.  Though the details of the book are much richer than my "special interest" books were while growing up as Muslim, the design gave me flashbacks to my Islamic School days immediately.
I wonder if kids will hold onto S is for South Side, appreciating the glossy pages and endlessly detailed illustrations, instead of the way I immediately saw low-resolution photos awkwardly juxtaposed with cartoon characters when I was younger. My niece is luckier than I: the Islamic book industry has grown in the past decade to give her more options of beautiful books than she could want; she has chests and shelves of books with the most enviable designs and typography. Before I had to leave, she made me read S is for South Side to her four times.
Courtney Davis, S is for South Side. Homeroom #104, 38 pages. $14.99 on Amazon