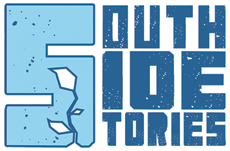 All right. Now you guys tell me what you saw." Seed Lynn, leader of Digital Storytelling Workshops for South Side Stories, waits patiently for the audience. He's just shown "Four Corners," a video by South Side teen Ajua (only first names are shown), which chronicles the tale of Ajua's first kiss with her crush and his subsequent rejection. It seems a familiar story, but Lynn wants to dig deeper. After a pause, he asks: "What did this experience mean?"
South Side Stories—a program of the University of Chicago's Center for Interdisciplinary Inquiry and Innovation in Sexual and Reproductive Health, or Ci3—offers digital storytelling workshops, led by Lynn, that provide South Side youth (ages thirteen to twenty-four) with the guidance and tools to create short videos conveying a personal story. The workshops each span one weekend, from Friday evening to Sunday. Afterwards the South Side Stories post-production team polishes the footage into edited form. But the workshops aren't just about equipping teens with more ways to tell their stories: for Ci3, they're also research.
Principal Investigators Melissa Gilliam and Alida Bouris lead the program. Gilliam is the Director of Ci3 and a professor of obstetrics and gynecology, Bouris an assistant professor in the University of Chicago's School of Social Service Administration. They want to explore how stories from teens can expand the scope of social science research, "to bring the people we study into the process," Gilliam says.
Ci3's larger premise is that to treat endemic sexual health issues, especially among teens, researchers have to understand demographics as more than just potential patients. This is one of their efforts to deepen that understanding, by listening to the ways teenagers talk about the issues they face, be it heartbreak or a violent block.
South Side Stories' first screening, held last Thursday in the Gray Center for Arts and Inquiry's Lab space, showcased five completed stories, averaging around two minutes each and focusing on relationships (the next day being Valentine's Day). After "Four Corners" was "Closer" by Tia, addressing a boy she had dated before moving to a safer neighborhood. "I saw you on 102nd and State," her voiceover begins, the intersection's street sign on the screen. "We're in Chicago, on the South Side, where every block is hot and no one is safe." As "Closer" ended, Lynn shook his head: "This boy, he's so much a part of where he's from. The way she describes him…it's like he is the block."
"Place is a portal," Lynn continued, "All stories start in a place."
He critiqued the idea of the South Side as "one big community." He continued, "Nothing could be further from the truth…It's a very Chicago thing. People move in very rigid ways. There are these dotted lines you can't cross." Stories can help community members and researchers to understand these boundaries, as well as reorient the larger discussion around the South Side. As Lynn puts it, "They have a life beyond what the author intended."
Gilliam ended the screening by posing a series of questions. "Can we start to think about research differently?" she asked. "Can we begin to use story to change policy?"
Statistics have their place, but stories—qualitative, personal, subjective, sometimes irrational—have a special power all their own, one that South Side Stories plans to harness. Sharing these stories with the community is an essential component of the program. After all, all changes, like all stories, start in a place.