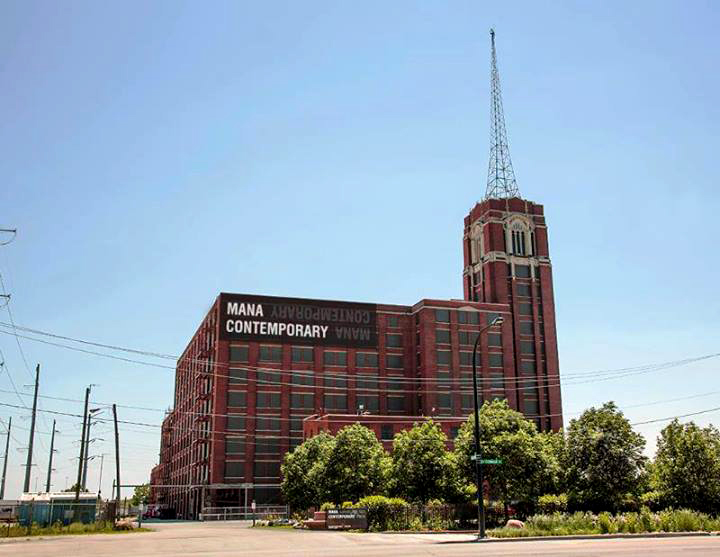 Nestled in a nine-story warehouse in Pilsen is one of the newest and largest spaces for Chicago artists. Mana Contemporary, an arts organization headquartered in Jersey City, New Jersey, recently opened a location on the South Side, turning an ambitious eye toward the future of Chicago art.
The art center resides in a defunct, monolithic document distribution center topped with a precarious-looking radio tower. The nine-story space offers a traditional contemporary white-walled gallery, but maintains visible remnants of its industrial past.
The Mana Contemporary operation stems from the innovations of Moishe Mana, an Israeli entrepreneur who started a moving company to work around the clock instead of on the usual nine-to-five schedule. Moishe's Moving and Storage eventually expanded across the country, and he started Mana Contemporary with business partner Eugene Lemay in 2011. It turns a profit as a studio supplier and art storage business, but also seeks to build connections between artists at similar centers around the globe; the organization hope to establish additional centers in Miami, Los Angeles, and London. The ideal scenario is one that connects local art scenes and artists to a broader community of creators.
The Chicago center, co-founded and run by Micha Lang, should fill a number of artists' needs, including exhibition spaces and studio spaces for rent. Some other features include a café with free Wi-Fi and coffee, a technology lab outfitted with three-dimensional printing machines, and educational spaces. Currently, rented studio rooms range from 250 to 900 square feet.
A number of the rooms have already been claimed. "We have a pretty diverse range of artists, [in terms of] where they are in their practice and where they're coming from and what kind of work they're making," one of the center's directors, Nicholas Wylie, said. "We have people from Pilsen who've grown up here and people from Germany, Japan, and London." Mana is still outfitting studios for use, but with all nine floors available for residence, the building's capacity seems boundless.
However, Mana does not just want to be a studio space for artists. The University of Illinois-Chicago School of Art and Art History will begin holding courses at the space, including a bilingual lecture series. Late contemporary art dealer Donald Young's library of art criticism and rare art books has also found a place. "One of our main overall goals is for Mana to be a multi-institutional pedagogical space," says Wylie.
As the building fills, Mana's biggest strength may be the artistic hive. With artists from various backgrounds and disciplines practicing so close to one another, the potential for collaboration and discussion is inherent. Wylie hopes that "everybody within this building…will be able to lend something to each other's conversation."
Mana's efforts stretch beyond the bounds of visual art to other disciplines. The space is aiming to work with community acting groups eighth blackbird and Lucky Plush, a Chicago-based dance group. Mana also hopes to bring in Café Jumping Bean, a locally-owned café that's been in the neighborhood for over twenty years. Mana's own café is also a gallery, and Wylie hopes that this combination will increase community engagement. "One of the things we're hoping to do is dedicate [a space in Mana] to host a rotating exhibition that highlights the work of [other local galleries] that they wouldn't have the space for," says Wylie.
At this point in time, though, Mana Contemporary's impact on the rest of the Chicago arts community remains to be seen. The heating has not yet been officially approved, and many of the services they have planned are just coming together. However, Wylie has hope that Mana will be an attractive, community-serving project for artists in Pilsen and the rest of the South Side. "For major art events and lectures, people are traveling outside of Pilsen. Hopefully this can be a place that…changes the perception for North Siders of it being impossibly far away, or a dangerous neighborhood."
This is an expanded version of what appeared in print. It has been revised to reflect the following correction:
Correction: November 26, 2013
Due to editing errors, an earlier version of this story contained a number of mistakes. Mana inhabits all of its nine-story building, not simply 6,000 square feet, as was originally stated. The gallery also plans to expand to Miami, Los Angeles, and London; it does not have plans for a San Francisco location. Its café, not Café Jumping Bean, serves dual roles as a gallery and coffee shop.