Chains are coiled on the floor, hungry faces stare out of close-up photographs, and bold posters spelling out D-Y-E-T-T covered the walls of the Uri-Eichen gallery in Pilsen this month. The art exhibit is full of artifacts the Journey for Justice Alliance collected from the 2015 protest to re-open Dyett High School. 
Jitu Brown, community organizer and national director of Journey for Justice Alliance, spoke about his experience leading the 2015 fight for Dyett High School at the gallery opening on June 14.
Dyett High School was the only remaining open-enrollment high school in Bronzeville in 2011 when CPS announced plans to close it, citing  a high drop-out rate and poor academic performance, but Brown thinks implicit racism and the Obama Presidential Center plans may have had something to do with the now defunct plan.
"The young people at Dyett started this fight," Brown said. "Two students walked into my office and said, 'Brother Jitu, what are we going to do about our school?' Thirty-four students filed Title VI civil rights complaints. They were very clear that this was an issue of separate but unequal."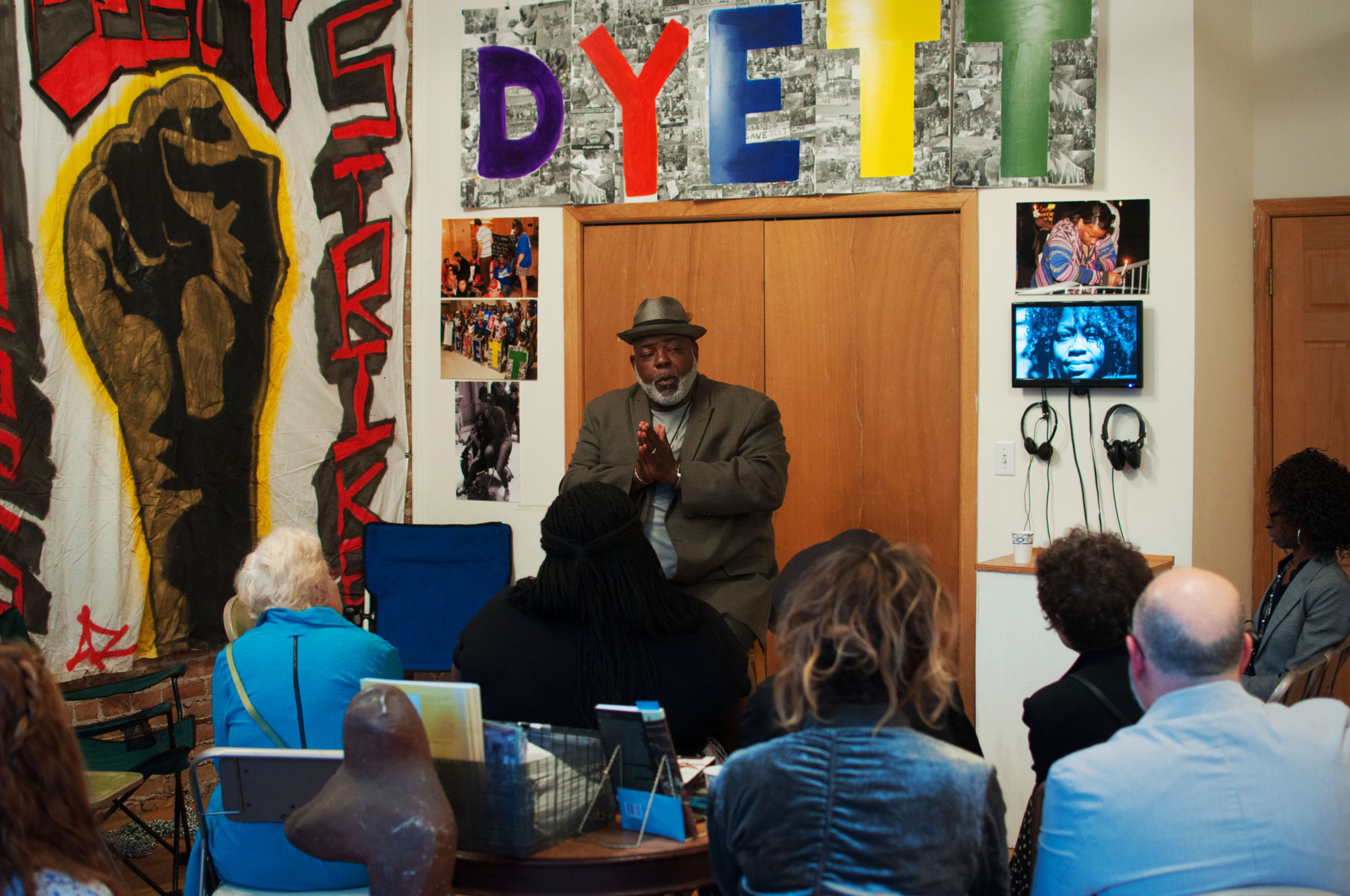 Kathy Steichen, co-founder of Uri-Eichen, curated this exhibit as part of a series of exhibits centering around major Supreme Court decisions. 
The 1974 Milliken v. Bradley Supreme Court decision, with origins in an NAACP effort to integrate Detroit public schools, enshrined implicit racism into law when it undermined the protections of the Brown v. Board of Education decision twenty years prior, according to Steichen—and not many people know about the case. Milliken v. Bradley and the Dyett Hunger Strike both exemplify "how segregation can rear its head," she said. "Even within a school district, there can be serious attacks on the equality of education in different parts of our city."
In 2015, after years of fighting for investment in Dyett High School, community organizers decided it was time to make national headlines. 
In order for City Hall to hear their voices, Brown said the protestors had to think creatively. "They know we may go to a rally and say, 'Hell no, we won't go,'" Brown said. "But they were not expecting us to chain ourselves outside his office. And they sure in the hell weren't expecting us to do a hunger strike."
A group of twelve teachers, parents, grandparents and community members sat outside of Walter H. Dyett High School for thirty-four days and starved themselves until the district agreed to invest in and re-open the school. As a result of the hunger strike, Dyett High School is the first closed school to re-open as an open-enrollment, neighborhood school in Chicago.
Phil Cantor's portraits of the hunger strikers and Ervin Lopez's photos of people chained together in front of the mayor's office and gathering in protest cover the walls of the gallery. The lawn chairs from the hunger strike and chains sit in a corner. Banners and signs are posted up everywhere. 
"It was an important fight to wage," Steichen said. "Obviously the lasting impact is the students that are now able to go to a community high school and all the people that were affected by that mobilization fight and the creativity around it." 
The closing reception of the exhibit will feature a screening of the 2004 documentary With All Deliberate Speed, on the events before and after the Brown v. Board of Education decision. Friday, June 28, 7pm–10pm. uri-eichen.com
✶ ✶ ✶ ✶
Margaret Tazioli is an independent journalist based in the Chicagoland area. Her work has appeared in a variety of outlets including World Magazine, Associated Construction Publications, 22nd Century Media newspapers, and Block Club Chicago. She has also been a fellow at City Bureau.