Best Selection of Gorditas
Gorditas Santiago
If you search for poems about food on the Poetry Foundation's website, you get more than five hundred results, but none are about gorditas. Enter Yelp reviewer Fox E. from Buffalo, NY, who in April 2018 submitted a lengthy, gushing review of Gorditas Santiago that began with a poem. Here is the second verse:
Other versions are WEAKER / And prospects often BLEAKER / Salsas mild and MEEKER / With dry, stale Chicken TIKKA / You won't find it on BLEECKER / But if you're a good food SEEKER / Then please put on your SNEAKERS / And let's go to GORDITAS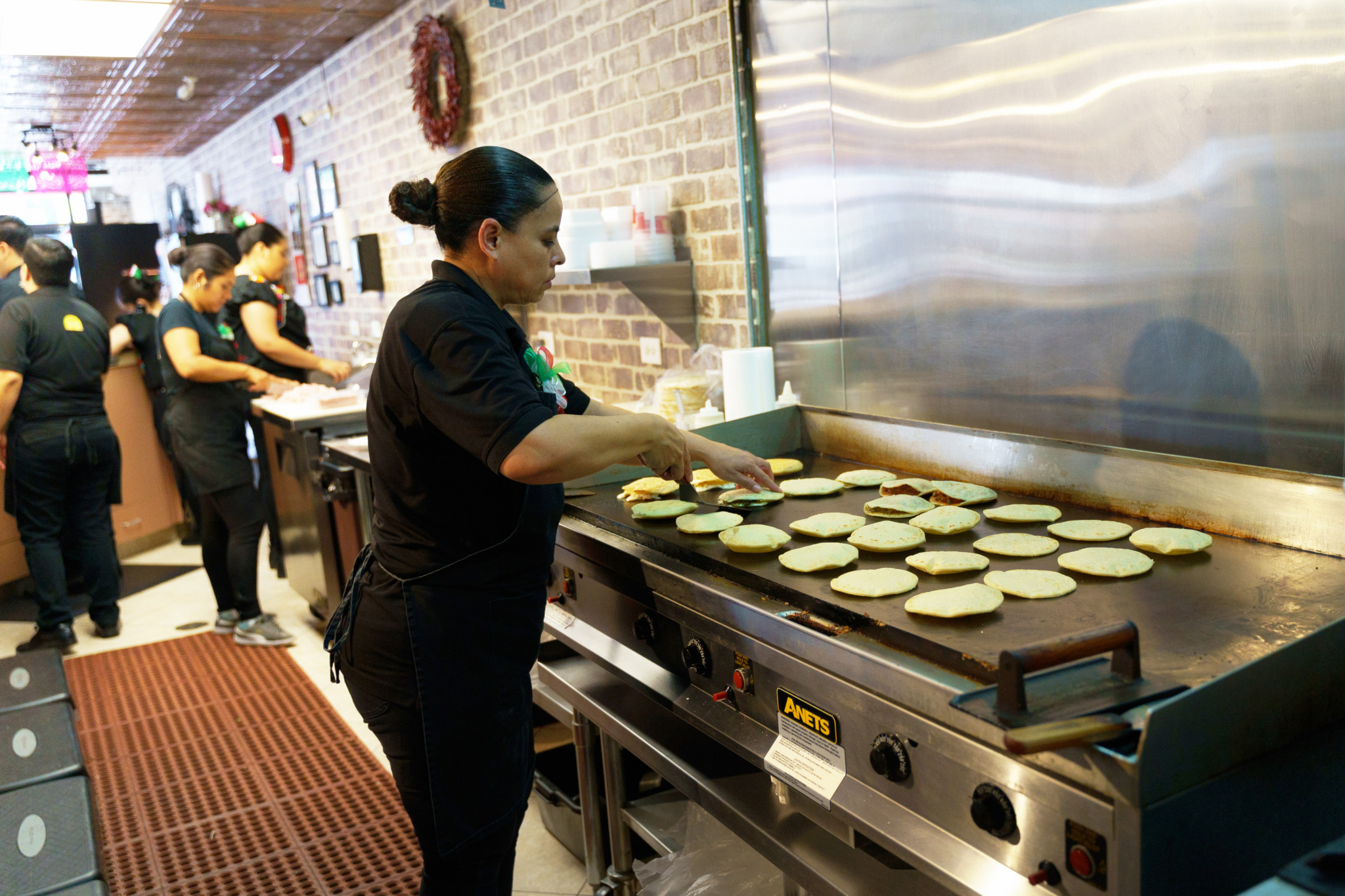 It's not every restaurant that inspires poetry from its reviewers, but Gorditas Santiago is a special place. Its first location on 63rd Street has been around since 2008, and a second location on 55th Street opened after that. The original spot is clean and homey—it looks like an old-fashioned banquet hall, or a large house. The interior is crisscrossed with dark brown wood beams and faux-exposed brick. There's an open kitchen, which adds to the feeling of being home, cooking and eating with your large extended family.
But what really struck me was the range of options on their menu. The first three pages were filled with twenty-three pictures of various combinations of meats, chilis, stews, and sauces, all of which you could order in gordita or burrito form. Paralyzed by the choices before me, I asked the waitress for a recommendation and ended up ordering the tinga de pollo (chicken stew), deshebrada en salsa verde (shredded beef in green sauce), and rajas con queso (sliced green pepper with cheese). I layered them with the provided salsas, including a creamy green one I guessed to be jalapeño, and dove into juicy and tender flavors, with just the right amount of filling in each gordita. 
You could go to Gorditas Santiago ten times and still have not tried every gordita option, ranging from nopales con huevo (cactus with eggs), chicharrón botanero (pork skin in green sauce), and even requesón (Mexican cream cheese). And who knows, maybe you'll be inspired to take up the pen, too. (Adam Przybyl)
Gorditas Santiago, 3825 W. 63rd St. Tuesday–Sunday, 9am–6pm; closed Monday. $2.75–$9.25. (773) 735-2860.
✶ ✶ ✶ ✶
Best Fresa Nieve (Strawberry Sorbet)
Las Cerezas Fruteria y Neveria
Las Cerezas is a kind of outpost. Just blocks away from Midway Airport, across the street from a Sleep Inn, and adjacent to the Belt Railway (the "largest intermediate switching terminal railroad in the United States"), it is either one of the last vestiges of hospitality heading west, or one of the first things you see as you enter into the city from the airport or the railroads.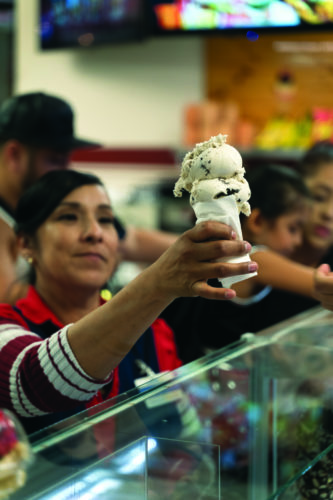 That seems to be working out well, because even though Las Cerezas has only been around since December 2017, it appears to be well-known and liked in the neighborhood. Leonardo Hernandez, who grew up near Humboldt Park and has been in the food industry his whole life, started the store with his wife and explained that in the last eight to nine years, food establishments focusing on sweet things—ice cream and other desserts—have become more popular, which gave them the idea to try an ice cream shop. That, and he's always had a sweet tooth.
The shop serves a variety of sweet things, like paletas and ice cream cones, banana splits, mangoneadas, and yogurts. There are also Dorilocos (impressively topped Doritos, for the unfamiliar), tortas, quesadillas, and tacos, for those that need a bit of savory with their sugar. And when ordering ice cream, be prepared to get a lot. I ordered a "small" and got enough to satisfy two or three people.
Speaking of ice cream: on a whim, I tried their fresa. Maybe the deep red color appealed to me, maybe fate spoke to me that day. On the first bite, I knew, hands down, that this was the best strawberry sorbet I had ever tried. It tasted exactly like fresh strawberries that had been blended, frozen, and lightly sweetened—nothing else. The perfect treat for any day. Hernandez admitted that the strawberry is one of their best flavors, and that he takes special care in finding and selecting the strawberries that then make it into the ice cream. If you go for nothing else, go for this—but consider staying for the many other options on the menu. (Adam Przybyl)
Las Cerezas Fruteria y Neveria, 6659 S. Cicero Ave. 10am–10pm daily. $2.50–$9.50. (773) 424-3484. facebook.com/LasCerezas17
✶ ✶ ✶ ✶