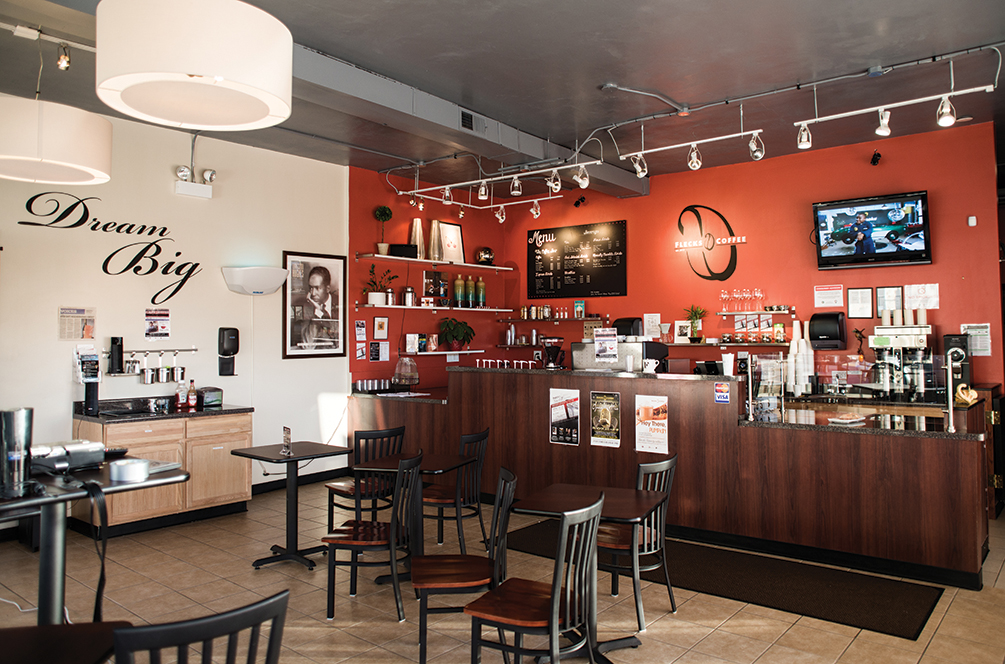 Tucked into a corner on bustling 79th Street in Chatham, Flecks Coffee Company brings in customers of all stripes for a solid breakfast and a cup of coffee with some company. "I wrote a play sitting right there," says Sati Word, a regular. He points to a wooden table and chair against the far wall. The wall is painted deep red and embossed with the words "Dream Big" in large-font calligraphy. Flecks Coffee is "something different, that the area didn't have before," Sati explains (it opened in June). "It brings in a crowd I didn't know was here, neighborhood folks."
Coffee is already a culture in Chicago, and neighborhoods across the city have become fertile ground for small-batch roasters and independent coffee shops with atmosphere. Hyde Park has more than a full serving of cafés catering to the UofC population, and nearby Woodlawn has Robust Coffee Lounge, home to the Mocha Diablo. Flecks Coffee, however, is the first shop of its kind in Chatham, at least according to its owner and its patrons.
The shop is minimalist in design but elegant. It's furnished with wooden tables and high chairs, and brightly lit from two walls of windows facing out onto the street. Customers drop in for a cup of coffee and stay to watch highlights on the flat screen behind the counter and talk football with the barista. Lines of glasses stand along the large wooden counter, in front of a gleaming new espresso machine and the Flecks Coffee logo on the wall. The name comes from the blond flecks in the crema on top of a quality cup of espresso, according to Zuli Turner, the younger half of the mother-daughter ownership team, along with her mother Olga.
"We are into the café lifestyle," Zuli said. "We provide a healthy alternative to what is currently found in Chatham. We don't really compete with anyone else—we don't sell potato chips, candy, soda."
Instead, the menu includes specialty Belgian waffles and omelettes for breakfast, paninis and salads for lunch, and of course, plenty of coffee drinks. The food is made to order in the shop, with fresh fruit as a side. The Turners aim to build a unique niche in the neighborhood. "One of our missions is to enrich the community, not to take out withdrawals and make no deposits," said Zuli.
While Flecks Coffee has been open for only five months, the shop is already developing into a community hub. This past month (through November 23), the owners hosted a popular Saturday night Noir Film Festival, setting up a projector and a screen along one wall and recruiting help from local filmmakers.
Flecks also hosted its first open mic on Black Friday, and there are plans for a slam poetry event in the future. "There are so many creative individuals who come out of Chatham," Zuli explained. "You have no idea who you're sitting next to, but then when they're at the café and you're chatting, you're like, you must be kidding, we have to make something out of this." When the sign-up for open mic was first posted, Zuli said she received five pages of names: "That's how thirsty the community is."
In addition to creative types, the café attracts an eclectic crowd of mostly older residents, according to barista Wilton Jones. "It's something different. People may go to Starbucks, but they might never have had a cappuccino before." Schoolteachers from the nearby elementary school, CTA bus drivers, retired civil workers, and neighborhood business owners number among the usual patrons.
"Residents have been so warm and receptive to us. Not a day goes by that people haven't said they're so happy we're here," Zuli said. "We want to be a place for everybody."
Flecks Coffee, 343 E. 79th Street. Tuesday-Friday, 6am-6:30pm; Saturday, 7am-6pm; Sunday, 8am-3pm. (773)891-0057. facebook.com/FlecksCoffeeCo