About a month ago, while digging up the ground under the Illinois Institute of Technology's S.R. Crown Hall in Bronzeville to repair the school's steam tunnels, maintenance workers uncovered some unexpected remnants of the neighborhood's past. The artifacts, displayed for a one-day exhibition at Crown Hall this month, included ceramic tiles and stone pathways, along with a random assortment of everyday objects: a busted thermometer, glazed clay Bennington marbles, and a dirt-caked silver fork inscribed with the word "Toffenetti."
The artifacts came from the Mecca Flats, an iconic apartment building razed by IIT in 1951 to make way for Crown Hall, which was designed by architect and famed IIT professor Ludwig Mies van der Rohe. Initially built as a hotel ahead of the 1893 World's Fair, the Mecca, as it was known, later became a cultural touchstone for Bronzeville's residents. A bellwether of the city's changing racial geography—it switched from predominantly white to predominantly Black tenants just before the 1919 race riots—the building sat in the middle of a State Street corridor filled with movie palaces and jazz clubs. Gwendolyn Brooks briefly worked inside of it, selling spiritual tokens; much later, after it had disappeared, she would publish a collection of poetry called "In the Mecca." Jazz pianist Jimmy Blythe wrote the song "Mecca Flat Blues" about it. (Sample line: "My Mecca flat man, he really don't understand / Mecca flat woman must be a jazzin' houn'.")
But the precursor to IIT, the Armour Institute of Technology, worried about the expansion of the Black Belt: the amorphous, ever-expanding stretch of the South Side that became home to most of Chicago's Black migrants. The school tried to move several times—to Evanston, to the Near North Side, and to South Shore, in close proximity to the University of Chicago. When each of these failed, a committee convened by the school argued that it might, after all, be a good idea to stick around and revitalize the surrounding neighborhood. The location "got too dilapidated and run down for the Negroes so they have moved further south," the committee reported. "They have left a totally devastated area in their wake, to be sure. It is axiomatic that when anything has gotten to the very bottom the only direction it can go is up."
To ensure the neighborhood was rescued from its descent into "blight," the school—indirectly, through its employees—bought up surrounding apartment buildings and began to demolish them. It succeeded with all of them except the Mecca, which clung to life after tenants successfully sued to prevent evictions, arguing that restrictive covenants preventing Black people from living in much of the city and white racism would prevent them from finding housing anywhere other than the already-overcrowded Black Belt. As Thomas Dyja details in his 2013 history The Third Coast, the school, which had at that point become the Illinois Institute of Technology, responded by willfully neglecting the building—refusing, for instance, to install a sprinkler system—in hopes that tenants would simply leave. Dyja writes that the school "let it fall apart physically and socially, dropping rents to attract low-income residents who then drove out stable, middle-class families whose flight IIT then brandished as proof that the Mecca had turned into a slum." Eventually, in 1950, the court allowed the school to evict tenants, and the Mecca was demolished a few years later.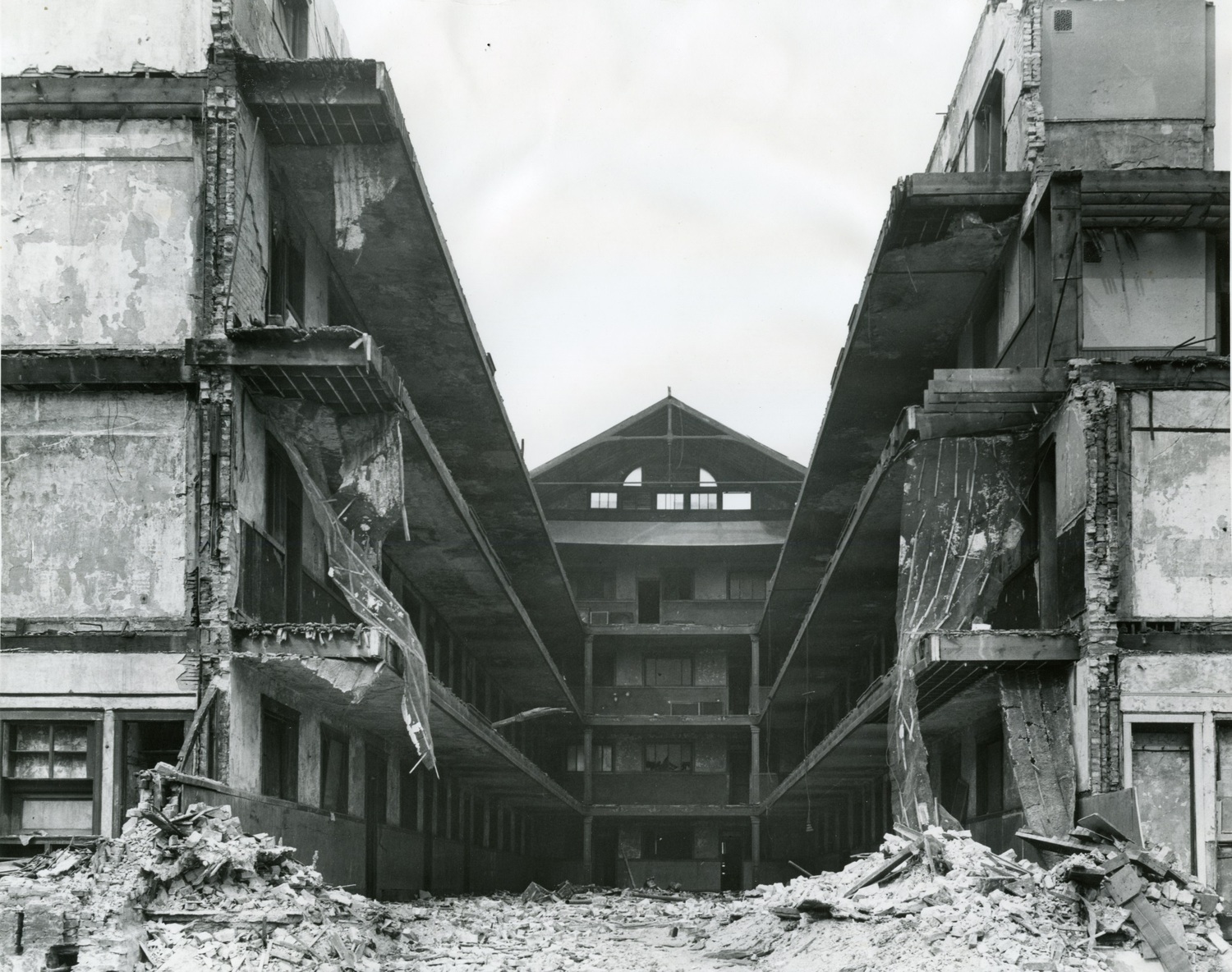 In its place, Mies van der Rohe designed the glass-and-steel, modernist Crown Hall of today, which accorded perfectly with the glass-and-steel modernism of the rest of his new campus. As Daniel Bluestone, director of Boston University's Preservation Studies Program, once wrote about the redesigned IIT, "Clean, abstract lines and carefully proportioned spaces resonated with the broader agenda of 'cleaning up' the neighborhood."
Two weeks ago, IIT hosted a one-day exhibition featuring the newly-discovered artifacts, including a roundtable discussion moderated by Tim Samuelson, the city Department of Cultural Affairs and Special Events' cultural historian, about the legacy of the Mecca. Bluestone, a panelist, began by noting that the Mecca was architecturally significant because of the skylit atrium in each of the building's two wings, as well as its courtyards, which faced into the street. (Unlike, say, the central, enclosed courtyards popular in New York City's tenements.) "One of Chicago's greatest contributions to the history of housing is coming up with a humane way of letting you build density, but at the same time, bringing elements of the landscape into the center of the building. It's an amazing accomplishment. Everyone talks about Chicago's park system, well-regarded. That's the way to build density in a city, you build a park system as part of that. What courtyard buildings did was bring that down to the level of individual sites, individual blocks. That same move of building density, but preserving the landscape," he said, adding later, "The landscape frames the building. It keeps it alive for people an incredibly important reality that we are guests here on the earth."
Another panelist, Rebecca Graff, is a sociology and anthropology professor at north suburban Lake Forest College who has spent most of her academic career working on modern urban archaeology. (Her biggest project to date has been an excavation at the site of the 1893 World's Fair in Jackson Park.) "I like buildings—I live in one…but the work that I brought to this as someone who does archaeology in the city of Chicago was to look at what garbage people left," Graff said. "We're looking at artifacts that are about daily lives."
Bluestone echoed this focus on the human, noting that he felt one of Chicago's great failures was how hung up it had become on a few architectural heroes, such as van der Rohe and Frank Lloyd Wright, at the expense of forgetting communities like the one that existed in the Mecca. "It's a problem that Crown Hall"—the building we were sitting in—"looks best when it has no people," he said.
But the roundtable's flashpoint didn't come until after the central discussion itself had finished, during the question and answer session. After a few relatively innocuous remarks from the audience—including a proposal for a "43rd Street Muddy Waters Drive Rhythm and Blues District" from Harold Lucas, president and CEO of Bronzeville's Black Metropolis Convention and Tourism Council—John Vinci stood up to speak. Vinci, an Armour Square native who was educated at IIT, is well-known as a pioneer of historic preservation in Chicago in the mid-twentieth century, renovating and repairing buildings by Louis Sullivan and Frank Lloyd Wright. His own projects include the Arts Club of Chicago and the planned expansion of the Portland Art Museum. The panelists would be forgiven for thinking he was friendly to their point of view.
Vinci began by noting that he wanted to comment on some of the "myths" about the Mecca that he felt Bluestone had bought into. "First of all, the Mecca was a failure as a building, and you know that…It unfortunately was in a bad location. I went to school here, and that State Street façade was nothing but a bunch of buildings four stories tall, mainly with people living all over the place. There were prostitutes on the street," he said. "There were three families taking turns living in apartments….IIT built this campus, they took a big chance of staying here…. It was never a rich school. They are the ones who kept the South Side going."
Gesturing at the room around him, Vinci also argued that Bluestone's criticism of Crown Hall itself was wrong. "This building is probably the most democratic building that was ever built. I was the first class in this building. It was made so that you had your freshmen, sophomores, juniors on this side, and you had your fourth and fifth year and your graduate school with Mies teaching there, and [famed architecture professors Walter] Peterhans, and [Alfred] Caldwell and [Ludwig] Hilberseimer. I came from this neighborhood, by the way, but I as a student could walk in and see what everybody was doing. That was a really refreshing idea for a school."
A heated argument followed, presented here (mostly) word-for-word.
Bluestone: "We'll agree to disagree. I've got news for you: sure, by the time you were seeing the Mecca, the apartments had been cut in half, had been divided up, had been in probably—when did you enroll here?"
Vinci: "1955."
Bluestone: "Okay, 1955, and IIT or Armour Institute bought it in 1937. They were complicit in running the building into the ground, subdividing the apartments, and not putting a penny toward maintenance because they wanted to tear it down."
Vinci: "That was not their purpose!"
Bluestone: "That's right, their purpose was to actually create a buffer between this institution and the Black community, and you know that."
Vinci: "That is absolute nonsense. This is a school that—"
Bluestone: "It's in the archives! Excuse me, it's in the archives where they're saying they need to create a buffer between the institution and the Black—"
Vinci: "They were not in the business of keeping apartment buildings, they were in the business of education. You're an asshole."
Bluestone: "I think you're wrong about the mechanics of the neighborhood development, and you're certainly wrong that you couldn't have [preserved] that building. Come on, someone who's done as important preservation and conservation work—if I gave you today that building and said, 'John, let's get this back into business,' you would be doing a brilliant job with it. You would do a brilliant job with it."
Vinci [yelling over him]: "Oh, stop it. Don't patronize me!"
Bluestone: "You would do a brilliant job bringing those atria back to life."
After a few more exchanges, the conversation moved on. As a matter of historical significance, though, its importance extends beyond just IIT. Chicago's universities have long had an imposing, imperial relationship with the neighborhoods around them: the erection of the University of Illinois at Chicago displaced thousands of Italian-Americans in the 1950s, and the University of Chicago's urban revitalization program kicked low-income families almost entirely out of Hyde Park. (Vinci himself, in a March interview with Crain's, said he was "furious" about the UofC–affiliated Obama Presidential Center's proposed changes to Jackson Park.)
In response to a question from an audience member toward the end of the discussion, Michelangelo Sabatino, the interim dean of IIT's College of Architecture, struck a more conciliatory note than Vinci on behalf of the school itself. "This goes back to the changing times and maturity of an institution. I think twenty years ago, [if] they had unearthed these pavements—I don't think anyone would have paid quite the same amount of concerted attention," he said. "As John Vinci said, the preservation sensitivities have changed. [Crown Hall] was totally preserved in 2005. It was basically rebuilt—even a steel and glass building. I mean, preservation is a continuing, evolving thing."
✶ ✶ ✶ ✶
Christian Belanger is a senior editor at the Weekly. This week, he also interviewed 5th Ward aldermanic candidate Gabriel Piemonte.