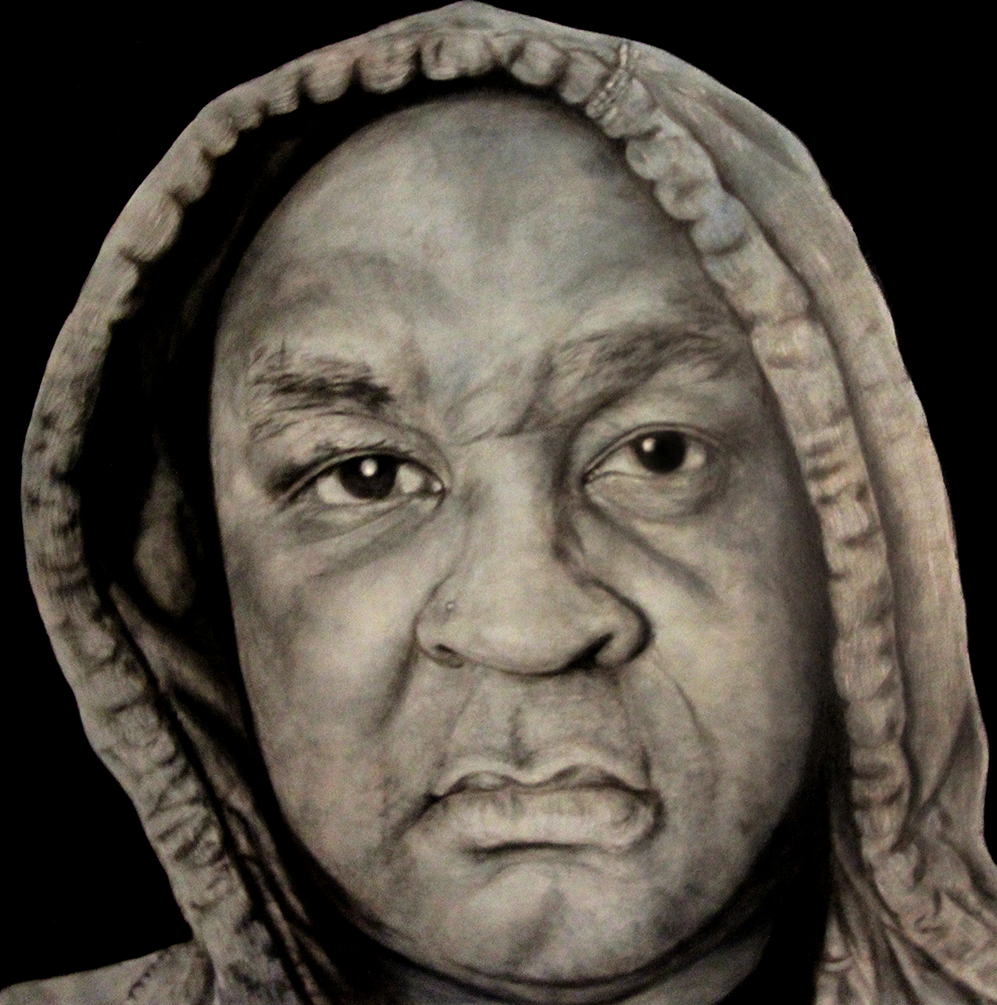 When our eyes meet with a stranger's, we size them up, give them a once-over, make guesses about where they've come from and where they're going. In this moment, whatever prejudices we have come out in full force.
It is in this moment that Cesar Conde dwells with "In The Hood," a stunning series of portraits in which Conde had African-American professionals of all occupations don hoodies before he painted them. With this series, Conde attempts to establish a dialogue about race, perception, and prejudice, and forces us to examine our behaviors within those crucial seconds of initial judgment. 
Conde's exhibit was located in the back of the building at 33 Collective, on the first floor of Bridgeport's Zhou B Art Center. In a small anteroom, a band played a lively jazz tune as people milled about. Behind the band loomed an enormous portrait of a black man in a hoodie. His eyes, full of detail and reflection, were inescapable. He stared across the room at a portrait of a black woman who stared back at him. She too was solemn and stoic beneath her hoodie. These paintings, with all their directness and their immensity, force their viewers to take a step—a large step—back from all of their ingrained preconceptions about race and behavior. They are, in a word, arresting.
The anteroom led into a smaller room filled with almost a dozen more of the paintings. Each confronts its viewer with a face both stark and compassionate. In concert, however, the series seemed to say more than the sum of its parts. The faces work not as a group of individuals, but as a community speaking out against our entrenched judgments and preconceptions.
At one end of the room, a poster listed the various jobs held by these black professionals, who are friends or acquaintances of Conde's: "I am a lawyer…I am an investment banker…I am a business owner…I graduated from Yale."
I found Conde in the center of the room, in the middle of a lively conversation. I couldn't even get the fact that I was a reporter out of my mouth before he invited me outside for an interview. Behind the gallery building, he explained the genesis of the project.
"'In The Hood' was inspired by the death of Trayvon Martin," said Conde. "The reason why I did portraits of African-American professionals in mature stages of their lives is that's what Trayvon Martin would've been, could've been. We're killing off a lot of our kids."
Conde said the collection was born out of a "visceral reaction" to the shooting of seventeen-year-old Martin by George Zimmerman in 2012.
"I find this a complete injustice," said Conde. "I was so angry. I wanted to rebel. I wanted to throw Molotov cocktails. And I said, 'How can I use my craft to bring out the issue in a very passive way?' "
According to Conde, each painting took about a month to complete. Conde had his subjects put on hoodies, took photos of them, and then painted from the photos. He has been working on the series for over a year. The subjects, he said, were people he had met and known throughout his life who wanted to show their commitment to justice.
"They wanted to collaborate," said Conde. "This is their way of showing their protest, and their way of showing their solidarity, because we care about this issue of race."
Back in the exhibit, several of Conde's subjects stood around the room by their respective portraits. Despite the somberness of the occasion—the whole exhibit is retaliation against an injustice—most of the subjects were laughing and joking with whoever passed by. The room, in general, was warm and merry: there was no schmoozing, and no posturing.
There were, however, a lot of people taking long looks into the faces that lined the walls, and turning away visibly affected. In the midst of the merriment, the men and women in hoodies looked out at us, seeking to remind us constantly of their presence. Conde's art is art that does, and when looking at his portraits, one cannot help but feel that art can and must do things for us, that it must be strong, not flimsy. Indeed, that is Conde's whole goal: to remind us of the hard truths under the surface of our biases and judgments, lest we forget what happened to Trayvon.
33 Contemporary Gallery, Zhou B Art Center, 1029 W. 35th St. Through December 14. Monday-Friday, 10am-5pm. (708)837-4534. 33collective.com