There are few services with as consistent a range of public trust—and as little public understanding—as the 911 emergency system. This past City Bureau cycle, a team of reporters set out to understand how the Office of Emergency Management and Communications handled 911 calls in Chicago, and what stories there were to be told about the dispatch system. We found that there are few resources to offer dispatchers help with chronic PTSD that can affect their job performance, that the outsourced language translation system can lag at critical times, and there remains enough distrust in 911's relationship to police in Chicago for some groups to seek to bypass it altogether.
—Yana Kunichoff, City Bureau
Last month the City Council confirmed Mayor Rahm Emanuel's appointment of Alicia Tate-Nadeau as Executive Director of the City's Office of Emergency Management and Communications (OEMC). She's the first woman to serve in the role, which is responsible for overseeing Chicago's 911 and 311 call centers and the city's general emergency preparation and planning efforts.
Tate-Nadeau, a member of the Illinois National Guard, is replacing former OEMC Executive Director Gary Schenkel. Last year she also made history when she was the first woman promoted to the rank of general in the Illinois National Guard. From 2011 to 2014 she served in Israel, where she coordinated emergency management exercises and trainings with international partners, and also helped oversee the first-ever joint exercise between the United States, Israel, and Germany on search-and-rescue operations in urban areas.

Tate-Nadeau also served in Iraq, where she was stationed from 2005-2006. While in Iraq, Tate-Nadeau advised military operations and also worked with the Iraqi population to promote engagement with the local and national government. Most recently, she led a FEMA Incident Management Team that assisted in the federal response to the water crisis in Flint, Michigan.
As the new director of the Office of Emergency Management and Communications (OEMC), is there anything you want to innovate in how things are currently operated to make it your own?
That's a great question. I believe whenever I go to any new organization my focus is on finding the balance between technology and ensuring that people have the best training possible. If you don't have those two in parallel then you don't have a healthy organization.
Can you tell me a little bit about how 911 operated in Chicago before the introduction of the Computer Aided Dispatch [CAD] system?
We handle over five million calls a year just for 911. So take a moment to think about the use of an automated system over a pen-and-paper one. You can imagine how quality control and quality assurance increases [with a CAD system]. And being able to give information rapidly to the end user, which would be linking up the person making the 911 to with fire or police first responders.
The state legislators passed a law last year that will require emergency call centers like OEMC across the state to upgrade to what they're calling a next-generation 911 system by 2020. What kinds of capabilities will that new system have that the current generation one doesn't?
What's important to understand about the next-generation 911, which is planned to occur by 2020, is [it] really just gives us more tools in the toolbox. [For example,] when a caller tells you right now that we need to be looking for someone with a blue shirt on, everyone has a completely different definition of what a blue shirt looks like. It could be light blue or dark blue. But if I can send you a picture and show you what the person in the blue shirt looks like, then it would enhance our response to a call significantly.
As I understand it, the next-generation system is supposed to feature texting, video chat and other new ways to interact with 911. The law allows for an emergency call center to request an exemption to comply with upgrading to the next generation 911 system. Did Chicago request one or does the city plan to comply with the law?
As you know, Chicago's always been a leader whenever it comes to emergency management. You can always count on us to try and move rapidly when it comes to things that will help us better serve our residents.
You've served in high stress locations in your military career. Chicago isn't a war zone like Iraq, but how does that background inform how you plan to lead the OEMC?
You know, emergency management is all about people. It's about providing the very best service that you can to your residents. I think that's the key thing I've gotten out of those other experiences. In trying to understand how you can take technology and personnel that are well trained to deliver the best service possible. I'm very passionate about everything that we do being for the betterment of our residents.
Earlier you spoke of the importance you place on finding a balance between technology and training. Are there pet projects, one specific thing that you want to tackle right out of the gate?
I would say the one thing I feel very strongly about is developing a Common Operating Picture. It can be used everywhere from a command post on the ground all the way up to the city, county, the state, and even the federal level. I want to make sure the people who are trying to make decisions get everything they need as rapidly as possible. If I can help them make a decision even five minutes faster with a Common Operating Picture, because they have all the information in one place, I think that's the best way to find that balance.
Can you go a little more in detail about what a Common Operating Picture is?
So, imagine you're looking at the entire City of Chicago and I have a major special event that is going to attract 1.5 to 2 million people in one location.
So something like Lollapalooza?
Yes, right, some kind of special event. Simultaneously I have a bunch of other things going on in the city. Maybe I have something that starts off as a fire, or a crash. Pick whatever the other event is. I need to be able to see all of those things are unfolding in real time and make a determination of where I'm going to move resources. I don't want to move everything to one location because then I've left the remainder of the city vulnerable. I want to be able to very equitably make sure everyone has the resources they need regardless of the nature of the event.
We do an incredible job, in our day-to-day operations that we never stop working on trying to eke out another thirty seconds or five minutes to give people the opportunity to make a decision or save a life.
What kind of information does OEMC share with the city's police and fire departments?
The City of Chicago is unique. OEMC doesn't just do emergency management. We do emergency management and communication, which includes 911 and 311. You're not going to see this anywhere in the entire nation. [In Chicago] all of these things are rolled underneath one umbrella, which really helps us in our public safety and homeland security. It is absolutely our strength and the thing is that people, both nationally and internationally, look at us to ask themselves, "Wow, how could we do this where we are?"
Now having said that, if you look at how we operate, everything we do is coordinating with all of those public safety entities. So it's not just a 911 call, it's making sure we leverage the technology that is shared between everybody in the public safety world.
So when new technology comes out, be it a radio or even radio frequencies, cameras, any kind of technology related to public safety, we're right there working with the users. And the strength of that is that we make sure we're giving the same information to everyone.
So could OEMC be described as the first adopter when it comes to communications technology for the city?
Not just communications, though. It's making sure that information related to things that are going on both internationally and nationally that could impact public safety. We're sharing that information and we're talking about it with all of our partners. It goes far beyond just fire and police. We're also talking to our streets and sanitation people, making sure that our schools are tied in.
So could an example of that be extreme weather like a blizzard or Chicago's lead crisis?
So particularly, any large scale flood, any kind of natural disaster out there, we're going to be in the lead coordinating all those other agencies together so we can rapidly meet the needs of our residents. We actually have something called "Snow Command" at OEMC.
Again, what I think is kind of neat about how we do things here in Chicago is we've got a room that looks at the entire city. So if we see an event that starts to unfold, we've already got people from streets and sanitation, from the public schools, people from all of our other agencies sitting in that room. They'll look at it, everyone talks about it, and they'll come up with a plan.
If that event, whatever it is, grows into something larger, we have another room next to the one that looks at the entire city. In that other room I'm bringing everybody in, all of the agencies and ancillary agencies in the city. At that point, if the event grows past something that we can handle then we'll make sure to start talking to the state and federal folks.
And you can guarantee we're always going to be very proactive in how we're communicating. If we even have an inkling that some event is going to grow into something else I going to have people sitting there who already know the background and have seen it evolve. That way we're not taking time to bring them up to speed.
It really is kind of neat the way we watch events grow and evolve. And it's not by chance, but by design, the way OEMC has developed to address them.
There is no doubt that just by the fact of the sheer volume of the five million 911 calls that we handle every year, nine million total calls if you include 311 calls. We want to be there for our residents. The technology that we have now allows us to be there for them in a very timely manner and connect them to the people driving out in squad cars and fire engines.
Chicago is a multicultural city. There are people who primarily speak English, but you also have other residents who speak Spanish, Polish and other languages. How does the OEMC's CAD system handle calls by residents who don't speak English?
We actually work with a language interpretation service, which provides support for about 140 different languages. I think the most common non-English languages that we experience are Mandarin Chinese, Polish, Spanish, French, and Tagalog.
So someone calls 911 who only speaks Polish, what happens next?
An operator will ask the caller to hold on one second while they get the member that we have for the language interpretation service that we use. The operator pushes a button and the caller is automatically connected to someone who listens to what the caller is trying to say. If it sounds like P
olish, the interpretation service will get someone who speaks Polish to get on the line to work in unison with the dispatcher handling the 911 call.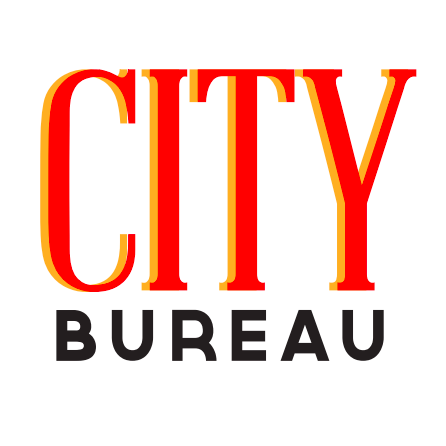 City Bureau will be publishing the results of seven weeks of investigation at partner organizations like the South Side Weekly, and at our website on the issue. City Bureau can be reached at  info@citybureau.org with any questions or concerns about 911 in Chicago.