If you stopped by the Stan's Donuts on Fairbanks and Erie this summer, you might have had the pleasure of buying a treat from the burgeoning South Side musician, artist, and activist Kopano.
But when we met in Woodlawn for an interview, Kopano opted for a dance session on the dewy grass. Ants crawled around their toes—nestled in black Birkenstocks—as their gold hoop earrings swayed in a glint of sunlight. We sat on a log to talk about life, childhood, dreams and art—and over the course of our conversation, I got to know one of the most unique young artists working in Chicago. As they said with a smile: "My friends be like, 'Kopano just be in their own world.'"
Shortly after we conducted this interview, Kopano announced that they intend to take a break from releasing new music and performing. In a post on their Instagram, they wrote that they're reinventing themself: "I don't like the brand I've built since I was 16 & I'm exhausted by others projecting their perception of me onto me." Since then, Kopano has taken down their public Instagram account – a symbolic step towards this goal. Kopano has struggled with the idea of "blowing up" for a while now, and they have felt increasingly uncomfortable with the capitalist notion of "being a brand." Their recent popularity—well-received Soundcloud singles; a show at Schubas—led to introspective questions about audience, purpose, and wellness. Even earlier this year, Kopano was wondering whether they felt certain about the path they were on. But this humble uncertainty and vulnerability is what makes their art so compelling.
Kopano's musical style is quintessentially Chicago: syncopated rhythms create a groovy backbeat for heartfelt, soul-searching lyrics. Take, for instance, Kopano's collaboration with Billy Lemos, "RAIN": a bright, poppy single which showcases both their stylistic range and their upbeat personality. Kopano is quick to mention the artists that inspire their style, like neo-soul band Hiatus Kaiyote's lead singer Nai Palm: "she really taught me that I don't have to be someone I'm not… I'm enough."
And enough, they are—especially on stage. Performing live comes naturally to Kopano, whether they are singing alone or accompanying their voice with guitar and piano. They've been performing at open mics since the age of thirteen, and played with a band called K-Mu (an abbreviation of Kopano Muhammed) in high school. Releasing new music, however, is more difficult: instead of stage fright, Kopano confronts "recording fright," which has kept them from releasing much new music since 2017's soulful 5-song EP Just in Time for Love.
Kopano—whose name is Sesotho for 'unity'—grew up in a large family, with five siblings and a cousin at home. They have a history in classical music, having played the violin and viola for years—but the pressure of competitive violin pushed them toward other creative outlets, and so, in their freshman year of high school, they walked into their first vocal lesson. Kopano never looked back. Jazz vocal improvisation was a whole new world for Kopano, who initially thought jazz was just "for old people." But they soon realized they had more control over their voice than they ever had over an external instrument. As they put it: "my body ain't gonna go out of tune!"
Kopano expresses themself through a diverse array of creative outlets – not just music. But central to all of their creative pursuits is an emphasis on community. The foundation for this was laid in high school, when frequent microaggressions from peers had them yearning for a more positive, accepting world. After taking the bus for an hour every day from their South Shore home to attend a selective enrollment school in the West Loop, they would often face ignorant comments about their sexual orientation and race. But Kopano found solace in the queer Chicago DIY scene, where they were immersed in a culture of acceptance, freedom, and love.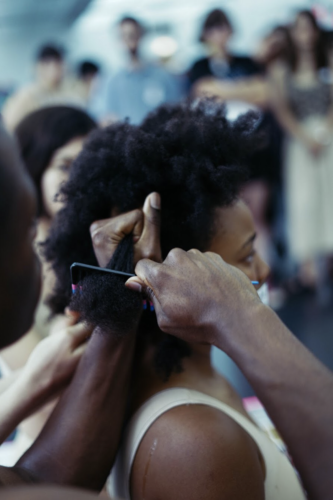 Last June, Kopano called upon this community—and drew upon these experiences—to compile a work exploring the body of the Black woman. "Black Woman Spectra," their first foray into performance art, premiered at the Museum of Contemporary Art in Streeterville through 21Minus, a program of the museum that highlights artwork created by local youth. "Spectra" has two parts: the first is a thirteen- by fifteen-foot mat which represents the ways Black women are depicted in the media, with a cast ranging from Penny Proud, of the Disney Channel's Proud Family, to Sandra Bland. The second part is a performance, where a white man, white woman, and Black man pull at the hair of a Black woman whose mouth is bound with tape. As a description of the work on Kopano's website states: "The performance portion shows how quickly allies become oppressors when their support for Black women is no longer in their best self interest."
Kopano's politics do not go unspoken for long: they are forthright about their anti-capitalist, pro-social identity, and translate these values into their art. As they put it, "People really just be staring at you"—especially if you're walking down the street as a non-heterosexual couple. "I'm just trying to live my gay-ass life!" they exclaim. And so, one of Kopano's priorities—in art and in life—is normalizing who they are. Instead of feeling shame or cynicism, Kopano has embraced individuality with grace: "I love making people uncomfortable." This is the core of their philosophy: in order to normalize queerness and Blackness in society, individuals must be confronted, their assumptions challenged.
It's a commitment that allows Kopano to forge their own path. They often put themselves in situations where they feel uncomfortable in order to grow. And when it comes to how they navigate love, Kopano quips, "there is no how-to guide for a queer relationship." They feel no need to appeal to respectability politics, since these politics generally apply—and were invented in reference—to heterosexual relationships. This unconventional approach to life and love translates into more creative freedom. "I think being queer has made me a better writer," they joke.
At one point in our interview, Kopano stands up from the log we're sitting on to dramatize the two worlds they inhabit: one foot in the structure of the 'real' world; the other in their ideal world. It is clear that Kopano refuses a world of boxes and binaries—but they also recognize that to shut yourself off from the world around you is to live in denial. The key element, then, is balance. Kopano draws upon their own frustration with finding a quality education on the South Side when organizing with friend Eva Lewis' I Project, which raises money to support elementary school students in South Shore. But they also consider the politics of how their art is handled, refusing to partner with people or corporations that do not respect their identity, or that fail to support the communities they belong to.
Kopano returned to Oberlin College and Conservatory for their second year this fall, where they are completing an undergraduate degree in economics—they want to know and understand the enemy—and jazz vocals. They're still unclear about what their life will look like after school: work in the nonprofit sector, research on the economics of Black communities, and studies on the music of the African diaspora all come up in conversation. But there's no doubt that Kopano will continue to be personal and vulnerable: to keep sharing their stories, to keep connecting with other people. We might not hear from Kopano for a while, but we should keep an eye on them: they have been and will be a force to be reckoned with.
[break]
Juhi Gupta is a contributor to the Weekly. She last interviewed the singer and pianist Akenya in February 2017.