In the weeks since the Weekly's first ever Holiday Issue went to print, several Chicago musicians and rappers have released brand new projects to ring in the new year. Some went under the radar; some got flying praise from the likes of Rolling Stone (yes, we're looking at you, younger Bennett). Below, whether because of their astounding quality or lack thereof, find what we thought were some of the most notable last releases of 2015. New, old, and in between, Chicago music is clearly starting 2016 out some type of way. In other words, here's what you might have missed from your neighbors while drinking eggnog and making resolutions. (Maha Ahmed)
✶ ✶ ✶ ✶
The similarities between the brothers Bennett extend from the pace of their flows to the shape of their noses. And when you're Taylor Bennett, the little brother of megastar Chance the Rapper (born Chancellor Bennett), these comparisons, too many to list in full, are pretty familiar. But when listening to the music of the younger Bennett, who just released Broad Shoulders, his first LP-length project, it is far more interesting to look at their differences. There's something new in Taylor's voice: it's even more untamed and raw, cutting through beats with clarity and resonance. As he bounces his way around the first nine of the album's ten songs, all streaming for free on SoundCloud, his brother's endearing, cigarette-fueled rasp is nowhere to be found.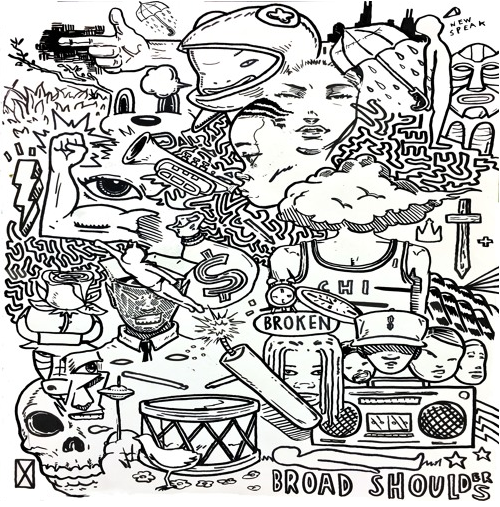 The album's slow-wobbling synthesizers and stuttering snares have a hard time keeping up with the uncontained enthusiasm of Bennett's nineteen-year-old tongue. He's young, but he's already too big for these beats. He clears the musical stratosphere of his own album after two or three tracks of uninspired production, ready for something more sophisticated than what Detroit-born producer LudLow can offer. (Though if Bennett's rhymes are ready for primetime, the rest of his act may need some more work: the house party video shot for album opener "Happy Place" features enough across-the-dance-floor-longing and gender-segregated break routines to bring back bad memories of early-2000s teen pop.)
Throughout these first nine tracks, Broad Shoulders is a stew of textures and ideas bubbling with a lot of potential but not a lot of spice. Strong bursts of flavor shine through intermittently, like a lovely and memorable melody on "Cake" or a reliably soulful Donnie Trumpet on "Dancing in the Rain." Bennett and Hyde Park Academy alum King Louie drop playful verses side-by-side on "Favorite Drink." It's not until the album's eponymous closer that we're comforted by an upright piano and strong family values, staples that Chance fans are well acquainted with. "Broad Shoulders," which features Chance, is a ballad about the challenges of growing up, a topic very much on the Bennetts' minds just months after the birth of Chance's daughter.
It's this hyper-intimacy, especially when it comes to talking family, that's made Chance such a thoroughly relatable celebrity. It rubs off on Taylor: "Broad Shoulders" is snuggly, enough that it feels like the Bennetts are trying to adopt you, tucking you in with the love that seems to flow effortlessly within their family. Chance, all of twenty-two years old, sounds like the wise older brother he has become. Taylor devotes a verse to his newborn niece, telling Chance all about how hard it will be to separate himself once she gets older and "don't wanna be known as your daughter."
But his ode to this baby girl also reads like a reminder to himself: he's got some more growing up to do. Needless to say, he'll have people keeping tabs on him over the next few years, as his style incubates in Chicago's melting pot of hip-hop talent. But how Taylor Bennett will next take advantage of his gifts and his circumstances is in no one's hands but his own. (Will Cabaniss)
✶ ✶ ✶ ✶
"We begin our journey with Säge, the 64th Wonder, at the second annual Tenkaichi Budokai…" This sample of the introduction accurately telegraphs half of this mixtape: pure nerdiness. Tenkaichi II is, after all, a concept album based on an episode of Dragon Ball Z. There are plenty of "otaku" artists in the rap world, including both Akira-obsessed Kanye and Lupe Fiasco with his side project Japanese Cartoon, but Säge is aspiring to be the Son Goku of rap (in honor of that aspiration, his Twitter handle is Japanese for "Son Sage").
Often these thematic influences tend to be a peripheral aspect of a mixtape, but here it is the driving force. One of the tracks is literally a minute of Dragon Ball Z dialogue. Tenkaichi II itself is at its heart a fight scene in an anime, with every song titled after and representing a move, a punch, an intermission, or exposition. Säge's battle rapping style adds a combative feel to some of the "attack" songs, though the secondary titles ("Left Punch," "Recovery From Kick!") don't feel as though they cohesively correspond to the feel of the songs.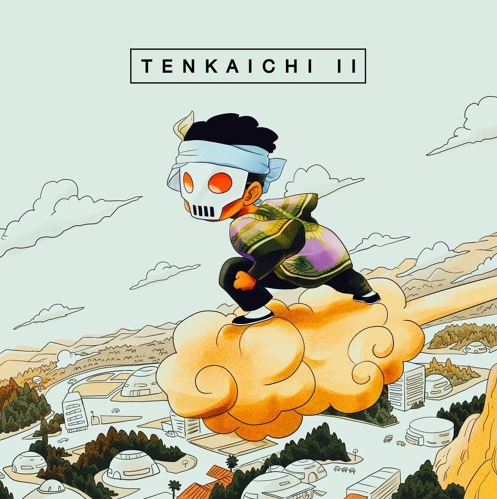 Trying to understand this series of songs led me to spend an inordinate amount of time on the Dragon Ball Z Wikipedia page. If mentions of the "evil containment wave" bring back warm childhood memories, this mixtape was made for you—Track 4 is indeed a tutorial on how to create one. If, on the other hand, you have no idea what a "Somersault Cloud" is going into the listening experience (answer: it's the literal translation of the Japanese name for the Nimbus, the cloud that Goku rides around on in the show), then the case for this album is still strong, but not as strong.
Nerdy themes aside, Säge and his fellows are variably talented producers who switch between two modes. In the first, which is present throughout much of the mixtape, the instrumentals run on something akin to autopilot; it's neither off-putting nor exciting. The second mode, more occasional in its appearance, culminates in a different sort of song, in which Säge truly combines all the genres he describes as his influences, from Tyler, the Creator-esque sounds to chillwave.
In the first, more uniform mode, there's a layer of synths and a layer of drums, and occasionally some extra effects that manage simplicity without being basic. It's not a problem until later in the album, when that uniformity approaches monotony. Still, for most of Tenkaichi II the melodies feel both heavy and ephemeral, aiding the lyrics but never distracting from it.
Songs like "Capsule XV: Goddess of Twilight" break into that second mode, adding jazz sax, piano, harp, and, most importantly, narrative elements to the original basic pattern. The previously uniform feel transforms into something complex and multileveled. It is this second mode that suggests there's more to Säge than a battle rapping otaku, making Tenkaichi II worth the download. (CJ Fraley)
✶ ✶ ✶ ✶
There are many superstar rappers, like Kanye West and Drake, who are great at writing raps for the studio but can't freestyle to save their lives. The long-awaited Bar'd Up EP from Chicago freestyler Juice demonstrates exactly the opposite case: Juice, a master freestyler best-known for defeating Eminem at a nineties rap festival, sounds lazy and unoriginal in the studio. It's hard to imagine how one could be better at rapping on the spot than when one has time to write it down, but that's how it works for the Chicago native on this eight-song release, his first in more than five years. The EP is part of a fundraiser, also on IndieGoGo, that Juice and his wife Bella started to help recover from having their assets taken by the Nebraska police through the government's controversial "civil forfeiture" program.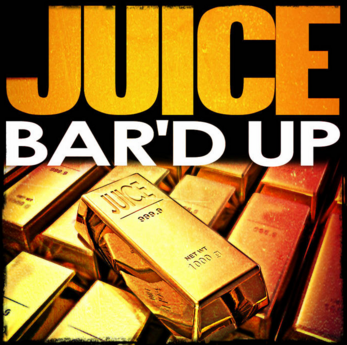 The bread and butter of the EP are a few songs announcing the triumphant return of Juice (he pronounces it "J-U-Ice"), the self-proclaimed "best writer in the universe." It's certainly impressive that Juice can come up with up to twenty rhymes for a single syllable, but he often sounds ridiculous while doing it—what can you really say about phrases like "metaphorical oracle" and "Danish bitch in a drainage ditch"? Even worse, what does Juice mean when he says he's "coming for that ass like Jason Voorhees"? Maybe rappers like Future and Kendrick Lamar have conditioned us into expecting challenging or at least unusual things out of our rap, but most of the time Juice just sounds like an artifact. Aside from name-drops of Englewood, Roseland, Rogers Park, and the 95th Red Line station, there's nothing memorable in the brags on songs like "I'm Back" and "Better Each Day."
The second half of the EP contains more thematic, narrative-based songs, but unfortunately these are not much better. In a freestyle you can talk about whatever you want, whenever you want—one line doesn't necessarily have to be related to the next—but Juice's writing abilities wear thin when he has to stay on topic. "Sound of a Gun" is a scathing portrait of local gun violence and the global gun trade, starting from a single shooting in Roseland. It certainly contains Juice's fastest and best rapping, and represents Juice's continued commitment to the issues facing his home city of Chicago.
The last song is the real kicker: "Thirteen," a nine-minute epic that samples the theme from Requiem for a Dream and contains hilariously bad fake dialogue and excerpts from fake news reports, is frankly embarrassing. The song tells the story of an overweight white teenager, the victim of bullying, who goes into a fugue state and kills a prostitute when he discovers that his sister has a boyfriend. This foray into a character-driven story stretches Juice's writing skills too far and makes it hard to enjoy the rest of the album in retrospect. I don't want to detract from Juice's well-deserved reputation as a freestyler (seriously, go look up videos), but it seems that improvisation, not storytelling, is his real strong point. That said, it's unfortunate that rap battles don't get as much hype as they used to. (Jake Bittle)
✶ ✶ ✶ ✶
The simmering Jeremih collab "Make Me Rich" that comes as the first "song" on this tape, following an intro and a skit, is the most immediately lovable track here, simply by being the most surprising. The loping rhythm and quietly insistent "make me rich" during the chorus go against everything you'd expect from the self-proclaimed "First Lady of Drill": unhurried, even a little sensual, and heavy on the low-end. There's not an air-horn to be found. But it works: first, as a "look at me" move for the undeniably talented rapper who made it big with "Pop Out" in 2012, but who has received less and less attention with each successive mixtape, and second, as a statement of intent and scope, one that's somewhat unexpected from the traditionalist Katie.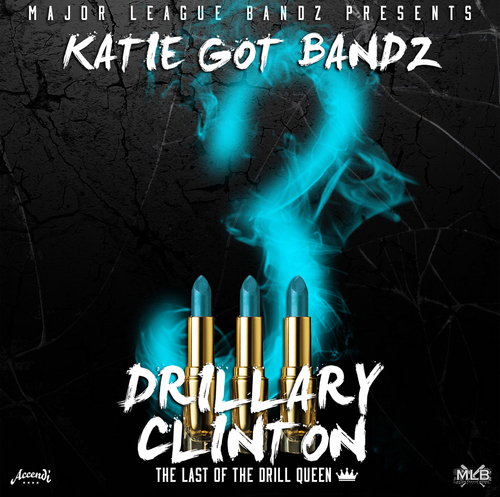 Songs like the former, along with dancehall excursion "Lick Off Dem Head," see Katie testing out new flows and global beats that suit her to varying degrees but brim with vitality. Even "Juice Got Me Loose," which cedes most of its track time to up-and-comer Plies, rides it out on the sensuality of Katie's vocals in its chorus and the descending melody in its production, along with a dynamic Katie verse that conveys confidence without just being loud. Here Katie sounds invigorated, lackadaisical in her delivery but never without drive.
This renewed sense of purpose only throws into relief the inconsistency of more traditional drill cuts here, like "Numbers" and "Jump Off The Porch." The latter in particular has a lyric that feels like a low-stakes version of Vince Staples's apocalyptic "Jump Off The Roof"—the lyrics, combined with a flowing double-time delivery from Canno in the second verse, reveal Katie's limitations when it comes to naked aggression. She's been able to hold her own on previous posse cuts like "Straight Outta Chicago" earlier this year, which matched her up with peers like Sasha Go Hard and Chella H, but all too often on Drillary Clinton 3, Katie's raw delivery gets the better of her while her fellow rappers keep their cool. Only "P-E-T-T-Y," perhaps the most "Katie Got Bandz" track on the whole tape, is able to reconcile that new appetite for experimentation with the directness that made her such a force in 2012 and 2013.
On "P-E-T-T-Y," the message is simple: on Instagram you might be "Insta-famous," but that doesn't mean much outside of the digital world. It's a blunt (and somewhat antiquated) sentiment, but Katie sells it with a stern and guarded set of verses and an earned rejection of social media's conventions. You have to do your business in the real world, she says, and not get caught up in the online numbers game. It's biting, memorable, and, most importantly, hooky. And for someone who once made her name on her provocative Twitter persona and for whom social media is essential in being the "Queen of Drill," it might just be an exercise in self-awareness. (Austin Brown)
✶ ✶ ✶ ✶
From Now On is a huge step for prolific Dreezy; the South Side rapper spits rhymes with a confidence that makes her seem well beyond her twenty-one years, despite how current her references tend to be. The new EP, her second in 2015, encapsulates a Dreezy spitting bold verses through clenched teeth.
While Metro Boomin's fingerprints are all over this release, he keeps his material fresh by crafting beats sparser than on his other recent projects. For example, while the opening to Dreezy's "Nonstop" is vaguely reminiscent of What a Time to Be Alive's "Digital Dash," a track for which Metro Boomin shares production credit with Southside, the beat goes on to pit Dreezy's quirkier synth melody against its snare-dominated production. Still, each track sounds specifically engineered for Dreezy, and leaves room for her to completely dominate within.
Throughout the album, Dreezy is confident, aggressive, and intimidating. However, it is her ability to morph her flow from track to track that piques interest. From the role of threatening newcomer on "Juice," to the bad girl tag team she builds with Dej Loaf on "Serena," Dreezy show us sides of herself that are not only believable but compelling. Her aggression matures as the EP moves along, revealing a confident protagonist who seems completely unbothered by her opponents' antics, exerting no effort in shutting them down.
What's also particularly interesting about this EP is the fact that Dreezy is an aggressive female rapper, but her verses rarely touch on femininity or sexual prowess. Instead, she spends most of her time pitting herself against any and everyone, with special attention toward her male counterparts, judging from her assertions of ambition, physicality, and wealth. On "Nonstop," Dreezy spits the line "Feeling bitchy with my hat cocked" with violence, and while she uses a gendered term to refer to herself, it comes off as ironic, both owning her gender and choosing to transcend it in one line.
From Now On lives up to the definitiveness of its title. Not only is it an entertaining listen, but Dreezy proves she is more than prepared to be a dominating force in rap landscape this coming year. With a distinctive sound and succinct, funny verses, Dreezy deftly uses each line to debilitate whoever she's targeting. Her EP sets standards for quality, trendiness, and blind aggression that will indeed last indefinitely. (Kanisha Williams)