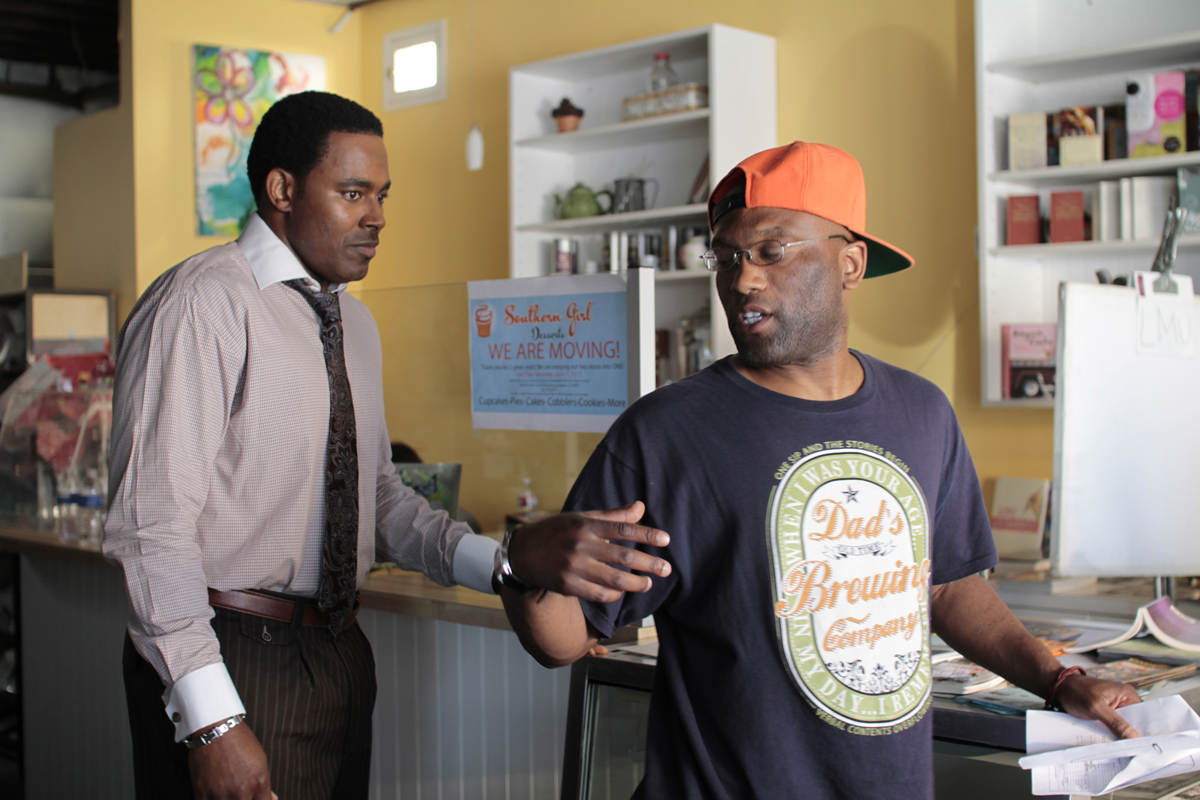 Box office hits, best-sellers, Top 40 pop ballads and Grammy winners—most of the art we encounter on a day-to-day basis reaches us by a combination of timing, luck, and money (or lack thereof). Amongst the countless works that receive little to no exposure are most of the productions of one independent filmmaker from the South Side. That is, until his latest film got picked up by some major theaters outside of Chicago.
Mark Harris, an Englewood native and founder of the Englewood International Film Festival, has been making extremely low-budget films since 2006. All of his creations have been DVD-only releases. As anyone who can be called—or refuses to be called—a "starving artist" knows, however, that one big break is all it takes to make years of struggle worth it. For Harris, this break came in the form of a film distributor who seemed to think Harris's latest project, "Black Coffee," a romantic comedy about the complications accompanying love, was "worthy of theatrical release."
Worthy, that is, of release outside of Chicago city limits and south of 126th Street. The film was only shown in six AMC theaters nationwide, and despite Harris's neighborhood ties, a Chicagoan would have had to venture to AMC's Crestwood (127th St.) or Country Hills Club (177th St.) locations to catch "Black Coffee" near the filmmaker's hometown.
"The home office talks to the studio and negotiates with them on where each movie gets screened," said John, manager of AMC's Loews 600 location in the Loop, when asked about the process of selection. "Individual deals cannot be disclosed. But usually, if a movie isn't showing at a specific location, it's because the studio can't afford to screen the film at a location where there isn't enough interest. It's all about the market composition."
But after further insistence, Amy Timmons of AMC's River East 21 location revealed that "the film distributor specifically requested the film to be played at these locations only in the Chicago area."
Mark Harris seemed unaware of this request. When asked about his relationship with the film distributor, RLJ Entertainment, Harris remarked, "I don't have any input. I asked RLJ as far as the film being played in Chicago…and [the representative's] words were that he wanted that as badly as we did. RLJ helped create some kind of a marketing budget…so we hoped that they would do the right thing in putting the film out. Am I pleased with the locations of the film? No, I'm not pleased with it. [But] the film distributor can only fight a certain amount."
One Village Entertainment, the specific sector of RLJ that worked on the release of Harris's film, focuses on content targeting what they call "the African-American consumer and urban market." Neither RLJ nor One Village responded to requests for comment on the film's chosen screening locations.
If Harris is unruffled by the film's exclusion from Chicago theaters, it may be because the movie wasn't supposed to see theaters at all. "Black Coffee" was originally intended as a direct-to-video release. "[The distributor] saw enough of the film that they felt it was worthy of theatrical release," explained Harris, "and I'm grateful for that. I'm definitely grateful for that."
The budget that Harris was working with, on par with his previous films, seems almost too low to propel him to the big screen. "I Used To Love Her," his latest DVD release, was made on a budget of $5,000; another of his DVD-only films, "Black Butterfly," was made with just under twice that amount.
"With 'Black Coffee' we had a little bit more money than the $9,500 we did 'Black Butterfly' for, but not much more. The entire budget included paying the producers, the crew, the cast; everyone that worked on 'Black Coffee' received a salary with what was probably what other big budget films spend on lunch for a day," Harris said with pride.
Despite the film's underwhelming distribution through major theatrical release, "Black Coffee" was screened to a sold-out crowd at last summer's Englewood International Film Festival, which Harris helped found in 2012 to provide a platform for underexposed works like his own. "It's very simple. I wanna use my talent, in order to change whatever condition people are in and to help myself, my family, my community. I want [Englewood] to be a better reflection of peace, harmony, freedom, justice, and equality. We know how powerful art and entertainment are. We want the EWFF to be a place where people can learn, and help develop and change the community."
If "Black Coffee's" theatrical release didn't reach as far into Chicago as Harris intended, Harris still intends to stick to his mission. In his words, art "is one of the most powerful tools that can be used either for good or for evil. I'm trying to provide a spiritual message with film." For now, though, Harris will have to continue to try and deliver that message himself.