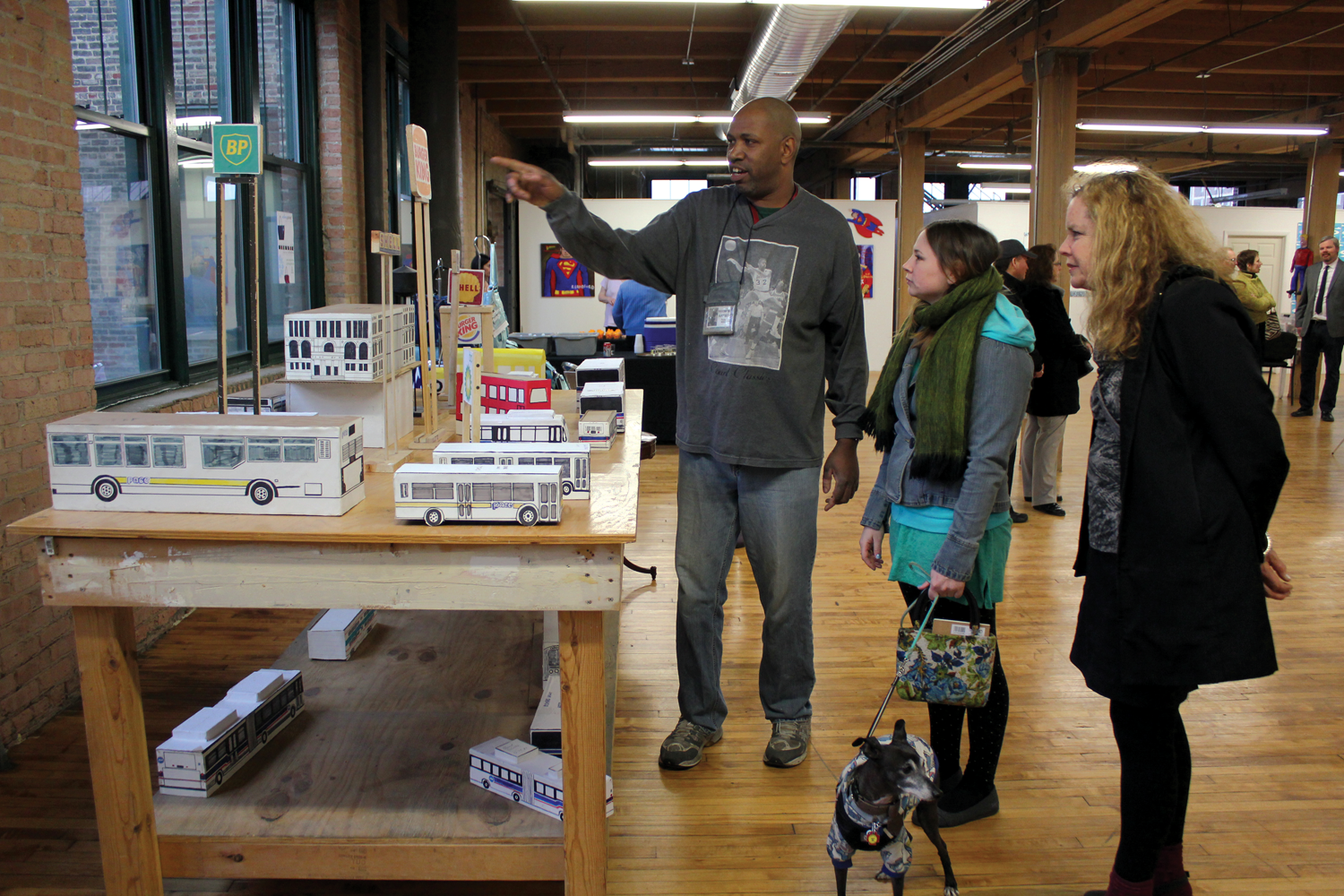 When I first met Blake Lenoir, he was hesitant to speak to me. After I introduced myself, he looked at me for a long time before tersely telling me his own name, age, and background. Our initial conversation was marked by long pauses and short answers.
But when I asked Blake about his artwork, which he was standing next to at the time, he suddenly became eloquent. Without the slightest pause or stutter, he explained to me why he prefers painting animals to painting human beings.
"Nature inspires me a lot, because I want to explore life beyond mankind," said Blake. "I want to find whatever life exists on this earth other than man."
One by one, Blake took me through each of his paintings. Some of them were small studies of animals like birds or squirrels, drawn in thick, vivid strokes. Others were large, absorbing woodland scenes brimming with all sorts of colorful wildlife.
"I want to explore the beauty, the abilities, and all sorts of stuff that makes earth great," he explained.
Blake is one of several artists whose work is being featured in the "Smile With Your Mind: Autobiographies of Autism" gallery at the Bridgeport Art Center. The gallery has been produced and hosted by Project Onward, a Chicago-based organization dedicated to promoting and assisting artists with mental or developmental disabilities.
"We started as a branch of Gallery 37, which is an art program for public high school students," said Rob Lentz, executive director of Project Onward. "The time came when some of those artists became too old to participate in Gallery 37, which meant they were coming out of the school system and entering adulthood. For this particular group of people, we wanted to come up with a way for them to continue making art at the level they were used to. We didn't have any grand ambitions, but it's become something much bigger."
The organization has been around for a decade now. "Smile With Your Mind," one of the program's biggest gallery showings to date, highlights the work of specific autistic artists within the program. The purpose of the subtitle "Autobiographies of Autism," said Lentz, is to help viewers understand that for the artists in Project Onward, art is often a way to express and manifest their inner worlds.
"Getting [one of our artist's] work all together is sort of like an autobiography," said Lentz. "It's a first-person account of the things they're going through and the way they see the world. Art-making is a very clear way to express things they wouldn't normally be able to express."
Nowhere is this more apparent than in the work of George Zuniga, whose studies of cats and dogs are rendered with broad, whimsical faces. The faces are out of proportion, but only slightly: the eyes are always big and round, but the heads bulge or get squished in just-noticeable ways.
David Holt filters the world of celebrity and pop culture through small portraits painted on cardboard. He prefers to do what he calls "obituaries." These include Steve Jobs, Philip Seymour Hoffman ("So brief, so brilliant," is painted on the portrait) and Koko Taylor. By memorializing these and dozens of other famous people who are significant to him, Holt has created a body of work that serves as both a pop-culture library and a personal history. He likes to do portraits of people with the zodiac signs Cancer or Virgo best, and this, perhaps, is why his portrait of Nelson Mandela is so large, and so irresistible.
In addition to highlighting certain autistic artists, "Smile With Your Mind" gave Project Onward's other artists an opportunity to showcase their work. The entire fourth floor of the Bridgeport Art Center was full of artists who each had some unique way of viewing the world.
Take, for example, John Behnke and Andrew Hall, two talented men who employ minute details in vastly different ways. Behnke's paintings are surrealistic and dream-like, and in many cases indescribable: they feature colorful skies, complicated latticeworks, and enormous blue trees. Behnke described his complicated landscapes as arising from his own inner fears and discomforts. Pointing to a dark hillside scene, he explained how painting such a dreamscape in minute detail helped him conquer a traumatic experience of getting lost in the dark while camping.
Hall's work, on the other hand, is strikingly, almost obsessively realistic: with just a pen, he recreates urban landmarks in unbelievable detail. His renderings of a church in Garfield Park and the Chicago Public Library are so perfect that they seemed, on first glance, to be altered or filtered photographs. When I first talked to Hall, he had just sold a piece to an elderly couple. As they walked away, he gave me a fist bump and proceeded to tell me how he had also been commissioned to create an art installation for the 47th Street Red Line station.
Many of the artists in attendance were emphatic that Project Onward had been an invaluable help to them.
"I've been working on art here for the past couple of years, developing here, in this program," said Pedro Basantes, another artist, said. "It became a part of me because my life before then, and even until now, I'm just now getting into some structure. I was trying to deal with the lack of structure in my life."
Basantes imbues his paintings of Chicago landmarks with what he senses is the "feeling" of the buildings, attempting to bring spirit and emotion to an inanimate object. He, too, was initially hesitant to introduce himself to me, but on the subject of his art he was verbose and enthusiastic. Pointing at his enormous painting of the John Hancock Center against a deep red sky, Basantes said, "I see tranquility, and a sort of expanse, of just…being alone. I'd say, loneliness. I do believe there's emotions behind these objects."
Basantes, who around his fellow Project Onward members was friendly and warm, did not seem to feel loneliness while he displayed his work that night. This, it seemed, was the most wonderful thing about Project Onward: not that it gave disabled artists the chance to show their work to the public, but that it gave them the chance to share the act of creation with each other, and gave them the opportunity to express themselves in a way they might never have otherwise done.
The importance of expression was clearest in the work of Louis DeMarco, one of the gallery's headliners. Much of DeMarco's work consisted of inspirational phrases painted over cloudy backgrounds. These phrases, arranged in the same way they are on DeMarco's bedroom wall, seemed to open a window into his thoughts and ideas. "NEVER BE NEGATIVE ABOUT MUSIC," one said. "KEEP TRYING, YOU'LL GET IT RIGHT." "NOBODY IS DOUBTING YOUR SPIRITS." "SMILE WITH YOUR MIND."
DeMarco's biggest piece, however, was probably the most telling: "SOME THINGS NEED TO REMAIN A MYSTERY." The biggest mystery, of course, is what life is actually like for DeMarco and the other artists in Project Onward. This will always remain a mystery, but the work of these artists is enough to afford us a glimpse into what the world is really like for them. And sometimes, a glimpse can be illuminating enough.
"Smile With Your Mind: Autobiographies of Autism" Project Onward, 1200 W. 35th St. 4th floor. Through May 24. Tuesday-Saturday, 11am-5pm; third Friday of each month, 11am-9pm. (773)940-2992. projectonward.org