The morning of February 28 felt like summer, a feeling that only increased as one stepped inside the Promontory and looked around at the dozens of vendors displaying their colorful, handmade wares on the restaurant and bar space's second level. The festive event was the Hyde Park Handmade Artisan Bazaar and Farmers Market, a monthly fair where local artists exhibit and sell their products. Rows of tables were set up with one-of-a-kind jewelry, clothing, food, décor, and more.
The Bazaar, organized by Hyde Park Handmade, has attracted businesses of all ages—many of the vendors were exhibiting their work for the first time that day, while others had participated from its start. The diverse products often shared a common beginning: many of the artists said that their businesses started as hobbies, or from making pieces for solely themselves. We asked some of the artisans to share a story about their favorite pieces. 
The bazaar will return to the Promontory on March 20 and April 10, and hopefully, as the days grow warmer, the art will only become more enticing.
✶ ✶ ✶ ✶
Vanessa Stevenson
"Vs" Delight – Jams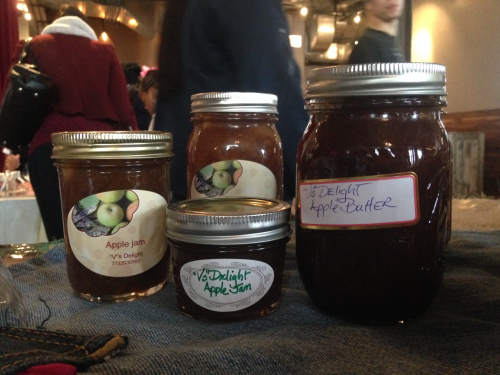 I started making jams when I was a little girl—my grandmother taught me. One day I remembered how much I really loved making jams and jellies. When I first started, I just served it to my friends. But they said, "Oh, you should be selling this, this stuff is great!" And here I am. It's been about four years. I've been at the farmer's markets in Hyde Park and Bronzeville, but this is my first time here.
My favorite is sold out: strawberry lime marmalade. But my second favorite is apple jam. It tastes like apple pie. It's got chunks of apples in it.
✶ ✶ ✶ ✶
Moji Akinde
Fehinti – Pillows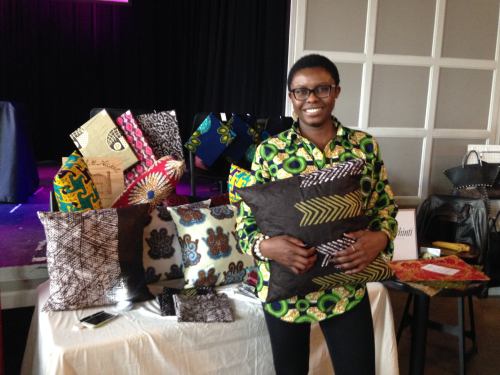 I'm Nigerian, and as Nigerians, we have tons of hand-dyed fabric just sitting in our closets. My pillow covers were starting to tear, and I said to myself, "Well, I don't really want to go buy a new one, why don't I just make it?" I kept talking about it, and my friends kept saying, "Well, do it." My 'eureka' moment was when my friends actually bought the test ones. So if they, as critical as they were, could actually pay money for something I made, I knew there was something there. I believe that Nigerian fabric can be seen and incorporated into so many other aspects than just clothing: home décor, throw pillows, place mats…This started about May of last year, so it hasn't been a year yet.
These are hand-dyed in Nigeria. I hate to be so cliché, but it is in my home town—my aunt brought them over. My goal is if just that one woman or that one man is my person that I'm personally funding through selling the fabric, I'm happy with that.
✶ ✶ ✶ ✶
Chris Umhoefer
Lincoln Apparel – T-shirts, etc.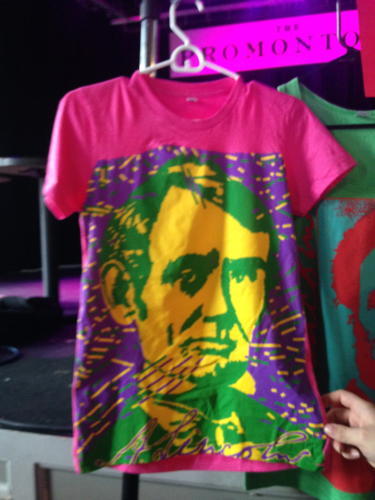 I love Abraham Lincoln, and my shirts evolved just as a way to spread that, and to spread his message, which is just as important today as it was in his time. I've been doing this for about sixteen years.
This is a younger version of Lincoln based on a picture of him without a beard. I created it in part because that was the best time of his life. The picture it was based on has a lot of scratches on it, so I started to retrace the scratches and make that an actual part of the design.
✶ ✶ ✶ ✶
Ruby Pinto
Adornamorphosis – Jewelry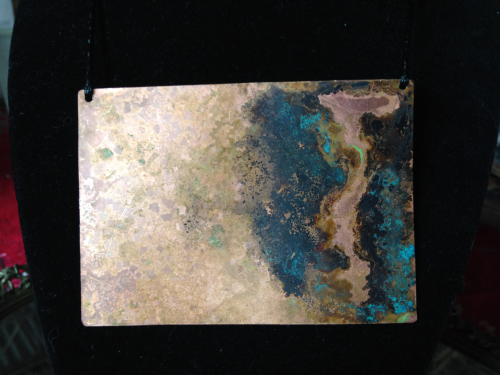 I've been an artist my whole life. I really got into copper jewelry about a year and a half ago. This is all repurposed scrap copper. My dad is a contractor, so he sends me the scraps he can't use that would otherwise end up in the garbage. I use it to make this amazing jewelry. I take a piece of copper and put it in a patina mixture; every time there's a random outcome, depending on the environment that the patina works on the copper within.
This time, I put it on a heater. What I love about this one is that it looks like a river. It really reflects the natural beauty of the random patterns and the chemicals. And it even looks like a little painting, which I love.
✶ ✶ ✶ ✶
E. J. Lipinski
Woodturner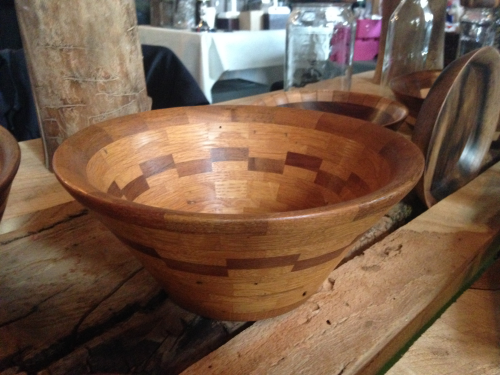 I used to teach industrial arts in junior high, so I've been woodworking for a long time. I have a shop at home, I just do things…we're retired; a lot of it started out as using whatever scraps are around. That's why I have segmented things: I use things that I find and combine things together. Our daughter lives in Hyde Park, and she told us about this. We're just getting back into it now.
These are all turned on a lathe. The segments are cut on a table saw, glued together, and sometimes layered up. I'll do some of the rings and set them aside, then work on something else.
✶ ✶ ✶ ✶
Joane S. Lipinski
Homeware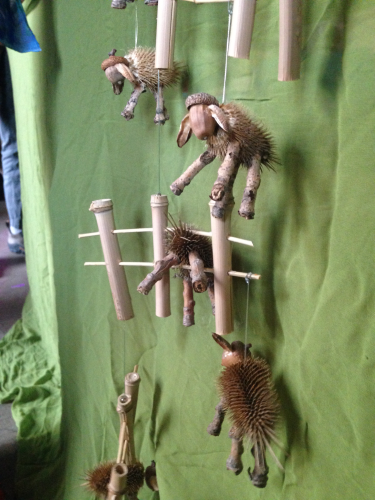 My daughter is a painter, and she took up all the walls; my husband took up the shelves and flat surfaces; so I had to hang things from the ceiling. I use a lot of available materials.
This is one of my favorites. We visited the Shetland Islands, and there are sheep all over. I had to do that. Thistle, acorn, lily, seedpods, and then I grow bamboo.
✶ ✶ ✶ ✶
Rhonda Berry
Blackberry Jewels – Jewelry, Handbags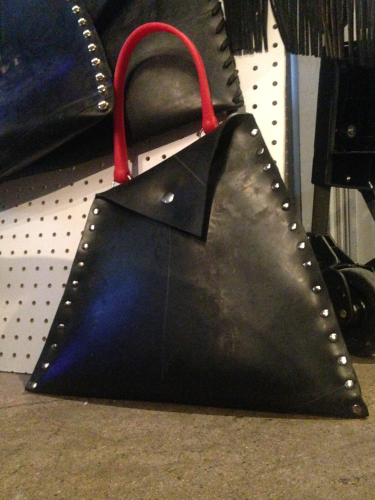 I use mixed media; anything I can find to make jewelry out of, or handbags, I do. The handbags are basically recycled rubber, from tires, things like that.  My jewelry is mixed media—from hardware to rubber to textiles. Anything I can find. I started making jewelry almost 10 years ago. I was in the military, so it gave me something to do in my off time. And, actually, it started selling! So, here I am. It's my first time doing this market.
They all become my favorites until they go away. And I really want them all to go away. They're like your children: you raise them, then you let 'em go…
✶ ✶ ✶ ✶
Melvina
Stemley
Vina's Millinery – Hats, Fiber Art
I've been in the hat business for 20 years. I just got my first studio, and I'm moving into the art gallery now. Once I went to the shop to get my hair done, and the lady stripped out my hair with the peroxide. I had to get my hair cut off to about a quarter-inch long, so I was kind of self-conscious, and I found myself wearing a lot of hats… I started making the hats I was wearing, and people were saying, "Oh, where'd you get that hat from?" and I was like, "I made it!" And they were like, "Well, can you make me one?" It just grew and grew. Then people started saying, "Well what else do you have? I don't wear a hat." So now I've got something for everybody—that's why I like the tissue boxes and pillows.
These take me close to four hours to make; it's time consuming. This Star Wars one—my client had a Star Wars party, everybody was dressed up in costumes. So I designed this tissue box for the party! When the tissues run out, you snap it off and pop the new box in. This is stitched, nothing is glued. I sew everything myself.
✶ ✶ ✶ ✶
Shervon Coleman Geosuff Geere –
Apparel, Jewelry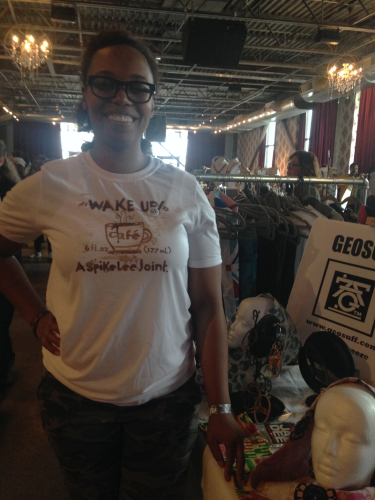 I've been sewing since I was 12. I quit my corporate job in December of 2014 so that I could continue to be an artist. I paint, I make stained glass windows, and I'm interested in woodwork—just anything that has to do with textiles in general. Right now I'm just doing vendor-y bits, just trying to get my name out, so that hopefully I'll do more custom orders in the future.
I had a client that had four cousins that were all born in 1976, so she requested four pairs of earrings with that year. On each of their birthdays, she gave them a pair.