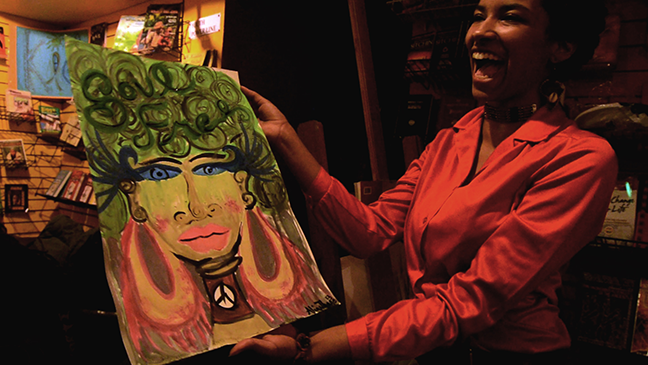 Behind the marquee of Harper Theater and the window displays at Kilwins, Frontline Distribution, at 52nd and Harper, offers, among other things: books on topics from women's studies to spirituality, garments from around the world, body butters and soaps, and incense with names like "Chronic" and "Sex on the Beach." Frontline is part of a long legacy of black-owned bookstores that have occupied the space for over twenty years. The first store was Freedom Found, which became The Reading Room, which then became Sirius Books.
Sekou Tafari is one of the store's founders, and its principal proprietor. The store is called Frontline, Sekou says, because it is on the front lines of the struggle to empower young black people, and that empowerment begins with education. "Our history didn't start with slavery, it didn't start with the Middle Passage," he emphasizes. "Young black people need to know their roots and have a sense of who they are, where they came from, and where they're headed. Some young black folks may not be aware of the work of people like Martin Luther King or Marcus Garvey. They are in the present even though they are now dead. We work on their backs."
Though a focus on the shared past and current struggles of black people is apparent in the bulk of the books in the store, its stock as a whole covers topics from the spirituality inherent in nature to how a couple can regularly achieve multiple orgasms. This varied selection is indicative of a belief held dear at Frontline, the belief that all people of all ethnicities need to have knowledge of their world. "People need to not be in a box," Tafari says.
Since mid-December, Frontline has tried to break that box open by hosting a twice-monthly event called Soulfree: Peace Mic. Spearheaded by young members of the community, the series seeks to promote principles of free thought and awareness among the youth—principles that are important to the story of Frontline Books. Alia Jhane, the series' creator and coordinator, developed Soulfree based on her experiences at the Joshua Johnston Fine Arts and Design Charter School, in Washington Heights, on the Far South Side. "I just want people to have a chance to get together," she says. "Everyone is welcome. There is no race, no color, just humans." Jhane, an artist and rapper who grew up in Hyde Park, says she realized the neighborhood needed a space for both open discussion and open performance. "I was always traveling to other neighborhoods to get to open mics," she says.
Jhane has ambitious plans to build on what Soulfree has already accomplished. Fifteen percent of ticket and raffle sales held at events already go to charity, and Jhane hopes that charity work can expand in the future. "We have some high school students who come in reading on a fourth-grade level. Some of them have mental health issues and learning disabilities. They need positive energy in their lives," she says. Tafari is optimistic about the future of Frontline as well, even though he feels that the new direction that development in Hyde Park is taking is not friendly to small businesses. He has no ill will for the University of Chicago, he says, though it is spearheading many of the changes in Hyde Park. "Frontline doesn't fit into the University of Chicago's program, but we carve our own destiny."
UofC students have attended Soulfree meetings, Jhane says. She hopes that more will come.
"If the University listens to what the community has to say then there will be a balance," says Tafari. "Which is important."
Soulfree: Peace Mic meets every first and last Thursday of the month. Frontline Distribution, 5206 S. Harper Ave. facebook.com/soulfreepeacemic