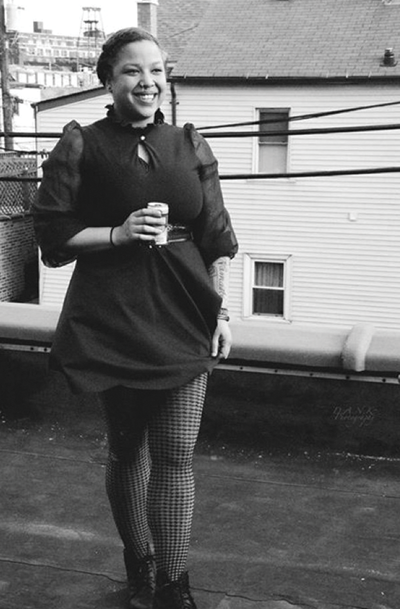 When she isn't kicking it with the boys from the Save Money crew or championing some obscure cause in the name of veganism, Lluvia "Via" Rosa likes to spin a tune or two. "Both my parents have been musicians for as long as I can remember," she says. "They were in several reggae bands and I spent most of my time on the road with them till about 2003." Since then, her personal music taste has extended beyond her reggae roots, encompassing everything from Sade and Nirvana to Brazilian and African dance music, with an un-ironic appreciation of  *N Sync thrown in for good measure.
Born in Austin, Texas, and brought up on an Indian reservation camp in Northern California, Rosa wound up attending culinary school in Hollywood before moving to Chicago in 2010. "I originally came here," she says,  "'cause my job in Hollywood decided to stop paying."
"Also, my grandma was getting really sick, so I came over to be her personal chef and keep her company."
Rosa's move to Chicago coincided perfectly with the beginnings of the new "chipmunk soul" movement, spearheaded largely by the visionary Chicago production collective THEMpeople. Rosa, an early convert to the cause, linked up with the collective through Myspace, assuming the dual role of in-house chef and artist-in-the-making. Her extensive schooling in the ways of both the soul sample and the eggplant lasagna won her many hearts, particularly those of Joey Purp, Kami De Chukwu, and Nico Segal—all members of Save Money with THEMpeople ties—who rewarded her with features on their own singles. Rosa is very candid about the collective's influence on her own style, describing her music as "a fusion of myself and the guys—a little hip-hop, a little jazz, a little soul, a little trap and blues, all mixed in with some poetry."
This inclination to bend and meld sonic landscapes becomes apparent mere moments into "Magician," the first single off Rosa's forthcoming solo project, "DeathViaLove." A dejected lover's recollection of a failed relationship, the song showcases the delightful interplay between Via Rosa's smokey soul sensibilities and local hip-hop prodigy Jean Deaux's breathy, slow-as-molasses delivery, all over a dark and luxuriant THEMpeople beat. It's the kind of thing Bill Withers would have put out if he had had an ear for Gypsy funk and ready access to Ableton Live.
According to Via Rosa, "DeathViaLove" is "an album about the many ways one could 'die' by way of love, whether it be self-inflicted or by the evil in the world." If the video for "Magician"—a mess of tattoos, chiffon, and vintage furniture, all bathed in a haze of cigarette smoke—is anything to work off, one definitely gets the sense that the rest of the project will live up to its promise of being simultaneously depressing and delighting.
The album doesn't drop until March 23, but you can probably head over to the Z&H deli on 57th Street, where Rosa prepares the soups (she does a mean Cheddar & Broccoli), for an advance listen.
This story has been revised to reflect the following correction:
Correction: March 12, 2014
An earlier version of this story misspelled Via Rosa's birth name. It is Lluvia Rosa, not Uvela Rosa.