The South Side, which has a rich history of contributions to the visual arts, has been gaining recognition in recent years for its experimental, emerging, and DIY-style of artists and art making. Often bringing lesser known artists and styles into the fray, these new spaces challenge traditional notions of what a gallery is with their wide-ranging programming, choice of artists, and remarkable use of space. For this piece, the Weekly visited and spoke to a selection of makers and art spaces spread across the South Side.
Fat City
32nd and Morgan Streets. @fatcityarts on Instagram.
This converted storefront used to function as an apartment gallery, hosting visual art shows and bands. Since last September, it has been the home and workspace of sculptor and performance artist Cameron Clayborn, musician Will Cabaniss, sculptor and dancer Miles Jackson, and fashion designer Vihanga Sontam. Instead of running a gallery, the artists now mostly focus on their own practices, though they still welcome the public in for concerts, parties, and pop-ups. The residents have their studio spaces in the house, in addition to a small woodshop in the garage, partly shared with Future Firm, the architecture firm next door. The front room is an open space that serves as platform for the residents' projects. 
Everyone in the house is at an exciting hinge in their work. Sontam and Jackson just released their clothing label, Vihanga, with a first collection, "Arrival," created from fabrics bought in Sontam's hometown in India and entirely made at their Fat City studio. The release party happened on March 23 in the front room, with a sculptural rack made by Jackson in the wood shop, and the clothes are now for sale online. Clayborn, who was just admitted into the prestigious MFA program at Yale, is hard at work on his side of the studio, preparing pieces for a solo exhibition opening at Simone Subal Gallery in New York City on April 7. In the spring, Cabaniss (a contributor to the Weekly) will use the space to launch his new vocal-instrumental group, for which he has been composing and arranging for the past months.
"Because we come from such different backgrounds," said Sontam, "trying to bring so many different people together, it's almost like a different kind of cultural production." This allows them to work together when they host events, integrating visual art with music, fashion, and dance, and attracting a mixed crowd.
The residents agree that their community has offered vital support in their achievements. They share skills and tools—"Vihanga taught me to sew properly," laughed Clayborn, whose current work involves sewn leather sculptures—but also comfort and clarity amidst the uncertainties of being an artist. "It's all about the people that live here," said Clayborn with affection. "No matter what it is that we want to get done, or someone wants to get done, it can be done. Which is kind of amazing." (Marina Resende Santos)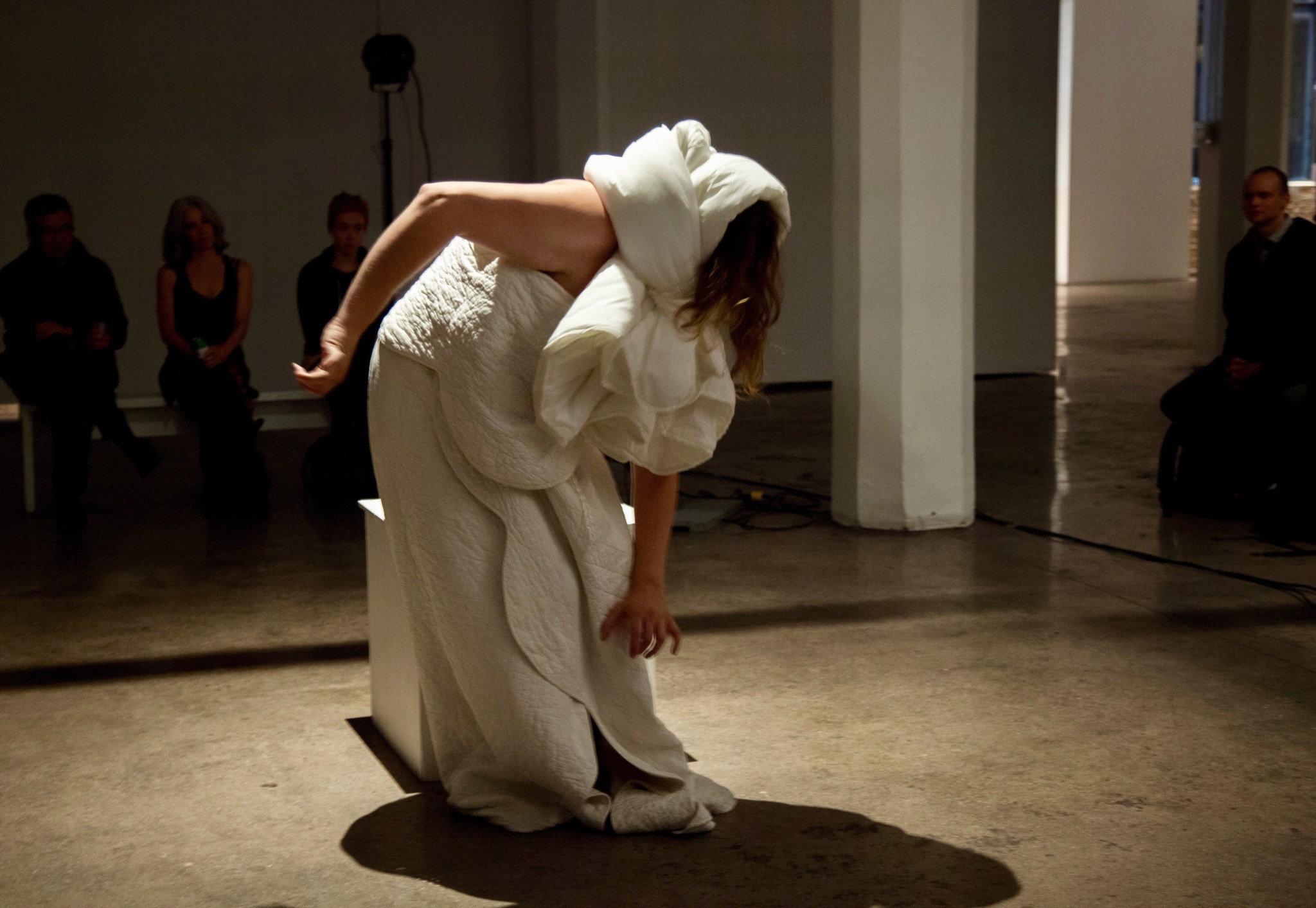 DFBRL8R
1029 W. 35th St. dfbrl8r.org
In 2010, DFBRL8R—also known as Defibrillator Gallery or dfb—was formed as a DIY artist-run space to revive performance art in the city's contemporary art scene. Over the next eight years, they operated out of spaces along Chicago Avenue. Last February, it was invited to curate and program out of the Zhou B Art Center in Bridgeport, cutting overhead costs significantly. The programming tends to showcase a mix between emerging and well established artists and makers, global and local, often setting the tone for performance discourse in the city.
Joseph Ravens, who founded the space and drives a large portion of the curatorial vision, was very open and honest about the administration of the space: it runs on a mix of volunteer work and occasional grants to supplement the shows they present.. Once dfbrl8r moved to Bridgeport, so did Ravens. He hosts visiting artists at his apartment, close to the gallery. Later this month the gallery will host the IMPACT Performance Festival that showcases work by students at the School of the Art Institute of Chicago (SAIC). (Manisha AR)
062
1029 W. 35th St. 062official.com
Around the same time that DFBRL8R moved to the Zhou B Art Center, S.Y. Lim, an SAIC graduate, was also offered space at there to open her own gallery. She started out on the first floor, close to the parking but immediately found herself struggling to show work in the small space allotted to her. After some discussion, she was able to move into the basement, allowing her to curate and install a variety of shows that range from performances to group shows. A visual artist, former KPOP singer, and now a photographer, Lim selects artists to show after extensive studio visits.
062 has shown performances, SAIC student group shows, paintings, sculptures—the choices in medium are unspecific. For Lim, "the rules are no rules." Her goal at the moment is to work with institutions and offer the space to students. Since Lim doesn't need to pay rent to use the space, she is able to focus on showing the work. The space is currently showing the work of Jasper Goodrich in a show titled "boat," chronicling how three of the characters Goodrich created in the process of making his paintings and print meet for the first time. Lim's choice of artists is sweeping, and each trip to 062 is a good exercise in discovering a new artist. (Manisha AR)
GALLERY GUICHARD
436 E. 47th St. Wednesday-Fridays, 2pm–5pm; Saturdays, noon–3pm. galleryguichard.com
Founded by Andre and Frances Guichard, Gallery Guichard has been in Bronzeville for over fourteen years. With the aim of bridging the gap between underrepresented artists and collectors, the gallery showcases a range of mediums, including painting, sculptures, ceramics, and furniture. It specializes in the art of the African Diaspora. Andre Guichard is a self-taught painter and Frances Guichard has been painting under the pseudonym Marlene Campbell since 2004. Sometimes, they show their own work in the space, but they're committed to finding a variety of artists to showcase, sometimes even traveling abroad to find them. The gallery is located on the first floor of Bronzeville Artist Lofts, Guichard frequently collaborates with other artists in the space to offer art programming to engage the residents of Bronzeville.
"We are a multicultural gallery; however, it is no secret that artists of the diaspora have had a more difficult time being represented in galleries," Sabrina Johnson said. Their audience has been a mix of Chicago collectors, national collectors, and their neighbors. "A lot of our clients live right here in Bronzeville and support the gallery through attending events, purchasing art, art merchandise or renting the gallery for events," Johnson said. Later this month, the space will showcase Abstract Expressionist works in the show "Do You See What I See," opening April 11, and "Stream of Consciousness," featuring Ethiopian artist Merid Tafesse, opening June 6. (Manisha AR)
LITHIUM
1932 S. Halsted St., Ste. 200. Saturdays 1pm–6pm, and by appointment. lithium.gallery
With the mission to offer a space for artists who make time-based work, LITHIUM opened its doors in October 2017. The idea was to build what Nicky Ni, one of the founding members, describes as a "gray space" that sits between a black box and a white cube gallery setting. Ni was able to fund the space with his winnings from of SAIC's 2018 Make Work Challenge. They chose the Halsted Street strip of galleries in eastern Pilsen because it draws a regular crowd of art-goers on Second Fridays. "The main vision that drives the work we show is this idea of premiering. So if it's Chicago-based artists, then they are likely to show new work here and if it's an international artist then they could show older work that a Chicago hasn't seen before," Ni told me.
Unlike movie theaters, at LITHIUM there is room to disengage from the work for a brief moment of time before moving onto the next work. There is space to explore the work and view in newer contexts and environments. The space also pushes the definition of time based work to include hybrids like sound and video installations, video collages, or performative video works. Last year in a show titled "Concert Baroque," the space featured the work of Adela Goldbard, who used a combination of sound, video, and installed objects to talk about the ecological impact of silver mining in Mexico. And unlike white cubes, the interaction and playfulness that comes from projecting videos and using sound is at the forefront rather than an element use to accentuate a still object or image. (Manisha AR)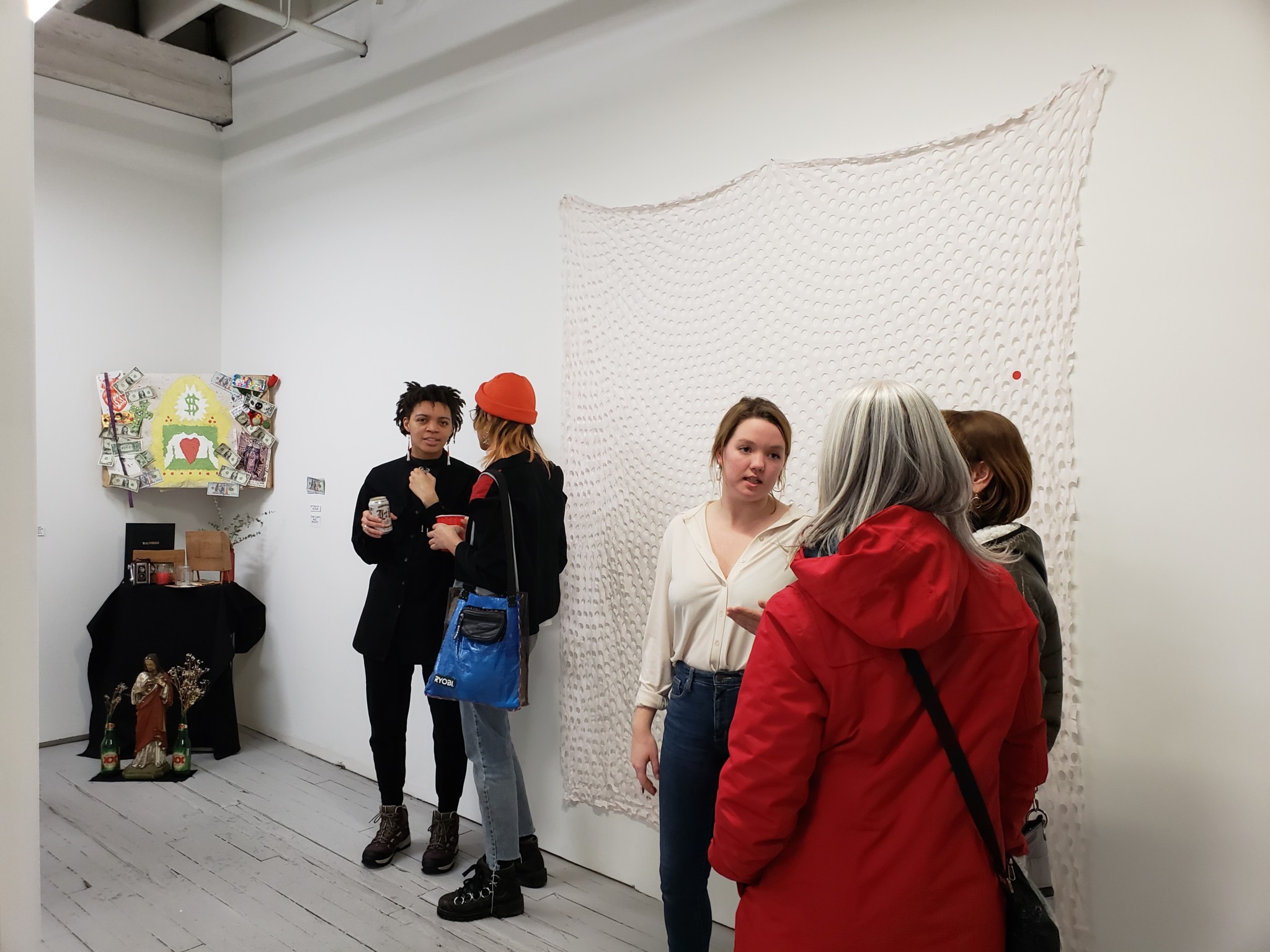 ANNAS
629 W. Cermak Rd., ste. 240. annasprojects.com
Founded by SAIC alumni Alden Burke and Stephanie Koch, Annas is "a generative and reflective space for young makers." A newer space that opened its door in December, Annas has hosted three events to date, which have highlighted collaborations between makers and their use of the space and skills of the founders. Its first show, "object/item/material/me," resulted from a partnership between Annas and The Overlook, another artist-run space. The long-term goal of Annas is to use the space to host three residencies that invite a cohort of artists to work together.
"We were looking for a space that was affordable, in the same space as other artists, and accessible by public transport," Burke told the Weekly. Both Burke and Koch also treat Annas like their own studio lab for generating ideas.  In their own individual practices, as curators, writers, and art historians, both Burke and Koch are deeply interested in the networks that exist between art spaces and makers and are interested in highlighting these exchanges. Their more recent show "In front of a trapdoor" was in collaboration with artist Logan Kruidenier, who hosted another iteration of Doodle Jam, where audience members are invited to doodle in response to prompts provided by Kruidenier to generate conversation, dialogue, and a connection with the space itself. (Manisha AR)
TRAP HOUSE CHICAGO
744 E. 79th St. traphousechicago.us
trap house chicago uses streetwear to transform society. Founded by Mashaun Hendricks, trap house, the second in his series of concept stores, is an extension of his practice both as an artist and activist. Hendricks is a conceptual artist who works with screen printing, designs, streetwear apparel, text and wheat-paste installations. In December 2019, Hendricks opened the doors to his second concept store on 79th Street in Chatham, right next to Haji Healing Salon, a wellness center. Each concept store serves as a physical space for his streetwear brand Trap House Chicago and to engage with the community through workshops and dialogues.
The previous edition of trap house opened in Auburn Gresham in October 2017, and stayed open for a year. The goal of opening a space in different neighborhoods, according to Resita Cox (who also hosted an open mic at the space) writing in Block Club Chicago, is to convey Hendricks' message: "reduce crime and violence by creating a thriving local economy, educating and healing the community through restorative justice practices." Another key element of his practice is to offer restorative justice training sessions at the concept store; Hendricks serves as a consultant for the Restorative Justice Community Court in North Lawndale, and has partnered with several schools across the city to host workshops and training. The programming at trap house also includes an open mic series titled "People Say," every third Friday of the month. This series is open to all ages and skill levels; sometimes you can spot emerging singers like Aye June and artist Davon Clark sharing their work. Sign-ups start at 6:30 pm. (Manisha AR)
AMFM
Art Music Fashion Magazine, or AMFM, is a brand and web magazine that gives emerging artists a platform through curated events, pop ups, collaborations, and web content. In 2009, Ciera McKissick created a web magazine as part of undergraduate thesis at University of Wisconsin–Madison. She gave it life in Chicago in the form of a Pilsen gallery, where she put together a team to curate events across the city, run the magazine, and create opportunities for emerging artists working across all mediums. She aims to cultivate a community based on diversity, inclusivity, and intergenerational interaction.
"We want to be accepted, not tolerated," she said in an interview. The gallery closed in 2018, and McKissick has taken some time off to reflect on her experiences and rethink ways to keep AMFM growing in a sustainable way. However, despite not having a physical space, AMFM continues to actively program and collaborate across the city.
McKissick likes the idea of bringing people and audiences to new spaces and she embodies this in her programming. Every month, AMFM collaborates with OTV to host movie screenings followed by conversations and panels at Reunion in Humboldt Park. Over summer, there will be another edition of Feast, a three-course festival to raise awareness about food deserts and healthy eating. It kicks off on June 1 with Seeds at Austin Town Hall, a marketplace of community gardens to generate discussion around healthy eating. The second course, an art, food and music festival, will take place on September 8 at Homan Square and the final course will be in December 7 at Humboldt Park as a seated performance based dinner. (Manisha AR)
BABY BLUE
2201 S. Halsted St. Sundays 1pm–3pm, other days by appointment. babybluegallery.com
Caleb Beck is a painter who left Boston to immerse himself in Chicago's thriving DIY community. He founded the gallery Baby Blue to showcase the works of emerging artists. At first, Beck was showing work out of his apartment. Visitors would go up a few flights of stairs and enter the space through his kitchen, winding around the counters to the bedroom and living room. During an installation and before an opening, Beck would push his things into a closet to make space for the art and visitors. It was a very Spartan home. In 2017, Baby Blue moved to its current space on Halsted Street's gallery strip. The new gallery, albeit smaller than his apartment, is housed in a warehouse with daycares, gyms, and hair salons. "Part of the reason I love Pilsen is that the people remind me of Richmond, Virginia," where he's from: "down to earth and neighborly," he told me. "Sometimes a show will be completely irrelevant to people walking by on the way to get their hair cut or work out. Other times it will provoke excitement and curiosity."  
Beck is primarily interested in showing young contemporary art. With Baby Blue, he is offering spaces to emerging artists who struggle to find gallery representation and spaces to showcase their work during the nascent stages of their careers. Recently, he has expanded his trajectory and had a show in Mexico City in partnership with a local gallery there. At the moment he is in the process of curating an exchange, in which Chicago artists will be shown at Manhattan gallery Super Duchess, and New York artist will be shown at Baby Blue. When Beck first started out at his apartment, the average age of his audience didn't usually go above thirty-five, but now he says older audiences finding it less intimidating to view the works "because they no longer feel like they are intruding some kind of private house party that's not for them." (Manisha AR)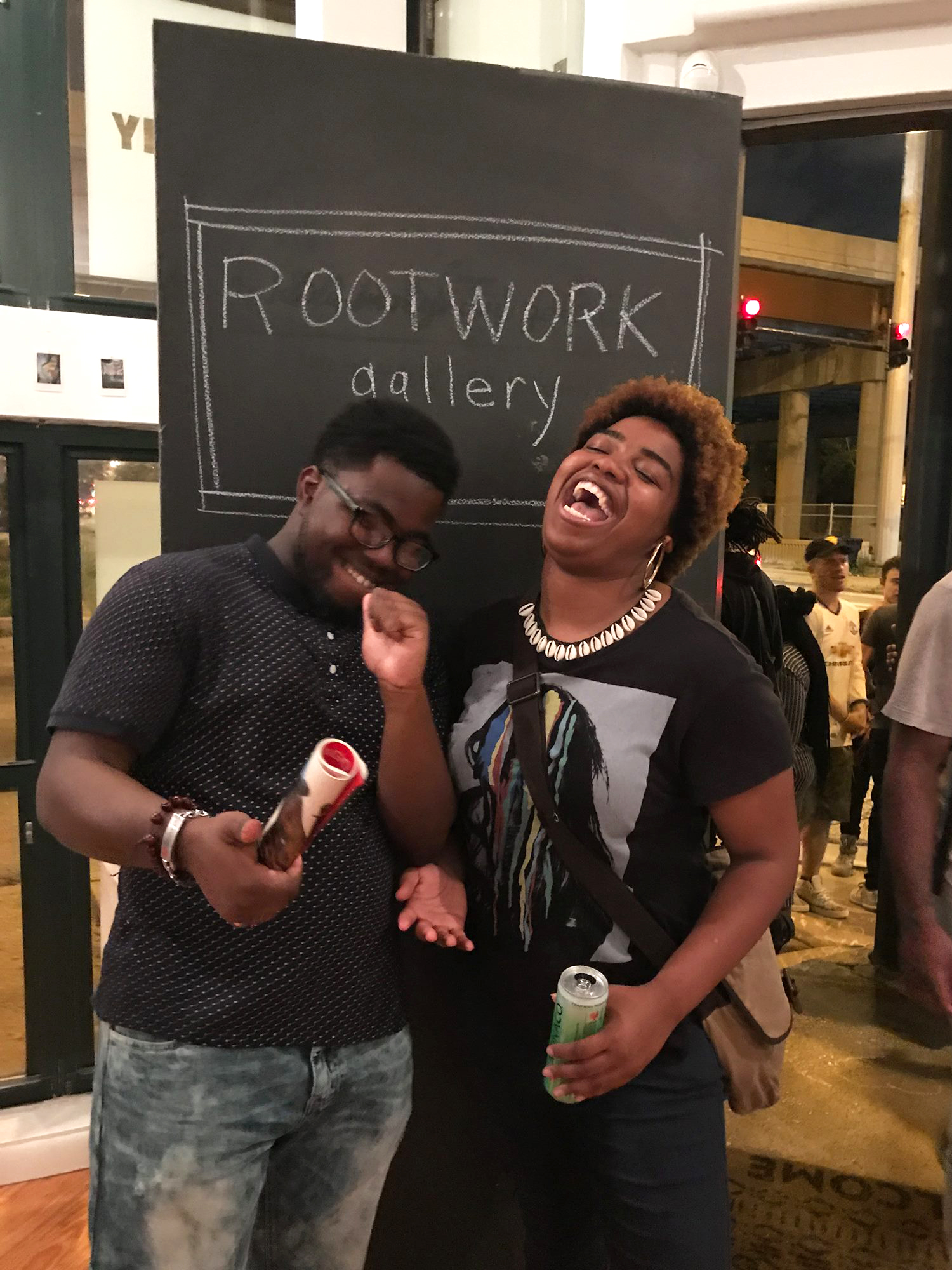 ROOTWORK GALLERY
645 W. 18th St. facebook.com/rootworkgallery
Founded by Tracie D Hall, director of the Joyce Foundation's Culture Program, Rootwork is an experimental space dedicated to showing and sharing artistic expression aimed at healing, reconciliation, or investigation, focusing on folk art, street art, and indigenous cultures. Last July, the space celebrated its three-year anniversary. For Hall, the location has been sacred, because it came to her in a dream, in which her grandmother sent her an image of a building at the crossroads of a highway. On the crossroads of 18th and Ruble Streets, the space has been home to an array of shows since its opening. In the last month the space hosted Synergy, Chicago's Latina-founded, interracial women's hip hop arts collective.
Pilsen is an ideal location, Hall said, because it has allowed for Rootwork to show works of diasporas—Black, Brown, Asian etc.—and draw in audiences who are on the same wavelength. "People are always sending along artists whose work they think would be suited for Rootwork," Hall said. "I say the community are my co-curators." The next program in the space, titled 'I Found God in Myself: Black Women Portraiture, Praise Dance and Testimony" and featuring live painting artist Liz Gomez, is on April 12 from 7 to 9:30 pm. (Manisha AR)
Satellite
31st and Throop Streets. @Satellite_chicago on Instagram.
Located in Bridgeport, this home and artist-run space launched last fall with a mission to share space, ideas, and resources and to cultivate collectivities against capitalist individualism. Satellite's main event spaces are their front room, which has capacity for screenings and an elevated platform used as a stage, and the large basement, which has been used for installations and parties with DJ sets. After the multimedia event organized by the Backyard Series that launched the venue in November, Satellite has hosted poetry workshops; open mics; artist presentations with groups such as Pilsen-based Luya Poetry, Surreal Chicago, and the Commonfolk collective; parties with DJs; and visual showcases. Residents Graham Livingston and Charlie Tokowitz have offered design software workshops, and resident Anna Luy organizes the Asian Feminist Reading Group and the Asian film society "Lost In Translation" both hosted biweekly. Satellite residents are in the process of  learning what types of events they want to host, and what the space is best suited for—what Livingston calls the "native potential" of the space. "It's a living space. It has little nooks, it has partitioned walls," said Luy Tan. According to Tan, "it's best used for small group discussion" and for celebrations with "a larger purpose."
In May, Satellite will host a panel discussion with indigenous and Native American artists from Ecuador and New York, in conjunction with their exhibition at the Cervantes Institute. In the summer, the space will host the first Chicago edition of Dinner with Designers, a dinner series and podcast that started in New York. The residents are also working on advancing their initial mission. By offering workshops, collaborating with other groups, and transforming the garage into a workshop space, Satellite hopes to cement its capacity to share resources and skills and facilitate new work, beyond just welcoming people to share their practices. (Marina Resende Santos)
All of these spaces are free and open to the public. Most of their gallery hours revolve around exhibition and are by appointment, so we recommend calling or emailing them ahead of time to look at the works and engage with the space. Checking their Instagram and Facebook pages for programming updates can also help you determine the best times to visit.
✶ ✶ ✶ ✶
Correction, Wednesday, April 10: An earlier version of this piece incorrectly identified Joseph Ravens, the founder of dbrl8r, as Joseph Raven. 
✶ ✶ ✶ ✶
Manisha AR is the Weekly's chief of staff and a writer who graduated from the New Arts Journalism program at the School of the Art Institute of Chicago. She is interested in film, video, performances and storytelling. Her last story for the Weekly was on David Maljković's show at the Renaissance Society last month.
Marina Resende Santos is a contributor for the Weekly. She works with art administration and research in the humanities and graduated with a degree in Comparative Literature from the University of Chicago. Her interviews with artists and organizers have appeared in Lumpen Magazine and THE SEEN.