When the Poetry Foundation calls this a Block Party, they mean it. 
On July 27, the National Museum of Mexican Art and Crescendo Literary, a writing and education group founded by South Side poets Eve Ewing and Nate Marshall, celebrated "poetry, music, and creativity" with roped-off streets, a slamming sound system, art installations, vendors, a piñata, and even a bouncy house at the fourth annual Chicago Poetry Block Party. All day long, from Harrison Park down 19th Street from Wolcott to Wood, you could hear performances by The Chicago Mariachi Project, Lester Rey, DÉCIMA, avery r. young, and the CPBP House Band (under Ayanna Woods's direction). 
All the while, the Founders mobile monument stood at the corner of Wolcott and 19th, billowing like a strapped-down cloud and towering over thirty feet in the air.  The monument is a collaboration between the Floating Museum and artists Chris Pappan and Monica Rickert-Bolter. I caught up with Eric Perez, a sweet bearded gentleman working as an exhibition manager, who was more than happy to update me on all things Founders. Perez said that this was the fourth showing of the installation: previous showings have happened at the Austin Town Hall, Garfield Park at the Golden Dome, and Boxville in Bronzeville. 
The monument is called Founders, so we wanted to pay tribute to the founders of Chicago. In this case, that would be DuSable—and when you talk about DuSable, what a lot of people don't talk about is his Potawatomi wife, Kitihawa. We wanted to find a way to build a monument to this woman that is rarely mentioned. DuSable has a bust on the Chicago River. DuSable has a museum. This is a way for us to give Kitihawa something.
[break]
Community-focused organizations were tabling at the park near the museum. While a mariachi band dressed in navy blue pants and white shirts serenaded us, I spoke with Leone Jose Bicchieri, founder and executive director of Working Family Solidarity. Working Family Solidarity is a non-profit organization with offices in Pilsen that works primarily in the West and Southwest Sides of Chicago to slow gentrification. The organization focuses on building solidarity across racial groups, particularly Black and Latinx low- and moderate-income families, around labor and housing rights. Bicchieri spoke to me about this mission and the importance of the Chicago Poetry Block Party (CPBP). 
We are promoting that WE Latinos and African Americans, that WE don't see that THEY are getting moved out of this neighborhood over here, and that THEY are getting moved out of that neighborhood over there, but that WE all of us, people of color, are getting moved out of Chicago. WE won't be in Chicago in another decade or two, and so we are promoting unity around better jobs and better housing so that WE can stay in Chicago and have our families be stable again.
[Events like the CPBP] bring a lot of people together, a lot of young people and interestingly enough we find that young people have more open minds and so we are getting a lot of folks, white, Black, Latino, Asian, Indigenous youngsters and by youngsters I mean thirty and below, but folks that are into what we are saying.
[break]
Next, I moved on to the Community Activism Law Alliance (CALA)'s table. I spoke with Emma Chow, a representative tabling that day, who explained that CALA is "just a big activist community group." Chow described CALA as a non-profit that provides legal aid for individuals and community groups that can't afford it. "Just being in the community and out here with the celebration, I mean, it gets us thrilled."
As I drank in my surroundings and waited for one of the organizers to have a moment to chat, I couldn't help but smile at the families easily lounging on the well-maintained lawn, the sidewalk chalk murals being created, and the mariachi band—none of the members over the age of twenty-five—enjoying Jarritos in the shade. I grabbed an arroz paleta from a vendor and watched poets—some seasoned by years on the scene; some freshly minted, holding their first-ever poem from the day's workshops—mix it up on stage.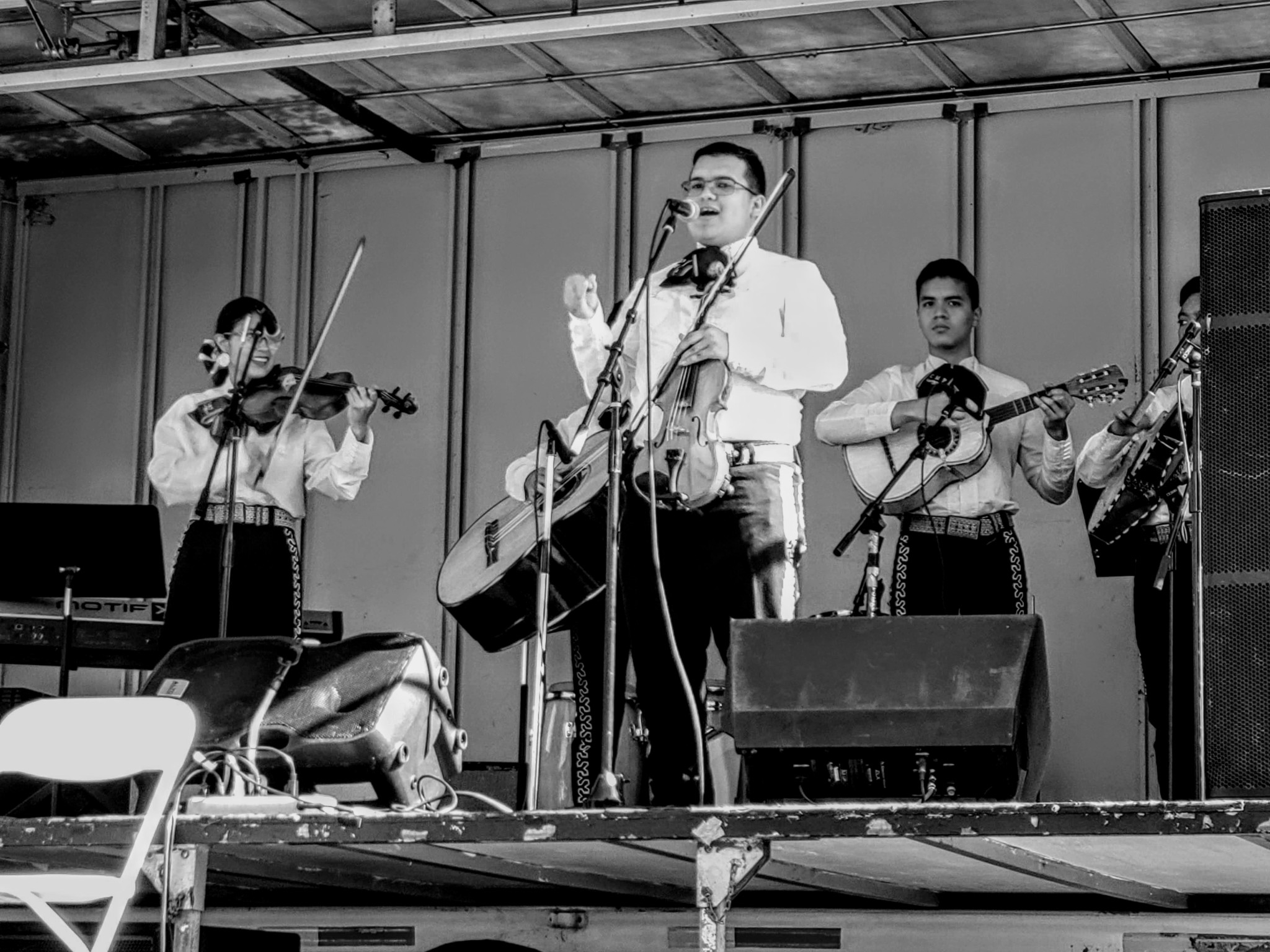 [break]
Ydalmi Noriega is the director of community and foundation relations for the Poetry Foundation. I managed to snag her for a few minutes during the Block Party. Noriega has been a part of the event's organizing team since its inception in 2016. The logistics have gotten easier over time, but Noriega says that the team is now more focused on the community engagement aspects of their programming. The festival has been previously held in Bronzeville and Austin, but 2019 marks its second year in Pilsen. I asked Noriega to talk about how things have changed year to year, choosing partners, planning for the future, and the people that come out to the festival.
The logistics of running it are getting easier. Now we know, now we have our team. So what changes for us is to think more deeply about what the community engagement aspects of the program are. How do we build relationships with the communities that are hosting us, [when] we move the event to a new location every year? And then, how is that a lasting programmatic relationship that just isn't about today?
Another [change] is that more people know us. It felt a little like the first year, people who were already in our networks came because they wanted to support us personally, but with time, this has become an event that people know is coming every summer. It's really cool to see people that…may not have that deep of a connection to poetry, but have heard cool things about the event and come to check it out.
We have some idea of where we want to be next year, but we don't have a place picked out. It really comes down to logistics: who is the local partner that can host us? And we really want to take it all over the city. We want to be deep South, we want to be on the South Side, we want to be on other parts of the West Side, we want to be on the Southwest Side. 
We are building this to be a sustainable model. We are building it so that it is a fun event that people want to come to, but also we are building it as an event that fosters relationships between artistic communities and other kinds of organizations, and between people, so that they can continue building on this model to make events like this happen.
We always invite [every organization] that has come before. Once you are in the fold, you are in the fold. But the other part of that is working closely with our host organizations. Last year, Austin Town Hall knew Austin, and they were like: If we are going to throw this party here, then these are the people we need to be involved. They are the ones who help us connect with the organizations. They'll also say, "these folks are legit, they are coming to do this thing, you all should partner with them if you can." [It's] the same with Pilsen— a lot of the people are here because we have conversations with the museum, and they are like, "Look: if we are going to be in Pilsen, and we are going to do this thing, then these are the people who should be involved." 
[break]
CPBP is a partnership with Crescendo Literary, a collective that writers and scholars Eve Ewing and Nate Marshall co-direct. Both were raised in Chicago and grew up in circles "where artistry and activism went hand in hand, and that's a strong, strong legacy of how things work in Chicago," as Noriega put it. 
Marshall is moving to Colorado Springs this month to teach at Colorado College, but Noriega said that the team is refusing to let the partnership go. "We haven't always been here all the time," she said, noting that Eve Ewing was in Boston for grad school for one year of the festival, and that Marshall had once been teaching in Indiana. The event, which in years past has hosted 1800 people, certainly shows no signs of slowing down. 
I think my favorite part is seeing people chilling out on a Saturday afternoon, on a beautiful day. We've been super lucky for the past four years to have the perfect weather for this sort of thing. Just seeing people have fun. I don't know what everyone is doing, I have no idea who was in the museum, who was in the bouncy house, but just looking around and seeing a vibe of joy and community—I love that, it's my favorite part. 
I think we had fifteen slots [in the open mic] and I think twenty-two people signed up. The really beautiful thing about this open mic is that we time it to run right after the workshops. We ran three workshops in the gallery where people were writing in conversations with the art. The people who lead those workshops were a poet and a member of the museum's curatorial staff.
This year we had a couple of people—and this happens every year—who wrote their first poem this afternoon at 3:30 and then got up on the stage right after and read it.  And that's also one of my favorite things. If you're going to read a poem on a stage, then this is one of the most supportive audiences you could ask for.
[break]
AV Benford is the Weekly's Food & Land Editor.