The ten-day countdown until the end of the public school year begins today. After a stressful few weeks of wondering whether or not Chicago Public School would finish out the year, or close three weeks early, Chicago students will be getting out of school on schedule, on June 20. But for many families, now another struggle begins—the struggle to keep kids occupied and engaged through these long summer days. This guide features some of the camps and youth programs that South Side kids can attend this summer, with opportunities for dancing, building robots, swimming, and growing.
✶ ✶ ✶ ✶
Science and Technology
Project SYNCERE Middle School Summer STEM Camp
Olive-Harvey College, 1001 S. Woodlawn Ave. June 26–August 4 in one-week sessions. Monday–Friday, 8:30am–4:30pm. Grades 6–8. $275/session, income-based discounts available. (773) 982-8261. projectsyncere.org
Decode a self-driving car, design a house to survive extreme weather, and take on other engineering challenges in this project-based summer camp meant to inspire students about the possibilities of STEM (science, technology, engineering, and math). Divided into separate weeklong sessions, each focuses on a specific real-world engineering problem, where students learn how math and science can be used to solve them. Project SYNCERE seeks to diversify the STEM fields through their inspirational and innovative curriculums. (David Struett)
IIT Computer Discovery Camp for Girls
IIT Main Campus, 10 W. 35th St. July 10–July 20. Monday–Thursday, 9am–2pm. Girls in grades 7–9. $75; limited number of need-based scholarships. Lunch provided. (312) 567-3025. admissions.iit.edu/summer
This camp for middle-school girls will introduce attendees to the basics of computer science and robotics, teaching them skills in spatial visualization and problem solving. But it's not all boring ones and zeroes—this year's theme is "Dancing Queen." Campers will get to make their own Lego robot and program it to dance. (Hafsa Razi)
Jobs
CHA Summer Youth Employment Program
Various locations and dates. Application deadline June 14. Ages 16–24. Free and paid. (312) 786-6930. youth.thecha.org
Chicago Housing Authority residents and voucher tenants ages 16 to 24 can apply for paid summer jobs in government, private businesses and nonprofits, through partnerships provided by this seven-week program. Participants will gain skills for employment, explore careers, and learn about financial literacy. Fill out the online application by June 14. (David Struett)
Sports
Girls in the Game: Sports & Leadership Summer Camp
Douglas Park, 1401 S. Sacramento Dr., July 6–August 1. Monday–Friday. 9am–3pm. Lunch included. Income-based fee scale. Girls ages 7–13. (312) 633-4263. girlsinthegame.org
Girls can stay active and enjoy the summer weather in this four-week summer camp that offers over twenty-five sports, afternoon swimming, field trips, lunch, snacks, and an optional overnight camping trip. Girls will participate in life-skill, health and leadership workshops. Three buses have daily pickup stops. Visit the camp's open house June 21 or 22 at Douglas Park. (David Struett)
Super Summer Sports Camp
UofC Henry Crown Fieldhouse, 5550 S. University Ave. and Gerald Ratner Athletics Center, 5530 S. Ellis Ave. June 12–August 14, Monday–Thursday, 8:30am–4:30pm; Friday, 8:30am-noon. Morning, afternoon, and full day sessions available. Grades K–8. Morning session starting at $265/week, afternoon session starting at $230/week, full day session $430/week. (773) 702-9065. bit.ly/UChicagoAthleticsSummerCamps
For many children, summer fun means making new friends through the shared enjoyment of sports. In that spirit, the UofC Super Summer Sports Camp engages children of all ability levels, with the guidance of current UofC coaches and student athletes. Coaches stress team-building, self-awareness, and relationship building, and work to prevent teasing and bullying. Campers will learn how to play and compete in team sports like basketball, soccer and volleyball, and will work on individual skills in sports like tennis and archery. This camp also includes a traditional swim program, as well as outdoor water activity sessions. Campers should bring a bathing suit and sunscreen to each session. (Adia Robinson)
Gymnastics Camp at Ridge
Ridge Park, 1817 W. 96th St. August 7–August 11. Monday–Friday, 2pm–4pm. Girls ages 6–13. Chicago residents $47. (312) 747-6640. bit.ly/GymnasticsAtRidge
For anyone inspired by Simone Biles or Gabby Douglas, learn the basics of gymnastics in this intensive summer camp training program, sponsored by the Chicago Park District. In three hours of training, this camp challenges gymnasts and pushes them to be their most successful, their strongest, and their most flexible. These sessions follow the USA Gymnastics guidelines, and covers all Olympic events, vault, bars, beam, and floor, as well as dance. No previous experience is required, as participants are coached based on their age and skill level. (Adia Robinson)
Music
New Orleans Style Brass Band/Jazz Improvisation   
Kelly High School, 4136 S. California Ave. July 5–August 10. Monday–Thursday, 9am–1pm. CPS grades 9–12 and class of 2017 graduates. Free, possibility of stipend. (773) 535-4900. afterschoolmatters.org
Join the Door 12 Brass Band to learn about the techniques and roots of jazz. Led by Kelly High School's director of bands Richard Daily and jazz musician Carl Kennedy, students will learn improvisation, jazz technique, and what it means to be part of a "true Southern Brass Band." The program will include various performances, and some participants may continue into the school year. (Hafsa Razi)
KLEO: Performing Arts and Music Production
KLEO Center, 119 E. Garfield Blvd. July 5–August 10. Monday–Thursday, 10am–2pm. CPS grades 9–12 and class of 2017 graduates. Free, possibility of stipend. (773) 363-6941. afterschoolmatter.org
If you're looking for some spotlight, KLEO's performing arts summer program is the place for you. Participants will get to learn about breaking into the entertainment industry, from music to theater. And, to raise the stakes, students will compete in weekly performance showcases, judged on "drive, initiative, stage presence, and"—of course—"attitude." (Hafsa Razi)
Performance & Art
Teen Talk Theater
South Side Community Art Center, 3831 S. Michigan Ave. Interviews now through June 11. July 5–August 12. Waitlist only. CPS grades 9–12 and class of 2017 graduates. Free, possibility of stipend. Visit afterschoolmatters.org to sign up for an interview or call Natalie Battle at (773) 373-1026.
Act fast! Interviews for the summer session of Teen Talk Theater are ending soon. This free and paid program for youth from ages fourteen to eighteen is offered at the historic South Side Community Art Center in partnership with After School Matters. Teens get to learn and earn while studying a complete theater arts-based curriculum. Each participant receives three stipends at benchmark intervals throughout the course of the program. (Nicole Bond)
Simantikos Dance Chicago Summer Camp
Simantikos Dance Chicago, 1835 S. Halsted St. June 19–September 1 in one-week sessions. Monday–Friday. Starting at $100/week. (574) 276-0242. simantikos.com
Simantikos Dance Chicago, a Pilsen-based dance company founded in 2015, strives to use dance as a means for addressing injustice in society. Each week features a different theme, including Rhythm and Groove, A Bug's Life, and Unity in Arts. Parents have the option to enroll their children in a full-day or for a reduced price, a half-day camp, as well as take part in the Healthy Lunch Plan for an extra $20. (Mira Chauhan)
Intrigue Dance Camps
Intrigue Dance & Performing Arts Center, 1937 S. Archer Ave. June 26–August 18. Fairytale Dance Camp: four one-week sessions, 9am–noon, ages 3–5, starting $175/week. Ballet and Broadway Dance Camp: four one-week sessions, 9am–3pm or 9am–5pm, ages 6–14, starting $350/week. Hip Hop Rocks! Camp: two one-week sessions, 9am–3pm or 9am–5pm, ages 6–14, starting $350/week.  (312) 765-6755. intriguedance.com
Whether your child wants to be a fairy princess, a Broadway triple threat, or a hip-hop star, parents have a variety of options to choose from for their aspiring young dancers this summer at Intrigue Dance. No matter the class or the number of weeks enrolled, students will have the opportunity to learn technique and history, collaborate with each other, and perform in a final showcase that will be recorded as a video for keepsake purposes. (Julia Aizuss)
Arts XIII Camp at Tuley
Tuley Park, 501 E. 90th Pl. June 26–August 4. Monday–Friday, 10am–4pm. Chicago residents $130. Ages 12–14. Mandatory parent orientation Monday, June 19, 6:45pm. (312) 747-6763. chicagoparkdistrict.com
Tweens, take notice—this art camp was designed specifically for your needs, no eleven-year-olds or fifteen-year-olds allowed. A variety of local arts groups will in turn guide campers through a variety of arts forms—dancing, singing, painting, sculpting, drawing, choreographing, writing, and, just to cover all bases, "creating" are promised. Aside from these activities, the camp includes field trips and a "finale event." As of press time only four spots remain, so tweens' parents should act fast. (Julia Aizuss)
Expression from the Inside
Perspectives Calumet Technical High School, 8131 S. May St. July 5–August 10. Monday–Thursday, 11am–3pm. CPS grades 9–12 and class of 2017 graduates. Free, possibility of stipend. (312) 742-4182. afterschoolmatters.org
This "expressive art therapy program" isn't just about creating a work of art—participants are encouraged to develop artistic skills that prioritize self-expression and emotional life skills. The program's foundational concepts of "awareness, consciousness, gratitude, and unity" will teach confidence, work ethic, and teamwork—and result in personally meaningful visual art and sculpture. (Julia Aizuss)
Civic Engagement
Mikva Challenge Youth Assistants
Mikva Challenge Grant Foundation, offices throughout the city, county, and state. June 26–August 11. Monday–Friday, 9am–1pm. Waitlist only. CPS grades 9–12 and class of 2017 graduates. Free and paid. Apply at afterschoolmatters.org. (312) 863-6340. mikvachallenge.org
Become one of the Mikva Challenge's Youth Assistants, who work for twenty hours a week in the office of a city, county, state, or federal official or lawmaker. Named for U.S. representative, federal judge, civil rights leader, and Chicago political history mainstay Abner Mikva—the "nobody nobody sent"—the Mikva Challenge's participants learn civic engagement, leadership, and organizational skills, as well as build real-world work experience and gain political and governmental knowledge. (Sam Stecklow)
Eye Love You Summer Camp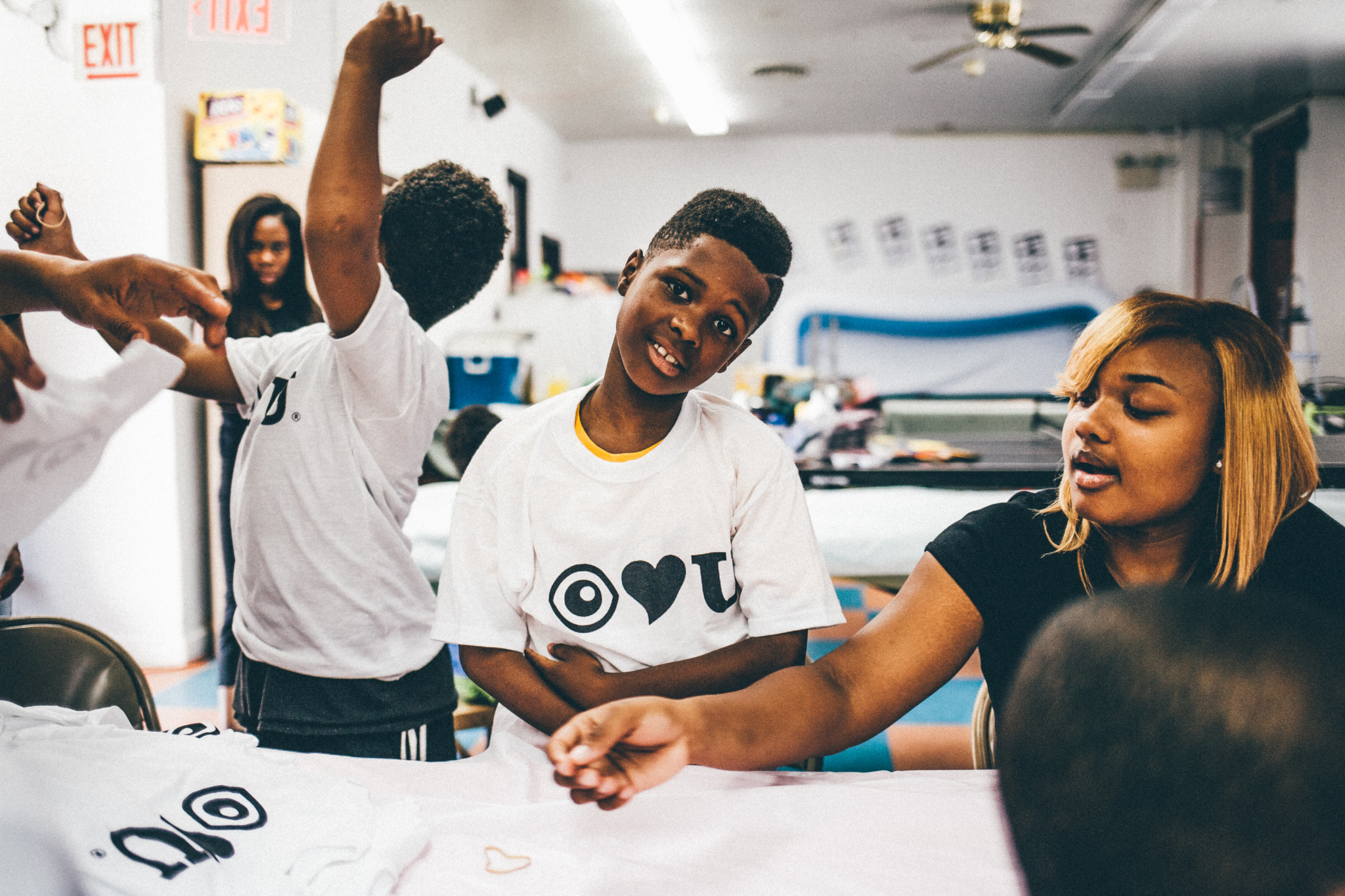 Maranatha Community Youth Center, 1631 E. 71st St. Monday, July 10–Friday, August 4. (773) 241-0560. eyeloveyou.org
In 2015, Kamal Bilal organized a free, one-week camp with the help of local South Shore teens to make up for the absence of community centers and CPS art programs, learning subjects as varied as financial literacy and tie-dye clothing design, food nutrition and poetry—in short, "proper tools, knowledge and experiences." This summer, Eye Love You aims for something bigger and better: a four-week program meant for at least fifty kids and thirty employees, with each week focusing on a different educational theme. As its openhearted name might suggest, the camp aims to bring together not just kids but community, with family nights every Friday featuring meals, cooking classes, gardening seminars, and film screenings. (Julia Aizuss)
Writing
Newsroom @ Urban Prep Academy Englewood
Urban Prep Academy Englewood, 6201 S. Stewart Ave. July 5–August 10. Monday–Thursday, 10am–2pm. CPS grades 9–12 and class of 2017 graduates. Free, possibility of stipend. (312) 742-4182. afterschoolmatters.org
Explore your interest in media and work with other teen photographers, writers, and journalists in a newsroom at Urban Prep Academy charter school in Englewood, in collaboration with After School Matters. The end result will be a collaborative blog published by the participants for teens in their communities and in the city. (Sam Stecklow)
YCA Investigative and Verse Journalism Summer Series: the "Chicago Beat"
Young Chicago Authors, 1180 N. Milwaukee Ave. July 5–August 10. Monday–Thursday, 1pm–5pm. CPS grades 9–12 and class of 2017 graduates. Apply at afterschoolmatters.org. Free, possibility of stipend. (773) 486-4331. youngchicagoauthors.org
If you're frustrated by the way media and culture outside Chicago understand your city, this workshop from Young Chicago Authors is for you. Starting with the term "Chiraq," which received a further wave of interest after the Spike Lee film of the same name came out in 2015, young writers will analyze the ways we think about violence in Chicago by both interviewing city residents and practicing their own self-expression. Along the way, participants will be exposed to verse journalism, poetry, prose, photography, college, and audio. (Julia Aizuss)
Write to the City
UIC School of Art & Art History, 400 S. Peoria Ave. July 10–July 14. Monday–Friday. Application deadline June 30. $200, partial and full scholarships available. Ages 12–25. (773) 486-4331. youngchicagoauthors.org
A series of summer programs that started up last year, WTTC returns now as "the freshest summer camp in Chicago" concentrated in just one nonstop week of art, meant for young writers and artists "at all levels" from across both the city and the country. Through daily field trips and workshops, participants will explore visual, performance, and literary arts unique to Chicago's arts community. Educators are also encouraged to apply to the Teacher's Track to learn about Young Chicago Authors pedagogy, making this camp a true community learning experience. (Julia Aizuss)
Agriculture & Environment
Growing Power @ Altgeld Gardens Community Farm
Altgeld Gardens Urban Farm, 160 E. 132nd St. July 5–August 11. Tuesday–Friday, 8:30am–12:30pm. CPS grades 9–12 and class of 2017 graduates. Registration and interviews in next two weeks. Bring closed-toe shoes and water on first day. Free, possibility of stipend. Apply at afterschoolmatters.org. (773) 376-8882. growingpower.org
Ever wonder where your food comes from? This summer, you can learn about all aspects of managing an urban farm—everything from watering and weeding organic vegetables to post-harvest handling of herbs and flowers to doing the marketing and sales. Participants will learn about the science behind farming and engage in food justice and politics activities. Teens will also have the chance to participate in workshops focused on college and career readiness skills like interviewing and resume building. Other Growing Power programs will be held at Clara Schafer Park in South Chicago and the Growing Power office in Bridgeport. (Adam Przybyl)
Miscellaneous
Camp Sign & Leadership Camp for Deaf and Hard-of-Hearing Youth
Gage Park, 2411 W. 55th St. Camp Sign: June 26–July 7 and July 24–August 4; ages 6–14; $53 for Chicago residents. Leadership Camp: July 10–July 21; ages 15–18; Free. Monday–Friday, noon–6pm. (773) 796-3525. bit.ly/GageParkCampSign1, bit.ly/GageParkCampSign2, and bit.ly/GageParkLeadership
Camp Sign, run by the Chicago Parks District, is designed for children with hearing loss; the accompanying Leadership Camp is open to teenagers who are deaf or hard-of-hearing, or the children of deaf parents. Camp Sign attendees will have access to a range of summer adventures, from swimming and indoor ice-skating, to kayaking and fishing, to arts and crafts. Leadership campers will join in on fun outdoor activities and cross-city excursions with kids at Camp Sign, while also participating in park services and team building games. (Hafsa Razi)
Fun in the Sun Summer Camp
University Church, 5655 S. University Ave. Session I: June 26–July 21, Session II: July 24–Aug 18. Monday–Friday, 9am–3pm. $300/session. Before and after camp care (7am–9am and 3pm-–6pm), $25/week. Must bring bagged lunch. (877) 379-3616. taylorservicesyouthorganization.org
Taylor Services Youth Organization is hosting two sessions of summer camp. Activities include daily field trips as well as morning academics like reading, writing, math, science, and a poetry workshop. There is also a sports program. All activities will be age appropriate and an afternoon snack will be provided. (Adam Przybyl)
Morgan Park Academy Summer Camp
Morgan Park Academy, 2153 W. 111th St. June 12–August 4, various dates and times June–August. Prices vary, starting $95. Grades pre-K–8. (773) 881-6700 ext. 230. mpasummercamp.org
Have you ever wanted to join a theater group? What about making your own bath and body products? Do you want to become an ancient crime scene investigator? Morgan Park Academy will offer all kinds of programs this summer for kids between the ages of three and fourteen—academic, recreational, and sports camps. Come learn about robotics, play basketball, and train your magical powers at Hogwarts' summer term. (Adam Przybyl)
Did you like this article? Support local journalism by donating to South Side Weekly today.