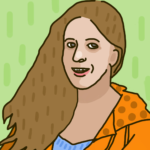 According to recent reporting by DNAInfo, 15th Ward Alderman Raymond Lopez has proposed using around $400,000 from the ward's infrastructure budget to install traffic circles and speed bumps in Back of the Yards (particularly in the area around Davis Square Park) in an effort to combat crime. The idea, according to Lopez, is that putting speed bumps and traffic circles on intersections around major parks will "restrict the amount of traffic coming into the [park] area," "a definite deterrent to those gang members accustomed to driving in, shooting and speeding out."
The area surrounding Davis Square Park (at 44th Street, just west of Ashland) is known as "Halo City," home of the "Latin Saints" gang, which used to be known as just "The Saints" when the neighborhood was dominated by Polish immigrants. Currently, 47th Street serves as the rough boundary between Latin Saints territory and the territories of other nearby gangs, such as La Raza, Two-Six, Satanic Disciples, and others.
Gang conflict has been an issue in Back of the Yards for decades. Even though the neighborhood's demographics have changed considerably over the years, the problem persists. One has to ask, is stopping crime really as simple as installing speed bumps and traffic circles?
The answer: of course not. There are multiple root causes of gang violence in this area, but none of them have to do with pavement.
According to the 2010 census, over one-third of Back of the Yards residents were under the age of 18. This is much higher than the 22 percent average citywide. Not all gang members are under 18, and certainly not all individuals under 18 are in gangs, but the prevalence of youth gangs in splintered factions tied to both imagined and real geographic boundaries must be addressed. Alternatives to gang life, like after-school activities, can provide a stepping stone, but according to a 2015 survey by the Resurrection Project, around 60 percent of youth are not participating in after-school or youth programming, even though "100 percent of focus groups targeted violence as a major hindrance for youth and families."  Program costs, lack of information about available programs, and safety concerns were listed in the survey as top barriers for parents in terms of their children's participation.
To add insult to injury, a city-run mental health clinic on 43rd and Ashland was closed in 2012, along with five others across the city. Cuts to public schools have left many area students with less access to counselors and nurses. To put it simply, it's a perfect recipe for youth gangs to flourish: a high concentration of youth in an area struggling with poverty, a lack of accessible youth programming that could provide an alternative to gang life, a lack of mental health services to combat PTSD and other ailments, and a lack of support staff at schools to help mediate conflicts before they escalate. The safety nets that can help deter gang activity are being whittled away year after year, budget cut by budget cut.
Apart from the preventative measures that could help combat crime in Back of the Yards, another challenge includes dwindling numbers of police officers throughout the city. Earlier this year, Alderman Lopez procured help from the Cook County Sheriff's Office by having additional law enforcement personnel deployed throughout the neighborhood, but residents were divided over this decision. Some were grateful for the extra police presence, while others just felt it was merely a band-aid for a much larger and more deeply-rooted problem. The Cook County sheriff deployment was only temporary. Statistics regarding stops and arrests during this period aren't immediately available.
And even when police officers arrest suspects for violent crimes, such as weapons violations, there are many documented cases involving the offenders getting probation, early parole, or light sentences. In 2013, there were thirteen people (including a toddler) shot in a single incident in Cornell Square Park in south Back of the Yards. One of the shooters had been previously convicted of a weapons offense in 2012, but instead of spending three to seven years in jail, he was given a four-month "boot camp" and released back into the public, only to help perpetrate the Cornell Square Park incident about a year later.
Suffice it to say that there are many challenges to combating Back of the Yards crime. Speed bumps around a park won't affect any of those issues. In fact, they may just prove to be more of a hassle. Shooters don't always use vehicles. Many times they are on foot. Even when they use vehicles to conduct a drive-by shooting, they aren't always worried about damage to their getaway vehicle. However, speed bumps can be problematic for responding emergency vehicles, such as police cars and ambulances, and are at minimum an inconvenience for area residents who are not involved in criminal activity.
I simply don't see $400,000 worth of speed bumps and traffic circles making much of a dent in crime statistics if the root causes behind crime aren't sufficiently addressed. Also, the speed bumps and traffic circles will only be added near Davis Square Park, yet there are other parks that have had shootings within the last few years (Cornell Square Park, Little Venice Park, etc.), not to mention all the shootings that occur on blocks that are nowhere near a park.
The funding comes from the infrastructure budget, so I understand that it can't necessarily be re-appropriated for youth programming or mental health, etc. But as Alderman Lopez is a staunch supporter of Mayor Emanuel, who shuttered our mental health clinics and public schools, and continues to advocate for public school cuts, I don't foresee him fighting hard for the amount of preventative programming and community resources we require. Hopefully I'll be proven wrong.
This column was originally published on The South Side Spotlight, a blog run by Naomi Ezquivel, on August 6, 2016. Naomi has been a homeowner and resident of Back of the Yards since 2014. She currently works in the public safety field and is passionate about social issues, especially immigration reform, public education, and mental health. She also serves as a board member for UNION Impact Center.