This week on SSW Radio we dug up the past, listening to art and music performances from the 2017 archives, welcomed back a host, and announced an upcoming special interview.
If you've been a long-time SSW Radio listener, you'll hear a familiar voice back on the airwaves. That's Sam Larsen. He returns as host alongside Olivia Obineme after spending a couple months studying in India.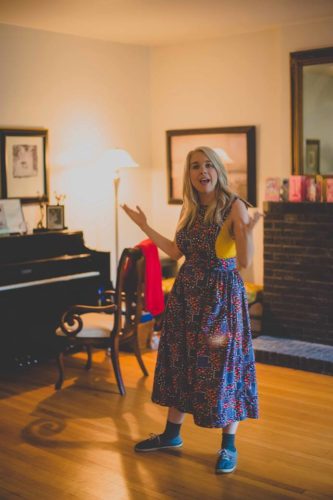 We spent the hour taking you back to a previously covered event from 2017 having never been aired before: the Chicago Home Theater Festival.
CHTF made its debut in 2012 by a group of producers "with an intention to disrupt historically entrenched race and class divides and continues to re-imagine safety and accessibility" in the city. The festival has attracted over 5000 neighbors to enjoy different performances of music, spoken word, and more by over 500 local artists from the comforts of strangers' homes and public parks throughout 25 neighborhoods in Chicago.
South Side Weekly's Erisa Apantaku chatted with Natalie Moore and Rodney Falls, a couple living in Hyde Park, who made their apartment a stage for local artists during the festival and talked about their experience.
In the program you can listen to performances by multidisciplinary artist Maggie Kubley and Afro-Caribbean poet, writer and community organizer Frankiem Mitchell.
Later, Apantaku takes us behind the scenes with an interview with CHTF producer Lydia Ross to discuss the festival —the rewards and challenges that comes with her role in helping coordinate such an event.
To close out the show, we announced our upcoming interview with Emmy award-winning writer Lena Waithe.
The Chicago native, known for her work in the award-winning Netflix series Master of None, is back in the spotlight for an original Showtime series of her own, called The Chi.
South Side Weekly hosts Olivia Obineme and Erisa Apantaku chat live with Waithe,  Tuesday, January 23, during the Weekly's radio hour.
Have you seen The Chi, yet? If you have a question or comment you want to share, tweet or leave us a voicemail at 224-215-1890 and we might share your question during the show.

SSW Radio is the Weekly's radio hour, featuring stories and interviews from the people of the South Side of Chicago. SSW Radio airs Tuesday afternoons from 3pm-4pm on WHPK 88.5 FM.
✶ ✶ ✶ ✶
Support community journalism by donating to South Side Weekly