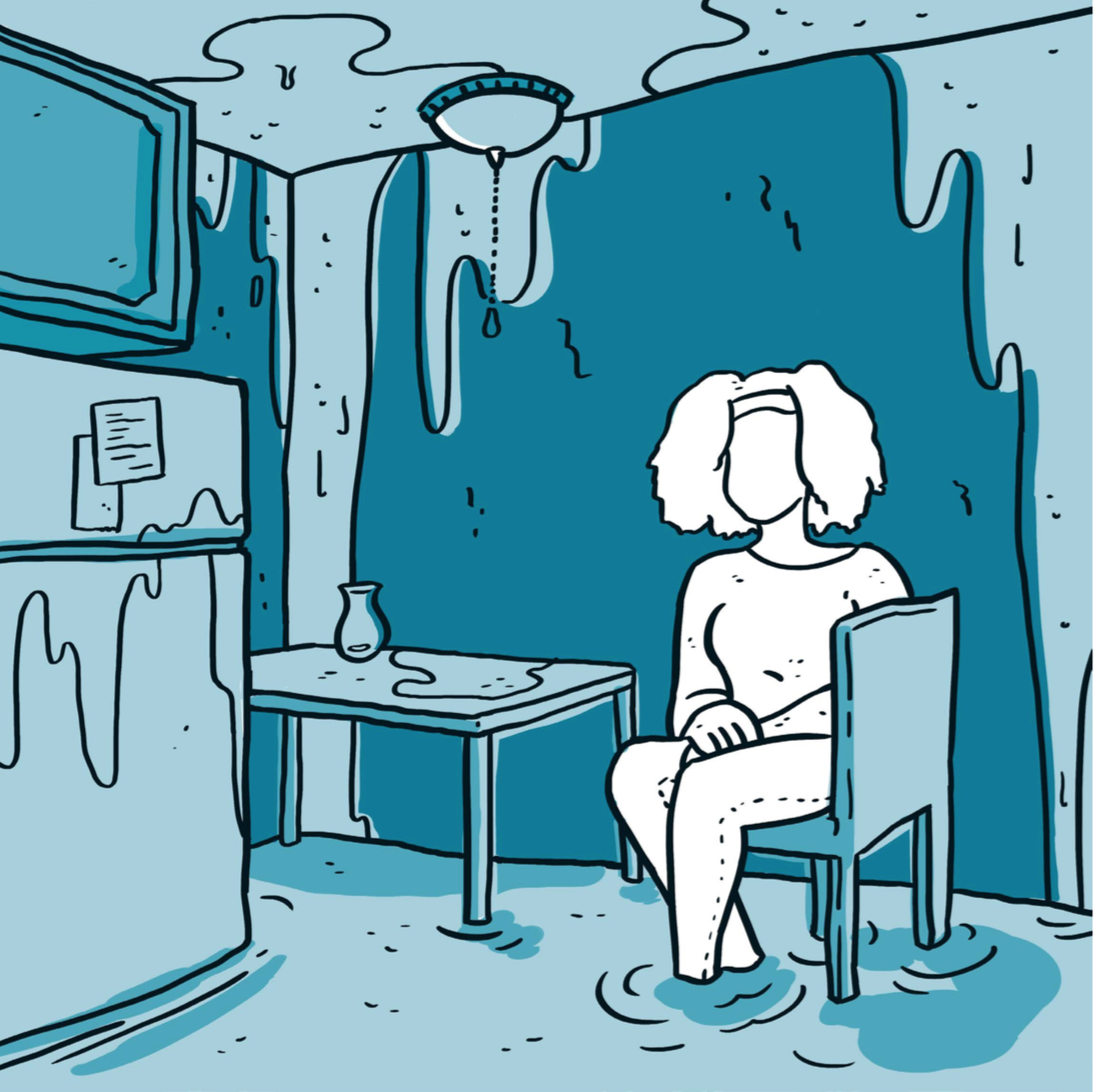 On March 26, 2016 at 2:31pm, a distress call was made to Chicago's 911 center. Through loud sobs the caller identified herself as a twenty-one-year-old African-American female in the midst of a mental breakdown. "I don't want to hurt myself but I need help" was the last thing she said before dispatchers hung up.
Six minutes later, two EMTs and seven CPD officers showed up to her South Side residence. The caller was me; I wiped my face on the sleeve of my jacket as I opened my door to the paramedics waiting in the hall. The taller one said, "Come with me," while the other held a folded-up stretcher in his hand. Though I was glad to not be alone anymore, I was still distraught—and I froze once I saw the slew of male oficers, who seemed unhappy to be there and showed no sign of concern about my situation. So I stepped behind the EMT as I tried not to noticeably cry or make any sudden movements to ensure my safety.
At the top of my mind was Quintonio LeGrier, an allegedly mentally ill nineteen-year-old who was shot and killed by police responding to 911 calls the day after Christmas last year. But that's just one example; according to the Treatment Advocacy Ceter, one in four people killed by police has a severe mental illness. Only fifteen percent of Chicago police officers have gone through specialized training (known as Crisis Intervention Team or CIT) to handle mental health cases, says Amy Watson, a sociologist and expert on the subject. Chicago Police data show only forty-two officers in the 3rd District (including parts of Hyde Park, Kenwood, Woodlawn, South Shore, Auburn Gresham, Englewood, Washington Park, Avalon Park and Chatham) have been CIT certified in the past three years. That means even when people call into 911 specifically asking for mental health help, it is difficult to ensure that a CIT-trained officer is dispatched.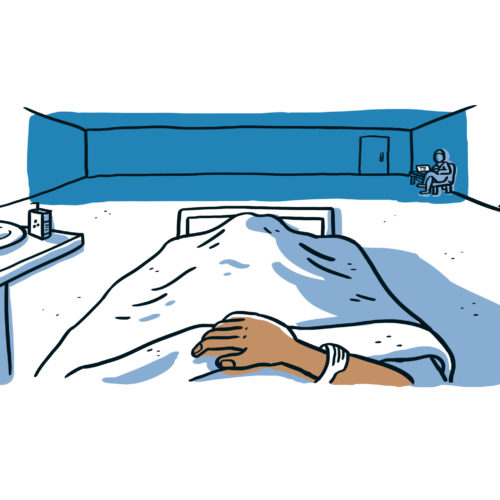 Once I was safely in the ambulance, I was taken to the University of Chicago emergency room. I changed into a thick green hospital gown while all of my other belongings were taken and locked away. There was a bed in the room, a yellow overhead light, and a tray to the left of the bed. I sat there for eight hours as a man sitting in the corner with a computer silently typed notes about my every move. Finally, a young, female resident with medium-length brown hair entered the room and gave me a psychiatric evaluation. I was as honest as I could be about my previous diagnosis of major depressive disorder, my PTSD, and the emotional turmoil I was facing in the moments that led to me seeking help: at the time, I was 300 miles away from any family, eight weeks pregnant, and my mother was losing her battle with terminal cancer. I was scared and alone and wanted help—not isolation.
As alarming as that sounds, long wait times for psychiatric help aren't uncommon. According to the CDC, average wait times in emergency rooms are at least two hours—even longer for those in psychiatric emergencies.Th e American Psychological Association task force on emergency psychiatric services released a report stating that psychiatrists should see patients within two hours of initial presentation and every eight hours during their stay. At the University of Chicago, where I was first admitted, there is no psychiatric ward, and all psychiatrists are on call rather than staffed regularly. The medical center declined my requests to speak to them regarding my experience.
Lack of reliable emergency treatment is especially problematic in Chicago; WBEZ reported last year that emergency room visits for mental health had skyrocketed since 2009, with an extra bump in 2012, when the city closed half its mental health clinics. Meanwhile, as a 2009 report by the Bazelon Center for Mental Health Law pointed out, inadequate education and training has left ER physicians "ill-prepared" to deal with an increasing number of mentally ill people seeking emergency care.
The resident at the UofC eventually returned to my room and offered me the choice of intensive outpatient treatment or inpatient treatment at a psychiatric hospital. When I opted for outpatient, she said she needed my parents to confirm. Unfortunately, my mother was in hospice and my stepfather was at work and missed the call by two minutes. The resident did not leave a message, so he didn't think to call back. Despite my objections, I was admitted into an inpatient facility.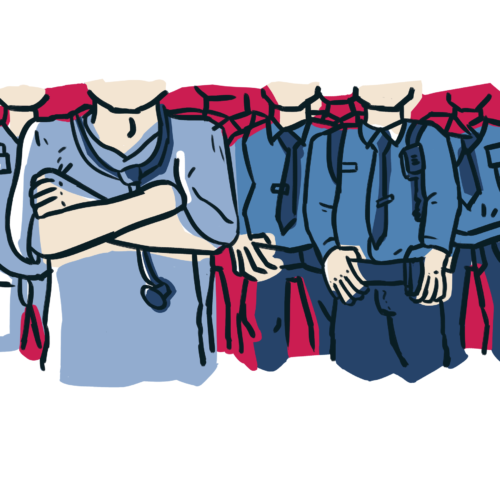 Feeling hopeless and as if I was being punished for asking for help, I cried and flipped my food tray, empty dishes clattering to the ground, as police officers from the University of Chicago's private force surrounded my bed and the resident walked out of the room. I spent a total of two days in that room with little human interaction; I was ignored as I begged for an ultrasound to make sure that my baby was safe. I wasn't allowed to take a shower or even go to the bathroom; hospital workers brought in a portable toilet for me. I kept thinking, this isn't why I wanted to go to the hospital, to be treated cruelly like this.
On March 29 at about 9pm, a private medic service arrived to transport me to the University of Illinois Chicago, the only hospital in the city willing to take my low-acuity case. Upon arrival I was given a physical exam, a list of the rules (prohibited items, visiting hours, etc.) and a set of fresh clothes. Shortly after 7am the next morning, a tall, light-skinned man with a five o'clock shadow and a long face introduced himself to me as Dr. Timothy Yovankin. I spoke with him, another psychiatrist, and four medical students, answering all their questions and reiterating that I felt as if I was being punished for being honest and seeking help. I told them I was exhausted and had regretted calling 911 almost as soon as I'd arrived at the first hospital. After a few hours, Dr. Yovankin said he had gotten in touch with the father of my child and my stepfather, who both said I'd benefit most from outpatient therapy, and he agreed.
He also told me a social worker was looking for treatment options for me, and that I'd be discharged soon. That afternoon, I was released. The hospital gave me a bus card to get home, a doctor's note in case I needed it for work, and two prescriptions for prenatal vitamins. What I did not receive was a discharge plan, which the APA task force report recommends. Weeks later, while researching this story, I returned to the hospital to collect my medical records and saw that I had been diagnosed with another illness, despite never having been informed of this. UIC Medical Center also declined my requests to ask questions about my stay there.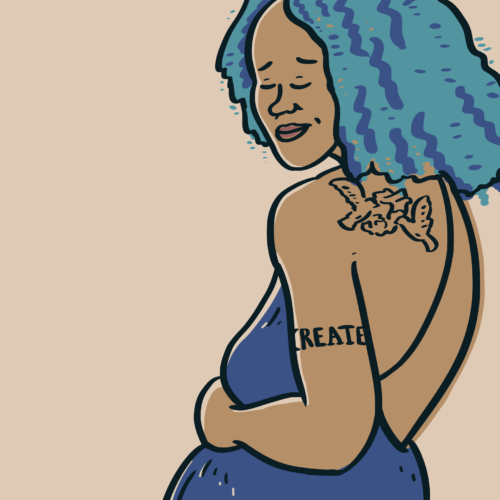 It's been more than three months since I made that 911 call, and I've decided to leave the city of Chicago so that I have more options in my future treatment. I'm feeling stable and more motivated than ever, which could be because of my desire to be healthy for my unborn child. My mother has since passed away and I have been seeing the therapist recommended by the UIC social worker twice a week.
For those in situations like mine who feel there are little to no options, Watson, the sociologist, offers alternatives to calling 911. She speaks highly of NAMI's (National Alliance on Mental Illness) Living Room, which offers free services in non-clinical settings with licensed therapists, nurses, and peer counselors in Deerfield and Skokie. Those who have suicidal thoughts can call the National Suicide Prevention Lifeline at 1-800-273-8255.
This essay was published in collaboration with City Bureau, a Chicago-based journalism lab.