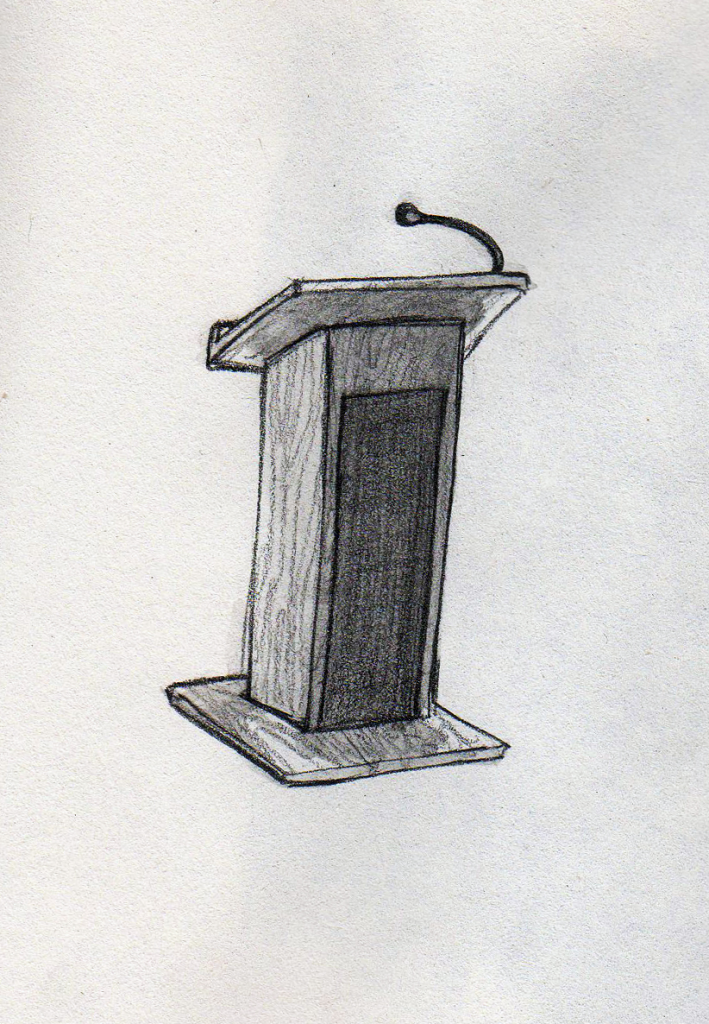 I came in second," says Sherri Allen-Reeves, stepping out from behind the lectern, "and most people who come in second and not first would feel defeated." Her voice is powerful, but not too loud. Each word is measured, patiently delivered. "But I felt like I had come in first because for the first time in my life, I competed. I stepped out of my comfort zone, and I did something I had never done before."
Her tone crescendos as the address continues, commanding the room's attention. "Every time I stand up here I come in first. I take charge of my life, I take control of my destiny." Allen-Reeves's speech is a natural pitch for joining the Englewood Toastmasters Club.
To describe Englewood Toastmasters as just a public-speaking club would sell it short. Members hone their speaking abilities at every meeting, and some compete in speechmaking competitions against their comrades from around the state, the country, and even the world—Englewood's club is one branch of a huge international organization, with 14,350 clubs in 122 countries.
Club president Charles Brooks has been a member of Toastmasters for almost twenty years—he was once a district governor within the larger organization's leadership—but he is no less enthusiastic than his greener colleagues. Brooks emphasizes that, though initially drawn to Toastmasters by the prospect of competition, he "got sidetracked with leadership."
They may come for the practical skills, with ideas of getting ahead at work or addressing a fear of public speaking, but the club's members stay for something else. The hook lies in the way Toastmasters helps build confidence, self-possession, and self-esteem—and then provides immediate opportunities for their use, giving both the fledgling speaker and the self-possessed veteran the rush of empowerment.
Allen-Reeves, who embodies the club's Word of the Day—"loquacious"—speaks of coming to see herself in an entirely new way through her involvement. "I always knew I had the ability to talk," she says, "but I was never comfortable talking in front of people. Now, I see that there's a conference coming up, and the first thing I think is, do I have something to talk about?"
The club takes an incremental approach, stressing improvement by small steps. The group that Brooks leads and teaches today, gathered on the second floor of the Kelly Library, is small; only a handful of people fill the tables arranged in front of the lectern, but members pop up and down to manage different parts of the meeting, their predetermined roles neatly indicated on the agenda. Everyone has the chance to take responsibility for something small, and guests are prompted to join in and speak up, to introduce themselves and take part in time set aside for extemporaneous discourse and chit-chat.
The Toastmasters avoid pressuring the timid, but that doesn't make their hospitality any less persuasive—it only takes a few minutes for them to get me up to the lectern, talking off-the-cuff.
Inherent in this dance between a concern for participants' comfort and an attempt to get them to step out of their comfort zones is the recognition of how serious the fear of public speaking can be. At one point, Brooks notes, "If it was some people's job to give the eulogy at a funeral, they'd probably rather be in the casket." It's a funny line, but it's also likely the experience of at least one person in the room. Newcomers talk about needing to building their courage, and one quiet neophyte maintains a sheepish expression for the entire meeting, declining a turn at the lectern. Nevertheless, she's made rapt by the skillful speaking before her and the thorough feedback process. By the end of the evening, she is one of two people talking seriously with Brooks about joining.
The Toastmasters frame the fear of public speaking as something to be overcome not in isolation, but as a part of a larger project to improve confidence and self-esteem, an endeavor they strive to help others with. Allen-Reeves has just started a Toastmasters club in Bronzeville, and she hopes to help residents of the supportive housing program run by the Renaissance Collaborative, the nonprofit she works for, find a sense of empowerment through public speaking.
Brooks, too, feels the need to pass on that sense of transformation. He became president of the Englewood Toastmasters, he says, because he knew there were people in Englewood who could use these skills. "But it has to be there for them to find," he insists. "We're there, and we're going to continue to be there."