On a bitterly cold night in early February, the reflections of twinkling string lights are dancing across the polished hardwood floors of Galaxie 2.0, a quasi-DIY space in Ravenswood. The night's all-ages show is a food drive and fundraiser for the Chicago Food Depository, an organization that distributes 159,000 meals daily to Cook County residents. The five-band lineup has drawn an impressively mixed crowd of suburban punks, hardcore music veterans, and South Side metalheads. Of the five bands playing tonight, four are hardcore bands from around the city and its suburbs. The five members of the one, lonely emo band—Habitats—all hail from either Little Village or West Lawn, neighborhoods on the South Side.
It may seem daunting to perform for a crowd of hardcore fans when your music is melodic and tear-inducing, but Habitats isn't fazed: these guys are used to being the odd band out on heavier hardcore and metal lineups. Even at Galaxie 2.0, a venue eleven miles north of their home, Habitats has drawn a handful of dedicated fans who nod along and know all of the band's lyrics by heart.
One of these fans is Christian Rojas, of Gage Park. A friend of some members of Habitats who attends every show he can—and occasionally hangs out with the band while they practice—Rojas estimates that, between live shows and private rehearsals, he has seen Habitats play more than eighty times in the past two years.
"I've always loved their sound and creativity with their music," Rojas said. "They get a sweet spot in my heart, and to see them live gives me this 'it's good to be back' feeling. Their music says a thousand words to me. Multiple stories, multiple emotions. Every song could make you feel as if they were in your shoes at one point…everything is raw, from the heart."
When Habitats began playing shows with their current lineup in the spring of 2017, their first few DIY gigs were in backyards around Little Village. Neighborhood musicians, friends, and even former bandmates from past projects helped the band book shows and make connections in South Side metal and punk DIY music communities.
Over the course of one year, Habitats went from being the soft opening act on extreme metal shows to being a band with a solid draw on mixed-genre lineups—but they remained the lone emo rock band on nearly every show they played on the South Side. Even when Habitats ventured to other parts of the city, they were never booked on bills that featured artists with a sound similar to their own.
It wasn't until meeting Alan Martinez, the vocalist and guitarist of South Side indie rock band Crystal Killers, that the band realized there were other South Siders creating music that complemented their own sound.
"In the beginning, we were definitely the oddball on every lineup," said Habitats bassist Louie Flores. "Just because there was no one [playing music] like us."
"Well, on the South Side," added Habitats guitarist Elijio Guel. "But maybe on the North Side there was."
[break]
A few days before the show at Galaxie 2.0, the members of Habitats and Crystal Killers are hanging out in Crystal Killers' practice room at the Rock Spot, a converted warehouse in Archer Heights that rents out small practice rooms to bands and musicians. The room is packed with music gear, comics, a couple of Guitar Hero guitars covered in stickers, and a ring of assorted folding lawn chairs positioned around a 30 rack of Budweiser. Habitats vocalist Erik Salazar offers me a beer as the members of both bands reminisce about how they initiated a friendship nearly nine months before.
"I had met Habitats in the early summer of 2018, and I noticed that we fit very good together on the same show. We were similar in style. We can get low and clean, but we both have heavy drops," said Martinez. "Although hardcore is a particular genre that's big on the South Side, I thought bands like Habitats or Crystal Killers could switch it up a bit with something that's on the softer side."
After introducing himself to Flores back in June when their bands played a show together in West Lawn, Martinez began running into the members of Habitats at other shows, usually in Pilsen and Little Village. The two bands formed not only a friendship, but a connection that allowed them to begin playing shows together and discovering other South Side bands, such as Sawbuck and The Duke, that shared their alt-rock sound but were also playing primarily hardcore and metal shows because of their proximity to the local hardcore and metal scenes.
Martinez is well aware that there are DIY rock scenes on the North Side that regularly book entire shows of indie rock bands that Crystal Killers would fit perfectly with. However, one of the reasons Crystal Killers is often the lone rock band on lineups is because the band members' roots, and networks with other bands and promoters, are in South Side neighborhoods where DIY metal and punk shows are the norm instead—and expanding those networks to the North Side hasn't been easy for Martinez. For nearly a year now, Martinez has made it his goal to break through to the North Side indie/college rock DIY scene and begin playing indie rock shows, but he's not quite sure how to make that goal a reality.
"I want to get into that scene so bad, and it's so hard," said Martinez. "I actually had a conversation with a band who plays on the North Side. I was talking to the drummer, and he had been asking me, 'You guys are from the South Side, right? I want to play shows over there, but I feel like I can't find any. I'm tired of the North Side.' I thought it was funny that I was trying to get into his neighborhood scene and he was trying to leave."
"It's all really about who you know," added Flores. "[Habitats] doesn't usually get asked to play on the North Side, and we don't know anyone on the North Side."
It's not that the members of Crystal Killers and Habitats haven't tried to make those North Side connections, either. In addition to going to shows and introducing themselves to bands they'd like to play shows with, both bands are active on social media, make posts in online music networking groups, such as DIY Chicago and not diy not chicago, and advertise their shows and music on several social media accounts.
"Social media is really big with anything you do. You always have to keep up with the connections you meet," said Crystal Killers bassist Frank Torres. "It's one thing to meet in person, but it's another thing to lose that connection with that person without using social media. It can be stressful because I feel like I'm on the grind on social media and on my phone ninety-nine percent of the time. I think it pays off, though, when you get to play shows with the people you made online connections with."
"Sometimes it does come person-to-person," added Crystal Killers drummer Gio Reyes. "But a lot of times you see something online about needing a band for a show and you answer the call."
And sometimes, once you've answered that call, new connections are formed, which allows bandmates to propel themselves further into a DIY scene and organize shows with new friends. While Crystal Killers finds social media helpful, they prioritize real, authentic connections with fellow musicians over online introductions and collaboration.
"I tried to get on shows where I thought [Crystal Killers] would fit but, more than anything, I didn't notice people reaching out to us for shows until I started going out to shows myself and showing that appreciation," said Martinez. "A lot of people like that, when they can see you bring people and go to shows yourself. That's the kind of people I want on my show. How can you expect anyone to support you if you're not supporting others?"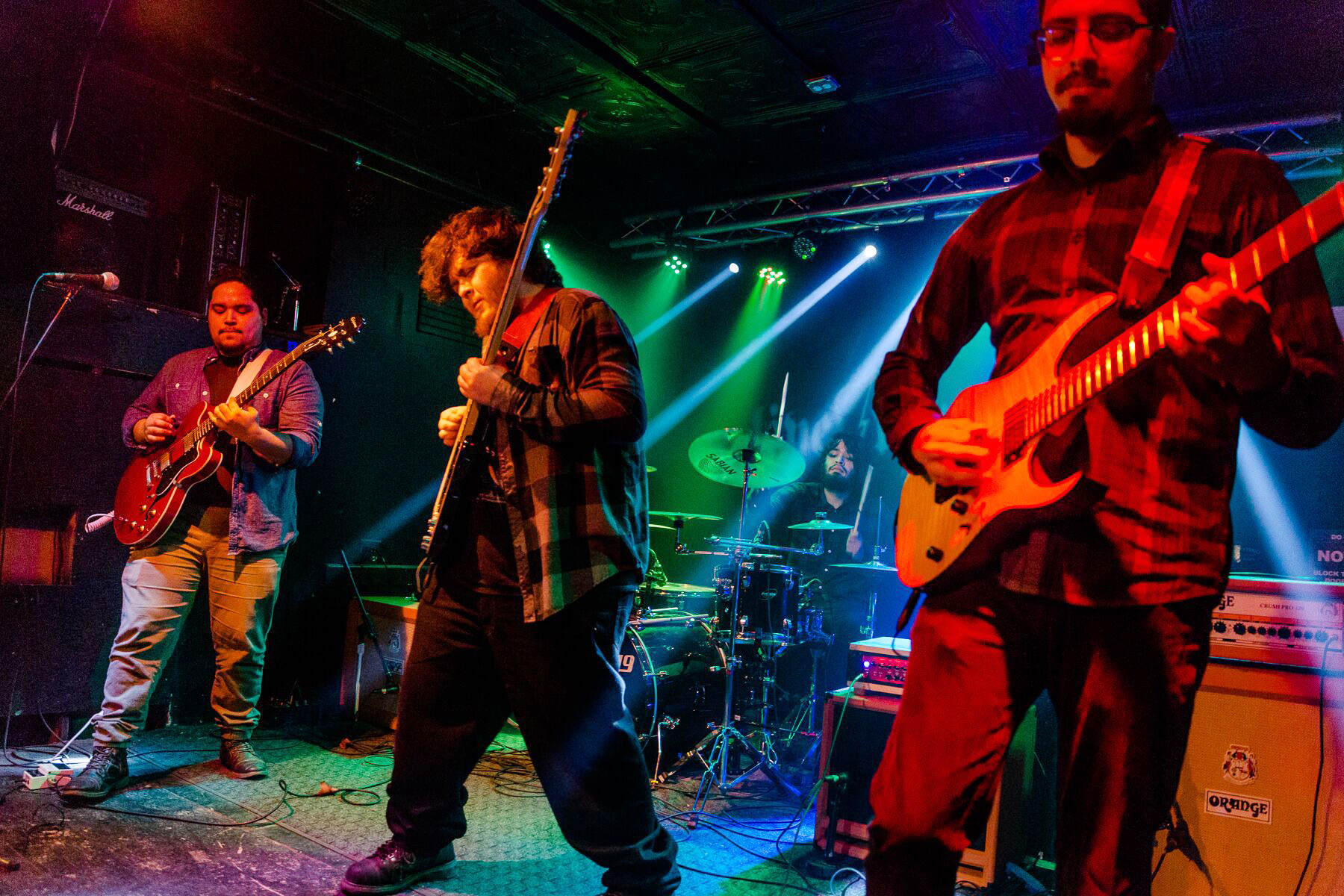 [break]
Alicia Maciel, a South Side native and the founder of nonprofit booking agency Fifty50 Shows, agrees with Martinez about paying your dues before you can expect your band to appear on a lineup in a new scene. Although Maciel had always attended concerts around the city, she didn't break into the city's North Side DIY indie rock scene until she began attending school at DePaul University. After creating a Facebook group where students could talk about local music, Maciel began to form connections with the nearby college rock scene, which led to her founding Fifty50 Shows during her junior year of college.
As a promoter who books indie rock shows at North Side venues like Schubas in Lakeview and Subterranean in Wicker Park, as well as at DIY venues in Logan Square and Humboldt Park, Maciel finds new acts to book both in person and online.
"As long as bands have at least one social media platform and one music streaming platform, it helps me get to know the band as well as imagine their potential and possibilities in the upcoming year," said Maciel. "There's a lot of musicians either too anxious to socialize or put themselves out there. The best way to build yourself up is to reach out with welcoming arms and a warm smile."
Maciel added that her criteria for booking new bands are: 1) Does the band have an organic sound that's new and fresh? and 2) Are the members of the band respectful, diverse, and friendly?
If you apply Maciel's criteria to Crystal Killers, a Latinx indie band that combines Latin influences with their unique style of heavy alternative rock, the band seems like a perfect fit for one of Maciel's shows on the North Side. But regardless of their efforts and the fact the band has played a handful of shows on the city's Northwest Side, Crystal Killers has struggled to break into any DIY communities other than the punk and hardcore scenes that they already frequent on the South Side.
However, there are other South Side bands that have become regular North Side performers—and on the surface, their story isn't too different from Crystal Killers'.
[break]
At just fourteen years old, the members of Ex Okays, an indie rock band from Mount Greenwood, began playing bar shows around the South Side of Chicago. Although the underage band wasn't a fan of playing these shows, there wasn't much of an alternative, unless they wanted to play shows in nearby Beverly, where the local music scene consisted of the same thirty to forty people attending shows with the same lineup of local rock bands.
"Honestly, those shows really sucked," said Ex Okays guitarist Aidan Cahill. "We would play our set and then they would immediately kick us out."
The five-piece indie band met me at the John T. Richardson Library on DePaul University's Lincoln Park campus. The library is a fair commute for all of us, but it only made sense to meet these South Siders at a location near the venues where they frequently perform. At first, the tension was high as the band members reflected on their experiences booking their first few gigs on the South Side.
"I remember one show where it was winter, maybe January," said Ex Okays vocalist and guitarist Johnny Cummings. "We were allowed to load in, and then had to wait outside until we played. And then we had to load out and leave as soon as we finished playing."
Ex Okays was fed up with being unable to hang out at their own shows. Even more concerning, the band had been getting ripped off by crooked "pay-to-play" promoters while playing the pub circuit.
"Pay-to-play" shows require that bands either make a deposit or buy tickets from the promoter, which they can sell to friends, family, and fans in order to make their deposit back. While a band with a large fan base might not find this a difficult feat, Ex Okays' small following at the time was comprised of fans their age—fourteen- to sixteen-year-olds who didn't have the disposable income to buy a ten-dollar ticket, and who certainly couldn't get into a bar to see a 21+ show.
The band decided it was time to cut their South Side ties and find shows outside of their usual haunts. After joining local networking groups on Facebook—the same ones that Crystal Killers and Habitats frequent—the band secured their first show on the North Side by responding to a Facebook post.
"When we got there, we definitely thought we were at the wrong place," said Cummings as the rest of his band members laughed and nodded in agreement. "It was just some kid's apartment in Wrigleyville, way up on the third floor."
Unbeknownst to Ex Okays, they had stumbled upon one of the many DIY house and apartment venues that make up the North Side's indie rock scene. After their first house show, the band knew it had finally discovered the kind of indie-inclusive music community they had been unable to find on the South Side.
Wicker Park, Logan Square, Roscoe Village, and Lakeview are areas where the Ex Okays frequently play and attend shows. According to them, they're some of the few South Siders to frequent this music scene. They'll tell you that they're usually the youngest musicians at the shows they play, too.
In part because of the North Side scene's proximity to DePaul University in Lincoln Park, its shows are frequented by college-aged fans, according to Cummings—but the band doesn't see their music scene as an extension of college partying.
"It's not just a party. People who come to these shows are here for the music," said Cummings. "I think the reason college kids are drawn to this indie scene is because the music is relatable, at least lyrically."
The band also added that shows being accessible from the CTA may be a large factor in whether an indie rock fan decides to see a show in a new neighborhood or at a new venue. But even when the band played Club Soda, a DIY venue in Pilsen easily accessible via the CTA Pink Line and several buses, Ex Okays noticed that the show drew a large crowd—but most of their North Side fans weren't in attendance.
Cummings noted that many North Side fans saw no reason to leave their scene to see a show across the city when there are already plenty of DIY shows occurring each weekend on the North Side. However, when asked if members of their music scene would venture to the South Side to see an indie rock show or to discover bands outside of their scene, the members of Ex Okays all briefly paused before offering a collective "no."
The Ex Okays are unsure why they were able to make the transition from the South Side pub scene to the North Side indie scene, but it in a scene that depends on who you know—and in a city as divided as Chicago—race and background may have been a factor. Two-fifths of the Ex Okays are white men, but the members of Habitats and Crystal Killers are not. Mount Greenwood is 83.4 percent white, while 80.1 percent of West Lawn and 70.7 percent of Pilsen—the two neighborhoods that all the members of Crystal Killers and Habitats are from—are Hispanic.
While none of the members of Crystal Killers or Habitats felt confident that race had played a factor in their struggle to book North Side shows, they acknowledged that it may be a factor they had never considered.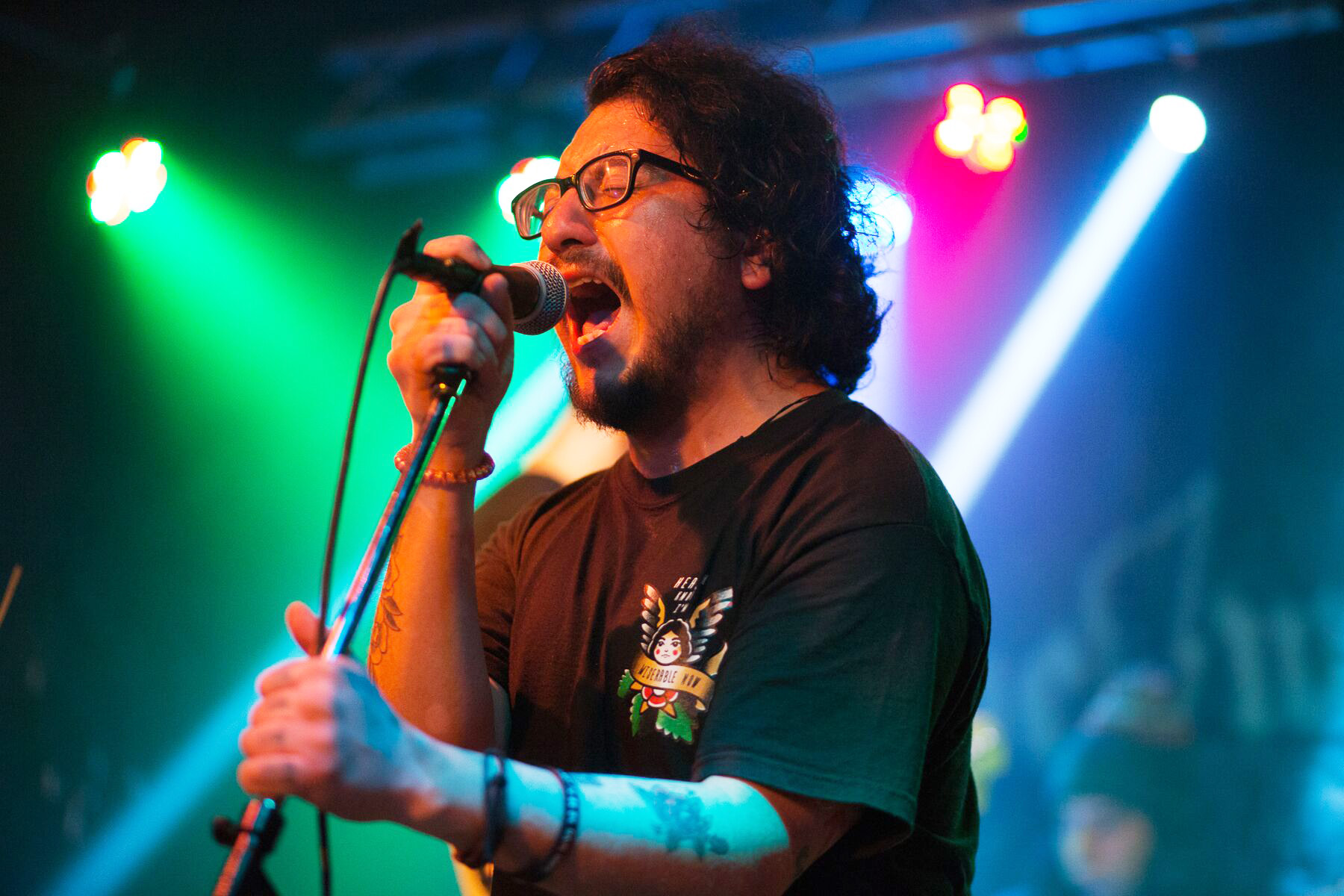 [break]
If North Siders won't leave their network of garage and house venues to check out indie rock bands on the South Side, then it seems like the burden of spreading the music of South Side alternative rock bands falls solely on the band members themselves. But, back at the Rock Spot, some of the members of the South Side bands aren't immediately interested in breaking out of their scene, or even especially interested in playing with bands whose sound resembles their own.
"I don't really have a preference on playing with bands similar to me," said Habitats vocalist Erik Salazar. "It's really good to have some diversity between bands. Everybody gets a little taste of different genres."
In fact, many of the members of Crystal Killers and Habitats enjoy playing among friends in shows around Little Village and Pilsen as the "oddball" on the lineup. Flores views playing shows on the South Side as an opportunity for other outlier bands to find community with South Siders who may not be playing the same music as each other, but can at least find solace in the fact that there are other alternative rock bands making music that isn't heavy metal or hardcore.
"We're starting to see more bands in our scene who are doing something similar to us," Flores said. "I feel like now we're still playing mixed genre shows, but it's more even—there will be three bands like us and then three bands that are heavy. I'm still a fan of it being mixed; I have nothing against it and I like both genres, so why not?"
Martinez, however, is still a bit frustrated that his efforts to break into Chicago's North Side indie scene have been met with nothing but resistance.
"I do try to reach out to people [on the North Side] but I notice that it's different. We're received differently. It's harder to get on those shows, too," said Martinez.
Crystal Killers' drummer, Gio Reyes, added that North Side DIY venues may be hesitant to include unfamiliar acts on their lineups because they don't know whether a new band will draw a crowd. Like the members of Ex Okays, Reyes has his doubts that South Side fans would travel across the city to see his band play on the North Side, when they could see a variety of other shows happening in their own neighborhoods.
"How many people can you bring, and how far will they go for you? When you're talking about South Siders, trying to get a whole twenty to thirty people to go north gets difficult," said Reyes.
On some level, the venues these bands play in and the circles they move in are determined by their fans. For Chicago music fans looking to help out these artists, leaving your neighborhood to see local talent play across the city can have a big impact on the acts talent buyers and promoters choose to support.
"The South Side shows we play will have a good pull—on the North Side, it gets a little risky. If we play with bands that everyone [on the South Side] knows, then people will go," said Flores. "That's why it's good to have a fan base in the South Side and the North Side."
Habitats' latest EP, Dead Dreams, is available on Spotify, Bandcamp, Apple Music, and Google Play.
Crystal Killers' music, including their latest single, "You Don't Know Why," is available on all streaming services.
Ex Okays will be playing a house show at CTHouse on April 5 with Misunderstood, Pam Macys, the Hazy Seas, and more. Their latest single, "Involvement," is available on Spotify and Bandcamp.
Maciel's next event with Fifty50 Shows is on April 16 at Subterranean with Café Racer, Mia Joy, Claude, and Zilched. All proceeds will benefit Girls Rock! Chicago.
[break]
Correction, April 4, 2019:  An earlier version of this piece incorrectly noted that the majority of the Ex Okays were white men, when in fact three-fifths of their members are Latinx men and two-fifths are white men. Dominic Folino of the Ex Okays noted that the band is aware of the privileges they are sometimes afforded because of their two white members, and because some of the band's Latinx members are white-passing individuals. Ex Okays frequently work with bands that include women, people of color, and queer people as part of their effort to create a more inclusive and diverse DIY scene.
[break]
Nikki Roberts is a freelance journalist and radio DJ working in Chicago. She writes about music, culture, and social justice with a Chicago focus.