After four years of selling their brews at liquor stores, bars, and, of course, Maria's, Marz Community Brewing opened their long-awaited taproom last February. A year before that, Lo Rez opened its doors for business in Pilsen. Moody Tongue, also of Pilsen, launched the year before that. In fact, all of the South Side breweries sampled here opened within the last five years. In short, there's something of a craft beer renaissance happening south of Roosevelt—from professionals in wood-and-steel-converted-factory taprooms, to homebrewers in their garages and kitchens. For the third time, a group of Weekly editors—from amateur ale drinkers to aspiring aficionados—sat down at our Experimental Station office to try just a few of the beers that the South Side has to offer. After compiling our comments (some snarky, some sincere) and tallying up our numeric score (absolutely nonscientific and completely subjective), we present to you the 2018 South Side Beer Review.
✶ ✶ ✶ ✶
Whiner Beer's Hell Kitty Kitty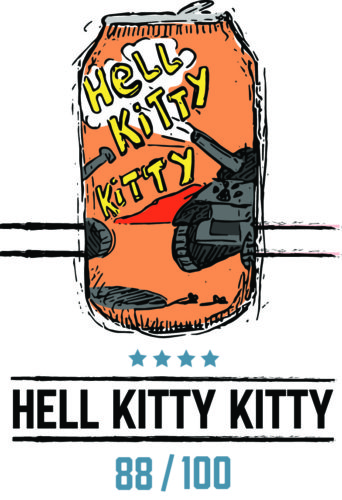 Whiner Beer has been brewing in The Plant—Back of the Yards's favorite closed-loop farm and food and business incubator—since fall 2015, and its taproom has been an essential feature since 2016. Aside from promoting "environmentally responsible brewing" and playing a role in The Plant's anaerobic digester, Whiner is the place to be if you're in the mood for barrel-aged French and Belgian beers. The taproom makes smart use of its home, with plants nestled in its tables and wood-fired pizza you have to venture up a couple flights of stairs to Pleasant House Bakery's space to order.
1400 W. 46th St. Wednesday–Friday, 2pm–10pm; Saturday, 11am–10pm; Sunday, 1pm–8pm. (312) 810-2271. whinerbeer.com
Hell Kitty Kitty Yeast-Fermented Belgo-American Pale Ale 7% ABV
Appearance: A hazy, summery gold—like sun behind clouds.
Label: Playful (and feline) as ever, in a lo-fi MS Paint way—we love the cats, the color, and all the small details, but admit we prefer our beer cans a little less warlike.
Smell: Wheaty and invitingly sweet—pay attention for a hint of orange peel.
Taste: Comes in sweet with appealing citrus notes and a light interplay of hops, making for a crisp finish. A slight, though not entirely welcome, white wine aftertaste.
Drinkability: As easy to drink as water (maybe even a little watery, if we're frank).
Opinion: This might be Whiner's most likeable beer yet—though certainly not its most interesting.
Rating out of 100 (median score): 88
✶ ✶ ✶ ✶
Motor Row's Dry Humor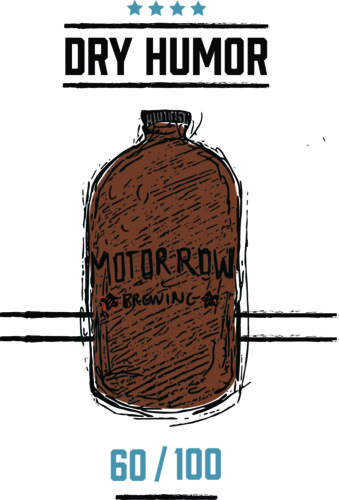 Taking their name from the neighborhood's history as a hub for car dealerships a century earlier, Motor Row Brewing has been serving up traditional Midwestern-style lagers and experimental Belgians from their South Loop headquarters since 2015. Our choice, the Dry Humor, is brewed with sixty pounds of orange blossom honey sourced from Kress Apiary in Northwest Indiana. Check out their taproom, located above the brewery on the second floor, to enjoy their drafts and a handful (or three) of complimentary popcorn.
2337 S. Michigan Ave. Monday–Thursday, 4pm–10pm; Friday–Saturday, noon–11pm; Sunday, 2pm–8pm. (312) 624-8149. motorrowbrewing.com
Dry Humor Blonde Belgian Honey Wheat 6% ABV
Appearance: Translucent, with a yellow-to-amber gradient and barely any head.  
Label: Clean, classic, boring Chicago themes on a clean, classic howler.
Smell: Light, sweet, and cheerful: we're transported to an apple orchard as we smell.
Taste: This mild, honey-buttery beer is pleasant enough if what you're looking for is a beefed-up Heineken.
Drinkability: It's easy to keep drinking, but will you remember it enough to keep drinking it?
Opinion: This inoffensive non-experience leaves something to be desired.
Rating out of 100 (median score): 60
✶ ✶ ✶ ✶
Lo Rez's Moiré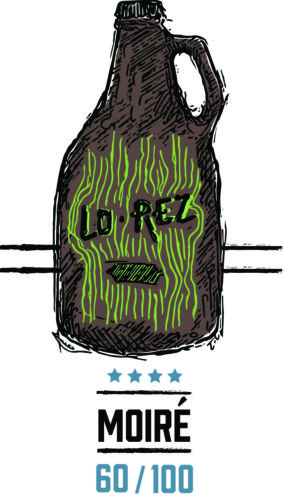 Lo Rez, one of the newest additions to Pilsen's burgeoning brewery scene, opened its taproom last spring. A bartender described their beers as "experimental takes on Belgian-style beers" to the intrepid Weekly editor sent to buy samples for the tasting. The Lo Rez beer chosen, Moiré, certainly fits that bill: a saison brewed with "one hundred cucumbers and two pounds of pink peppercorns." Check out their expansive wood-and-exposed-brick taproom to try all their drafts; their covered porch is a must-visit as the weather gets warmer.
2101 S. Carpenter St. Wednesday–Friday, 2pm–10pm; Saturday, noon–10pm; Sunday, noon–8pm. (888) 404-2262. lorezbrewing.com
Moiré Cucumber Saison 5.5% ABV
Appearance: A cool, lighthearted yellow, with the glint of sunshine dappling a hardwood floor.
Label: A sleek and smooth growler whose subtle green linework matches the beer's cool color.
Smell: Definitely quite a bit of cucumber in the nose—nothing unexpected here.
Taste: Like someone mixed ale, a bit of mint, and cucumber La Croix. Light at first (think bougie hotel lobby cucumber water) with a crisp, bitter finish that lingers.
Drinkability: Refreshing and light—perfect for a picnic and for fans of the experimental and bitter.
Opinion: We're not convinced that cucumber has a place in beer, but it was worth a drink.
Rating out of 100 (median score): 60
✶ ✶ ✶ ✶
Support community journalism by donating to South Side Weekly
✶ ✶ ✶ ✶
Marz Community Brewing's Bubbly Creek Scylla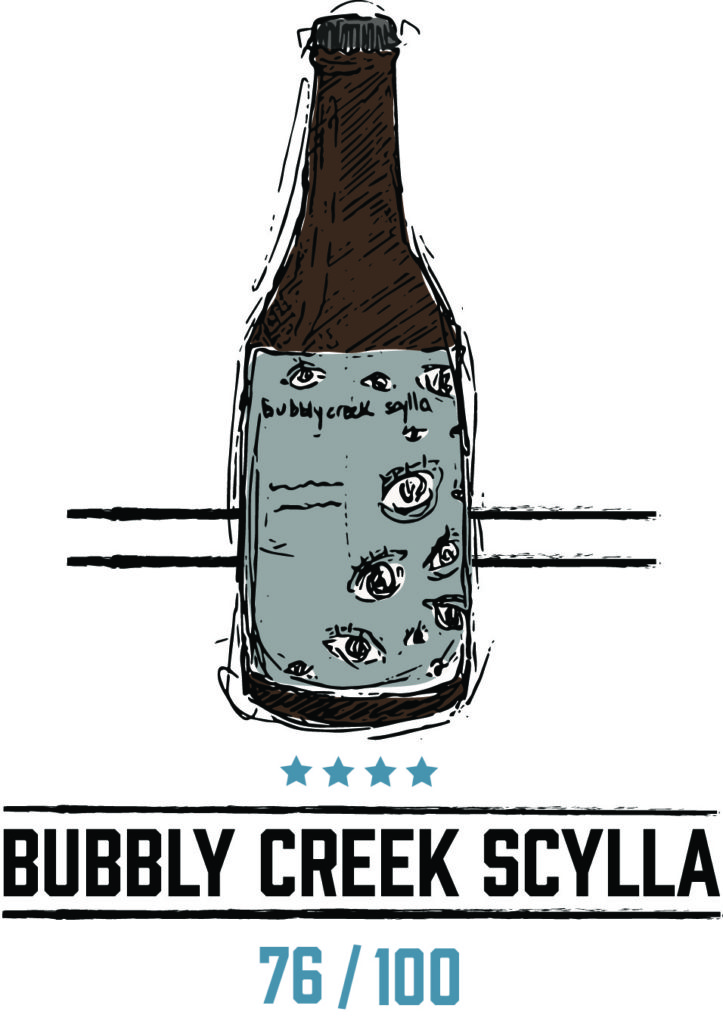 A self-described collective of "homebrewers, professional brewers and artists that found each other while drinking beers at Maria's Packaged Goods & Community Bar," Marz Community Brewing opened their own taproom in McKinley Park last February. Recognizable for its quirky label art and experimental brews, Marz has deep roots in the Bridgeport community. Ed Marszewski, owner and president of the brewery, also runs the Co-Prosperity Sphere, an art gallery and home to Lumpen magazine and 105.5 FM WPLN Lumpen Radio. Ed's brother, Mike, owns Maria's—a great spot to try Marz's newest offerings or pick up a bottle or two to go.  
3630 S. Iron St. Wednesday–Thursday, 11am–11pm; Friday, 11am–midnight; Saturday, noon–midnight; Sunday, noon–8pm. (773) 579-1935. marzbrewing.com
Bubbly Creek Scylla Barrel-Aged Brett Beer 6% ABV
Appearance: A very light, pale yellow-orange beneath a rich, foamy head.
Label: This label was polarizing, which is out of character for Marz (see our rhapsodizing last year), Some of us liked the mysterious bubbling eyes, but others found the label pretentious.
Smell: Is this kombucha? No, but the smell might fool you.
Taste: Seriously sour—so sour it's a caricature of sourness. After the shock factor of a crisp citrus funk, there are few other fruity notes and an uncompromising bitter finish.
Drinkability: The Bridgeport residents among us might want to deem this beer supremely drinkable based on name alone, but we'd recommend Bubbly Creek as a chaser in particular—shot of Malört, anyone?
Opinion: Sour beer partisans, take note—whether you like it or hate it, this statement piece is for you. Maybe you'll even find something besides that first assault of sour bubbliness.  
Rating out of 100 (median score): 76
✶ ✶ ✶ ✶
Horse Thief Hollow's Black Sox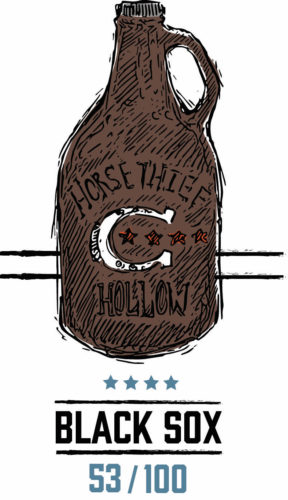 Horse Thief Hollow takes its name from 1850s Beverly—horse thieves would hide their embezzled equines in the woods there before bringing them to market. Neil Byers opened the brewpub in 2013, rehabbing a former carpet store and using reclaimed wood wherever possible. After spending eight years working as a chef in South Carolina, Byers wanted a place in his hometown "where people could come for hand crafted beer and flavorful cooking with a Southern accent." Right now, you can find "lowcountry croquettes," burgers made from wild boar, and gumbo on the menu.
10426 S. Western Ave. Sunday–Thursday, 11:30am–10pm; Friday–Saturday, 11:30am–midnight. (773) 779-2739. horsethiefbrewing.com
Black Sox Black IPA 5.5% ABV 24 IBU
Appearance: Dark brown with a light, frothy head. All the typical dark descriptors come to mind: forest night, cocoa brown, root beer, maple syrup.
Label: The wanna-be western growler is, let's be honest, atrocious. The horseshoe is alright, but why do the Chicago stars look like that?
Smell: Robust and low-profile.
Taste: The classic bitter citric finish of an IPA is preceded by the roasty, piney hops of a dark beer.
Drinkability: Just one is fine—but its bold thoughtfulness is worth letting linger.
Opinion: Perhaps the most polarizing beer of the tasting: its average score was five points above the median. IPA haters ought to stay away, but if you come closer, you'll rethink what you thought both a dark beer and an IPA could be. Even if you won't crave it on the regular, this brew demands your attention.
Rating out of 100 (median score): 53
✶ ✶ ✶ ✶
Baderbräu's Berliner Weisse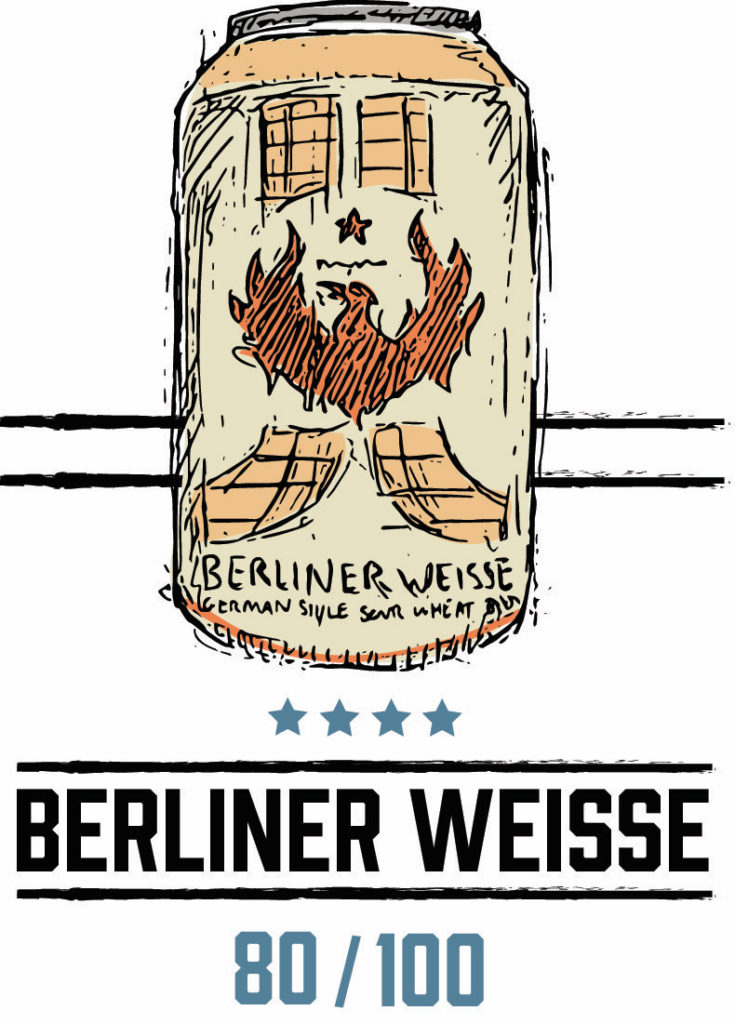 According to their website, Baderbräu Brewing Company "was founded to revive Chicagoland's original craft beer, a Czech-style pilsner." Founder Rob Sama, who got his start as a homebrewer while an undergrad at the UofC, tracked down the original recipe and yeast strain, and the Baderbräu pilsener was reborn. Check out their eclectically decorated, string-light–adorned taproom to try all their brews and homemade Bader Brat, and make sure to stop by the adjoining art gallery to check out some local work as well.
2515 S. Wabash Ave. Monday–Wednesday, 3pm–11pm; Thursday–Saturday, noon–1am; Sunday, noon–11pm. (312) 890-2728. baderbrau.com
Berliner Weisse Barrel-Aged German Sour Wheat 3.6% ABV
Appearance: A pastel yellow, like sorbet or sherbet—light, bubbly, and the cloudiest beer of the bunch.
Label: Fittingly, our sherbet beer has a creamsicle color scheme. Add the space-age sensibility of the design, and you've got Baderbräu's cleanest can yet.
Smell: Pineapple, if you strain for it.
Taste: The tart, sharp brightness of the beginning gives way to a rich berry flavor in the middle and a lemony honey finish. It's pleasant, well above average, but not the most complex or memorable sour we've ever had.
Drinkability: Extremely "crushable," as Baderbräu likes to say. A great beach beer, barbecue beer, lakefront beer—the perfect companion for the dog days of summer.
Opinion: A playful, spunky beer that suggests summer really is just around the corner. We find this crowd-pleaser difficult to deny, but wish there was more to it than easy likability.
Rating out of 100 (median score): 80
✶ ✶ ✶ ✶
Moody Tongue's Sliced Nectarine IPA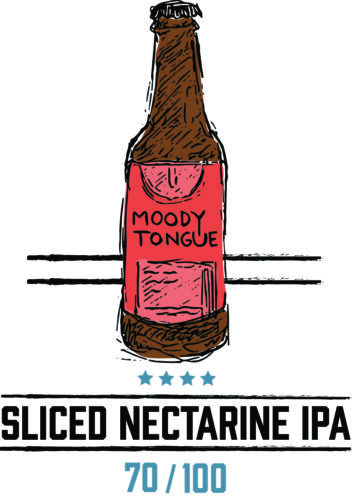 Moody Tongue describes their style as "culinary brewing." Brewmaster Jared Rouben applies his culinary experience to making serious, experimental beers and food menus that only feature one sweet item and one salty item: German chocolate cake and fresh daily oysters, respectively. Check out their taproom in a former glass factory in Pilsen, decorated with a white marble bar, leather chairs, and cozy fireplaces, to try their rotating drafts and snack on the rest of their rotating gastronomic fare.
2136 S. Peoria St. Sunday, noon–9pm; Monday, 5pm–10pm; Thursday, 5pm–11pm; Friday, 5pm–midnight; Saturday, noon–midnight. (312) 600-5111. moodytongue.com
Sliced Nectarine IPA American IPA 5.9% ABV
Appearance: A deep, rich amber—near-auburn—under a blanket of foam. Lightens with time.
Label: Last year, we asked if Moody Tongue's deft tongue illustration was enough to save the label from sleek sterility. This time around, even with a blood-orange color scheme, the label isn't making an impression.
Smell: Vaguely fruity—we want to smell nectarine, but there's not a whole lot of that here.
Taste: After a light, short-lived floral taste up front, a sharp-then-sweet finish brings the most flavor we've seen so far. But we're surprised and disappointed by the weakness of the nectarine, which was subsumed into the nondescript flavors of a standard American IPA.
Drinkability: On the bright side, the beer is smooth and understated. The taste grows on you the more you drink.
Opinion: We like this well enough—a breezy, clean-cut beer—but it's not our favorite from Moody Tongue (that would be their lemon saison).
Rating out of 100 (median score): 70