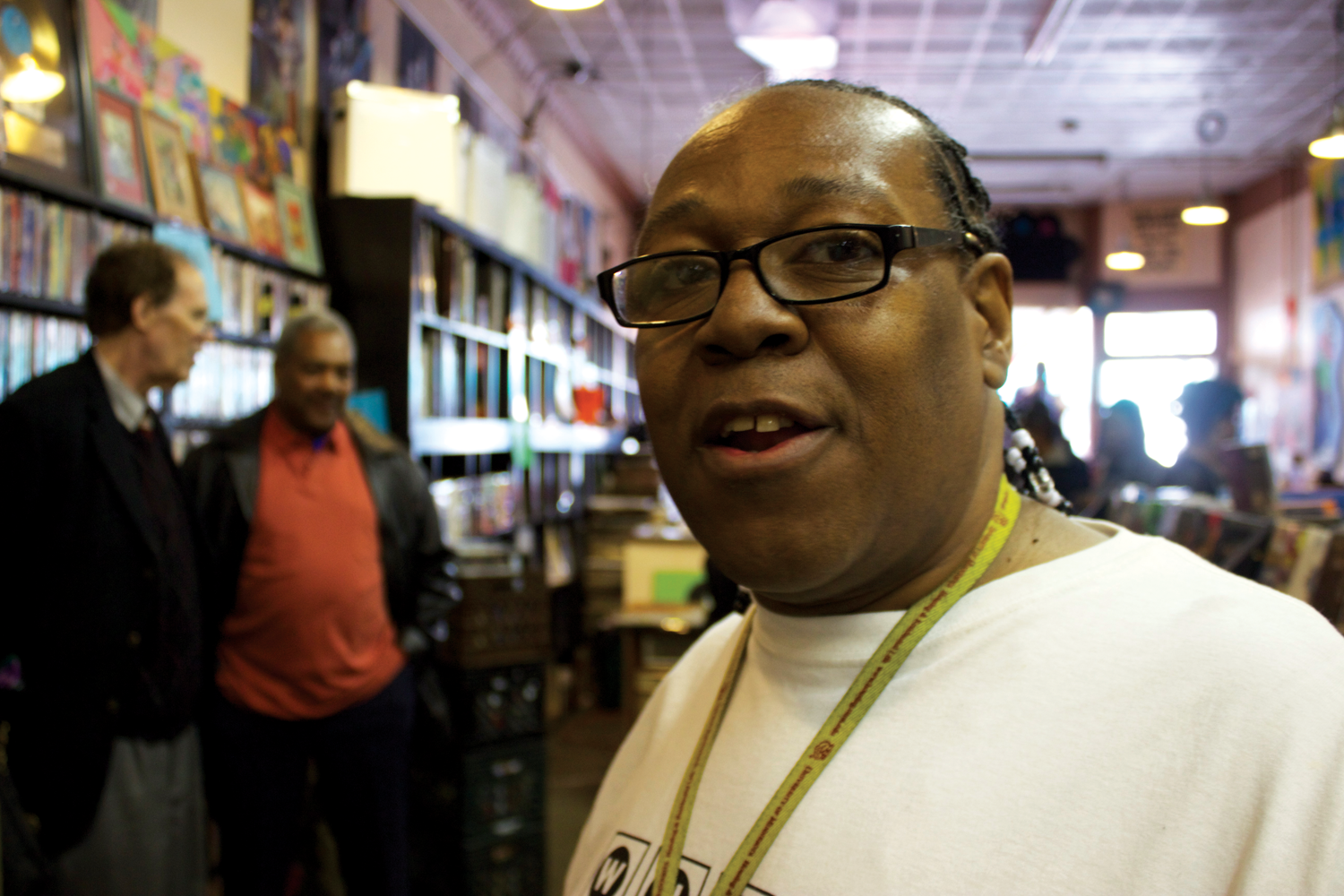 PJ Willis has been in the radio business for more than three decades. In addition to his weekly midnight show on 1570 AM WBGX, Willis is a member of WHPK's Dusties Party crew, which hosts a three-hour soul celebration from 9pm to midnight on the last Thursday of every month.  For the last four years, Willis and the crew have also been taking the party out of the studio and presenting it live for customers at Hyde Park Records at their in-store Soul Reunion shows, where the DJs not only spin records at the store but also invite some of their favorite Chicago soul music legends to drop by and hang out with the crowd. At the start of this past week's Record Store Day Soul Train-themed reunion show we caught up with Willis to discuss his career and the history of Hyde Park's favorite soul show. 
How did you first get into DJing and playing soul records?
Interesting story: I've always loved music. When I was about five years old—and my mother tells this story constantly—I couldn't really read the text [on the records] real well because some words were a little too big for me to understand at that age, but I could recognize certain colors or shapes on the records and figure out the label, but I couldn't really tell a Supremes record from a Four Tops, if they were both on Motown. Anyway, they started sitting me at the record player. I would literally sit there, every weekend, playing music for my parents when they got together and played cards and stuff like that. It just went from there. I started taking my lunch money from school to buy records and just kept on going.
By the time I got going with radio, it was about 1980 and Tom Joyner was at WJPC.  He and the crew there did this little Christmas rap thing. I was still in high school at the time, and I just called him up and rapped it right back to him, that quick. So then they were doing a live broadcast and he invited me down and put me live on the radio. When I got home everyone in the neighborhood was like, "Hey PJ, we heard you on the radio!" That's when I got bit by the bug. I've been doing radio ever since.
I started off doing voice-overs for WJPC. They were letting me come down and do commercials and stuff with them. When Tom [Joyner] was leaving WJPC he told me, "You have such a good knack for this, you should get into the radio business and really learn the business. Anybody who can read and talk on the microphone can DJ, but if you actually learn the business behind it, you will be able to do it for a lot longer." Now here we are, thirty-four years later, and I'm still doing this. A lot of my friends gave up. They had no choice, because they didn't learn the business, all they did was talk.
You DJ at WHPK now, though, and that's an all-volunteer station. How do you make it work in terms of the business when the station isn't paying you directly?
Bookings, jobs that hire me to do stuff because they hear me on the radio. They say, "Oh, can you do parties?" and I say, "Yeah, here's my card." I do strictly dusties parties though, nothing but dusties: I don't think there's enough money that anybody can give me to get me to play new music. So yeah, I'm playing for mostly older audiences.
Do you find younger people are getting into soul records now that vinyl collecting is becoming popular again?
Yeah, they're starting to. Now, because in a lot of stuff they're listening to, especially hip-hop, they're starting to hear the original versions of those songs. So I'll play something for them and they'll be like, "What's that? Now that ain't Ludacris, is that?" They're starting to inquire.
I brought my daughter with me to WHPK one day, and they heard me play "Act Like You Know" by Fat Larry's Band [WMOT, 1982]. And she said, "Wait a minute, that ain't Jaheim!" Of course not! I do that sort of thing around them a lot, and they're into the dusties too. That's how a lot of the younger people that I know fell for it. I play a lot of stuff where I know they know today's version, but when they hear the original sample that it came from, they just go, "Wow!"
How did you start doing the Soul Reunion shows? 
Well, I started off talking to Gary [Tyson] and I said, "Why don't we all do something together?" I talked to Ray [Harris] about it—Ray is like my sidekick or "real dawg" or whatever it is they're saying these days—and he kept me going with this whole thing for a long time. I told him I'm thinking about us getting together, finding us a record store and inviting people out to meet all of us. So we went out and found a record store that would be interested. The first place we found was Mr. Peabody's, on 118th and Western, so we started over there. Eventually they ended up closing their doors—they didn't survive in the business. We needed another place to come to.
I walked into Hyde Park Records and I met Alexis [Bouteville, current owner of the store]. I said, "We want to talk to you about doing an event called 'The Soul Reunion.' " And at first he was very nonchalant about it, but I said, "Just trust me, it's a nice thing." And I know people promise him stuff all the time, but after we put together the first event he was like, "Oh my god, this is great!" So we've doin' it here [at Hyde Park Records] for about three years.
I like it here because of the situation with the location: it's more bus-friendly, better light, and so on. Also, Alexis is the best. Most of the time people don't like to get involved. They just want you to do everything, but he really helps out with everything, especially in terms of promotion.  He's been very active in making this whole thing happen.
And this year's Soul Reunion is Soul Train themed, right?
Yeah, it's Mario [Smith] who's also over at WHPK and Gary brought up that idea. The reason is that the last time we did the Soul Reunion, which was over the summer, I was spinnin' and Gary said, "Let's get a Soul Train line going." And so we started that and all of a sudden everyone ended up all out in the street, it was beautiful. So we decided we wanted to try to re-capture that and orchestrate to try and really make it happen.