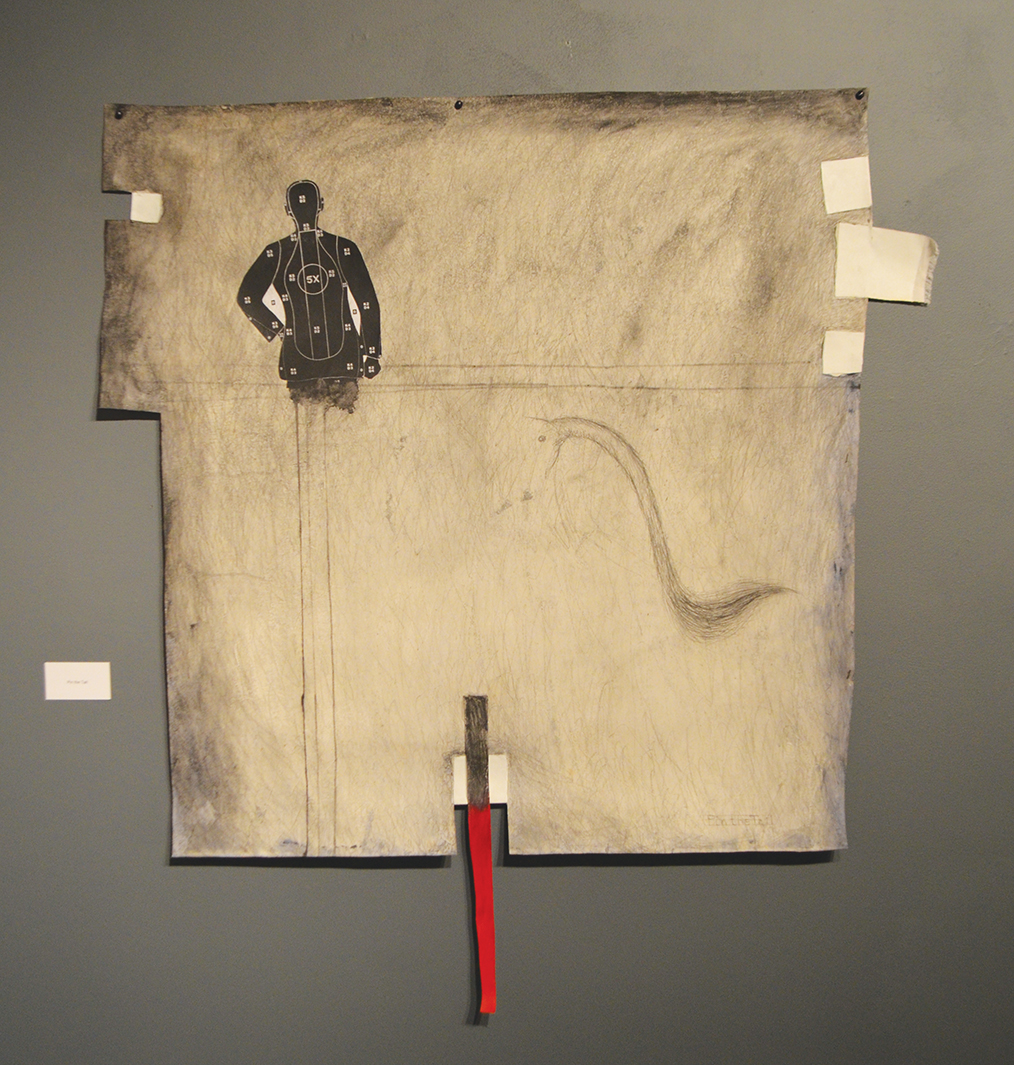 Steve Sherrell's "Mixed Bag" is less jumbled than the title lets on. The new exhibition, hosted by 33 Contemporary at the Zhou B Art Center in Bridgeport, puts bold outlining and a canvas's meticulous, geometric subdivision into correspondence with canvases removed from their stretchers, literally slit apart and stitched together again. Insistently, distinct shapes and broad fields of color contrast with canvases that are dismounted and distressed, minimal and morbid. But Sherrell's digitally rendered "Mashups" anchor the exhibition by proposing a compromise—looking less consciously contrived, but remaining unscarred, intensely intricate, and exuberantly colorful.
This colorful exuberance makes locating the titular bliss in "Where Bliss Grows" something of a riddle, although it still belongs among "Mixed Bag's" more conventional pieces. Tall, varicolored, and roughly rectilinear forms rise toward the center of a pale, swirling rose and white background. Three scythe-like tendrils sprout out from between each form's firm boundaries. Sherrell applies his colors thinly, leaving clear signs of his painterly hand in unsuppressed brushstrokes. He vigorously works the surface, developing abundant half-tones. The effect is dreamy. Yet given the painting's fleshy hues, sharp angles, and sinister, vine-like coils, the dream more properly becomes a lurid, candy-coated fever. The taut, fruiting bulb, the glistening, dangling blood-droplet, the pink pustules all suggest a suspiciously sinister brand of bliss inside. Sweet boils and anxious euphoria—the title is deceptively assertive.
"Bliss" more or less shares these well-defined and vibrant swathes, its deliberate but unfinished brushwork, with the other works of the exhibition: "Adventures in Bubble Land," "Leela," and "Gary in the Park," among others. Sherrell forgoes preparatory sketches. "These are all done immediately," he says. "I do all the drawing on the canvas."
Sherrell's more conventional canvases all seemingly preface "Ten Years Gone," a wall-sized summation, or a proof of concept. It draws on "Leela's" stains, scratchings, and dune-like accumulations; one clef-like line echoes the tendrils from "Bliss" with smooth, curving gravity. As balanced, measured, studied, and purposefully abstract as the smaller pieces that precede it, "Ten Years Gone" reads like a symphony score in its huge, synthetic coordination.
Yet Sherrell appears to call out his own tidiness and clean draftsmanship by following up with a satire of compositional purity. Turning past "Ten Years'" corner reveals a canvas with a white circle on a cream background with a single vermillion gash. If "Ten Years" evokes the orchestra, "Formal Painting with Wound" is a pure harmony with a lone, vindictive "Hee!" shouted in. "Formalist work was pushing everything out of the work," said Sherrell. "So I left a little jab." Works like "Bliss," "Leela," or "Ten Years" hardly demonstrate that same singular, neurotic attentiveness to the elements of art. A naval mine crafted from canvas and a painting hinting at an Iron Cross both accompany "Wound"—and come off as mildly belligerent. They inaugurate a series of works assembled in counterargument to the exhibition's first half. Restricted to grays, reds, whites, weaker beiges and yellows, slight shades of similar colors, their sparser palettes rebuke the expansive range of pieces like "Bliss." One such piece, "Pin the Tail" assaults the canvas itself.
Sherrell cut away material from the left-hand side of what was initially an unstretched patch of fabric and transplanted it to the bottom and right-hand side. "Pin the Tail" thus acquired its titular appendage, dangling several inches down, and painted a sinister crimson. A donkey's rear quarter is sketched onto a graphite grey field that darkens around the canvas's edges. Parallel lines converge on a human gunnery target, evoking crosshairs and laser-lighting the piece's irony. Sherrell remarks that slicing up his medium "makes it abnormal." "It gets me away from the rectangle."
Free-form canvases represent the next frontier for works like "Bliss," for figures as tightly drawn upon a canvas as the canvas is across its stretcher. In "Icicle" a dripping mass denies pictorial representation. Sherrell shapes the canvas after its subject by attaching tapering strips to the piece's bottom, each plastered thickly down with dripping paint-rivulets. The medium no longer contains the form, but assumes it. It chucks stiff, wooden support altogether, whether from 2B pencil or external carpentry.
Sherrell's "Mashups" might nominally combine influences from late artists (Monet, Van Gogh, Hiroshige, et al.), yet they also effectively reconcile the exhibition's subtle thesis and antithesis. Sherrell, himself a digital artist since 1991, manipulated low-quality images of canonized paintings to produce the "Mashups" in their names. Sherrell credits a certain poetry to resurrecting digital garbage ("It's not typical trash"). In one "Mashup," a central "V" punctures two nested yellow and orange rectangles. From the "V," waters issue upwards and out, with ascending clouds and spray. Drafting the work electronically and applying it to the canvas mechanically obliterates traces of the human hand. While as visually complex as something like "Ten Years," and configured around sharp and unforgettable lines, it elides conspicuously intensive brushwork and seemingly blasts through its geometry, even though Sherrell elects this time to keep his medium intact.
It's ultimately fitting that Sherrell's love of line would draw a divisive boundary through his exhibition. His works align along stylistic contentiousness. "Mixed Bag" might toss studied and adamantly drafted abstractions together with semi-satirical and frame-breaking innovations, yet it accommodates a brief rebellion within the space's scarce square-footage. The exhibition directs us toward the appealing middle ground of the "Mashups", resolving a pointed argument from amidst the mix.
33 Contemporary Gallery at Zhou B. Arts, 1029 W. 35th St. Through February 15. Monday-Saturday, 10am-5pm; also by appointment. Free. (708)837-4534. 33collective.com