In a compact building on the site of the Stephen A. Douglas Tomb near 35th Street and South Lake Park Avenue, the Bronzeville Historical Society stands defiantly.
"Myself, family, and friends always gathered for different events and socializing and thought it important that we begin the Historical Society. None of us are educators or scholars in the sense that we attended schools to learn about black life in Chicago, but we all had a passion for our own families' personal histories, and the Bronzeville Historical Society emerged out of that shared interest," said Sherry Williams, the founder and president of the community organization, which is dedicated to preserving the history of black Chicago.
Since its inception, the Bronzeville Historical Society has been the source of dozens of projects, exhibits, and events created from collected stories and artifacts. Among the most recent of these is its acquisition of death records from the Charles S. Jackson Funeral Home. The family-owned business near 74th Street and Cottage Grove Avenue, which was started by a freed slave in 1867 in Pittsburgh and relocated in Chicago in 1905 to primarily serve its African American residents until its closure in 2013, held historical documentation from some of the most important eras and individuals in black history.
"Imagine, because of the Jackson Funeral Home being the oldest and longest African-American funeral business in the city, how important access to those records would be for descendants, genealogists, scholars, certainly educators, and the general public," said Williams.
Recognizing that significance, Shirley Latham, the funeral home's now eighty-nine-year-old president, accepted the request from members of the Afro-American Genealogical and Historical Society of Chicago (AAGHSC), headed by Lettie Sabbs and Nettie Nesbary. Sabbs and  Nesbary began compiling the death records into a surname index. The team—which included AAGHSC members Laurann Bibbs, Doris Morton, and Sylvia Rogers—has spent over three years processing binders of records and organizing them according to name, birthdate, birthplace, names of next of kin, burial place, and other details. Their initial index documented 120,000 burials from 1923 to 1990. However, after the funeral home closed, a significant number of its documents from before, during, and after that period went into the care of the state, as is protocol, and were missing from the collection as a result.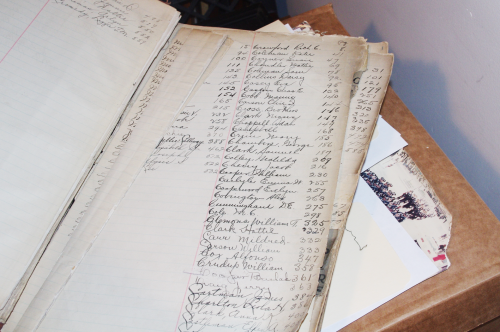 In response to that need, Williams set out to recover the information, citing the broad cultural significance of the artifacts when appealing to the state.
"Probably close to a year and a half passed before we received a letter from representatives from the State of Illinois granting us the access to those records, so we went to Springfield with a U-Haul van and we brought them back to Chicago in two trips," she said.
As a result of those trips, the Bronzeville Historical Society received an expansive collection of Chicago history in the summer of 2015: approximately 400 boxes of more original documents from the Jackson Funeral Home. Many of these records came from the years between 1920 and 1923, chronicling the lives of World War I veterans and individuals who moved to Chicago as a part of the Great Migration.
"When we look at obituaries and death records over the course of those years," Williams explained, "many of them have a box for when the migrant came, or how long they had been a resident of Chicago, and then of course for their place of birth. You see Tennessee, Mississippi, Alabama, Arkansas, many southern states that largely represent those migrants, and we get a timeline on when that huge push came into Chicago of migrants leaving the Jim Crow South and leaving the cotton fields and sharecropping."
Though many of the records document the lives of individuals fleeing persecution and racism in pursuit of freedom and increased opportunities, they also reveal the continued discrimination that blacks faced upon migrating to Chicago, incapable of escaping segregation even in death.
"There are some burials at very few Catholic cemeteries, there are some burial records that indicate shipment back to place of birth. But largely Burr Oak and Lincoln Cemeteries were historically used for African-American burials in Chicago," said Williams. "So just as they were segregated in the South, they were segregated here in Chicago."
And due to the negligence of cemetery employees, many of the burial locations were lost or withheld from relatives of the deceased. As a result of her own difficulty locating family members' graves, as well as requests from other community members, Williams took steps to recover the lost information. She reached out to Karen Benjamin, an urban historian and professor at St. Xavier University, with whom she had collaborated in the past. With the help and enthusiasm of students from one of Benjamin's classes, what originally began as an assignment to document 200 burials blossomed into the recording and digitizing of over 1,300 burials, with the results made completely accessible to the public.
"It was a pretty big project to try and document all of the different gravesites there, and so we thought that would be a perfect thing to ask for the help of the students," said Benjamin.
The fifty-six students in Benjamin's class located the burial sites of individuals from the Jackson Funeral Home records, then photographed the graves to later upload to the BillionGraves website, which enables anyone to find a grave using GPS data.
According to Benjamin, many of the students emerged from the project with personal incentives to continue processing records to locate graves and upload data. One student, a veteran himself, was alarmed at the level of disrespect and unkemptness of many veterans' graves. In addition to documenting the graves online, he began using the death records to contact next of kin in order to secure veteran markers for the graves.
"I think this does change the way that people think about racial segregation, and I hope that this next generation starts to challenge what the older generation believes and their assumptions about who people are, how to treat people, how a city should look like and be organized, and who benefits," said Benjamin.
At the Bronzeville Historical Society, community members and student volunteers are proceeding to sort through the remaining boxes of Jackson Funeral Home files, which were acquired from the state this fall and span from approximately 1920 to 2011. With the help and support of these dedicated individuals, as well as the women of the AAGHSC, Williams hopes to eventually acquire a comprehensive archive accessible to the public both in print at the Historical Society and in digitized form. 
"How neat would it be to compile this information and at least bring another resource for those who want to gather, protect, and of course honor the memories of their ancestors?" said Williams.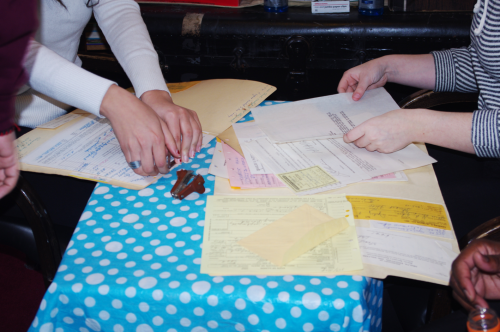 Benjamin added, "The more people who are aware about the Bronzeville Historical Society and what Sherry and a few others are trying to do in preserving that precious history—how important it is, and what a tremendous loss it would be, not just to those individuals directly impacted but to the entire city and future generations for understanding who we are, where we come from, and what our collective history is—the better."
It is perhaps also empowering that this stream of work continues to pour out of a small building that sits on the tomb of Douglas, one of Chicago's most well known politicians, a powerful senator whose family owned slaves and who argued that territories should be able to vote on whether to allow slavery. Little by little, through the committed efforts of the Bronzeville Historical Society and its many associates, the memory, dignity, and historical understanding of black Chicagoans continues to grow. As Shirley Latham noted in a preface to the original surname index, it is through the tenacity of these individuals and their endeavors that the old business motto of Jackson Funeral Home—"Dedicated to Dignity"—lives on.