Chicago's so small," marvels fifteen-year-old Dontay, poring over a world map with Damonte, Demetrius (Dre), and D'Quan. "I don't see my street." So begins a distinctly large journey: four teenage bucket drummers from Englewood have left the South Side, boarded their first airplane, and emerged among the driving drumbeats and crowded beaches outside Dakar, Senegal.
Walk All Night: A Drum Beat Journey, the remarkable new documentary shown at the Gene Siskel Film Center this month, takes viewers along for the ride for the boys' time in Senegal, where they take classes in traditional African drumming. Social worker Elilta Tewelde spearheaded the project, crowdfunding the trip after seeing the boys bucket drum on the overpass at 47th Street and the Dan Ryan. An Eritrean immigrant herself, Elilta aimed to connect the young musicians with the African-American community's roots on the African continent.
"Being an African American means that you are part of the African diaspora. Yes, you're from the South Side of Chicago, but you're also part of a greater whole," says "Brother Kevin" McEwen in the film. He runs the company Rhythm N' Dance, with which Elilta partnered for the trip. Rhythm N' Dance provides African arts education for youth and aspiring artists. "As far as I'm concerned, as an African American you gotta step on this continent one time in your life," he says. " 'Cause it'll change you."
It does change them, though it's not easy. Even before they leave, Elilta struggles to get the boys to show up for meetings on time. Dontay nearly doesn't make it to the airport. On the ground in Senegal, the boys struggle to adjust, breaking out packages of Top Ramen and daydreaming about cheeseburgers and breakfast cereal. While they get their bearings in a foreign country, tension builds up between the boys. In one talking head, D'Quan gives the camera a memorable sheepish look. "I get into the zone a lot. Yeah, I be angry a lot," he says. The boys fight, threatening each other in angry outbursts.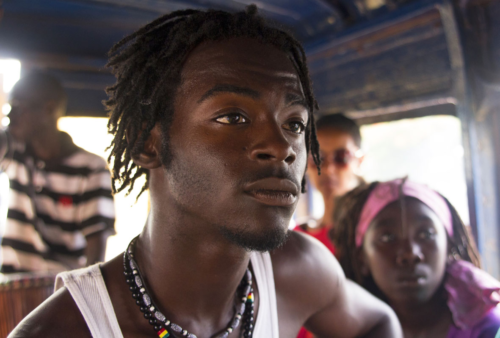 It's in the snags of these uneasy moments that the film excels. Co-directors Mallory Sohmer and Kate Benzschawel have a knack for revealing, in the clarity of a new place, the way their experience on the South Side has pushed the four boys to equate masculinity and violence. "I grew up in a different environment that you got to adjust to," said Damonte in a discussion after the screening on October 19. "You got to. Or it's gonna eat you up."
Senegal gives the boys the opportunity to define their values for themselves. Much of their guidance comes from Brother Kevin, an anchor for the young musicians and for the film. After a particularly tense moment, he takes D'Quan aside. "Look at me. Calm down," he says. "You're better than this. You hear me?….Your head is still [in Chicago]. I can tell by the language you use, I can tell by the stories you talk about…. Leave that shit behind. And bro, you got it in you to do that."
Sohmer and Benzschawel are white women documenting black lives, and this comes through in the film, which begins as impersonal and clunky before it hits its stride. Sohmer said that differences in race, age, and gender added "layers" to the process of getting to know the subjects of the documentary: "You can probably even see throughout the film how the interviews become more intimate" as she and Benzschawel learned more about the boys' lives, Sohmer said after the screening. "There is a disconnect there. I think all you can do is learn from people, and listen, and be open, and as documentarians that's kind of what we do. We see what the footage shows us." Despite this disconnect, Walk All Night does hit its stride, as do the boys, displaying their new drumming skills in a performance on the beach before heading home.
As is the case with most nonfictional journeys, the boys' post-homecoming lives can't be tied up into neat bows. The film's driving narrative of Englewood—the same place where the boys learned the bucket drumming that brought them to Senegal—as something the boys need to "leave behind" is suddenly complicated, perhaps inadvertently. A brief segment revisits the drummers two years after the trip, but it gives viewers only a fuzzy sense of what life is like for them after their journey to Africa. Dre, who dropped out of high school before going on the trip, is still bucket drumming, "trying to keep my head above water." D'Quan keeps to himself, Damonte has been working temporary jobs, and Dontay is in his last year of high school. "Supposed to be. Hope it is, but I ain't gonna lie," he says.
This haziness is honest, if narratively unsatisfying. At the discussion, Damonte filled in some gaps for an audience eager to know whether Senegal had a lasting impact on his life. He was the only one of the drummers present at the screening. Much of the discussion focused on Damonte's perspective on his life in Englewood, rather than his time in Senegal or his experience in Chicago as a street performer. This is true to the spirit of the film: though it mostly takes place abroad, it is rooted in the boys' home. Before the trip, Damonte said, "I was doing a lot of bad things. Like, a lot of bad things that I weren't proud of and I'm still not proud of. I didn't know how to be a man." He said that although bucket drumming did provide an alternative before he went to Africa, ultimately the trip to Senegal "gave me a perspective on what I need to do when I get home. Like, either I'm gonna do nothing and be nothing, or I'm gonna be something and be somebody."
Damonte now works as a host and greeter at The Second City on the North Side. He doesn't have as much time as he used to for street performing, but he still bucket drums with Dre on his days off—though neither the film nor the discussion addressed whether their arts education influenced their drumming.
He spoke of a simple lack of exposure to opportunities and to choices. "Being out here with all my friends—all of them just stuck in it, basically. I used to feel as though I was stuck in it, like, what else am I gonna do? This the only thing I got," he said. "The thing to give back to our younger guys that's out here…give back your experience—your life experience of something different that they know nothing about."
But getting "unstuck" is no easy task, said Damonte. "We got too much pride in asking people to help us out, look for jobs and stuff like that…. When everybody just gonna try to do something different?" he said. "You gotta go teach people the ropes, walk them through it, show them, 'Man, you can do this.'"
✶ ✶ ✶ ✶