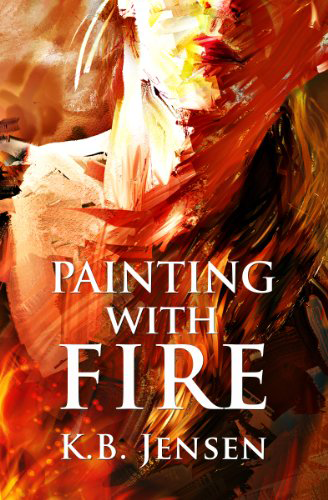 K.B. Jensen's self-published first novel, Painting with Fire, is something of a murder mystery, but unlike most murder mysteries, it doesn't boil over right away—it simmers slowly until the last several chapters. It reads as a thought-provoking character study of neighbors in an apartment building who are dealing with issues familiar to many Chicagoans: unemployment, broken school systems, racism, deficient law enforcement, and violence. Jensen's goal in incorporating these realistic elements is to get away from the formulas of many conventional murder mysteries—which are often filled with melodrama like ex-secret agents and car chases—and capture what it's like when a normal person finds a dead body.
It is no coincidence that Painting with Fire's setting, a three-story walk-up brownstone, bears a striking resemblance to many of the residences in Hyde Park. "The characters are in Hyde Park, but not Hyde Park as we know it," says Jensen. "Fortunately, we don't have nearly the body count that this [fictional] neighborhood has."
Jensen draws from other elements in the Hyde Park neighborhood without explicitly setting it there. The characters in Painting with Fire talk about the spot where the Obamas had their first kiss, and the majestically eerie, abandoned church near 57th and Blackstone plays a prominent role as the story unfolds. Jensen also throws in some of the more humorous aspects of city life. Her main characters are temporarily tortured by a street saxophonist who has more nerve than talent, and who sets up shop on the street outside their window. "There actually was a saxophonist, who I wanted to strangle, outside my window for a couple of months," Jensen recalls, laughing.
Jensen, who hails from Minneapolis, says she gained a particular insight into the Chicago area while reporting the crime beat in the southeast suburbs for The Times of Northwest Indiana. One case in particular stuck in her mind.
"There was a body found in a snowbank in someone's backyard. I interviewed people in the neighborhood, and a lot of people heard shots but didn't call the police. There were no answers and the killer was never caught. It bothered me that this person might have lived if someone had called the police. I wondered about how the body had gotten there, who had killed this person and what it's like to live next to that kind of violence."
Using her writing as an outlet, Jensen crafted a fictional explanation where no real answers existed. Painting with Fire was born. The novel opens with the main characters finding a murdered body in the snowbank outside their apartment.
In publishing her novel, Jensen took a route that is growing in popularity among authors—she self-published through Amazon, under the name Crimson Cloud Media. "It's been a trip, and it's been fun," she says of the process. "I was in charge of everything, and I learned how to do layout, formatting, editing, and marketing, which is the hardest part. You have to switch from writer to entrepreneur."
Even though Jensen is not opposed to the methods of larger publishing houses, she appreciates that Amazon is an accessible way for a new author to get exposure for her work. "Amazon lets you have free giveaway days, and I was able to give my book to 11,000 people. That's 11,000 people who are reading my work who wouldn't be if I was waiting around for an agent."
Offering advice for beginning writers, Jensen says: "Don't write when you don't want to write, but the trick is actually writing when you want to write." Painting with Fire took her four years to complete; she often wrote while her infant daughter, who is now five, was napping.
Friends and family have asked Jensen if she might write a sequel to Painting with Fire, but she isn't sure yet. Right now her focus is on a book of short stories. The premise of the collection, currently unnamed, involves a woman driving in rural Wisconsin who hits a hitchhiker. The two end up trapped in the car together, exchanging stories to pass the time. When I ask Jensen if, like Painting with Fire, this book was based on experiences from her life, she assures me that she has never hit a hitchhiker with her car.
K.B. Jensen, Painting with Fire. Crimson Cloud Media. ebook. 209 pages.