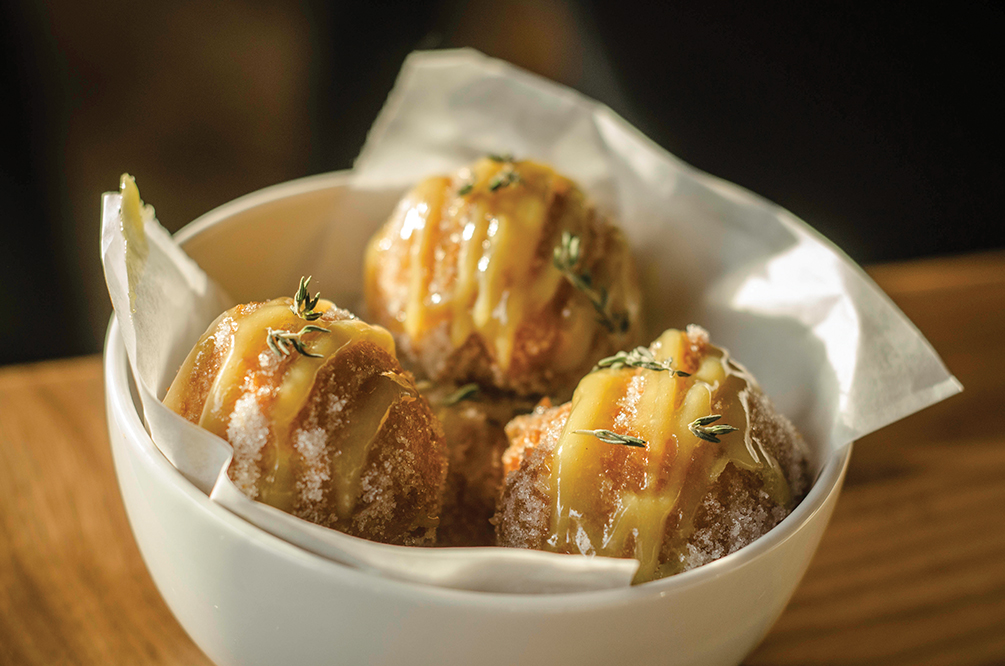 The announcement late last year that Charlie Trotter's chef Matthias Merges had been enlisted into the University of Chicago's push to import some North Side cool into Hyde Park excited foodies, students, and long-time residents alike. The effort to upscale Hyde Park out of its reputation as a stuffy ivory tower enclave wouldn't be complete, many reasoned, without "real" restaurants—as if places like Rajun Cajun and Ribs n' Bibs were either non-corporeal entities or could be considered dining establishments only by technicality.
The first of Merges' projects, A10, opened early this month and I can confirm that it is, indeed, a "real" restaurant. There are walls, a ceiling, and waiters, and they do, in fact, serve food. It is also "real" in ways that Hyde Park's other restaurants are not. It is awaiting a Zagat rating that the majority of the neighborhood's restaurants are never going to get. It offers valet parking and wood-fired snails. It is frequented by chatty people who love—and talk loudly about how much they love—"real" restaurants. Their cufflinks and tie bars tend to glint in the candlelight. And, speaking of candlelight, it is beautiful. The interior is all grey brick and wood with a ruggedness that's well offset by the aforementioned table candles, large windows that let the sun pour in during the day, and colorful rugs that hang on the wall. It seems like a cross between a saloon and a well-tended, well-furnished den, the kind of place one might see feted in Esquire—a "real" magazine.
The confidence embodied by A10's décor is mirrored by its menu which features dishes like pheasant agnolotti and chicken liver mousse for dinner and lobster crepes and "pork belly au-vou-lent" for its Sunday brunches. But this confidence is undermined by a few kinks in the dining experience. The wait staff is as diverse as the surrounding neighborhood and, on the whole, friendly. But there's a stiffness in their service. I was congratulated for choosing each dish in my dinner ("A fine choice, sir;" "Excellent!") and treated, upon finishing my order, to a solemn, and near-Shakespearean "well done" by one waiter. More amusingly, those who don't opt to take something from A10's respectable drink menu can expect to be poured enough water to drown in over the course of a meal. Take a sip and a busser is sure to speedily come up to your table and top-off your almost completely full cup—or, better still, stand next to your table in anticipation of your next sip as you raise the glass to your lips.
Between these episodes, the swank Lou Reed cover playing somewhere overhead, and the menu prices—$22 for a typical large plate—I got the sense that I, a two-and-a-half year veteran of Harold's Chicken dinners and pad thai carried out in Styrofoam boxes, might not be ready for the new kid on the block, with its hundred-dollar wines, and candles, and reservations. Naturally, I figured the only way to find out would be to dive headfirst into the menu, taking on some of the most intimidating items being offered.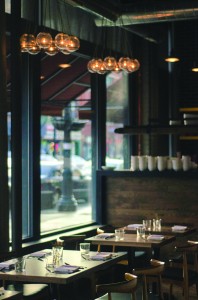 I started with the chicken liver mousse, one of their small plates, which was served in a cup with a marsala gelatin on top and, dauntingly, accompanied on the side by an olive oil saltine—less a cracker than a large tortilla chip—roughly the size of one's forearm. I was at a loss as to how to eat it all, until I remembered how my waiter had startled me by speedily and silently placing a spoon and small plate on the table over my shoulder a minute or so earlier. With the spoon, I scooped out the mousse onto the plate and proceeded to break off chips of the saltine for dipping, essentially making myself an expensive plate of nachos. The marsala gelatin portion of the mousse tasted familiar and sweet—like apple pie filling without the apple—while the liver portion tasted like, well, ground up chicken liver, a strong flavor alien to me and many but not without its fans. But put together, the two halves of the mousse achieved a pleasant, accessible, and only mildly meaty balance. Unfortunately, the dish's components were all out of proportion. There was more saltine than I would have needed even if I had intended to finish the mousse, which I didn't given that there was far more liver than the gelatin I'd relied on to soften its flavor.
I had slightly better luck with the main course: a dark blood sausage—"boudin noir" in the menu's French—with pickled squid, an ink vinaigrette, and Hollandaise sauce. The sausage was delicious to a point—dense and rich but just a touch too dry, though the generous dabs of Hollandaise managed to compensate for that. Again though, there were compositional flaws. The two tiny pieces of squid on the plate tasted softly of the lemon mixture they had been pickled in—a flavor almost as delicate as their texture. There should have been more. Additionally, the sausage was accompanied by a heap of fairly mushy greens. They might have been collards, or spinach, or both, or neither. It was hard to say, given the overpowering flavor of the highly acidic and sour vinaigrette they had been drenched in. Here, the constant supply of water was greatly appreciated—I had to down two and a half glasses through my puckering lips to make it through the dish. Still though, the sausage was enjoyable.
I'd also opted for a simple and picture perfect side of brussel sprouts and beef tongue. The sprouts had been roasted beautifully while the tongue—cured and sliced into thin strips that looked and tasted a bit like bacon—was just salty enough to provide a sharp and satisfying counterpoint to the sprouts' earthiness. The dish was also supposed to contain chile and tonnato—an Italian tuna, anchovy, and caper sauce—and maybe it did. The tongue could have been cured in them; the sprouts could have been roasted in them. But both flavors seemed missing in action to me—which was, actually, fine. The dish was uncomplicatedly good as it was and a decent respite from the boudin noir plate's complex flavors.
My dessert was also simple: big and dumb, but decadent olive oil doughnut holes that, quite literally, brought me to tears—mostly because they were as searingly hot as I was impatient to dig in, but possibly also because they tasted absolutely sensational—not too precious for words, but close enough that each successive bite made me nervous with the burden of description. How to illustrate, embody, consecrate the best fried dessert on the South Side? Is this overgenerous? Maybe. Your critical faculties take a real hit when both your eyes and mouth are watering.
But consider the dish's components. To begin with, the doughnuts are coated in sugar. Not the powdered kind that'd muff up the pricey blazers and tops of A10's clientele. Straight sugar—the kind you can pour in the coffee you're offered when you order them. Surprisingly, this doesn't drown out the plate's subtleties. It is easy, for instance, to do a lemon dessert sauce poorly—an overpowering sweetness or tanginess can drown out the weaker flavors in a dish. Here though, the doughnuts' lemon curd sauce—drizzled over the top in just the right amount—left enough room on the palate for the doughnuts' light and novel olive oil flavor. Each and every doughnut was, moreover, texturally perfect – hitting the sweet spot between fluffy and dense indicative of a perfect fry.
This was an unexpected end to my meal. I'd walked into A10 ready to be wowed by something audacious. I was about to leave floored by a bowl of doughnut holes. But not before having yet another glass of water, this time poured by a scruffy and affable young busser.
"How'd you like your meal, dude?"
"Dude." At once, the stiffness that had pervaded the meal dissipated. I felt myself easing more comfortably into my seat, relaxing my posture from that of a "real" restaurant-goer, to that of a "dude." I answered him warmly and honestly.
"Not bad, dude. Not bad at all."
A10, 1462 E. 53rd Street. Closed Mondays. See websites for hours. (773)280-1010. a10hydepark.com