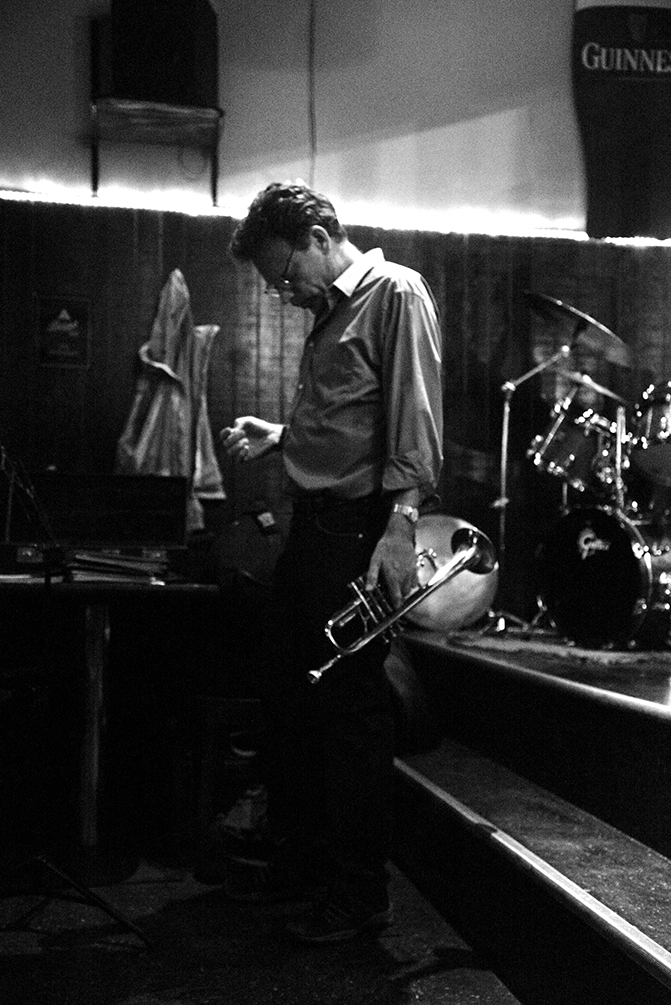 Curtis Black and Doug Mitchell can't agree on the exact year when their group began its Sunday night jam sessions at Jimmy's Woodlawn Tap, a Hyde Park bar on 55th and Woodlawn Avenue. Black, the group's trumpeter and a freelance journalist, claims it was 1992. Mitchell, the drummer and an executive editor at the University of Chicago Press, says 1990. Like many other things, this is a matter on which the musical pair has agreed to disagree.
When they start a Sunday night set with "Fee-Fi-Fo-Fum," a Wayne Shorter standard, they play to an audience of two or three, though the group—the Curtis Black Quartet—is in the zone. Black and Mitchell are the two long-standing members of the quartet, which generally adheres to what Mitchell calls a "mainstream, neo-classical" repertoire; the bass and guitar positions are often filled by young aspiring musicians, for whom Black and Mitchell serve as mentors.
In the front room at Jimmy's, laughter flows freely from a table of UofC students chowing down on cheeseburgers and passing around a pitcher of Samuel Adams. A group of older men cheers when the Steelers score against the Ravens on TV, and a group of young women from South Shore sing to a friend who has just turned twenty-one. Many are unaware that the Curtis Black Quartet is playing behind the closed door of the bar's back room.
In the early 1990s, the jazz and nightlife scenes in Hyde Park were "in what I guess you would call a trough," Black claims, saying that Jimmy's was the chosen venue for the Curtis Black Quartet simply "because it was there," and nothing else was.
When the prominent Chicago saxophonist Hanah Jon Taylor started the quartet, Jimmy's was the sole jam session venue in Chicago. Today there are several others on the South Side, like the flashier Room 43 in Kenwood, which Mitchell suspects has drawn away some of the Jimmy's audience.
Over the past two decades, a number of Chicago jazz legends have showed up at Jimmy's to hear the quartet play. "James Carter, who all by himself could probably blow the roof off several buildings, came to Jimmy's," Mitchell says. "And Corey Wilkes, who's well-known around Chicago, comes in from time-to-time." These visits stand out to Black and Mitchell, although they admit that on the average Sunday night things are pretty low-key.
"Jimmy's is a very quiet and peaceful place mostly," says Mitchell, a loquacious and solidly built seventy-year-old with a long, frothy gray beard. "A couple fistfights at Jimmy's, but it's not significant," he recalls. Both New Yorkers by birth and University of Chicago humanities graduates, Curtis Black and Doug Mitchell have old personal ties to the Hyde Park jazz scene, stretching back decades before their jam sessions at Jimmy's. But the duo never crossed paths until Mitchell joined the quartet, in what he believes was 1991. A woman walking down the alley outside Mitchell's apartment heard him playing and knocked on his front door, inviting him over to Jimmy's, where he claims he "scared away the original drummer" with what Black describes as his "tough, upbeat rhythms."
While Mitchell is gregarious and warm, making himself at home wherever he is, Black is more reserved and observant, constantly evaluating his surroundings, considering and reconsidering his words. Their distinct personalities come through in their relationship on stage. Mitchell takes the spotlight in the upbeat, hard-swinging standards, while Black is at ease with the quieter, moodier pieces. At their first set on Sunday evening, the energy shifts between the two men as the rhythms oscillate between slow and fast.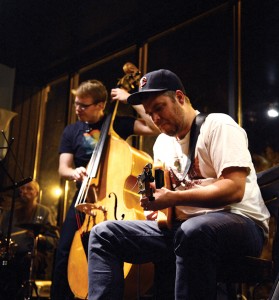 "There's a creative tension between Doug and me," Black says, chuckling. "I like stuff a little quieter, but what that's done is really push me to play the trumpet better."
Mitchell attests to the differences as well. "I tend to play assertively," he says. "That room at Jimmy's has very lively acoustics, a little too lively, and Curtis does not play a loud trumpet. You have to accommodate. There's always a little tension involved."
Both men have seen Hyde Park undergo significant changes as a hub for musicians, mostly reflecting the University's long-evolving policy toward nightclubs and liquor licenses in Hyde Park. Black grew up in a suburb of New York City listening to his father's jazz records and taking trumpet lessons, and when he arrived at the University of Chicago in 1975 to study English the neighborhood was just coming out of a period of urban renewal and artistic and musical demolition. At the UofC, Black reported on urban renewal for the Chicago Maroon's Orientation issue.
In the 1930s and 1940s, the stretch of 55th that runs from Washington Park to the lake was overflowing with nightclubs and lounges, but in the subsequent decades the strip was torn down and replaced by low-rise buildings—such as the one Jimmy's now occupies.
"There was concern about property values because lots of black people were moving in, and so they turned it into this sort of postmodern dead zone," Black says. "And so they still had this very controlling attitude of keeping outsiders out." Yet Black, who in the seventies was passionate about jazz musicians like Miles Davis and Freddie Hubbard, found his musical niche, playing at jam sessions at the old Valhalla lounge in the Hyde Park Bank building on 53rd Street.
As an undergraduate, Black became interested in Chicago politics and grassroots community action. Besides his urban renewal reporting for the Maroon, he covered housing issues and memorably interviewed Cesar Chavez in his car after a lettuce strike on campus. In the years following his graduation, Black has written about Chicago politics for a smattering of citywide and national publications. He also founded Newstips, a grassroots Chicago news service which covers Chicagoans who are working to fight social injustice.
Over coffee at Salonica, Black spoke in a low, hushed voice and with a nervous energy as his eyes darted around the room and he shifted in the booth. For Black, jazz and journalism do not intersect, but work to fulfill him in different ways. "You know, with words you express something very specific—that's why you use words—but with music [you] express something that can't be put into words."
For Mitchell, who arrived in Hyde Park in 1961, a dozen years before Black, it was the "very lively jam sessions" at the South Lounge in the University of Chicago's Reynolds Club that initiated him into the Hyde Park music scene. There he jammed with big names like Wilbur Ware, Muhal Richard Abrams, Roscoe Mitchell, and Donald Garrett. "There was a lounge with a piano," said Mitchell, "and that was the catapult that got us started."
As an eleven-year-old in the northern suburb of Winnetka, Mitchell claims he locked himself in his parents' attic with a drum set and began training himself in both classical and jazz traditions. He didn't quit until he was good enough to receive an invitation to study under Gordon Peters, the first-chair percussionist for the Chicago Symphony Orchestra at the time. He turned down the offer in order to come to the UofC, but soon found himself listening in on the likes of jazz legend Dexter Gordon on the tenth floor of his Pierce Tower dormitory.
Mitchell's interests in jazz are not unrelated to his love for books and his job at the Press as executive editor on sexuality studies, rhetoric, history, and sociology. "I prescribe to the notion that the pre-rational intuitive processes that I use in making music and finding writers are similar. Creative skimming is what I think of as a jazz process," says Mitchell, alternating between a cup of hot chocolate and a double espresso at the Medici.
Like Black, Mitchell is a community organizer, but he runs in less political and more artistic and academic circles. He often brings visiting writers and academics from the Press to Jimmy's on Sundays. "The place has a physical function, but it's also a cultural institution."
Besides being a walking encyclopedia of Hyde Park history, visual art, and music—the booth we sat in at the Med, he told me, was Saul Bellow's favorite—Mitchell takes pride in bringing together "folks" of different backgrounds, especially musicians and scholars at Jimmy's. In 2007, he worked with trombonist and Columbia University music professor George Lewis to publish "A Power Stronger Than Itself," a 700-page volume on experimental music and the Association for the Advancement of Creative Musicians (AACM).
Mitchell's is a family of artists. His wife, the artist Christine Mitchell, had a solo exhibition at the Hyde Park Art Center in 2011. And his son, Wyatt Mitchell, who died in 2004, was a graffiti artist and a founding member of the legendary South Side hip-hop group Stony Island. One of his murals is on the alley-side wall of the FedEx–Kinko's on 57th Street.
Although there was a dearth of jazz opportunities in Hyde Park when the Curtis Black Quartet began, Black and Mitchell believe the future of Hyde Park jazz is looking up with the University's recent efforts to bring the arts into the community at new, state-of-the-art venues like the Logan Center and the Arts Incubator.
"The University's changed a lot since its post–urban renewal attitude," Black says. "They didn't want much in the way of entertainment going on in the neighborhood and now they've really done a 180 on that, which is a good thing."
Mitchell agrees, but is somewhat skeptical about the forces behind the recent outpour of money. "The arts are now visible. They used to be invisible," he says. "The building orgy that has been going on for the last few years. I don't know what to make of it…people from my generation are a little bit skeptical about razzle-dazzle and bling and all that." On that recent Sunday night, the band breaks after playing "I've Never Been in Love Before" from "Guys and Dolls," and two sit-in trumpet players arrive for the second set. Mitchell sits chatting with friends at a table by the stage, and Black wanders around the room with a beer in hand.
"We enjoy having younger musicians come and it's gratifying to watch them develop over the years and in some cases become really good," Black says.  Lester Ang, who received his bachelor's degree in statistics from the University of Chicago last year, is prepping his instrument. "As a student, I had lots of mutual friends who came to Jimmy's and they got me to come," Ang says. He's been playing on Sundays for the last two years.
The group finishes their drinks and Black and Mitchell gesture toward the eager newcomers that it is time to start back up. They jump in with "What is This Thing Called Love?" A growing thunder rises from Mitchell's drum set at the back of the stage. Up front, Black's trumpet wails out softly. There is tension here and it's working.
This story has been revised to reflect the following corrections:
Correction: November 5, 2013
An earlier version of this story misstated the name of trumpeter Freddie Hubbard, who inspired the young Mitchell.
Correction: November 27, 2013
An earlier correction and version of this story incorrectly identified Mitchell's childhood conducting experience. Mitchell was invited to study under Chicago Symphony Orchestra percussionist Gordon Peters; he was not, as a previous correction stated, invited to study under the conductor of the Chicago Youth Symphony.