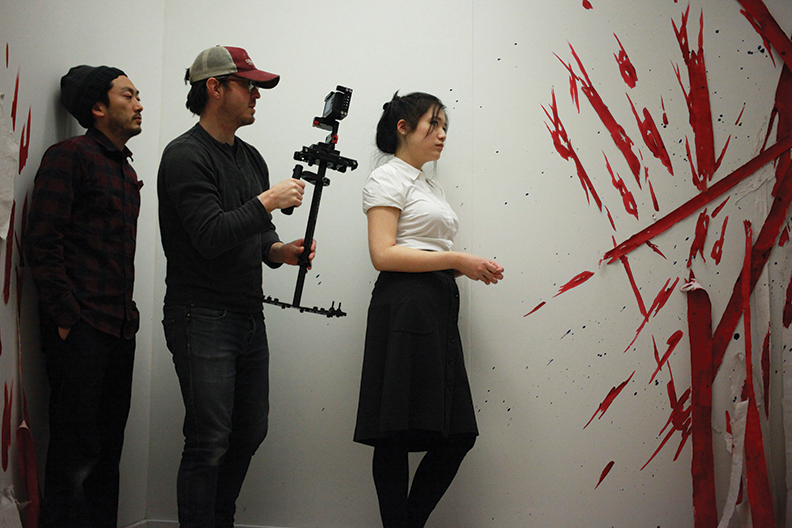 Scripts which open with a character waking up will be rejected," instructs the call for script submissions on the website of the Bridgeport Film Club. Among the other guidelines: "No special effects or choreographed action." 
"Most of them are practical," says Lance Eliot Adams, the club's founder and current head. In a good script for a short film, he explains, "you're in the story and the audience catches up to what's happening [by page one]. If you take a lot of time to set up, it's cash. To film somebody sleeping costs money."
Adams started the Bridgeport Film Club in 2012, seeking to unite independent Chicago filmmakers in a collective that could freely collaborate, without the same economic ties and dependence of a production company. The group organizes collective shoots, free script readings, critiques, and work-exchange programs, where filmmakers can volunteer their work in exchange for help in return.
Membership is not exclusive; anyone who participates in a few script readings or uses the work-exchange program can be asked to join. At the moment, there are four or five members who meet regularly, as well as a number of volunteers and participants in the club's different programs.
These programs are decidedly not designed to make a living for their members. "This project won't pay your bills," a page on the club's website for casting reads. "It could lead to more film work and build your reel. You'll have fun."
Adams and Eugene Park, a fellow filmmaker and collaborator, have been working on a film called "Self-Deportation" for over a year. It is the club's longest short film yet. Park, who has his own production company, Full Spectrum Features, first met Adams at a 2012 meeting of Chicago Filmmakers, a citywide filmmaking organization. Park told Adams about one of his concepts and showed him a "look book" (a few images that showed where Park wanted the film to go). The pair arranged a collaboration: Adams would produce and Park would direct. The project eventually became "Self-Deportation: The Untold Tale of a Marginal Woman."
"Self-Deportation" is a short film that balances surreal and allegorical elements with a socially- and politically-conscious tone. The film starts on the CTA, where an Asian-American businesswoman is confronted by other passengers, racially targeted, and told to "go back to your country." In response, she  builds a shipping crate and resolves to mail herself "home." The film then presents the different representations of "real Americans" she comes across in her travels. She moves between these archetypal cutouts of traditional characters—firefighters, cheerleaders, politicians, and quarterbacks—on her way to a home that turns out to be New Jersey.
In part, the film comes from Park's own encounters with racism; he's an Asian American, and is originally from New Jersey. But "Self-Deportation" is a film that seeks to communicate a broader message as well; the different characters encountered in the film are essentially unattainable stereotypes, with common and popular identities that anyone would have trouble calling their own.
Adams and Park are also concerned with marginalization of another kind. The evolution of video technology has created a sort of existential moment for traditional, commodified cinematic consumption. With the advent of online entertainment sites that can provide thousands of movies instantly and conveniently, the silver screen has lost much of its importance. Video technology has also made it easier for independent filmmakers, like those in the Bridgeport Film Club, to make and distribute projects in cheaper ways (the website identifies the club as part of a movement toward the "democratization of film"). Both Adams and Park are concerned with revitalizing now-limited traditional cinematic presentation. "People are less willing to travel to just sit in a dark room and look at a screen," Park says. "There has to be an event."
As a cinematic project, "Self-Deportation" shows how creative filmmakers are able to tackle and make the best of the challenges and opportunities that current technology presents. One of the film's screenings will be at the Midwest Buddhist Temple, on September 27, where it will be paired with a live soundtrack. Adams and Park also hired Chicago-based artist Brittney Leeanne Williams  as set designer for pre-production and filming in an effort to make the workspace as much of an art installation and performance space as it was a set.
"Most set designers are just interior designers," Park explains. "You give them money and they go into Crate and Barrel and buy things that look nice." Williams didn't do that. Her work, creating the space for conveying the different American personas of the film, is equal parts surreal and eye-catching. A dark living room set, littered with onions stuck to the walls and coming out of the furniture, provides the backdrop for the traditional family scene, and a construction of directionless and obtrusive ladders, reminiscent of M.C. Escher, is the space for the fireman scene. The sets are almost characters in themselves.
When shooting was finished, an exhibition was held in Ukrainian Village with reconstructions of the film set. Crowds were invited to walk around the work and meet the film's characters in a performance piece that invited audiences into the film mid-production.
"Self-Deportation" is scheduled to premiere at Chicago Filmmakers on September 6, with additional viewings at 32 Forty, an art space in Bridgeport, as well as at The John Marshall Law School and the Midwest Buddhist Temple. Adams and Park are still looking for an editor to help them finish the project, and for other cinemas and festivals where the film can be shown.
The reception of "Self-Deportation: The Untold Tale of a Marginal Woman" might be enough to push the Bridgeport Film Club forward as a model for independent and cooperative  endeavors for filmmakers—one that focuses, first and foremost, on collaborating to make more and better art. The club is also currently working on a series of films called "Harold in the Zone," focusing on a man who tends "to drive away the ladies."
Though they still don't want to see a film that opens with a character waking up, Adams and Park are open to almost anything. Adams explained that there is really only one thing he and the club look for in developing a script: "We just want stuff that's good." Turning to Adams, Park nods. "Yeah, that's the best way to put it."