On a dreary evening in February, as the sound of gunshots reverberates through a whitewashed room, a number of individuals approach its source. This is no crime scene. Rather, these bullet blasts issue from a video documenting the inception of two sculptures of esteemed interdisciplinary artist Sanford Biggers. Both the film, playing on a continuous loop, and the sculptures it features are elements of Biggers's temporary exhibition at the Monique Meloche Gallery, entitled "the pasts they brought with them."
"It's part of the larger phrase, 'the pasts they brought with them will enable us to change our future,'" said Biggers of the exhibition's title. "I've always been interested in our ability to change our future by knowing about our pasts, so that phrase is sort of a poetic way of saying that."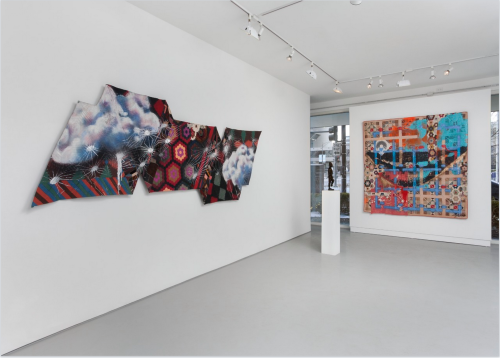 He explores this theme in a variety of ways in the pieces on display at Monique Meloche. On the walls hang vibrant and multifaceted textile pieces. Acrylic and spray paint overlay strata of fabric, serving to color, complicate, and amplify the material on which they are placed: historic quilts from the Underground Railroad era.
"I was doing some research on the Underground Railroad, and I found that quilts were used as sign posts on the Underground Railroad to communicate whether a safe house was opened or closed, or sometimes even [to give] directions," Biggers explained. "Conceptually that got me very interested in the idea of adding another layer of meaning or code to them hundreds of years after the original ones were made."
In his artmaking, Biggers describes himself as "defiantly, always interdisciplinary."
"My work explores several different themes, creating tension through use of clips ranging from old Fat Albert cartoons to Buddhist monks making sand mandalas, to 1960s film noir… I am not so interested in making a singular signature style—I find that very limiting—but I'm interested in finding different ways to communicate various ideas."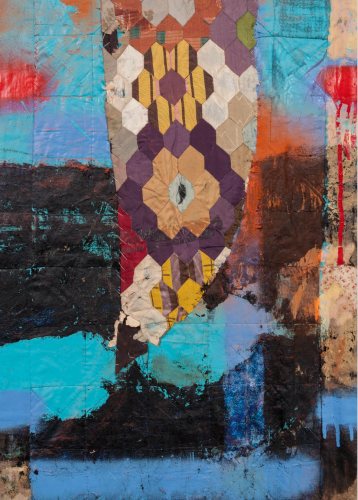 Native to Los Angeles and New York-based, Biggers credits Chicago for furthering his prolific career. "I went to the Art Institute of Chicago for my masters, and I've debuted in Chicago several times over the last fifteen years, and I'm also one of the Board Members at the School of the Art Institute of Chicago," he said. Local artists, including Brian Sikes, Kerry James Marshall, and the late Ray Yoshida, had a significant influence on his work.
At "the pasts they brought with them," Biggers's piece "DAGU" zig-zags across the wall. It is named after the communication system used by the Afar, a migratory people of northeastern Ethiopia.
"They used to walk hundreds of miles a day," explains Biggers, "But as they walk, their people cross directions, so that they learn everything that's happening in one direction, and the other group learns everything in the opposite direction. So then they exchange, ending up so that they know everything."
Comparably, the elements of "DAGU" interact and inform one another; strips of hand-stitched, geometric fabric fragments bind the antique quilt pieces together, embellished by spiderlike metallic paint splatters and colorful yet ominous clouds.
The other larger textile piece, "Hat and Beard", is a true amalgamation of several of the exhibition's overarching themes, speaking simultaneously to racist disguise and obscured identity as well as cultural fusion and temporal overlap.
"This was a painting that I was struggling with, so I put on an old song by a jazz musician I love, Eric Dolphy from the album Out to Lunch! My favorite song on that album is called 'Hat and Beard.' I also like the double entendre of 'hat and beard'—actually, the 'beard' can be the heterosexual mask of a homosexual person. So I sort of liked the play between those two ideas."
This idea of masking manifests in the layers that compose the surface of "Hat and Beard." Most prominent is the centered outline of a smiling pair of lips in thinly painted black, encaged in a cobalt blue grid that mimics the original antique quilt's grid-like pattern. The lip shape, which has been a motif in many of Biggers's previous works, alludes to both the disappearing figure of the Cheshire Cat and the demeaning blackface makeup of minstrel show players in the early nineteenth century.
On pedestals in the center of the room rest the bronze sculptures whose construction through violent deconstruction is documented in the aforementioned video, "BAM."
"I had been collecting wooden figures for fifteen years," Biggers said, "and with them I'd done a small piece here and there, but it was never a concentrated series or body of work. So when I came up with this recent idea it was in response to reading newspapers and watching news reports of multiple shootings of unarmed citizens."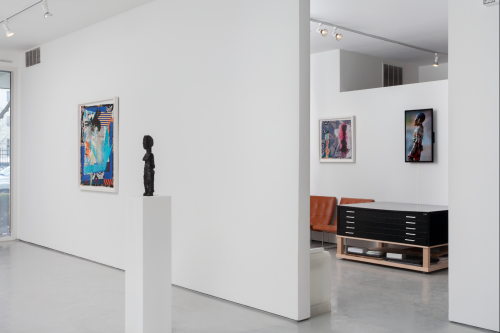 "For Michael" and "For Sandra" are bronze replicas of the altered wooden effigies, stained with a dark black patina. Missing chunks and bullet holes mar the feminine figure of "Sandra"; notably, her face and left arm are entirely severed. Similarly, "Michael" stands somberly on one leg; his other is merely a stump, and a great block is missing from the back of his head.
Despite the direct reference to the Michael Brown and Sandra Bland cases of racially-charged police brutality, Biggers wanted the significance of this series to be even more broad in scope: "Obviously there's a lot of these events happening, even specifically happening in Chicago in the past several years, but they're happening everywhere. Unfortunately, it's a widespread epidemic."
Equally as impactful as the end product of these masterfully transfigured memorials, overtly and unapologetically political in nature, is the methodical process that went into their creation.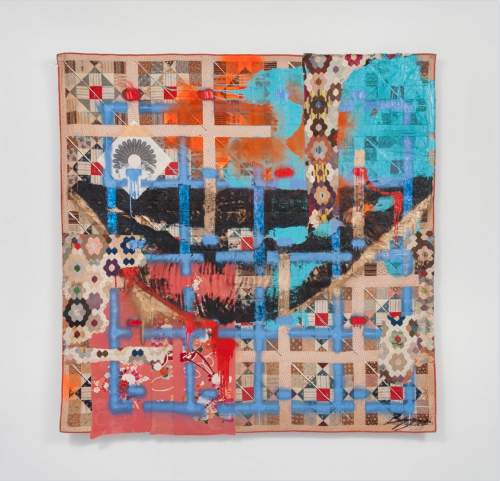 "I dipped them in brown wax just to make them a bit more abstract and erase their identity, and then I took them to a shooting range and I sculpted the figures with bullets, as a symbolic gesture. Then I took the remaining fragments of those sculptures and cast them in bronze, so what you'll see at the gallery are the bronze castings."
In "BAM", this disfiguring is illustrated through a wide array of filmic techniques: slow motion, reverse chronology, extreme close-ups, rapidly varying cuts, and amplified sound. Shards of wood explode and rotate in midair as the bullets come in contact with the figures. Then, just as the video ends, "Michael's" leg is blown out from under him, and he dramatically and pivotally collapses.
Towards the end of the exhibition's run, Biggers hopes to perform with his band Moon Medicin, which composes pieces through a process of compiling and reinterpreting clips from the past in the context of assorted cultural, geographical, and period-specific musical modes.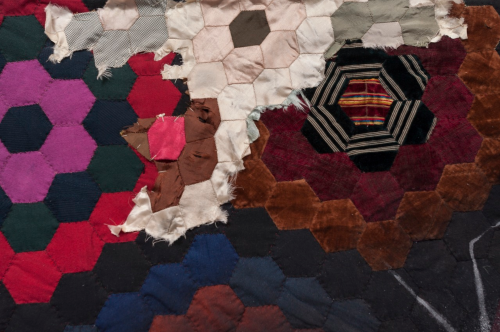 In response to the projected impact this exhibition will have on viewers, Biggers expects diverse, idiosyncratic reactions. "There's great relevance because a lot of communities in Chicago have brought pasts with them. First there's the Great Migration, but there's also the Polish, Irish—there's a ton of different groups here…I think it really depends on the experiences a viewer brings to the exhibition: 'the pasts they bring with them.'" ¬