When it opened in 1927, the Picadilly Theatre on Hyde Park Boulevard could easily seat over 2,000 audience members. Fifty years after its closing in 1963, restaurateur-moguls Bruce Finkelman and Craig Golden of Empty Bottle, Longman & Eagle, and Thalia Hall scavenged the site for architectural fragments to use in their new Hyde Park restaurant, The Promontory.
In an August 2014 interview, Finkelman told me, "By the time that we got in there, there were curtains all over the place; it was beautiful but it was in such a state of disintegration that any time I went to touch anything it would just fall apart." They did manage to salvage one piece out of the old 2,000-plus seat theatre—an old cabinet with an attached mirror that now sits on the top floor of The Promontory.
According to Cinema Treasures, a website which aggregates data on movie theaters worldwide, there are forty-three theaters currently open in the Chicago area, and twenty-three of those regularly show movies. There are, however, 500 closed theaters, 211 of which have been demolished—many on the South Side—leaving a large number of them in limbo.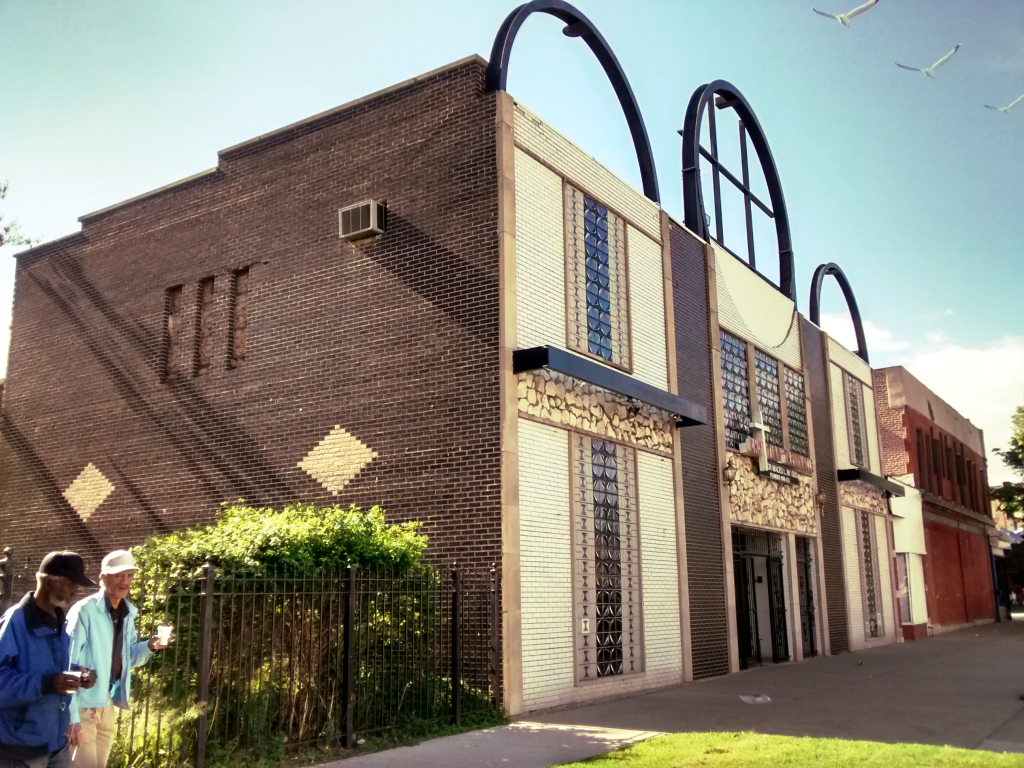 The story of attempted efforts to rehabilitate and reuse various buildings has played itself out across Chicago in any number of spaces: slaughterhouses, stockyards, factories, grain elevators. Yet movie palaces seem to be a strange case.
Before the American movie industry moved west and corporatized, Chicago was home to the first major black American filmmaker, Oscar Micheaux, who created over forty films including 1920s Within Our Gates, which originally played at the Pickford Theatre on 35th and S. Michigan. The Pickford, like many theaters in Chicago, was part of a family chain. The Hammond family, which owned the Pickford, also operated the Vendome at 3145 S. State St., which could seat over 1,000, as well as the Elba Theater and Fountain Theater, both on the South Side.
A few years later, when most film production had moved west, Film Row was established a few miles north of the Pickford along S. Wabash Avenue from 8th to 15th Streets. Distribution offices for Universal, Warner Brothers, MGM, Paramount, and others lined this stretch along with companies that sold concessions, posters, and other miscellaneous cinema necessities such as theater seats.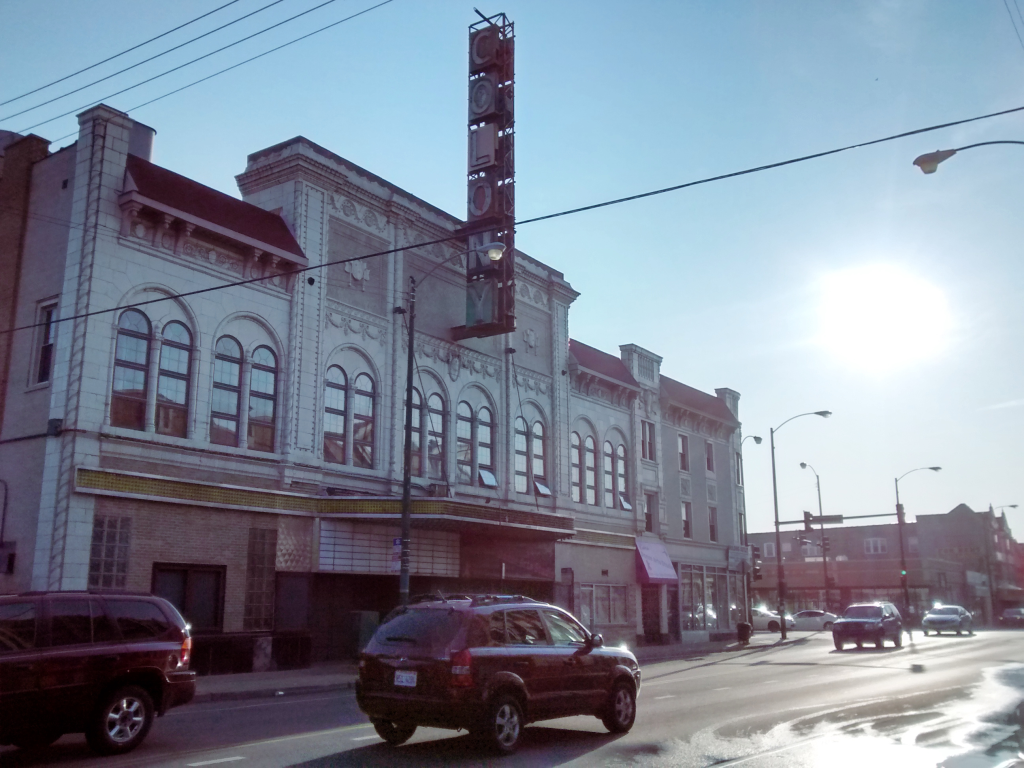 Today many of these theaters and their seats have gone the way of silent films, slapstick, and double-breasted suits. Sporadic attempts have been made to restore and reopen theaters, though often the years of disuse and the financial burden of restoration outweigh the perks of developing the land for other uses.
While the one-screen, large audience setup seems antiquated against today's movie multiplexes—where theaters such as Chatham 14 can show not just one but, well, fourteen different movies at one time—what often gets lost to history is the amazing flexibility of the old spaces. They showed not just films, but staged plays, musicals, and concerts. They were not just places where people could go to watch or listen, but to get out of the hot or cold, kill time, or catch the news.
So many of these buildings are already gone—the Vendome where Louis Armstrong and Fats Waller played in the orchestra was demolished in 1949, and the Monogram where Sidney Bechet played with Ethel Waters and Ma Rainey is now an Illinois Institute of Technology parking lot—but the theaters that remain are physical reminders of the history and culture that both Hollywood and developers are so good at effacing. (Robert Sorrell)
✶ ✶ ✶ ✶
Ramova Theatre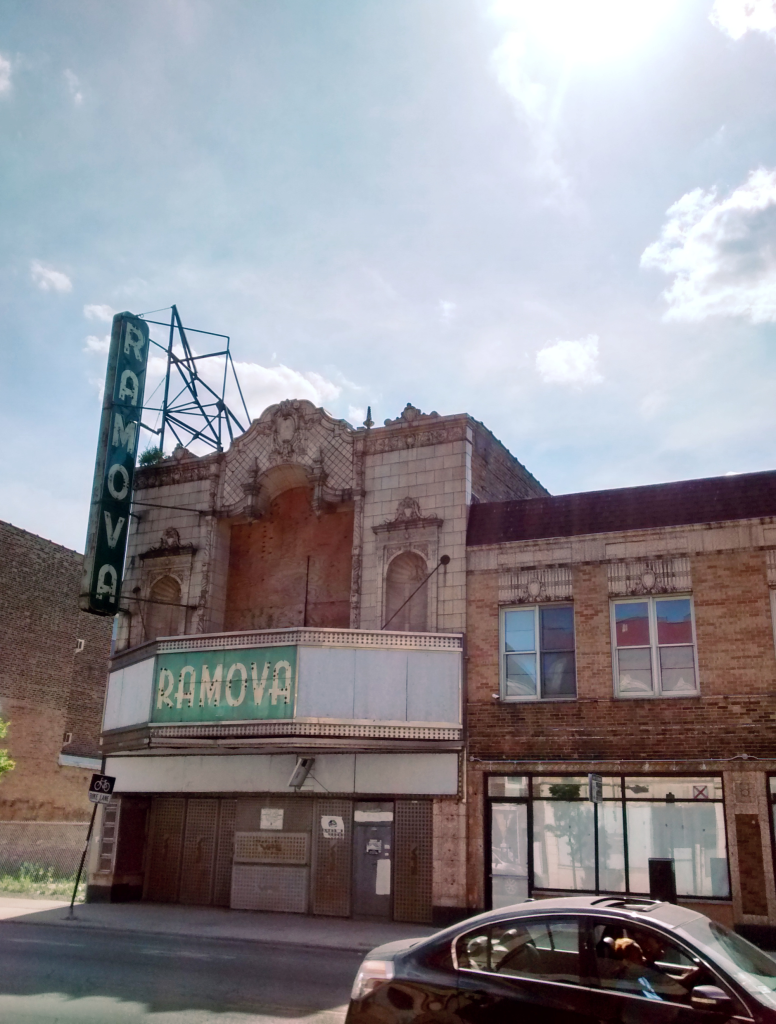 You can tell someone's not from Bridgeport if they stop and stare," an old woman whispered to her friend as they passed by me, amused at my wonder as I looked up at the remains of the once-magnificent Ramova Theatre. Just south of 35th and Halsted, the abandoned theater stands as a neglected reminder of what movie theaters used to be. Its deteriorating outside is beguiling, hiding the magic it once contained.
When it opened in 1929, it was majestic: holding nearly 1,500 seats and designed in Spanish Revival style, ornate down to the last detail. In its glory days, thousands of patrons each week saw the night sky painted on the theater's vaulted ceiling. It was opened as a sister theater to Lakeview's Music Box Theatre, but met a much crueler fate. While the Music Box is still a functional independent theater, Ramova's declining ticket sales led to its closure in 1986.
Since then, the theater has fallen into an ever-increasing state of deterioration. After being acquired by the city in 2001, its future has been very much up in the air. In 2005, a group of Bridgeport residents started up a community group—Save the Ramova—to try to preserve the theater.
"Our interest is as homeowners in the neighborhood," says Rob Warmowski, a leader within the group. "Our interest has been purely from the perspective of a general renovation of the neighborhood's main drag (Halsted St.) from its current doldrums." The group's petition gathered over 4,000 signatures in a matter of weeks, and stirred up feelings of support from Bridgeport residents both past and present—those who would benefit from a neighborhood theater now, and those who nostalgically remember what the Ramova used to be.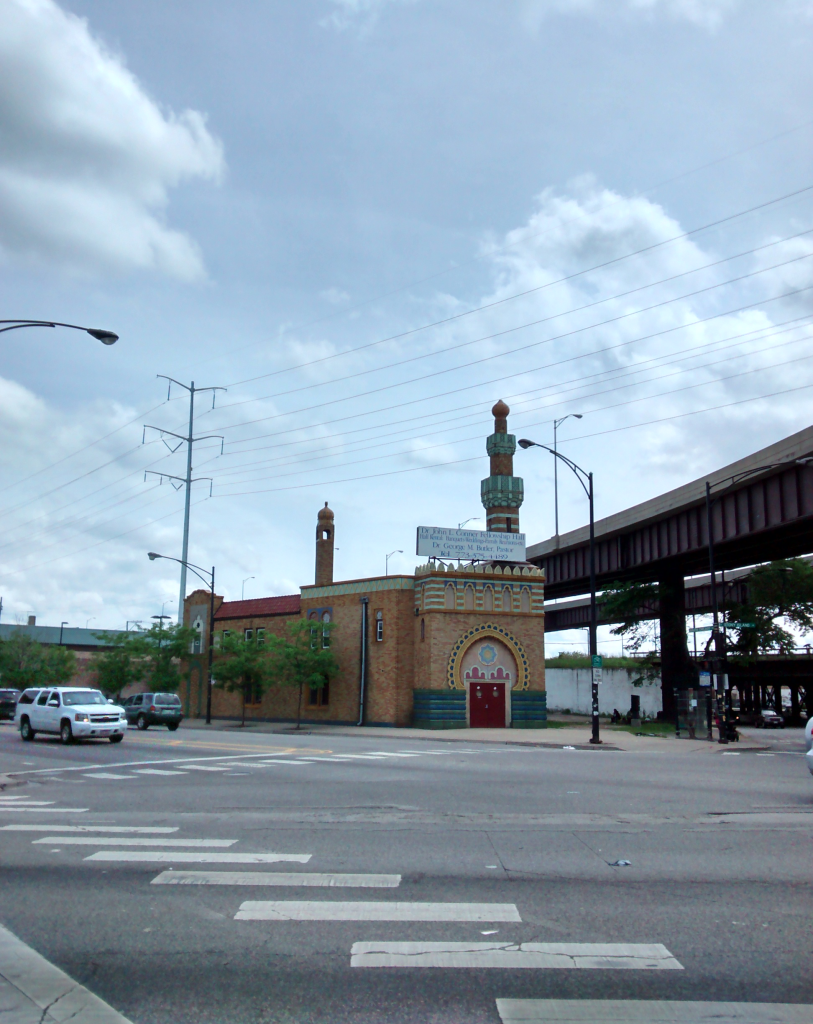 As of now, however, there's no definite vision for what a re-opened Ramova would look like. The space has substantial potential for furthering the arts in Bridgeport, both because of its size and central location in the neighborhood; there's been talk of turning it into a community arts space. The problem is that the estimated restoration cost would be over $12 million, far more than anyone has yet been willing to spend. In 2012, the city used TIF funding to "stabilize" the building, fixing the most pressing damage in order to preserve the possibility of restoration. Bridgeport residents were hopeful that this move would stir interest and create momentum, but so far no developers have stepped forward with a plan.
While Ramova's future looks faint, residents are staying optimistic. Although in bad shape, the theater is still standing, and no movements towards demolition have been made. Warmowski communicates this hopeful feeling, emphasizing how little change would be needed in order to benefit the community: "We believe that even the appearance of a living theater—a restored and lit marquee alone—would jumpstart this process." (Eleonora Edreva)
Ramova Theatre, opened in 1929. Hosted the Chicago premiere of Chaplin's "The Great Dictator." Closed in 1985, currently unoccupied. 3518 S. Halsted Street
✶ ✶ ✶ ✶
New Regal Theater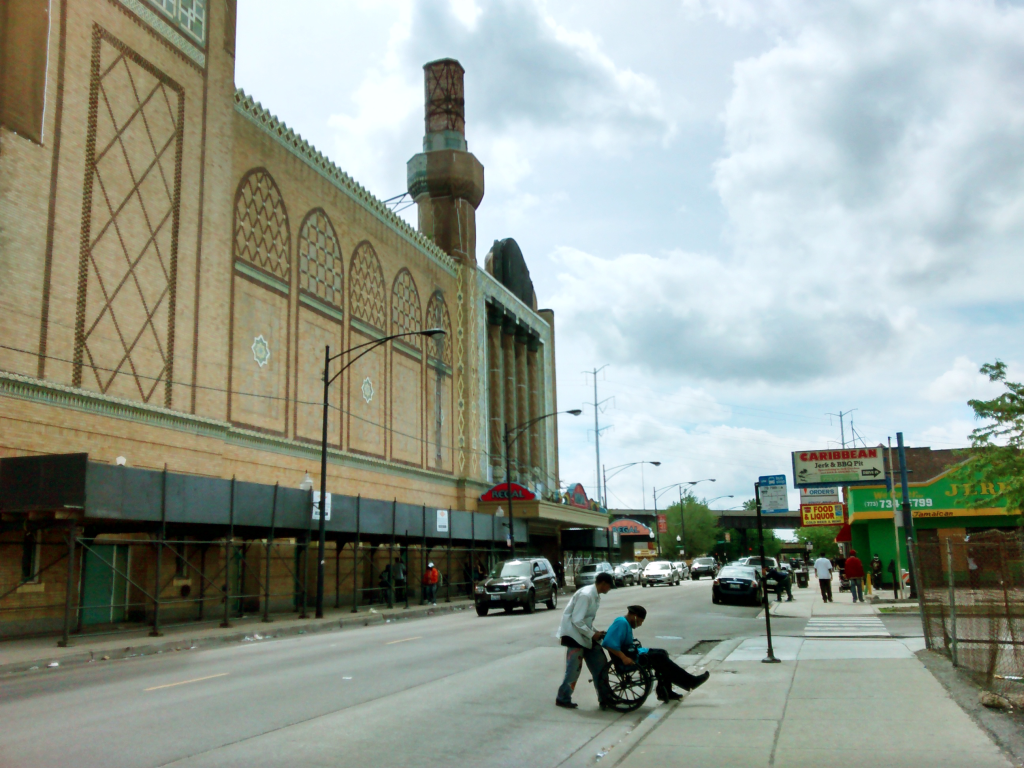 Originally opened in 1927 as the Avalon Theater, the New Regal Theater on 79th Street stands as a testament to the grandeur of the movie palaces of the 1920s and 30s. Designed by Austrian architect John Eberson in the Moorish style popular at the time, the movie palace was renamed the New Regal in 1987, paying tribute to the original Regal Theater in Bronzeville, which was demolished in 1973 after being partially ravaged by a fire. The 2,250-seat theater, which now stands in a state of gradual decay without consistent maintenance, was a movie theater throughout the late 1970s; it was used as a church for a brief moment before being closed and put up for sale.
But the New Regal has not been completely forgotten. An unlikely buyer—the 30-year-old head of Community Capital Investment Partners, Jerald "J" Gary—has recently acquired the theater. Having grown up near the New Regal, Gary has committed to restoring the property as well as potentially buying up surrounding properties to revitalize the area. Ultimately, he hopes to reopen the theater as a movie palace and reestablish it as a major performing arts center on the South Side.
In March of this year, Gary launched a Kickstarter campaign to fundraise $100,000 to reopen the theater. "Resumed operations at the New Regal will produce local jobs and regular programming will contribute to the creation of a more vibrant economy and safer neighborhood," Gary writes on the campaign page. When contacted, Mr. Gary and Community Capital Investment Partners declined to comment.
While the campaign did not reach its goal, it is certainly unlikely that this marks the end of Gary's fundraising attempts. Nonetheless, the campaign for $100,000 is just a small portion of the estimated $5 million that would be required to fully restore the theater—all going towards mechanical repairs to the internal technology and to physical repairs of the façade.
Gary is not the first who has attempted to protect the Theater and its history. Previous owners and founders of Soft Sheen Products funneled an astounding $16 million of their own money towards maintaining the building from the late 80s to 2003. In 1992, the building was protected as a Chicago landmark. But such a status did not give the theater the boost many thought it would, which does not come as a surprise in the changing landscape of recreation—massive movie palaces soon fell out of style, and the New Regal failed to attract the numbers and well-known acts that it had once hosted. (Emiliano Burr Di Mauro)
Avalon Theatre, opened 1927. Theatre closed in 1952, reopened as performance arts venue in 1987, renamed New Regal, closed in 2003. Opened in 2007, closed in 2010. 1645 E. 79th Street. Right, an extension of the Avalon Theatre complex. Haven of Rest Missionary Baptist Church. 7925 South Chicago Ave.