Who even knows (read: cares) what Chief Keef is up to anymore? After 2012's Finally Rich, the former drill icon fled to Los Angeles and gave up his spot on hip-hop's cutting edge in favor of (as far as one can tell from his Instagram) gold-flecked bathtubs and chrome-plated cars, or whatever. In the power vacuum created by his absence in Chicago, Hyde Park Academy alum King Louie has become Chicago drill's undisputed figurehead and FRONTRUNNER—and Louie knows it, too. His second release of the year, Tony, is littered with claims to kingpinship, kingship, god-kingship, and godship, as well as at least six dozen references to or samples from Louie's favorite movie, Scarface.
Can you blame him for being so unapologetically triumphant? When he yells "oh my god oh my god / squad" like twenty times on "G.O.D." it doesn't sound indulgent, it sounds correct. Louie isn't just stepping into Keef's shoes here, he's pushing the drill sound forward, honing its standards of momentum and repetition: the hilarious "Till I Met Selena" and the unprintably-titled "F— N—" are great moments wherein Louie sounds specifically, inimitably himself. A lot of this innovation has to do with the way Louie's shouting appears to be abusing or escaping the beats over which he's rapping ("MF," "God King"). He also sounds better (read: almost beautiful) using the classic warbly drill auto-tune than Chief Keef ever did, as on the tremendous "Michael Jackson Money."
Required reading from this mixtape, too, are the literate "Ambitions as a Rider" (c.f. Tupac) and Louie's impeccable manifesto, "Live & Die in Chicago." Here Louie announces himself, rightly, as the finest remaining flower of Chicago drill, and snubs Keef by declaring his unfailing loyalty to the city that made him. I'm-on-top albums are a definite staple of any hip-hop career (see recently Mastermind, O.N.I.F.C.), but they usually come out sounding boring, senseless, or indulgent. Tony, however, sounds abrasive, committed, and cantankerous, even in the moments when Louie is resting on his laurels. The new triumph is a post-tenth-round triumph, a come-try-me triumph. (Jake Bittle)
The album cover of Village Party, Alex Wiley's latest album, is telling: Wiley looks out, stylized as if in a mural or piece of graffiti, his face tired and vaguely addled. Caricatured yet not completely removed from reality, the picture creates an excellent parallel to the real-life career path of Alex Wiley. Having debuted with a style that lacked any cohesion whatsoever (he sampled "R U Mine?" and "Throw Some D's" not just on the same album but on the same song), Wiley has gradually constructed a persona that is all his own, allowing his real face to emerge from a murk of color.
While other South Siders like Mick Jenkins and Chance the Rapper are unabashedly lyrical, Wiley opts for a more even-keeled approach: Village Party is notable not just for Wiley's tense and high-pitched vocal style, but also for its expansive approach to production, incorporating martial rhythms and Hendrix-lite guitars along with the usual snare-heavy beats and synthesizers. This inclusivity, along with the loose approach that Wiley takes in structuring his songs, places Village Party in the tradition of Run-DMC and the Beastie Boys, artists who recast "rock" rhythms and heavy guitars against hip-hop songwriting. Wiley himself has expressed his debt towards the rock records of his childhood and their impact on his oeuvre.
This probably isn't all an aesthetic choice: Wiley's most obvious flaw is his rapping. Lyrics like "Cryptic on the phone keep it cautious / Cause I don't trust that bitch" usually fail to impress, and his echo effects and ad-libs only go so far. Guests like Kembe X and Mick Jenkins, both fellow Chicago up-and-comers, stand out in their ability to take hold of a track and dominate it, something that Wiley doesn't always do. Wiley seems aware of this: he's attributed his songwriting struggles to his ADD in both interviews and songs. One such song is "Ideas (Adderall)," a rarity in which Wiley's nervousness coalesces around a concrete image, that of a drugged-out one-night stand, backed by a stuttering trap beat. "I'm high / and you're hot / and I'm cool" are hollow and meaningless lines on their own, but in Wiley's voice they might hold enough desperation and insecurity to carry a career. (Austin Brown)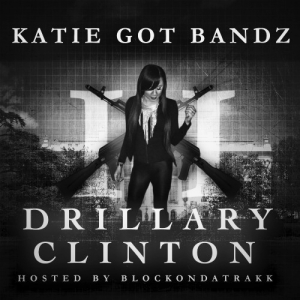 Katie Got Bandz, Drillary Clinton 2
This newest release from drilless-in-chief Katie Got Bandz opens and closes with martial chants and speeches, and Katie's insistence on the nickname Drillary Clinton seems to suggest that Katie has some interest in politics—or, more likely, rule—but the nine tracks in between the intro and outro are never anything but personal. Sometimes, in the midst of a thirty-two-bar stream of brags and disses, Katie even gets private, which you hardly ever see in drill.
Essentially, what I'm trying to suggest here is that this newest tape from Katie crystallizes the unhesitating narcissism which attracts so much ire from devotees of "deeper" music; but the dozens and dozens of ways in which Katie self-affirms here are pretty damn deep when seen from a birds-eye view. This is music made in the heat of a teeth-grinding, self-aggrandizing moment, music ("Who Da F—, "Soldier") that doesn't seem written so much as secreted by a woman in the throes of a life-or-death battle with, apparently, the entire planet. This battle, it seems, can only be won by vigorous and extensive self-affirmation: a fun game you can play while listening to this album is to count the number of times Katie yells "Katie!" at herself from the background of the song.
Still, narcissism—which we might more charitably refer to as "self-construction"—is in right now, and when it's done as artfully as it is on "Nothing" or as intensely as it's done on "Lil B—" (which makes me genuinely afraid) we need not hesitate before praising it as, yes, innovative. Katie's lo-fi inaudibility, her snarling refusal to compromise or hold back (see, appropriately, "I Can't Lie"), is all the emotional complexity this tape needs to earn a place among 2014's best efforts. That is to say, beating a dead horse may only be bad if you don't beat it well. (Jake Bittle)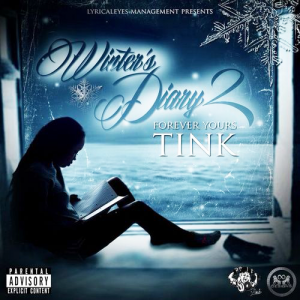 Tink, Winter's Diary 2: Forever Yours
Eight or nine months before the music world went gaga over FKA twigs's LP1, Chicago's risingest female star Tink had already released Winter's Diary 2, a compendium of half-haunting, half-sultry songs that together are far less convoluted and far more compelling than twigs's debut. While Katie Got Bandz and Sasha Go Hard shine more often than not when they're revitalizing or reacting to the male-dominated drill scene, Tink flits in directions entirely her own. She dwells alternately in spaces reminiscent of Beyoncé's diffuse 2013 sex/love tunes ("Freak Like Me," "Fight It") and in cloud-filled acoustic soundscapes more sensitive than most 2014 music outside of, like, Sharon Van Etten.
Just listen to the crawl of "Treat Me Like Somebody," "Lullaby," and the phenomenal "Your Secrets": it's not just that Tink has pipes, which isn't enough in the twenty-first century, but that she knows how to sink into, sing into, the usual assortment of distortions and effects and percussions without leaving the pathos of the words as they are sung. The undisputed standout here is "Count On You," where her voice splits and reunites almost line by line over rattling drums. Whether Tink will be joined in 2015 and beyond by imitators and derivatives is hard to say: on the one hand, it's hard to imagine not wanting to capitalize on this stylistic redefinition (yes, really) of romance and lustful meditation, but on the other hand, it'd be hard to do it anywhere near as well as she's done it on this inexhaustible volume, which even ten months out still sounds new and dense. This is languishing music, waking-up-at-1pm-when-it's-snowing music, music for long nights and the longer days after. This is proof, ladies and gentlemen, that R&B has room to stretch and grow. This is a return to the dominance of mood. (Jake Bittle)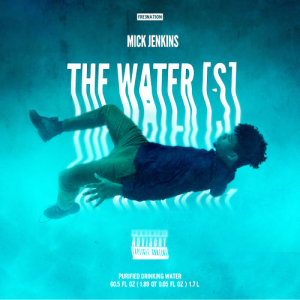 Mick Jenkins, the Water[s]
When Mick Jenkins dropped his sophomore mixtape the Water[s] in August, no one was ready for hard-hitting, thought-provoking tracks from the virtually unknown artist. Now the Water[s] is one of the most talked about mixtapes of the year and has given the Chicago-based rapper national attention.
On every track, smooth underwater-like beats sit underneath Jenkins's gritty lyrics, creating a drive-thru carwash effect: it's relaxing and overwhelming at the same time. This contrast between harsh lyrics and smooth beats is most evident in the title track, where Jenkins raps, "Water more important than the gold / People for the gold / Everybody do it for the gold / People save your souls," over a slow, almost otherworldly and dreamlike beat. He calls out the way that so many people value money over other, life-sustaining things.
The track that really shows off Jenkins's serious poeticism is "Martyrs," first released at the end of last year in a music video. Jenkins rips raw lyric after lyric as the chorus from Billie Holiday's "Strange Fruit" echoes in the background. He turns the second half of the hook, "I'm just wit my n–ggas hanging," on its head by pairing it the with the "Strange Fruit" sample, effectively changing an image of a group of guys just "hanging" into one that recalls, startlingly, Jim Crow lynchings. (Adia Robinson)
Read our stand-alones here.