To enter means to cross a threshold, something that is at once a barrier to what we seek and yet, simultaneously, that which allows us to gain access to it.
Enter Pilsen's Slow Gallery, an "artist-run curatorial project with a deliberately unpolished gallery," curated by Paul Melvin Hopkin and directed by Hopkin himself, alongside Jeffrey Grauel. The gallery often showcases two or three artists together, organizing the pieces on display around a central theme in order to prompt the viewer to think more deeply about the different artists' practices and the common threads running through their work.
The exhibition Every Link is a Separation, on view through November 26, explores the nature of boundaries and connections. "What links us to other people is very related to what separates us from [them]," explained Hopkin. "[The suggestion that 'every link is a separation'] is actually a big idea…and all the artists are kind of dancing with that idea."
The first piece the viewer encounters upon entering the gallery is a fence by Fidencio Martinez, who was born in Mexico and raised in North Carolina. Two fences made of linked paper chains—one cut from what might be an Office of Coast Survey nautical chart, the other from a map of the U.S.—overlap. Looking at it from the side, you can discern the names of cities and the tangles of highways.
Next to it is another piece by Martinez, a much larger paper chain-link fence also cut from a nautical chart. A net of winding roads, stretching interstates, and curving cul-de-sacs sweeps over the fence. Washing over the paper of both pieces is a blue-green net, evoking the image of the sea.
"[Hopkin and I] think [my work] is about heartbreak, or, like, the loss of affection," said Martinez. "Affection and heartbreak seem to be intertwined. I don't know what that means right now, but for someone who grew up for a few years in Mexico and was smuggled across the border to the U.S., affection played a role in the culture I was brought up in."
In Martinez's work, these feelings and emotions surface tactilely through the cutting of paper to make the fences. The act of cutting, though seemingly an innocuous part of his practice, raises complex questions for Martinez. While it is considered skilled work—something Martinez can receive a visa for—the work of a cook cutting vegetables would be considered unskilled. Martinez hopes to highlight how arbitrary the distinction between skilled and unskilled labor is, and how much it depends on the government, the perception of others, and the context in which the work is done.
Fences are barriers, but the ones Martinez constructs are made of paper; anyone could rip them apart. Some of the chain links on the larger piece even appear to be disintegrating, as if they have rusted away because of the sea, just as boundaries, despite their intentions, are always penetrable. When Martinez first started making the fences, he had been collecting maps in an attempt to find the route along which the smugglers had taken him and his mother to get to the United States. Cut into the shape of a fence, the maps come to resemble a barrier, but also become an affective entryway through which Martinez can connect to a past time and place.
Turning away from Martinez's work, you approach a doorway covered by a beaded curtain—Swan Song, a piece by Noël Morical. The curtain functions like a fence in the sense that it divides space, but is different in that it is intentionally permeable. Morical's beaded curtain consists of taupe ceramic pieces with spherical indents hanging from small silver chain links. Pushing the chains to the side, you slide your body gingerly through the hole you've created. As you move through the opening that closes around you, the piece announces itself in a waterfall of musical clinking reminiscent of wind chimes.
Swan Song was actually the conceptual seed of the exhibition. Morical and the curator, Hopkin, had worked together in a previous show where Morical had wanted to create a beaded curtain, but found it didn't fit in that show. Her fascination with curtains stems from what she felt they could say about a home or a person—what does the curtain separate, and by being permeable, what does it simultaneously connect?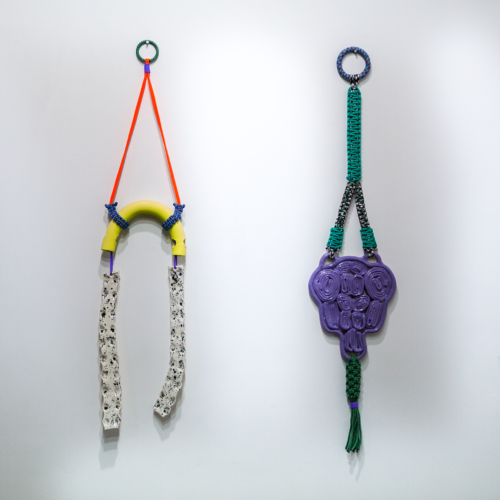 Morical has two additional pieces in the exhibit, Wellygog and Temperance Diving Bell. The hanging pieces, made from ceramics and knotwork, resemble jewelry or baubles and are much smaller than the suspended macramé pieces she usually makes.
Morical says that when Hopkin asked her for these pieces, she was taken aback at first because she usually does not create art on commission. She went forward with the smaller pieces anyway, hoping it could be "a platform to explore some different modes of making, incorporate some elements that I had been playing around with [and play] off of what I usually do," said Morical. "I'm glad to have had a chance to work on them…it's embracing a new way of making."
Hopkin has a way of helping artists to make connections and further understand their own work, and it stems from his emphasis on knowing the artists he works with personally. "I keep track of artists," Hopkin said. "I seek them out." He frequents show openings, visits studios, and asks people he has worked with whom to pay attention to. He will often approach artists about what they're making, and "generally then you have a really intense discussion [that] goes [in] a lot of different directions," said Morical. "It's nice to have that push to try something that you don't usually try."
Once you've passed Swan Song, you can walk into the gallery's backyard to see Valentina Zamfirescu's massive single piece: a length of beige felt, at least twelve  feet long, with foam underneath that stretches outwards and upwards to the other side of the yard. According to Hopkin, Zamfirescu's work appeared more like a literal fence at the start. Though the piece's current version looks more like a suspended pathway, it still functions as a fence in that it acts as a physical barrier and demarcates space.
"A lot of my work recently has been dealing with how to make certain spaces accessible and others not," said Zamfirescu. "How to control movement within a space, how one plans [for people to move around the art a certain way,] but then see how people defy that plan."
The work does not reveal much on its own, and it's difficult to know what Zamfirescu intended by it. Perhaps it relates to her childhood memory, to the dramatic change she faced at age twelve when she moved to the US from Romania, "though [that] shouldn't really matter," she noted. "It could be something different for…anyone who is looking at it. People come and look at it and bring whatever history they have."
A paper fence, a beaded curtain, a felt-and-foam barrier. These are the points through which the artists in the exhibition, carrying their own histories and bringing their different attachments to this idea, explore the theme of connection and separation. As viewers, we see the outcome of each artist's investigation and are, in a way, linked to them as we engage with their art. We are made aware of the fragility of fences by Martinez, we are called to push through the barrier that Morical creates, and we are reminded of where we stand physically and within our past by Zamfirescu.
Though the artwork gives us some insight into the question of links and separation that the exhibit invited us in with, there is no clear answer, and you will likely leave with more questions and a more complex and nuanced consideration of the concept. The distinction between what links us and what separates us—from each other and from ourselves—is often unclear, but perhaps that is the nature of connection.