On January 16, Liberty Baptist Church was packed shoulder-to-shoulder. Under the stained-glass windows, churchgoers swayed back and forth, singing along to "When the Gates Swing Open"—but with one notable absence. Otis Clay, who for decades had sung the very same song from the pulpit, was now in a casket.
The legendary South Side musician passed away on January 8 at the age of seventy-three. Hundreds of families came to Liberty to celebrate his life, leaving bouquets of flowers and sharing fond memories. Among the mourners were the children of Tyrone Davis, a friend of Clay's and fellow soul singer best known for the 1970 hit "Turn Back the Hands of Time." When Davis died in 2005, Clay sang at his funeral. Clay's former manager, Miki Mulvehill, recalled that Clay "would sometimes sing at multiple funerals in one Saturday," not just for dear friends, but also for complete strangers.
"Otis was the guy who used to ease our sorrow at funerals," said blues harmonica player and singer Billy Branch. "There's a huge void here."
Throughout his career, Clay was a rare talent: someone as well-respected in blues and soul as in funk and R&B. But gospel music and love of God were his most pronounced musical influences. When one listens to his performances of songs like "When the Gates Swing Open" at funerals, it's clear that this is more than just a song: it's a twentieth-century hymn, informed by a childhood spent singing gospel and a lifetime filled with faith.
Otis Clay was born in Waxhaw, Mississippi in 1942. When he was only four years old, he began singing in a family gospel band. The Great Migration brought Otis to Indiana, where he stayed briefly after the death of his mother before moving in 1957 to Chicago, where he would spend the rest of his life. Here, after getting his start in a group called the Golden Jubilaires, Otis landed his first professional gig with the Blue Jay Singers when he was only seventeen years old.
"Here we are singing a cappella, and we're singing in elementary schools, high schools, hotels and colleges and things like that," Clay said in an interview for the biography posted on his website. "We were known as variety singers, or we were billed as (performing) 'Old Negro Spirituals and Plantation Melodies'."
Clay worked with several other gospel and a capella groups throughout the early sixties, but it was in 1965, with the release of his first single, "Flame in Your Heart" on One-derful Records, that his career truly began to take off. From 1965 to 1968, Clay released his music on One-derful, the same label that recorded the Jackson 5's first demos in 1967.
When One-derful Records closed up shop in 1968, Clay moved to Hi Records, where he released the classic Trying to Live My Life Without You and earned himself a performance on the television show Soul Train in 1972. Over the years, Clay managed his own Echo Records imprint and recorded some career-defining live performances in Japan.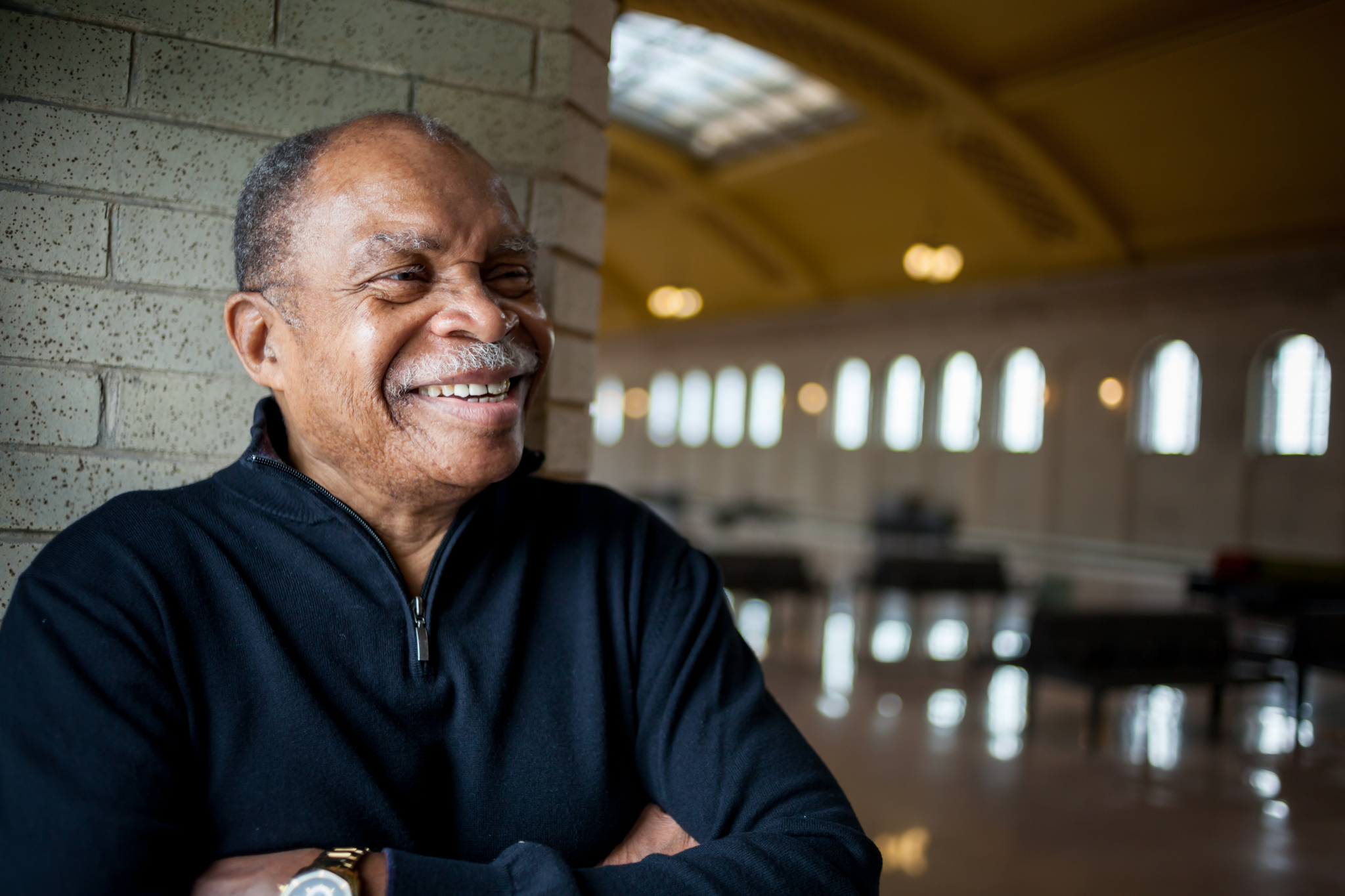 Even in his earliest work for One-derful, Otis showed an impressive musical range. On tender, bittersweet ballads like "I'm Satisfied" and "That's How It Is (When You're in Love)", he crooned about love over crisp drumming and gospel organ, and managed to turn heartache into something you can't help but tap your foot to. But at the drop of a hat, Clay could howl with the best of them, as on horn-driven funk triumphs like "It's Easier Said, Than Done."
Throughout his life, Clay demonstrated a commitment to service that, like his music, was rooted in his faith. Deacon Emiel Hamberlin, who helps run Liberty Baptist's music program and has been attending the church since 1964, knew Clay for about thirty years. "I remember him as dedicated and outstanding," Hamberlin says. "He didn't go into music to upstage anyone."
According to Hamberlin, Clay would constantly volunteer his time to the church's music program and sing in the pews—even going as far as to perform with the church's choir at Millennium Park on one occasion.
For several years, Clay sat on the board of People for New Direction, a nonprofit consisting of, as Clay described in his biography, "West Side businessmen and women, doctors, ministers and others who believe strongly in giving something back to the community where they live and work." Late in life, he was also a chair for Tobacco Road, Inc., the nonprofit that manages Bronzeville's Harold Washington Cultural Center.
Clay received a number of accolades late in his career: in 2008, his album Walk a Mile in my Shoes was nominated for a Grammy, and in 2013, he was inducted into the Blues Hall of Fame. But through all of Clay's musical success, Hamberlin mused, "He never left the church."
That divine influence followed him into his music. "He was great, focused…just inspirational in the studio," said soul singer Billy Price, who also sang at Clay's funeral. Price had been a friend and fan for years before recording a collaborative album with Clay in 2015. "I performed in ways I didn't know I was capable of, just being in his presence," Price said.
As Clay's daughter Ronda Tankson noted, Clay believed deeply in supporting those around him. Tankson, who teaches in special education, talked about the numerous times Clay visited her classroom to perform for her students. "If I asked, he would never say no," Tankson said. "That's just the type of person he was."
Once, she recalls, she invited Clay to perform for a class of kindergartners at the Southbrook School, only for him to find that more parents than students had shown up. "These are some big kindergartners," Clay joked.
But Clay's commitment to charity went beyond impromptu classroom concerts. Tankson remembers getting a call from her father in April 2015 after Governor Bruce Rauner announced a plan to cut state funding for the Autism Project during World Autism Month.
"My dad called me and said, 'Is this true?'" she said. "Something needed to be done, [and] he just wanted to do something to help." According to Mulvehill, Clay had hoped to create a foundation for autism in the black community, something that she and Tankson both hope to follow through on.
"This was going to be a big year for Otis," Mulvehill told me, citing a planned European tour and a number of concerts lined up at the time of Clay's death. She had also reached out to concert venues in Thailand, with hopes of booking Otis a show in the country. Mulvehill heard back from one concert hall, which responded two days after his death that Otis would be a "perfect" fit for the venue.
Clay was buried in Oak Woods Cemetery alongside blues pioneers like Little Brother Montgomery and Thomas A. Dorsey. But Clay's grave is also near the grave of Harold Washington, a lifelong civil rights advocate and the namesake of one of Clay's many civic initiatives. It's hard to imagine a more fitting resting place for a man defined as much by his charity as his music. Even in death, Clay is a unifying force: his friends and family are now coming together to plan a tribute concert.
Otis was the last of his generation, in more ways than one. As the youngest child in his family, he is survived only by his children and his more distant relatives. As one of the last champions of old-school Chicago soul and R&B, he also leaves behind a musical history that's at risk of fading into the past. But the greatest loss was human: the loss of a mustachioed man with a sense of humor and an infectious grin.
"Otis represented all that was good about Chicago music," said Branch. "He was one of those guys where no one ever had anything bad to say about him…and in this genre, that's rare. Otis commanded that kind of respect."