I am seated at Matthias Merges's favorite table in A10, a relatively recent addition to Hyde Park. The decor is tasteful and clean, filled with crystalline glass and warm colors. The space is mostly empty, yet buzzing with espresso machines and blenders as the staff preps for the busy Friday dinner rush, when the restaurant will be filled with diners largely oblivious to the local origins of their meals—the Cook County Jail.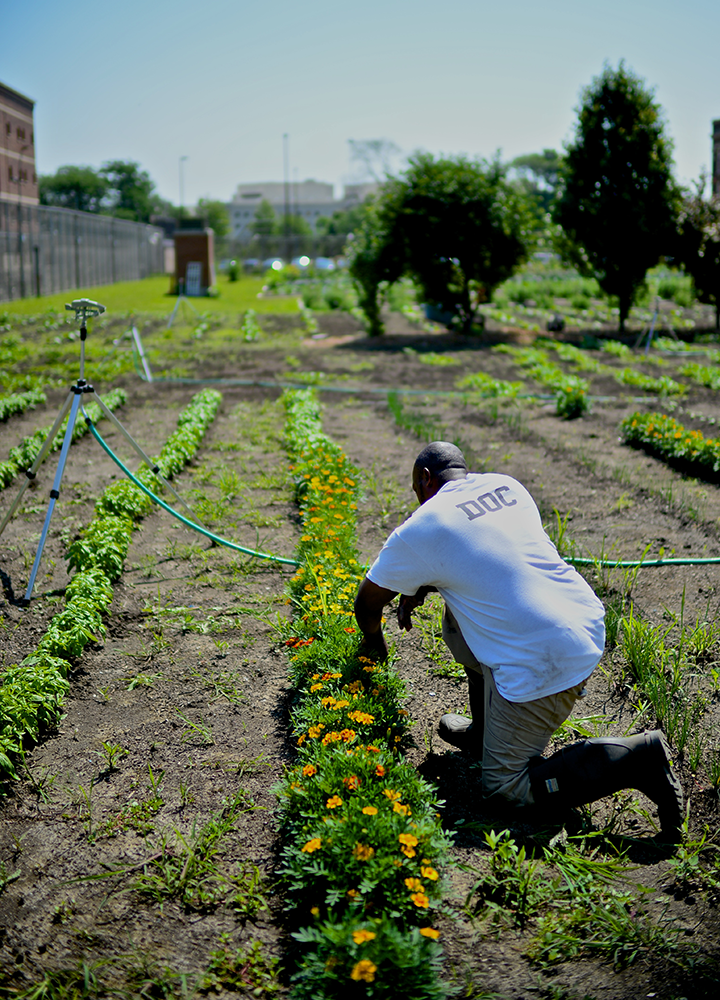 Merges buys the majority of his vegetables—around seven hundred pounds of produce a week for use as key ingredients, garnishes, and spices—from the Urban Farming Initiative, a program at Cook County Jail that employs inmates in the cultivation of crops. Many restaurants downtown, including the restaurant company behind the West Loop's Avec and Au Cheval, have begun to utilize the community initiative, but Merges's restaurants are the largest purchasers of the farm's goods.
"There's nothing more local," says Merges of his restaurant's vegetables, as he sips on a very green smoothie. Merges is the owner and executive chef behind A10 and another recently opened Hyde Park restaurant, Yusho. The pristine quality of his vegetables and produce, and even sometimes fish, is only surprising in light of the fact that they come from a place that is both just a few miles away and, in some respects, an entire world away from those eating amongst suits and wine glasses.
Each class of inmates in the program is comprised of sixty students—thirty males and thirty females—that work two to three days a week, alternating between cultivating in greenhouses in the winter and out in ever-expanding fields during the harvesting months. The Initiative educates its inmates in horticulture, gardening, beekeeping, and landscaping, as well as problem-solving, teamwork, and patience. Individuals will follow the growing season of one produce project at a time, giving them the ability to watch and interact from seed to product. After twelve weeks of participation and good behavior, inmates complete the program and can receive early release, plus a Master's Degree in Gardening.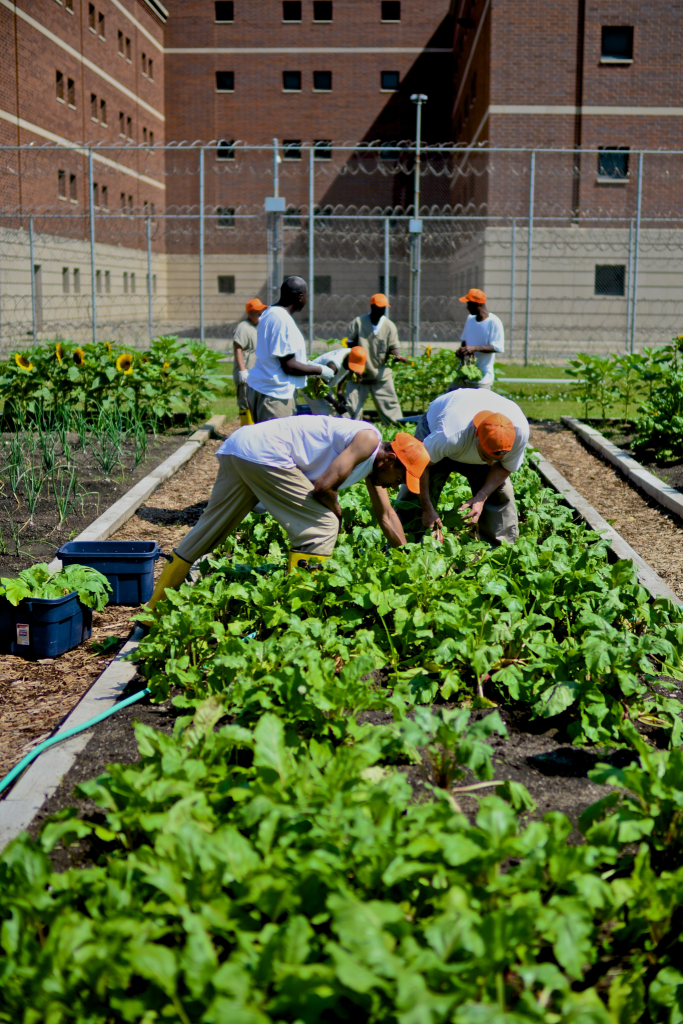 Inmates accepted to the Initiative are minimum-security, nonviolent individuals with short sentences—most for drug-related offenses. Upon completion of the program, its administrators hope, inmates will have learned new skills that could benefit them in the workplace.
Merges brings his colleagues and staff to Cook County Prison to cook and talk with the program inmates, believing his cooks can benefit from the Initiative as well. Merges visits the facilities himself once a month, and shows the program's inmates what their completed work  can accomplish: homemade, gourmet meals, which his chefs cook for the inmates upon their visit.
Merges has been involved with the program from its beginning. After hearing about the Initiative while still training at Charlie Trotter's, Merges began working with the program by buying a few crops at a time, as both his ventures and the Initiative were still expanding. After fifteen years of working closely and successfully with the program's directors, Merges sees the arrangement as a win-win—receiving valuable ingredients and giving back to his community at the same time.
Merges says he's hired around ten people after their completion of the program. Some, he says, are still working in his restaurants around the city today. "Inmates get jobs, they support families," he says. "They don't have to go back into the same cycle. We can give the opportunity to have a different course. They can choose what they want to do. We're not saying you have to do it. We're just saying you can do that or you can come with us and do this."
"It's a way to help people in need," he continues. "I don't look at it as a business transaction. We have the ability as owners of businesses to help out where we can for people who might not have the same opportunities that we were given."
Correction: An earlier version of this story stated that A10 was open for lunch on Fridays. They are open for dinner on Fridays.
[break]