The University of Illinois at Chicago Forum filled with politicians, farmers, entrepreneurs, food producers, and organizers—and several bales of hay—for the twelfth annual Good Food Festival & Conference this weekend. The three-day trade show, brainchild of Chicago-based nonprofit FamilyFarmed, boasted programming as dynamic as the crowd of participants and attendees it attracted: the festival was a whirlwind of composting demonstrations, policy sessions, investment fairs, and seed swapping, leaving no accomplishment of the Good Food Movement uncelebrated and no policy issues unaddressed.
The Festival has grown in size over the years alongside the Good Food Movement, a movement for locally and responsibly produced food that has taken root, so to speak, in the Chicagoland area and beyond. Last year, the number of participants passed the 5,000 mark, with Governor Bruce Rauner and Senator Dick Durbin among them, and the festival remains one of the most prominent regional sustainable agricultural events in the country.
United States Secretary of Agriculture Tom Vilsack kicked off the program on Thursday, a day dedicated to innovation in technology and financing within the local food industry. In his opening remarks, Vilsack highlighted new USDA insurance and grant initiatives tailored to small-scale, polyculture farms across the country.
Although Vilsack has headed many such local initiatives in his seven years as secretary, the USDA remains in the eyes of many a massive department with a vested interest in "Big Ag," and Vilsack expressed a touch of good-humored frustration on this front. "No one really has a clear understanding of what it is the USDA does," he ceded with a pained smile.
Later speakers included Whole Foods Market Regional President Michael Bashaw, 1871 CEO Howard Tullman, and Organic Valley CEO George Siemon, as well as the most recent fellows of FamilyFarmed's two-year-old Good Food Business Accelerator.
On Friday, participants honed in on topics specific to food production and distribution in Chicago through panel-style policy sessions featuring local growers, producers, and activists. The industry showcase, a green thumb's wonderland, opened as well, featuring the products of more than one hundred local producers.
While the panels ranged in focus, from grassroots food activism to pushcart vending, food waste to statewide Supplemental Nutrition Assistance Program funding, the refrain remained the same: what have we accomplished so far, and how can we improve on it? Chicago's local food movement has flourished in the years following the 2011 urban agriculture zoning amendment, a code change that recognized urban agriculture and community gardening as permitted land uses. As it has done so, it has found itself facing the inevitable challenge of reassessing and redefining the goals and implications of its practices.
One particularly interesting question that arose was how to define "sustainability," an amorphous term wielded by food businesses both within and outside the local food movement. Sustainably grown greens, sustainably raised beef, sustainable agriculture––what is sustainability, exactly? Does sustainability entail a zero-waste system? Does it entail hiring and selling locally, or organic farming, or running a nonprofit business?
In a panel on fair wages and equitable food systems, representatives of several South Side-based agricultural organizations agreed that one of the most important, and least often discussed, facets of sustainability is workers' right to a fair wage. Viraj Puri, CEO of Gotham Greens, and representatives from Growing Home, the Englewood-based farm, brought for-profit and nonprofit perspectives, respectively, to the table. Despite differences in business plans and profit margins, both agreed that fair pay—a starting wage of $12 an hour for a greenhouse assistant position at Gotham Greens and $13.50 for Growing Home—was a central tenet of a good business model.
Not all agricultural organizations, unfortunately, hold the same view. Stephanie Douglass, Growing Home's Farm Enterprise Director, noted that several of the program's graduates had been offered jobs in urban agriculture only to discover that pay was quite low, and in two cases under the minimum wage.
"There is tremendous irony," said Jose Oliva, co-director of the Food Chain Workers Alliance (FCWA), "in the fact that food workers are the people most reliant upon food stamps." He was alluding to FCWA's report "The Hand That Feeds Us," which concluded that "food system workers use food stamps at double the rate of the rest of the U.S. workforce."
Oliva and FCWA are part of the force pushing for cities to adopt the Good Food Purchasing Policy (GFFP), a food procurement policy that encourages local agricultural sales and higher levels of transparency in the food supply chain from "farm to fork."  GFFP is metric-based, evaluating food producers not solely according to standards of nutrition and environmental sustainability, but of fair labor, animal welfare, and support of local businesses as well.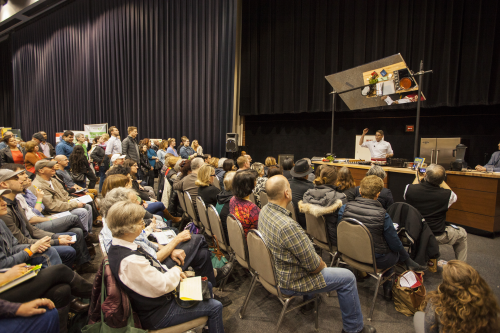 The GFFP was first implemented in Los Angeles, in select governmental departments and its public school system in 2012, as a result of which the school district's expenditures on locally grown foods doubled, followed by an increase of 200 farm jobs. Oliva hopes to see the GFFP passed by Chicago's City Council; currently, FCWA and the Chicago Food Policy Action Council are working with the Parks Department to conduct a pilot program for the policy.
Other panels took a similarly cautionary approach; in the mark of a forward-thinking movement, they highlighted the work that is yet to be done rather than merely celebrating the growing success of the local food movement. A legislative aide for Alderman Joe Moore of the North Side's 49th Ward discussed how likely agricultural issues are to pass under the radar when there is no ongoing conversation between aldermen and their agriculturally-minded residents; Brandon Johnson, former executive director of the Washington Park Consortium, spoke of the importance of viewing South Side farms not as individual projects, but as the beginnings of a strong, unified food network.
The weekend concluded on Saturday with a Good Food Marketplace, several more speaker sessions, and, for those lucky enough to snag tickets, an urban farm bus tour, which made stops at South Side agricultural hubs Windy City Harvest, Growing Home, Growing Power, and the Plant.
It seemed unlikely that anyone, whether attendee or participant, farmer or consumer, walked away from the Good Food Conference & Festival without renewed admiration for the hundreds of organizations that together propel the Good Food Movement, new information about local growing, and a stomachful of local greens and goods to boot.