Twice a year, birds cross innumerable boundaries in their voyages south to warmer areas during the fall and back north again in the spring. This week brings the heaviest influx of birds to the area during the spring migratory period, which spans from March to May, with peak migration during April and May. Chicago is a major stop on the Mississippi Flyway, a route for migratory birds that extends from northwestern Canada, over the Great Lakes, and down through the Mississippi River Valley. Over five million individual birds fly through the area each year, making this route one of the most important in America for songbirds and their eagle-eyed observers.
Birding has been a pastime since people have thought to look at the sky, and has been organized in Chicago more recently. Two of the city's larger organizations, the Chicago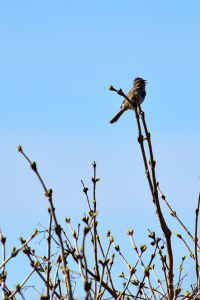 Ornithological and Audubon Societies, have been around since 1912 and 1971, respectively. These organizations, in recent years, have been more inclusive, expanding their focus
past the North Side. The April 12 bird walk at Washington Park sponsored by the park's Conservancy attracted twenty-six birders who spotted forty-three different species. Nonetheless, the birds were overwhelmingly more diverse than the birders who spotted them. The group was primarily—if not entirely—white and old; the median age seemed to be around sixty-five.
"Birding traditionally has been a hobby that is a little bit exclusive for older, retired, rich people," explains John Cawood, an education program coordinator at Openlands, a Chicago regional environmental advocacy and outreach organization, who runs Birds in my Neighborhood (BIMN), a partnership program from Openlands and Audubon Chicago. "And [birding is] not necessarily the most diverse hobby, either, culturally or ethnically or financially."
The path followed by the songbirds that make their way to the area every year roughly parallels the itinerary of another mass migration that brought multitudes to the city: the Great Migration of African-Americans from the rural south northward during the early twentieth century.
The histories of both migrations are interwoven in the work of Englewood native Sherry Williams, founder and president of the Bronzeville Historical Society. Williams, the first of her family to be born in the city, describes herself as a descendant of former slaves from the Mississippi Delta region and says her roots are what drive the mission of the Afrobirders, a group she founded in 2006 that explores the connections between the Great Migration of the 20th century and the yearly migration of birds. Williams had always loved birding, but it took her a long time to identify why it felt so important.  "It's sharing the narrative about how my mother and grandmother came from Mississippi in 1942 and that their experience leaving the segregated South and coming to Chicago did not just bring them here as permanent residents: they continue to go back and forth to learn about family history. On those trips back home, my mom and grandmother would then introduce me to what they did and where they lived in Mississippi. They picked cotton—we were a family of sharecroppers. Coming back and forth really mimicked the back and forth movement of migratory birds."
Since 2007, Williams has been leading bird walks that use the narrative of African-American immigrants during the Great Migration to talk about migratory birds and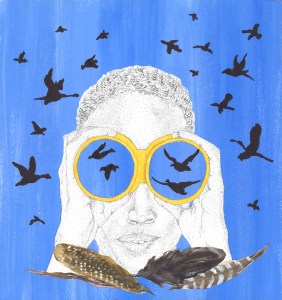 conservation. "Those parallels are so great and so rich," she says. "It's so valuable that we continue to share and tell the fortitude, the tenacity, to uproot from the South and move to Chicago. Migratory birds mimic that same migration…[the parallels] became a valuable way for us to talk about the need for conservation."
One of the main goals of the Afrobirders is education and outreach, always framed within the historical context of the Great Migration. Through her work with the Bronzeville
Historical Society, Williams has visited grade-school classrooms around the city, where she has discussions with students about the parallels between the two migrations. These lessons teach kids about different species of birds and trees and have even been integrating urban coyotes into these discussions over the past two years. She says that several local elementary schools have even introduced it as a thematic unit.
What fascinates Williams about looking at social issues through birds is their ability to cross lines and racial boundaries that they do not see, nor understand. She says,  "Areas with written and unwritten racial lines, boundaries…get pushed over and over again. We see that mimicked by [birds]. They're pushing the boundaries that seem to be static."
Jennifer Johnson and Nambii Mangun are coordinators with Wild Indigo, a Calumet-based project established by Chicago Region Audubon (different from the Chicago Audubon Society); they too want to break boundaries, particularly those that may keep many South Siders from interacting with nature. In their mission to promote interest from South Siders about the natural world, they've learned that oftentimes, the trepidation about going to green spaces in the city lies in accessibility. But not always—the sites that Wild Indigo operates out of are forest preserves and other green spaces on or near the South Side and are accessible by public transit.
"We also try to give people a sense that it's really their land," Jennifer says. "These are people that haven't felt welcome [in nature], or that there is some kind of fear around those spaces. What Wild Indigo does, is kind of dispel those myths about the land and try to have people overcome those fears. Most people that come out are African-American and the history of our people in those spaces has not always been positive, so we offer a positive experience."
Youth education and outreach has become important to many nature organizations, including Openlands. John Cawood's BIMN has helped acquaint CPS students from all over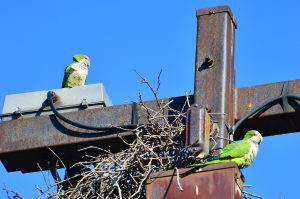 the city with their schools' gardens. The program is divided into three events: a classroom visit, a bird walk around the school grounds, and a trek to a local park. Between the visits, the kids are given journals and choose a bird from a checklist to research and write about. "It's a hook to get students interested in nature in their neighborhoods," Cawood elaborates. "[Birding] is one of the most accessible nature-related hobbies."
Afrobirders, Openlands, and Wild Indigo all reach out to youths around the area in order to get them hooked on birding at a young age. "We are excited to see bird-watchers across
all generations, [but] you typically see them as retired and mature. We have a multigenerational approach." Cawood agrees with this method, explaining that it is difficult to get an individual adult involved in birdwatching events. That's why he sees school involvement as imperative. "If I find out about [an event] and send the info to a teacher, and she puts a note in the kids' backpacks, maybe they will go. For us, connecting students with birds, nature…we want the next generation to care about the outdoors and natural areas. We are trying to create a generation of conservation stewards. The birding community is taking a look at itself and is saying, 'Wow, it doesn't have to be like this. We don't just have to have ten of us.'"
For Williams, there's a direct link between her life and the lives of migratory birds. When she speaks, it's apparent that she has thought deeply about birds, and their resonance with her cultural and familial heritage. She talks in detail about the importance of crossing boundaries, remarking that birds like turkey vultures or peregrine falcons (Chicago's official bird) tend to nest in unlikely places, just as people move into communities that may not want them:
"My family integrated West Englewood. We were the third black family on the block," she says. "I was born in 1960 and I am very aware of the social constructs that African Americans have had to endure and still endure. And although I'm a generation away from those who sat at the back of the bus…I am that generation who has clearly firsthand…experienced what it's like to integrate a community. Animals and humans have had to push past boundaries and create safe places and meet the needs that they have. Again and again, families have had to move past unwritten and understood racial lines in Chicago to be able to have the American dream of a nice home or better schools. We see that with birds and the coyotes, coming into the spaces not identified as spaces they should be in. But this is what happens when in your own desperation or desire to go beyond your boundaries. The risks for many animals [are] injury or death. And the risk for black people who migrated from the South to come to Chicago was the same."
While the connection between African American residents of Chicago and migratory birds is the backbone of the Afrobirders, being African American–or even an avid bird-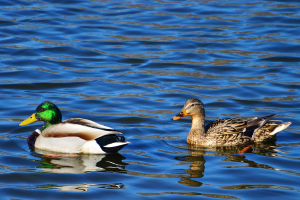 watcher–has never been a requirement to tote the Afrobirder name. "In order to talk about the divisions within neighborhoods with Chicago being so polarized, I did not ever want people to look at the Afrobirders [as] a specifically African American group. Those who come are from all walks of life. They are all Afrobirders, whether they are Baptist, Catholic, of European descent, whatever. The 'afro' part is how we speak in terms of birds, but the entire conversation is about the rich narrative, whether they are black or white."
Williams champions this idea, explaining that conservation is in her blood, and that every living creature on the planet needs to be celebrated and protected. She believes in the importance of educating both young and old people "about space, care of the land, of ourselves, protection, and freedom." She connects this idea not to the Great Migration, but to the present-day struggles that African Americans face.
"Freedom needs to be a conversation that we re-engage in and in our homes and classrooms," she says. "Not for one moment do I consider our nation having accomplished all it can do. How do we get young people to have a voice, push for equity across the nation? If it means that we share space in our lives with birds and coyotes, I'm all for it. I would never tell a coyote that it can't find a new space for itself, and neither would my grandmother think that anyone would tell her she couldn't come to Chicago to make a life."
✶ ✶ ✶ ✶
The Dangers of Migration
Illinois sits nearly at the midpoint of the annual migration that birds make through the Mississippi Flyway. Because the state's fields of soybeans and corn fail to provide adequate food and shelter, Lake Michigan's shoreline is invaluable to migrating birds utilizing the Flyway. Consequently, five million birds (from over 250 species) migrate through Chicago each year; many are set to arrive in the city this week, during the peak of spring migration.
Bird migration has been happening for longer than human history can detail, but the past hundred years have seen great changes in the local landscape. Chicago rose from its ashes to become a national center of manufacture and industry as the first skyscrapers were erected in the 1870s and 1880s. Animals are fairly adaptable—according to a recent DNAinfo article, coyotes in the area have learned to look both ways when crossing the street—but a century is a short time for the immense changes that urbanization makes on a landscape.
"Birds are coming this way, as they have been for hundreds of years," explains Annette Prince, the director of the Chicago Bird Collision Monitors (CBCM), a volunteer organization dedicated to the protection of Chicago's migratory birds. "We have added a large amount of lighting and glass buildings over one hundred years," she says. "Any building that is dangerous or has a lot of glass—near the river, a park, the Lake—is in the path of a bird arriving in the city…They've traveled hundreds or thousands of miles only to be killed by a window here in Chicago."
Once collected by Prince and other volunteers, dead birds are sent to the Field Museum to join their ever-growing collection of migratory bird specimen. Any birds that are found injured are transported (usually in brown paper lunch bags) to animal rehabilitation facilities around the area. Prince notes that volunteers find six thousand birds downtown every year, with an added two thousand outside of the immediate downtown area. But that count is low: it's limited by the number of volunteers they have in an area and amount of people who know that they should report any birds–injured or dead–they find to CBCM.
Annette Prince says that people estimate that over one million birds die every year during migration, though not all of it is a problem. It's the Darwinian principle of survival of the fittest, meaning that only the strong survive. This is good for nature, she explains, but it's not the only reason birds die during migration. "It's often the best birds that make it to Chicago…but being fit and healthy doesn't stop them from making the collision. This is not working how nature works and this could be catastrophic for some species that lose important, successful, members that would represent the strongest [birds]. We are worried that we'll find that out too late."
But the substantive risk doesn't stop birds from making the trip to Chicago, nor does it stop locals from enjoying these flying tourists.