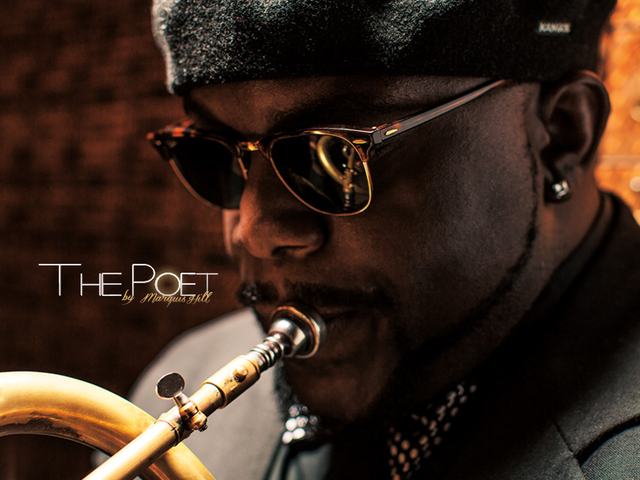 Trumpeter Marquis Hill, originally from Chatham, returned to the South Side two weeks ago for a show at the House of Bing in South Shore, and also played at WHPK's annual Black History Month concert last Saturday at the University of Chicago's International House. Both shows featured a mix of songs from his 2013 record "The Poet," such as the motif-driven "Return of the Student," as well as newer tunes like "Black Harvest," which was composed just a few weeks before the performances. These songs heavily featured Hill's group, the Blacktet, with driving themes slowly emerging from solos on drums, trumpet, vibes, sax, or bass. The WHPK concert also honored the previous generation of South Side jazz pioneers, including pianist Willie Pickens, who took the stage to receive WHPK's REACH Award for lifetime achievement in jazz performance. Pickens performed a solo rendition of Coltrane's "Lazy Bird," and was more than happy to be followed by Hill and the Blacktet: "I mentored those cats," he said with a smile. Before both concerts, Hill spoke about his South Side roots, the origin of the Blacktet, and his ideas about jazz's future.
What's it like to perform back on the South Side, versus up north?  
It's a big deal, playing in front of your people. You know, I'm from the South Side, and there's not a lot of jazz happening here, so when I get the opportunity to play on the South Side, it's an amazing feeling. And I think there's a big difference. A South Side audience will let you know if they don't like what you're playing, if they're not feeling your music, or if you don't sound good. They're going to be more obvious about it—they'll let you know. But certainly, it's great. It's a challenge, and it lets you know where you stand with people. If you can please a South Side audience, then you're doing all right.
How did you form the Blacktet? What went into the name?
I formed a band right out of undergraduate [at Northern Illinois University]. I have a buddy of mine named Jarritt Sheel. He has a group called Jarritt Sheel & the Blu-Tet, and I thought that was a very unique name, 'cause nowadays you just hear jazz performers, saying "The Blah-Blah-Blah Quintet," "Blah-Blah-Blah Quartet," "The Blah-Blah-Blah Project," and I wanted to do something more unique than that. So I took the note from my friend Jaritt.
People think it's a race thing, but black is one of my favorite colors, and since I wanted to be unique with the name of the band, I called it the Blacktet. But, on the same subject, the music we are playing is black American music, you know, the art form called jazz today is a black American music, so I guess it is very fitting. But I just wanted it to be the title for my group.
The original band had three white guys. We were the Blacktet, and the majority of the band was white guys, so that's why I really think it's hilarious. But now, the group is different: myself, Christopher McBride, Joshua Ramos, Makaya McCraven, and Justin Thomas. We recorded "The Poet" with that band in October.
I went to college with Chris, the alto saxophonist. The bass player, Joshua Ramos, also went to Northern Illinois University, but he was there a few years before me. I just met him through the scene—I met all these guys through the local jazz scene in Chicago. I have a specific sound for my music, and it actually took me a while to get to this specific version of the band, but the way that I hear my music in my head, they play it exactly like that.
Has the AACM, Association for the Advancement of Creative Musicians, been influential to you?
Yeah, I kind of learned the tricks of the trade, as they say, or how to play, at this place called the Velvet Lounge. It was run by the late great Fred Anderson, and the AACM used to play there a lot. That's where I met Ernest Dawkins, who was also a member of the AACM. So yeah, the AACM has definitely had an effect on my career, and also my playing, and the fact that they're based in Chicago, it's an amazing thing.
How does it feel to be playing a concert sponsored by WHPK? Did you grow up listening to the station?
WHPK's really the only jazz station in Chicago. In high school, when I really got into jazz, I would listen to that station all the time. That I'm playing for them—it's cool. It's an honor to be playing a concert with them. It feels good to get the support from them. It's very important to have someone to support your music besides your friends and your family. You want to get your music out to the public, and the fact that they're playing my music, and I'm doing this concert for the station, is very cool.
You mix a lot of different sounds into "The Poet," including hip-hop and spoken word. What inspired the style on that record?  
Actually, the concept I got from a friend of mine. One day we were eating lunch, and he was like, "You know, Marquis, your music is really poetic. It sounds like poetry." And he just kept saying "poet," "poetic," "poetry," and that gave me the concept to write music in the style of poetry. Each song is kind of winding together.
At these concerts, you're hearing music from the record, but at the same time, I'm always writing new music, and we're in the process of figuring out new music as well, just getting a vibe to it. The thing about that is, the only way for newer compositions to form is to play them live. I'm excited that we get an opportunity to really premiere this music, with the concerts that we have. You'll hear a mixture of some older music from the record—"The Poet"—and you'll hear a mixture of some newer compositions that I've been working on, that'll likely be featured on the next record.
What sorts of ideas are you working on now, and figuring out on stage?
I'm bouncing around the ideas for the record right now, actually, with merging—truly, truly merging—jazz with the popular hip-hop style of today. And I know there are many artists that have done this before, but I don't think it's been done quite the way that I'm envisioning. I think that's the direction I'm going with my music for my next project. It's still going to be jazz music, but I want it to reach the mass audience, the massive audience that hip-hop has. I was pointing out to a friend of mine, the popular music of the day, back in the forties and fifties, was jazz. You would go to a club and jazz would be playing, and all the radio stations would be playing jazz. That was the popular music of the day, and today it's not. So I'm trying to figure out a way to connect my music with the popular music of this day and age, pop and hip-hop. That's what I'm going for.