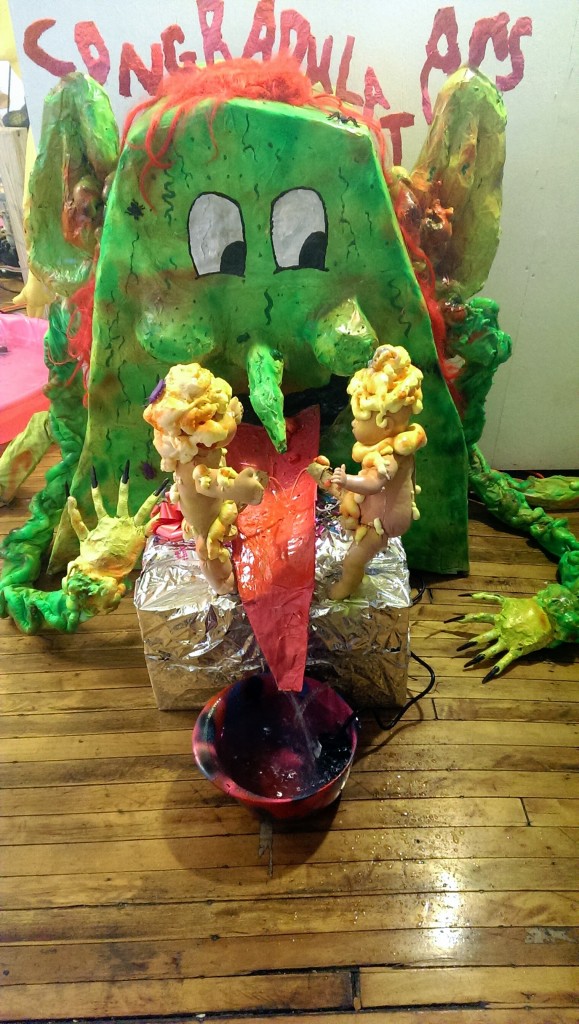 In the center of Brussels, perched above a fountain and surrounded by throngs of tourists, stands "Manneken Pis," a two-foot tall statue of a baby boy urinating into the water below. It is one of the most popular tourist destinations in the city, and, when I was in Brussels last spring, I inevitably found myself standing among the onlookers.
On that day, the statue was outfitted in traditional Belgian clothing, one of the nearly thousand different costumes that the peeing boy has donned since his creation in 1619. The statue, sporting a cocky grin with a backward lean, right hand on hip, and left hand on protruding penis, had an air of pride. But whether it was the infantilizing clothing, or the giggling of picture-posing tourists, the artwork seemed to not be taken very seriously. After all, Michelangelo's "David" has never been dressed up as Santa Claus.
"It's kind of kitschy," admits Paul Nudd. As the curator for "Little Man Pee Pool Party: The Whiz Paddler's Lament" at Antena, Nudd tasked two dozen artists to each create a sculpture inspired by "Mannekin Pis." The collective is deliberately atypical: many of the artists are cartoonists, not trained sculptors. While some have over twenty years of experience, one is a custodian. The products of this odd group are "peeing boys" of all different shapes and sizes clustered around kiddie pools, water pumps, and power strips strewn about, and viewers left jostling for space in the small, crowded one-room apartment in Pilsen.
Many of the sculptures follow the spirit of kitsch: Bart Simpson holds a skateboard in one hand and his penis in the other, while four doll-sized members of Duran Duran piss on the fifth. Penises and abstract phallic symbols protrude from glued-together household objects and surreal, papier-mâché monsters. Artist Sarah Beth Woods describes her piece, a porcelain figure submerged in water, as a "kitsch thing found at the Salvation Army." A book of drawings, itself the work of fifteen different artists, echoes the debauchery and grotesqueness of the sculptures. It includes a drawing of a chef standing in a vat of soup, tasting his concoction with a spoon while peeing into it, and an MS Paint creation of a Smurf peeing on a large mushroom.
Nudd sees "Manneken Pis" as the "idyllic baroque human form," and his exhibit as a "juxtaposition of the way that people looked at the idealized body in the 1500s and now." His favorite piece in the collection is an imposing figure made of plaster and mud, a "sort of tribal fertility object, like the 'Venus of Willendorf.' " The piece is a blockish, brown hermaphrodite, with straw and flowers for hair, a spear in hand, and a small, flaccid penis which trickles water into the pool below. Sarah Leitten, the artist, calls the figure "a representation of what I worship." She hopes that the viewer can have an "intimate relationship" with the piece. " 'Manneken Pis' is kitschy; I want to make it beautiful. 'Manneken Pis' is funny; I want to make it powerful."
As I take notes, Leitten taps me on the shoulder. I look up to see the entire room at rapt attention. A few chuckles ripple across the crowd. "It was bound to happen," remarks a woman standing behind me. A man, fly unzipped, sporting a big grin, is proudly urinating into the pool.
Antena, 1765 S. Laflin St. Through November 9. Saturdays, noon-5pm. Free. (773)340-3516. antenapilsen.com